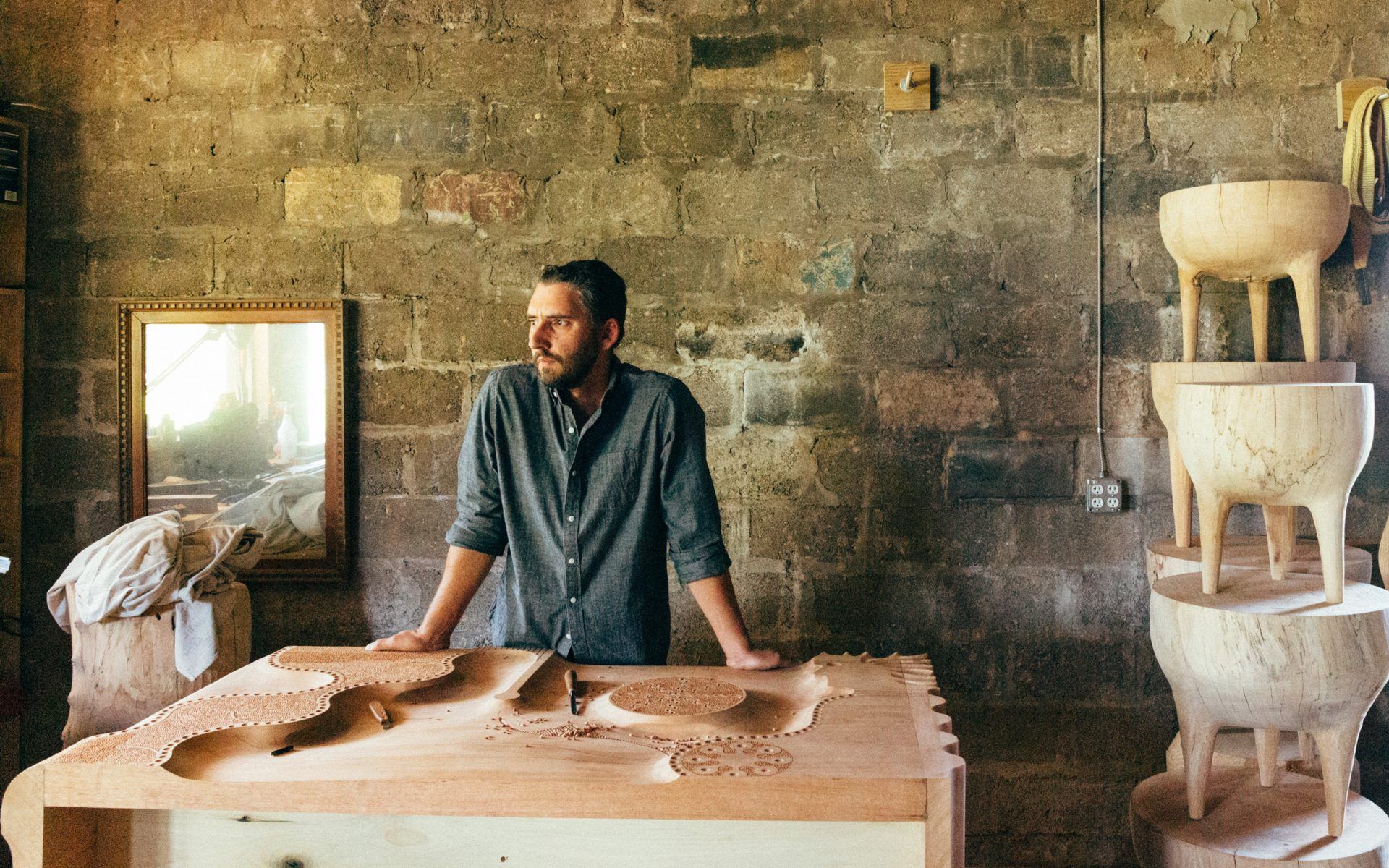 How Caleb Woodard Sculpts His Incredibly Detailed Furnishings
Go behind the scenes at the Tennessee wood wizard's remarkable atelier
Caleb Woodard didn't set out to be a furniture designer. But now he's 14 years into a prolific career of handcrafting exquisite, sculptural woodwork: Think collectible pieces like a masterfully formed organic chair made from solid walnut or a side table hand-carved from a single piece of ash with intricate etched details on the top.
Raised in a family that encouraged him to make things with his hands, he gleaned a real penchant—not to mention talent—for woodworking. But he perceived furniture making was for people on the West or East Coast who went to design school, not someone from a small town in Tennessee. It never seemed like a viable career option—until it was.
With an unsatisfying corporate job in Washington, D.C., Woodard began working in a furniture maker's woodshop at night and on weekends and eventually started creating pieces for clients. Slowly a portfolio of impressive work emerged, and he committed to the craft full-time. His business took off through word of mouth—though now he attributes his global commission-based customers to social media. "Instagram has driven everything," says the designer, who has been lauded as a "wood wizard" by one of his almost 40,000 followers.
Heavily influenced by sculptors and painters, the down-to-earth artisan—who moved his studio back to his hometown of Springfield six years ago and hired a team of three, including his woodworker father—says he designs instinctually from his gut, which is deeply satisfying. "There will be someone out there who will appreciate it. I'm not trying to do work for everyone," he says. "This is far more authentic." calebwoodardfurniture.com
A version of this article first appeared in print in our 2019 Winter Issue under the headline "Against the Grain." Subscribe to the magazine.
Next Post