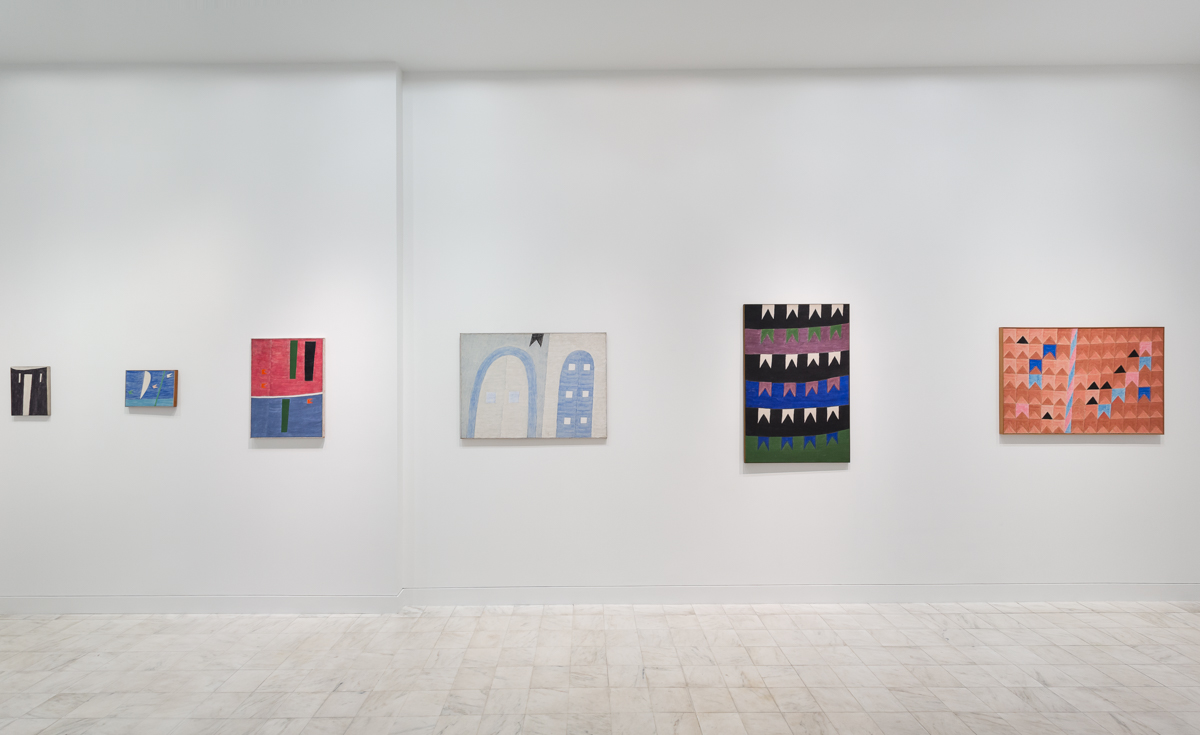 Brazilian Modern Art Star Alfredo Volpi Makes New York Debut
The master colorist's current show at Gladstone 64 catches the eye of U.S. collectors
The Brazilian presence in New York's art scene reaches new heights with a presentation of paintings by master artist Alfredo Volpi on view at Barbara Gladstone's uptown outpost through January 6, 2018. The self-taught painter, who was born in Italy in 1896 and moved to São Paulo's Cambuci neighborhood in 1898, is perhaps the most beloved Brazilian artist of the twentieth century—but remained little known outside of Latin America until now.
Gladstone's exhibition, organized with help from São Paulo's Bergamin & Gomide gallery and the Alfredo Volpi Institute of Modern Art, marks the artist's New York debut. On display in the pristine white gallery space are 19 paintings made between the late 1950s and mid 1970s, the height of his career. First-time viewers are offered the opportunity to familiarize themselves with Volpi's signature style—a startlingly clear combination of form and color that has the power to arrest time, space, and even breath. "Until the early 1950s, he was painting landscapes and still-lifes, but after that, with the influence of the Concrete and the Neoconcrete artists, he started flirting with abstraction," says gallerist Thiago Gomide. "In the mid 1950s, he found his path. He knew what he wanted to do and how he wanted to do it." By the time of his death in 1988, the landscapes and depictions of building façades and flags that he began making in the 1910s had completely dissolved into an abstraction derived from his unyielding observation of the places around him.
Trained as a woodcarver and bookbinder, Volpi began working as a commercial artist designing and painting home interiors for wealthy clients. His trajectory could be compared to Willem de Kooning, who also ended his studies at an early age and worked hands-on for a design firm before establishing himself as a professional artist. And as was the case with de Kooning, the manual and material elements of painting remained primary throughout Volpi's life.
In addition to making his own stretchers and frames (each one is slightly off-kilter, adding to their charm), Volpi also developed his own technique for making paints using pigment and egg whites to create a unique luminescence and lightness without compromising the brilliance of his color sensibility. "The younger generation loves him too," Gomide tells Galerie. "The language might be not so contemporary any more, but his use of color is still fascinating. He was a genius and every young painter knows that."
Referred to by preeminent Brazilian art critic Mário Pedrosa as the "master of his time," Volpi was awarded the prize for Best National Painter at the second edition of the São Paulo biennial in 1953. The exhibition was held in a new Oscar Niemeyer-designed pavilion within the city's centrally-located and highly celebrated Ibirapuera Park, marking it as a significant point in the establishment of the Brazilian Modernist vision, and subsequently placing Volpi at the very center of that. Despite this success and production of over 3,000 works in his oeuvre, he retained a sense humility, staying within the Cambuci neighborhood until the end of his life and adopting somewhere near 30 homeless children (which, unfortunately, has left his estate tied up in conflict and without any official gallery representation).
Until recently, Volpi's artworks have remained largely within Brazil, with some private collections numbering in the hundreds (his dedicated band of collectors, known as Volpistas, are known to acquire his paintings by the dozen). Recently however, thanks to a presentation of his works by Bergamin & Gomide at Art Basel Miami Beach 2014 and a 2016 exhibition of his work at London's Cecilia Brunson Projects in collaboration with São Paulo's Almeida e Dale Art Gallery, Volpi's work has started receiving the attention of international collectors and been thrust onto the world stage. Paintings from the 1950s and 60s are the most sought after, with prices for choice canvases reaching a few million dollars. Works from other decades can sometimes be found for as little as $100,000. If that entry-point seems tempting, buyer beware: the Volpi bug is not easy to shake. 
"Alfredo Volpi" is on view at Gladstone 64 through January 6, 2018. gladstone64.com 
Next Post