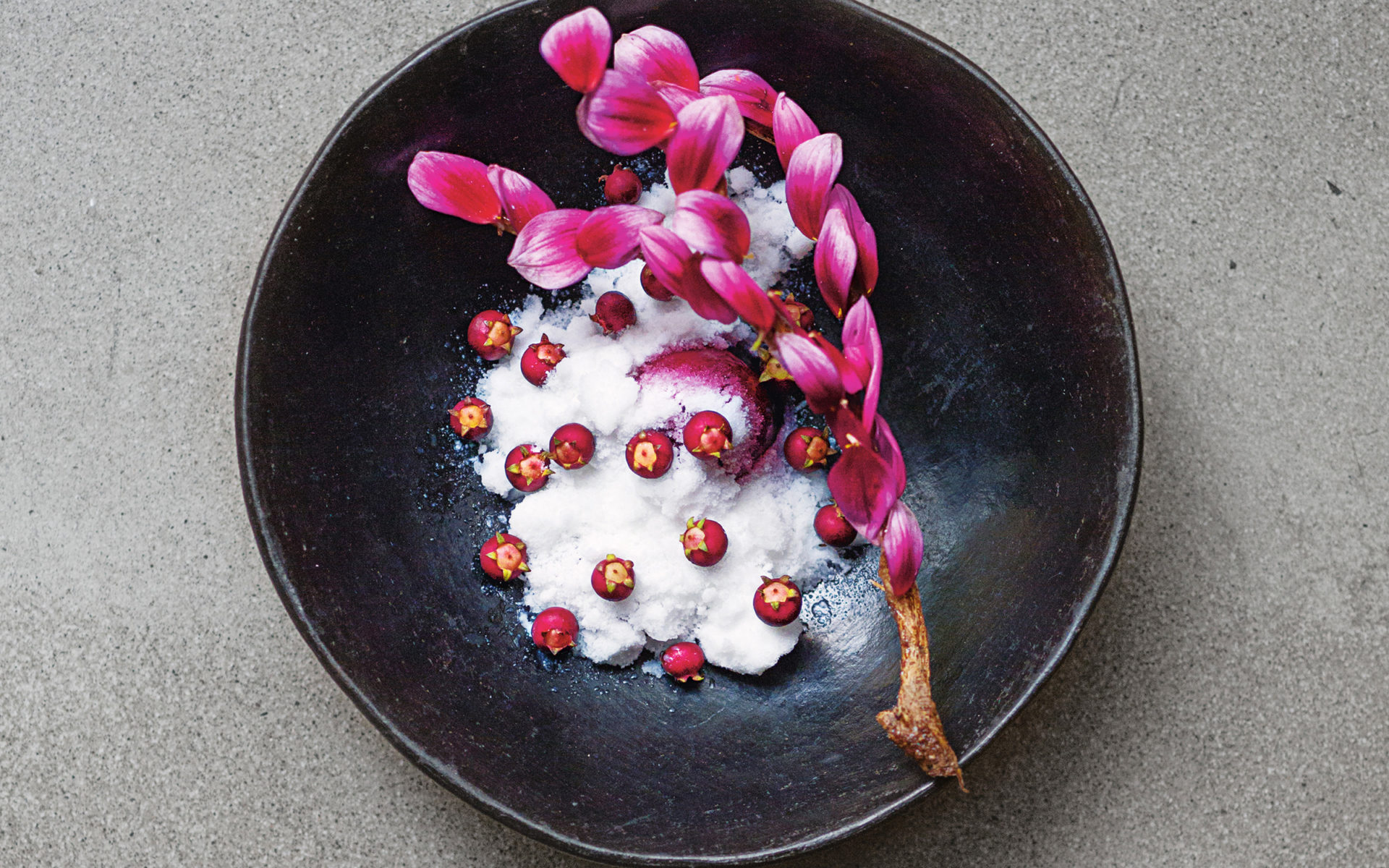 South America's Most Inventive Restaurant
Chef Rodolfo Guzmán offers an inventive take on indigenous Chilean ingredients at Boragó, his Santiago eatery
Chocolate mushrooms, sea strawberries, pink wild apples. These aren't the latest creations from Willy Wonka's factory. They're all indigenous Chilean ingredients that Rodolfo Guzmán uses in the inventive dishes at his Santiago restaurant, Boragó, which holds a coveted place on the World's 50 Best Restaurants list. Now Guzmán is sharing many of his culinary secrets in his new cookbook, Boragó: Coming from the South (Phaidon, $60), out on November 6. 
Before the 39-year-old chef opened Boragó, in 2006, most restaurants in Santiago looked to Europe for inspiration. But when Guzmán returned home after apprenticing at the famed Mugaritz in Spain's Basque Country, he set out to create a restaurant that was truly Chilean—one that fully expressed the cuisine's traditions as well as the wealth of produce unique to the diverse topography. The shape of Chile is long and narrow, with Santiago in the middle, which means the snowcapped mountains are just a 45-minute drive away and the Pacific Ocean an hour.
Guzmán takes advantage of it all, from the bright orange flesh of Patagonian digueñe mushrooms to the aromatic plants of the Atacama, the world's driest desert. Describing his first trip to the Atacama, Guzmán says he was like a kid in a candy store—picking and eating everything in his path, experiencing flavors that made him feel like an artist "who had painted only with ten colors and was suddenly shown 300 more."
But it's along the country's 2,600 miles of coastline, with its 700 varieties of seaweed, that Guzmán finds one of his  greatest passions. "If I took you to the beach and you tried  seaweed from the surf, you'd probably say, 'I can't eat this,' " he explains. "And you'd be right—it's not delicious. But at the restaurant, you'd taste it and think, Wow! This is one of the most delicious things I've ever tasted."
To transform seaweed and other ingredients from unpalatable to mouthwatering, he and his team experiment in a test kitchen on the floor above the restaurant. Here, they combine modern science with techniques learned from the Mapuche Indians—an indigenous tribe that has foraged and lived off the land for 13,000 years—to coax flavors out of fantastical foods: coconuts smaller than a golf ball, and sea urchins that are bigger than your hand and taste like foie gras.
Many of the ingredients have microseasons that last only a few weeks, such as the pink grapes of the quisco plant or desert plants that flower only once a year. Guzmán uses flowers as a principal ingredient, exploring their subtle aromas and flavors, not just as a garnish as other chefs might.
One of his test kitchen's greatest accomplishments, he says, is a method of fermenting vegetables to create the molten texture of the inside of a Camembert, which took two years of work. His team now uses this cheesemaking technique on everything from carrots to wild plants (the new book describes the process, which involves Penicillium candidum and precisely controlled temperature and humidity). And that's just what goes into one ingredient for a dish that's part of a 16- to 20-course tasting menu.
It took a decade of experimentation for Guzmán to feel that he finally had enough knowledge to truly cook. Before then, he thought he was just in information-gathering mode. This might come across as a severe case of humility for a kitchen that created over 700 different dishes in 2014 alone. But in the last year and a half, Guzmán says, his creativity has exploded: "About five years ago, one ingredient meant one possibility. Now one ingredient means 400 possibilities."
Proud as he is of what he and his team have accomplished, Guzmán still has the loftiest of goals. "My deepest wishes are that when someone dines with us they understand Chile and learn about the culture," he explains. Beyond just trying to dazzle diners, he intends each dish to reveal the history of a dynamic, 13,000-year-old civilization one bite at a time. borago.cl
Next Post