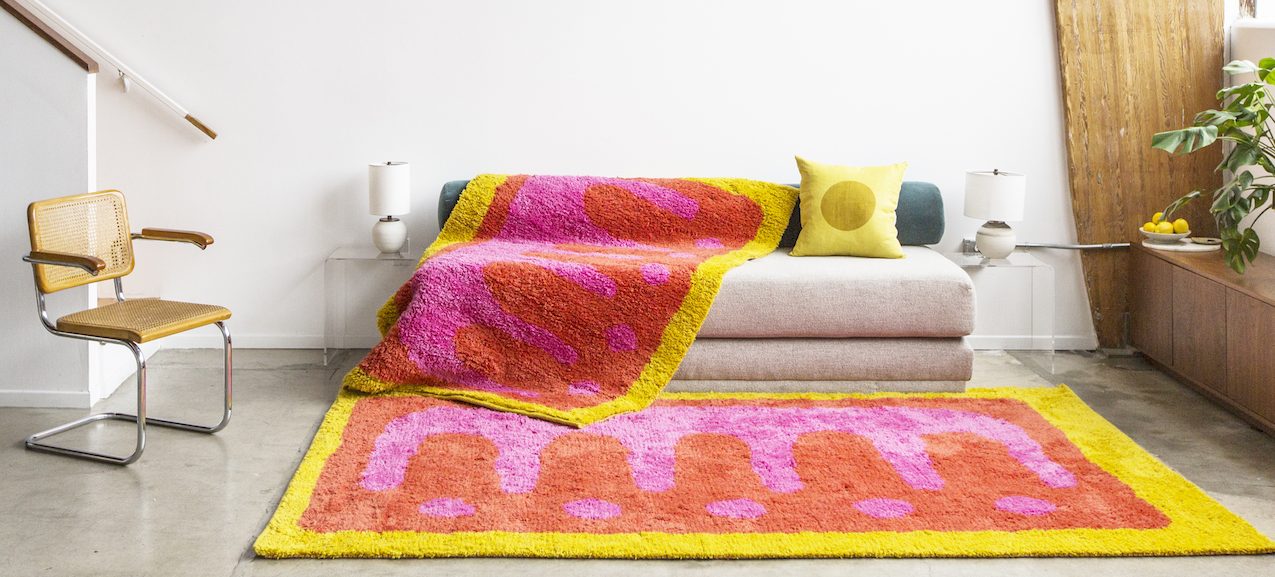 This California Textile Company Blends Trend with Tradition
Between two deserts that are worlds apart—Bagru, India, and Joshua Tree, California—two sisters are making wonders
In 2013,  sisters Lily and Hopie Stockman founded Block Shop, a textile company specializing in sometimes colorful, often minimal geometric patterns that are subtly hypnotic. Today, their scarves, rugs, apparel, and more have been featured in the showrooms of Rachel Comey and Heath Ceramics. While they're headquartered in a sun-filled office in Downtown Los Angeles (DTLA), their patterns are designed in Joshua Tree and realized in Bagru, outside Jaipur, where artisans print and dye their fabrics using traditional methods. The name Block Shop, in fact, refers to the carved wooden blocks their printers use to stamp their patterns.
The sisters derive inspiration from the desert. ("There's no richer place for people who find an open horizontal plane spiritually expansive," explains Lily.) Recognizing the common Art Deco influences in both places, she adds, "We love walking through Old City Jaipur, or along Broadway in DTLA, and finding an architectural motif to isolate and repeat to create our patterns." Modern art also comes into play: New rugs, slated to launch in May in the New York Design Week exhibition Sight Unseen Presents in May, bear the unmistakable influence of Anni Albers and Sol LeWitt.
Their palette—an evocative mix of deep blues, bright yellows, and earthy reds, oranges, and pinks—is derived from naturally occurring plant and mineral dyes of the landscape. (Among them are indigo, begar, and alum.) They're then applied to weaves comprising Indian silks and cottons.
Their collaboration with artisanal craftspeople based halfway around the world began in 2010, while Lily, an artist, was studying under painter Ajay Sharma in Jaipur. By chance, she was introduced to the Chhipa family, who ran a small printing studio in Bagru.
"We began working on oversized geometric block prints over the course of that year," Lily recalls. "When I returned to the U.S., Hopie visited to meet the Chhipas and talk about placing a small order of scarves. We worked with the Chhipas for several years before launching Block Shop, and our company has grown organically, in lockstep with the Chhipa family business." Each employee is paid a fair wage, and the Stockmans invest five percent of their annual net profits to women's health, education, and skills training in Bagru.
Despite the distance between the two cities, their collaboration is hands-on; the sisters travel to Jaipur twice a year for two to four weeks at a time. "Working in tandem, in person, with these master printers is the greatest joy of the whole process," says Hopie. "We realize this seems wildly inefficient, but it's the best—and only—way to make new designs. We can identify composition, texture and color combinations that are mutually exciting, and it's crystal clear to both us and our printers when something works. Mukesh [the master printer] stands back and declares, 'It's finished. Good design.'" blockshoptextiles.com
Next Post