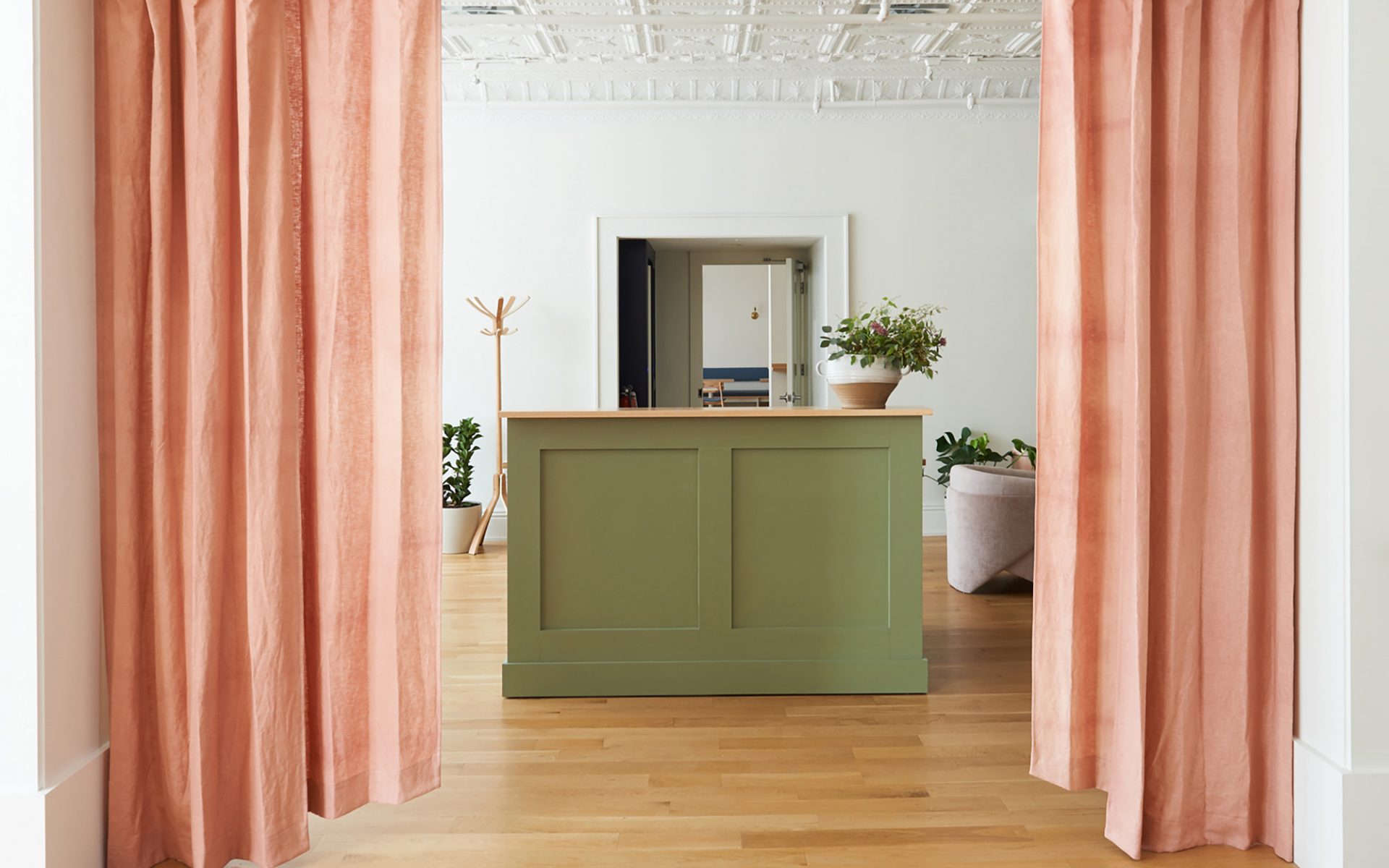 This Innovative Firm Is Turning Landmarks into Artful Shared Work Spaces
Beauty Shoppe uses local artisans to craft beautiful offices in Rust Belt cities
As Pittsburgh's evolution from steel town to tech hub progresses, innovators are continuing to find new ways to reimagine the city's landscape while protecting its unique history. One such firm, Beauty Shoppe, is breathing new life into landmark buildings around town by transforming their interiors into high-design co-working spaces. Launched by Matthew Ciccone—one of the cofounders of the Ace Hotel Pittsburgh—Rabih Helou, and Zachary Ciccone, the company now occupies space in six buildings around Pittsburgh and one in Cleveland, Ohio.
"Something really big that we're responding to design wise is trying to create a more professional space for people of a variety of ages and demographics," says Morgan Stewart, Beauty Shoppe's director of design. "In Pittsburgh, we have multiple locations, and each one feels very unique to the location. We're really trying to be inspired by the building and to think of the individuals that will be using the spaces and create a functional but also very inspiring work environment."
Unlike other shared working spaces that have popped up in across the country, the firm integrates local makers to add a level of individuality not seen in most office environments. Monmade, a Pittsburgh organization that helps local craftspeople with outreach, assisted Beauty Shoppe in their search for some of those artisans, among them fabricator Bones and All, which created conference room tables as well as banquets at Foyer, Beauty Shoppe's first coffee shop located within Cleveland's landmark Seymour Building.
Recommended: A Hidden Art Deco Lobby on Wall Street Undergoes a $1 Million Restoration
Ceramic artists Chelsea Erdner and Francis Defabo created the planters and vases found around the Cleveland office, while area painter Lauren Noel made the artwork that hangs in Foyer, fabricator Sam Cahill crafted some of Beauty Shoppe's signage, and textile artist Leah Patgorski crafted curtains and room dividers.
"It's taken a lot of energy—in a good way—for us to reach out and dig into these communities, but it's really exciting to find somebody who really believes in what you're trying to do and is really excited about showcasing what they have to offer in a space that they might not otherwise interact with or have access to," says Stewart.
Beyond providing desk space in a gallery-like environment, the company is raising the bar for a co-working environment by offering its members unique programming, such as the Education Series with Carnegie Mellon University's Heinz College, or The Launchbox, an "educational accelerator program" with Penn State New Kensington, aimed at supporting startups. "We really have tried to create an environment where people can learn and grow and be inspired," says Stewart. "We saw that as a great opportunity to provide something to our members that we have never seen in a collaborative working space, and we are constantly looking for ways to foster growth within our spaces."
Recommended: New York Office Lobbies Reinvented As Art Spaces
In Cleveland, the company opened Foyer, a cafe offering award-winning Parlor Coffee and locavore dishes; the location is also partnering with popular local restaurant The Plum to offer pop-up lunches on Fridays to better encourage community gathering. The foray into food and beverage was designed "to create this welcoming environment so people who aren't necessarily members of the space still have the opportunity to interact with the brand and get a feeling for what we think shared working can be, which is hospitality focused," says Stewart. "Not every one of our spaces has a public facing food and beverage component but the programming aspect of all of our spaces encourages bringing everybody inside, and creating something for everybody to have an interaction with the environment we're creating."
As the company continues to expand—with new locations on the horizon as well as an exciting collaboration with Portland-based home goods company Schoolhouse–Beauty Shoppe is paying attention to remain true to their ethos. "We're really enjoying getting to know all of these buildings," says Stewart, "There's so much interesting history that can really inform how we use and celebrate the spaces. Really tapping into the community has allowed us to see other needs for co-working."
Next Post