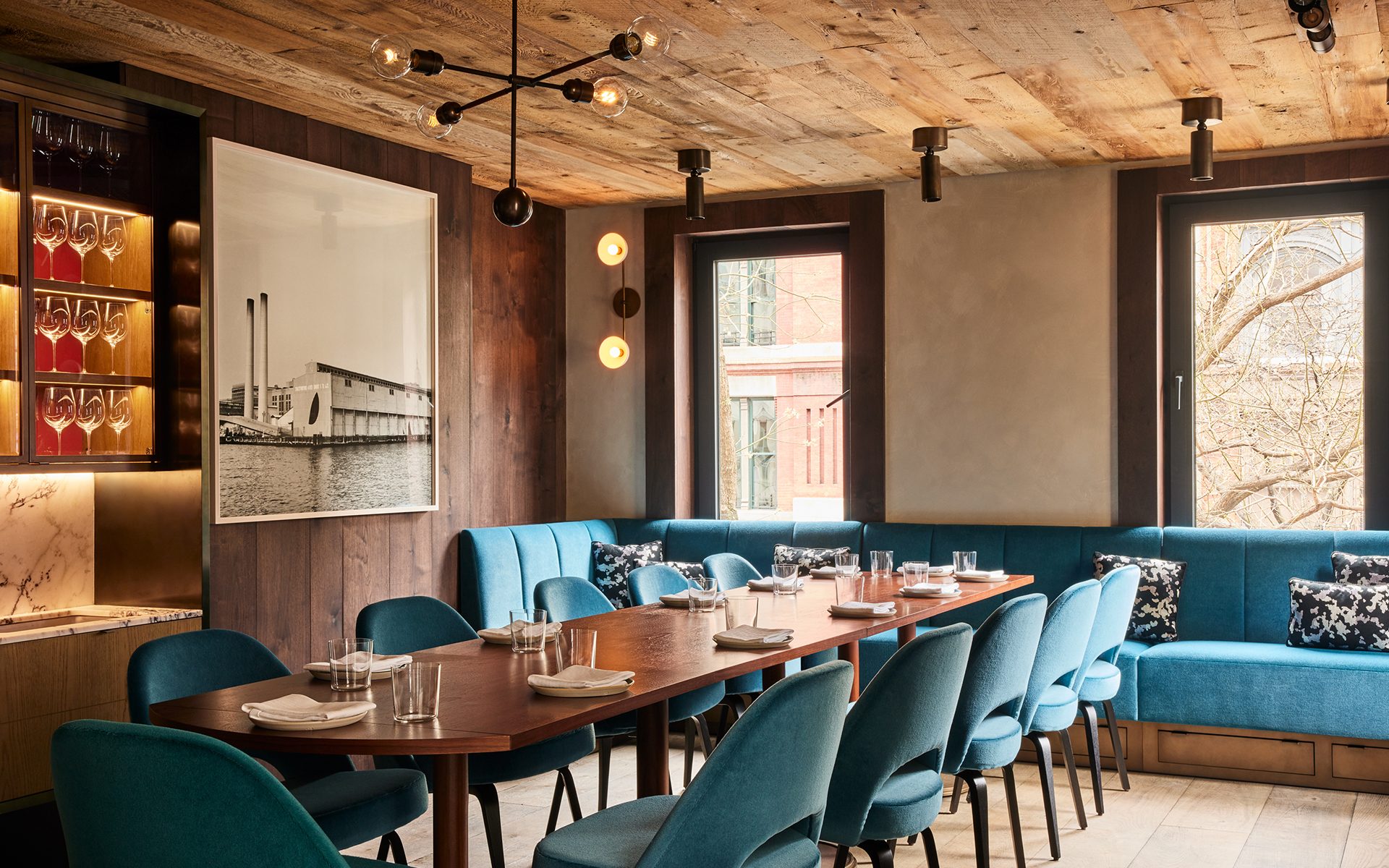 Chef Austin Johnson and Sommelier Dustin Wilson Open Their Dream Restaurant in Tribeca
At One White Street in Lower Manhattan, guests can enjoy a cozy a-la-carte menu downstairs and a unique farm-to-table tasting menu upstairs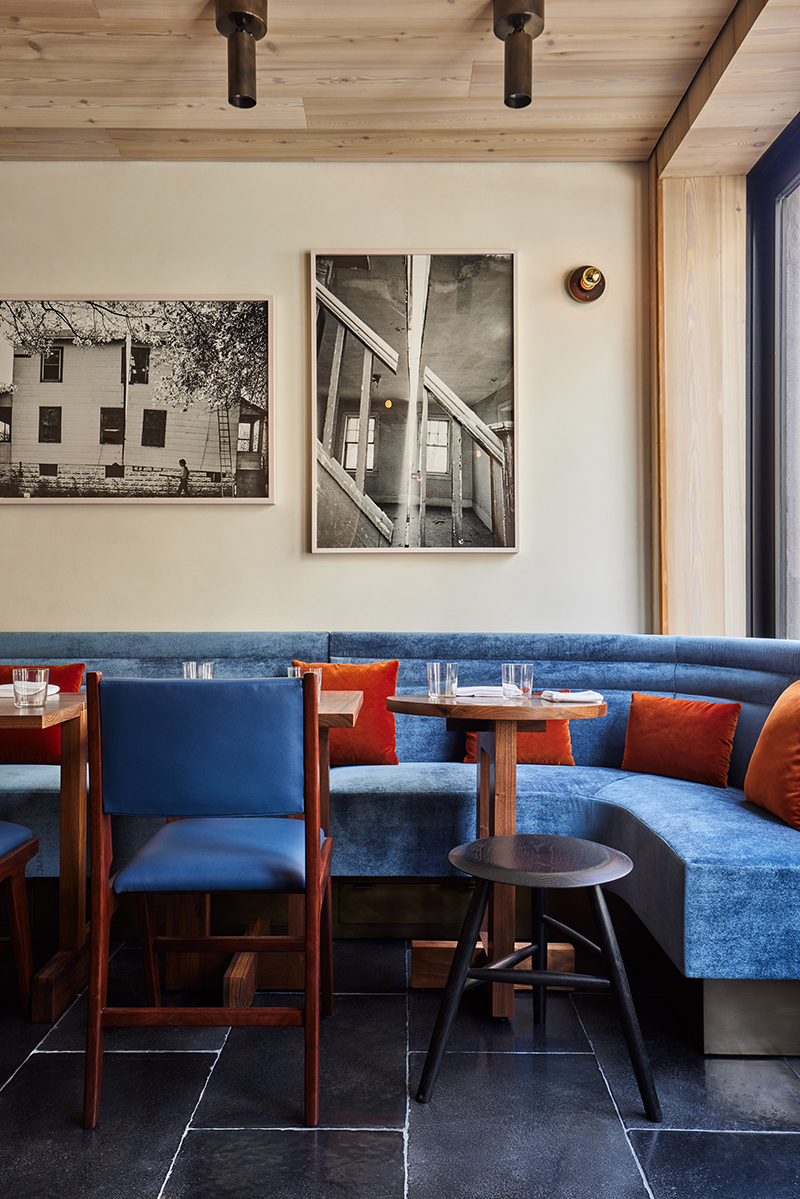 Michelin-star chef Austin Johnson and former Eleven Madison Park sommelier Dustin Wilson have joined forces for One White Street, which opens in New York on August 5. Inside a converted Tribeca townhouse, guests can enjoy a casual dining experience on the first level or try a multicourse tasting menu on the upper floors. "It's a very unique opportunity what we've got ourselves into here," says Wilson. "It's the dream restaurant." 
To build the seasonal menu, Johnson teamed up with Rigor Hill, a ten-acre upstate New York farm, which will grow everything from maitake mushrooms, spinach, and baby turnips for a roasted cod dish to hops for a custom brew. "I don't ever have to buy another vegetable from any other purveyor for the life of this restaurant," says the chef, whose experience working in Paris establishments taught him that "product is king" and sourcing market-fresh ingredients should take prevalence over fancy technique. "When I left France after three years, I took that with me and realized the only way to accomplish this lifestyle or to run a restaurant with this mentality requires me having my own farm."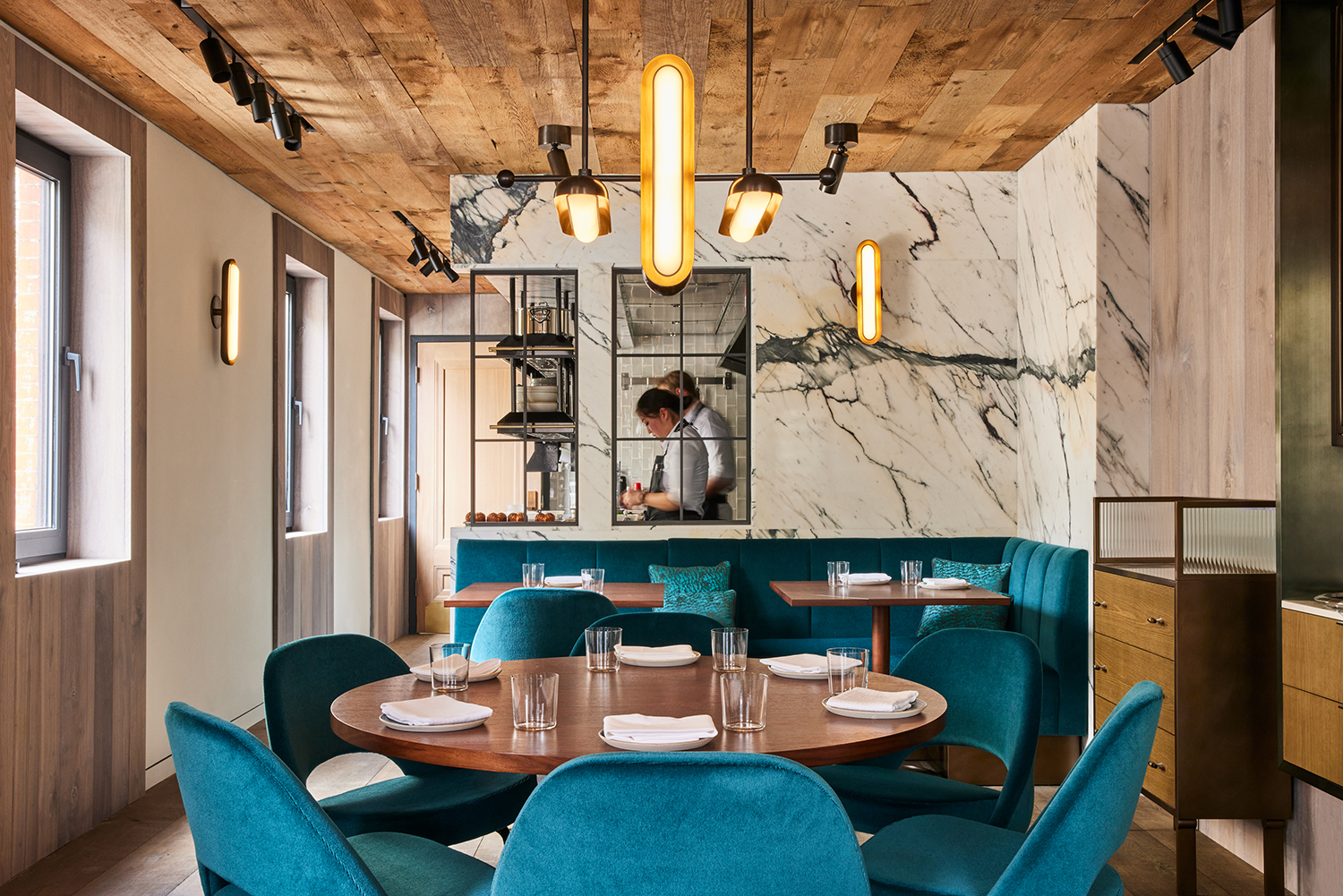 Johnson also drew on his experience working for Michelin-starred restaurant Frenchie in helping craft One White Street's various dining room options. In Paris, Frenchie hosted a formal space with six- to eight-course tasting menu on one side of the street and a more casual, a la carte  Frenchie Bar à Vin on the other. At One White Street, the ground floor lounge offers a neighborhood bistro atmosphere while floors two and three are more formal. "We love that idea of those two very cohesive concepts taking place right next to each other," says Wilson. "We wanted to build that same vibe, but vertically."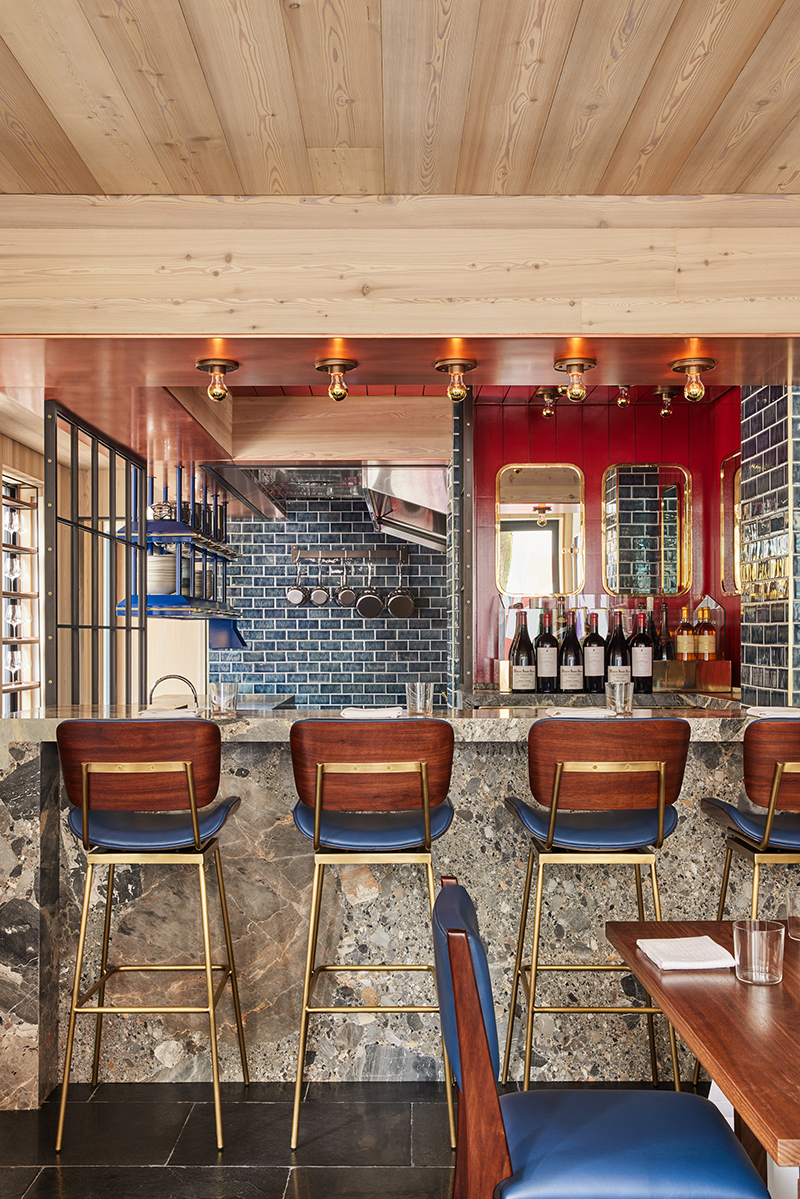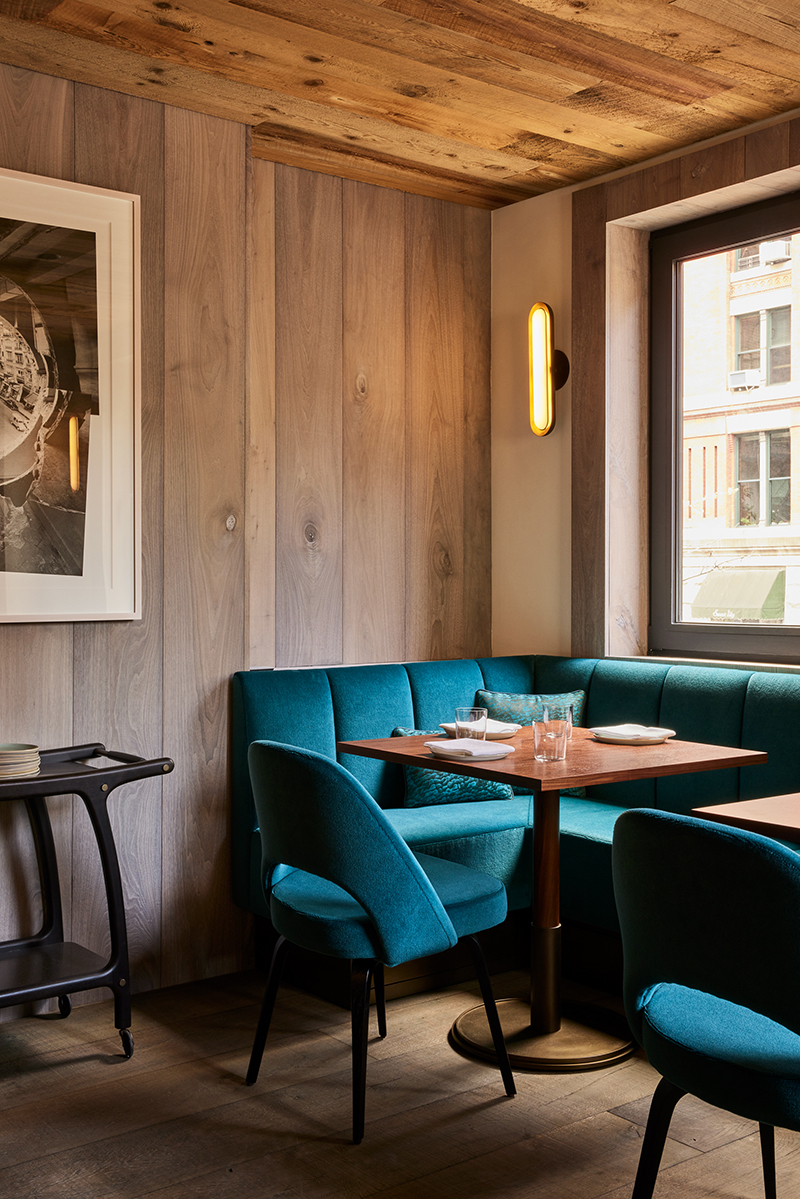 The building itself also influenced the restaurant's convivial concept—in the 1970s, the townhouse at 1 White Street was the headquarters of John Lennon and Yoko Ono's conceptual nation, Nutopia. "We've taken that little bit of history and folded it into how we thought about certain things in the restaurant," says Wilson. "We like the idea and philosophy around what Nutopia stood for which is a kind of hospitality first, everyone is welcome, and it doesn't matter where you come from, doesn't matter what your background is, that you can become a citizen of this country just by being aware of its existence. That inspired the culture and the vibe that we tried to create in the space."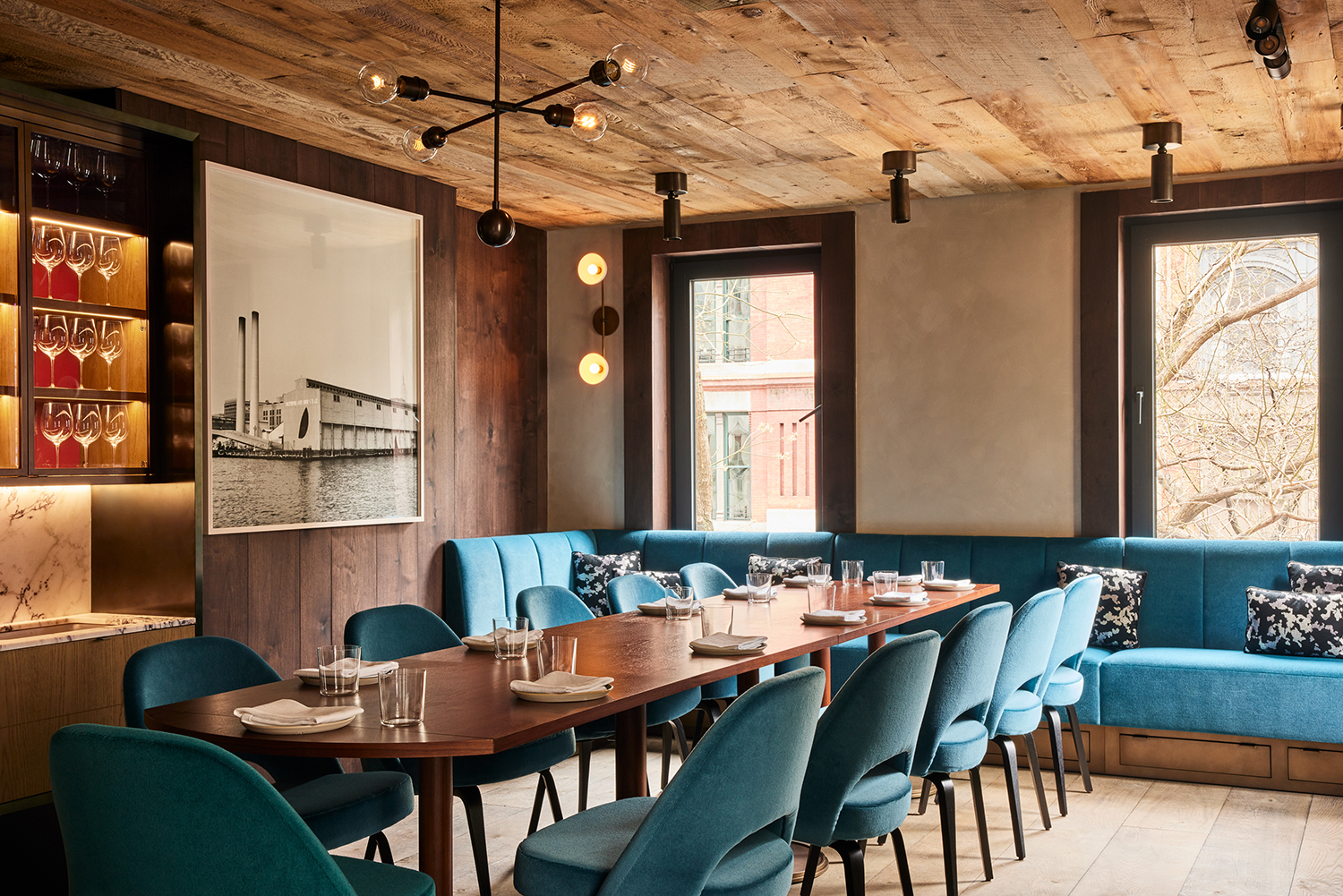 The restaurateurs worked with King & Partners to cultivate One White Street's branding while West Coast designer Richard Felix-Ashman crafted the restaurant's welcoming interior. The building, originally built in the 1800s, had been stripped of many of its architectural details, and the residential-size rooms required dining rooms to be conceived to more of a boutique scale. "The project was much like renovating and doing the interior design for a house as it was for a restaurant," says Felix-Ashman. "There were no original details in the building; there was nothing to link it to the 19th-century, so we tried to think of what materials could we use to make the interiors sympathetic to the age of the building."
Hence, Felix-Ashman looked to elements with a slight rusticity, including reclaimed wood and stone. "Everything feels like it's had a hand to it and feels like there's a slight patina," he says. "Then, as a counterpoint, the furniture is very modern."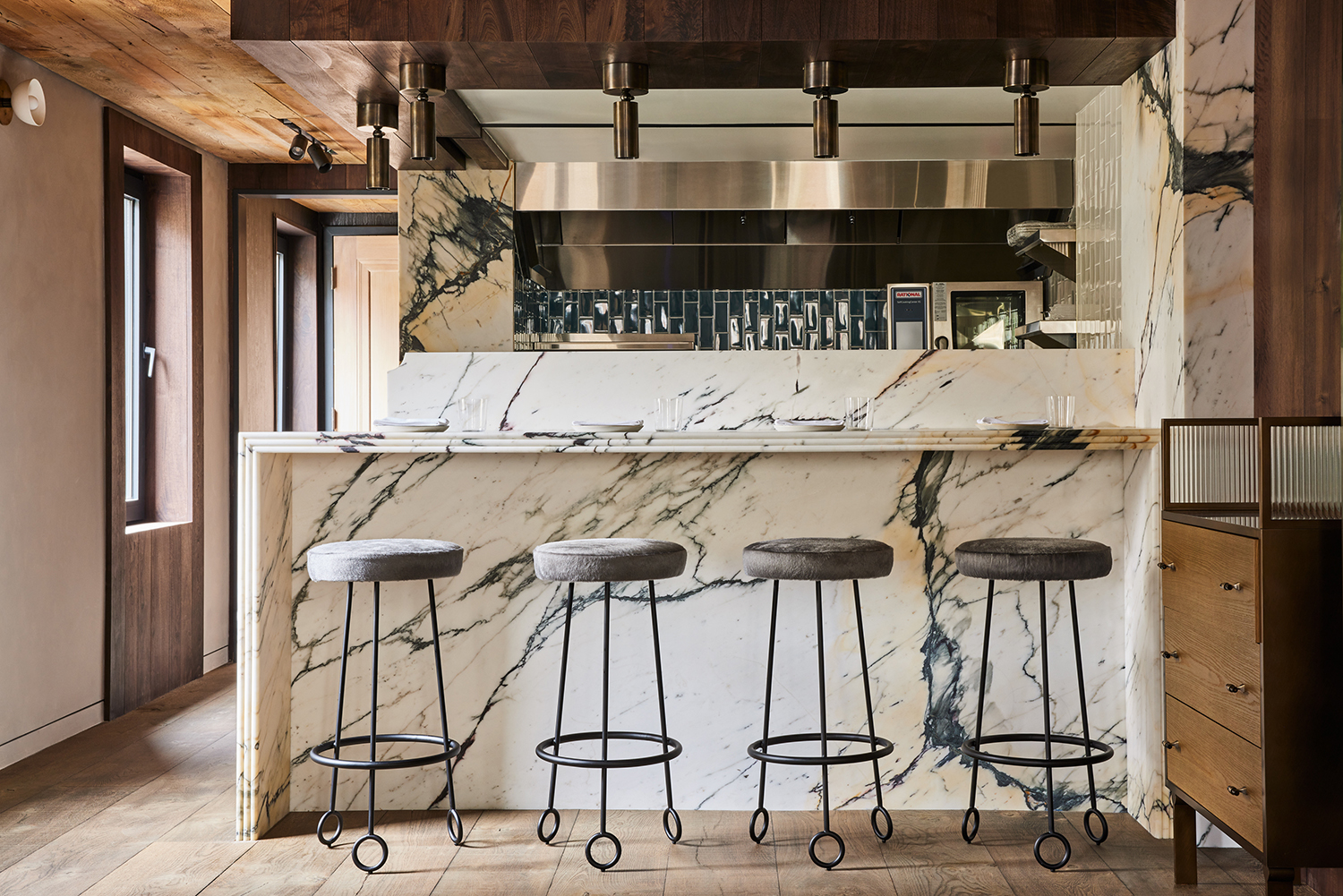 Knoll Studio chairs upholstered in a Holly Hunt mohair add a pop of color, which is picked up in a traditional tile in the kitchen and bar. A series of photographs by Gordon Matta-Clarke is displayed throughout the dining rooms which also feature minimalist lighting fixtures from Apparatus. Linking all the spaces is a dramatic staircase that boasts a striking chandelier by Kenzan Tsutakawa-Chinn. "It needed to be a major design element in the space because it really connects everything," says Felix-Ashman of the stairs.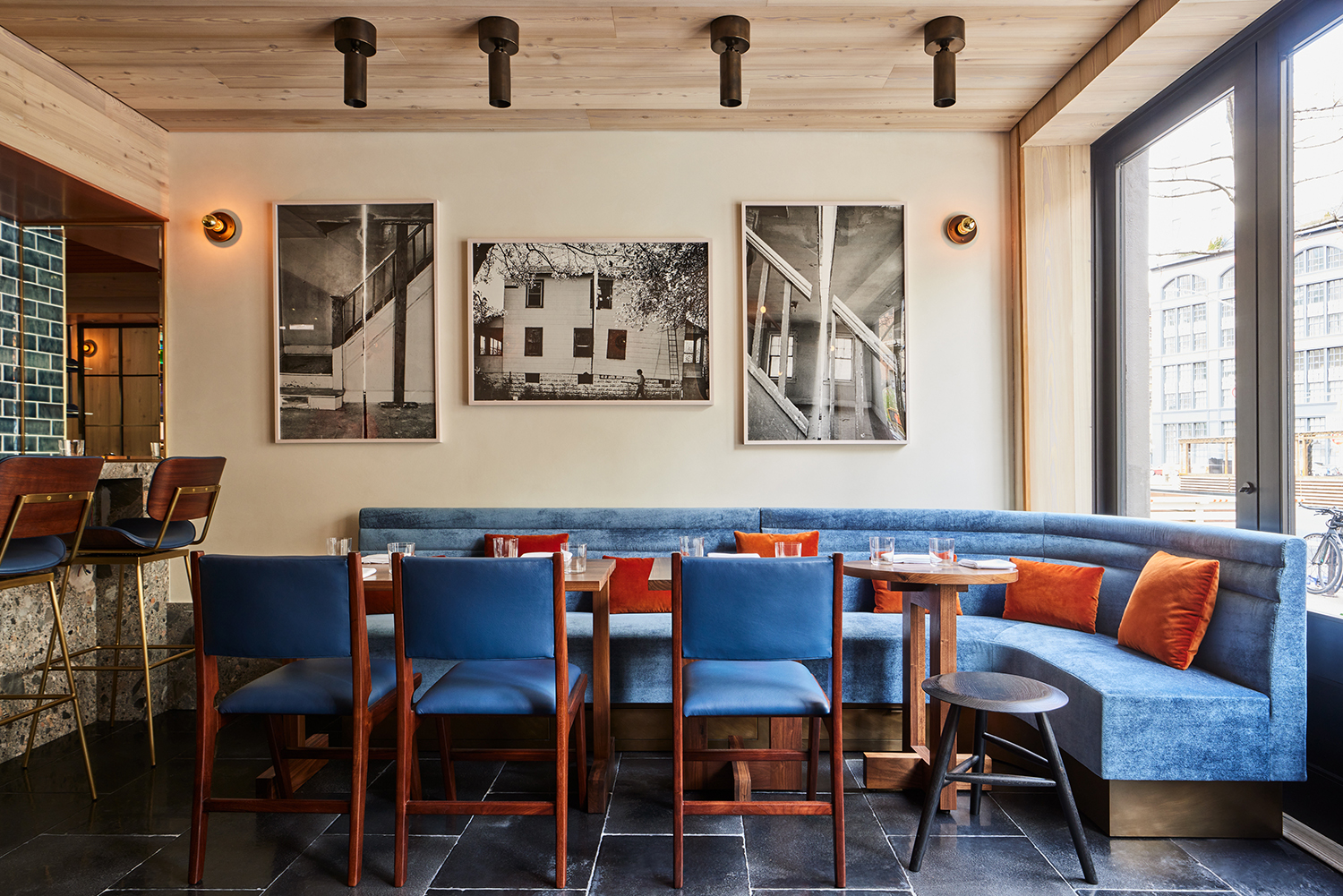 All together, One White Street is both a neighborhood hangout and an epicurean destination with dishes utilizing ingredients that could have been picked that morning. "The goal for us is to build a restaurant and an experience that balances the attention to detail and keeping the standards really high, but we're two very laid back guys," Wilson says. "We don't want it to be too formal, we don't want it to feel too stuffy. We're trying to find the balance between this beautiful space, really amazing food, great wine, great cocktails, but have it be really fun."
A version of this article first appeared in print in our 2021 Summer Issue under the headline "White Hot." Subscribe to the magazine.
Next Post