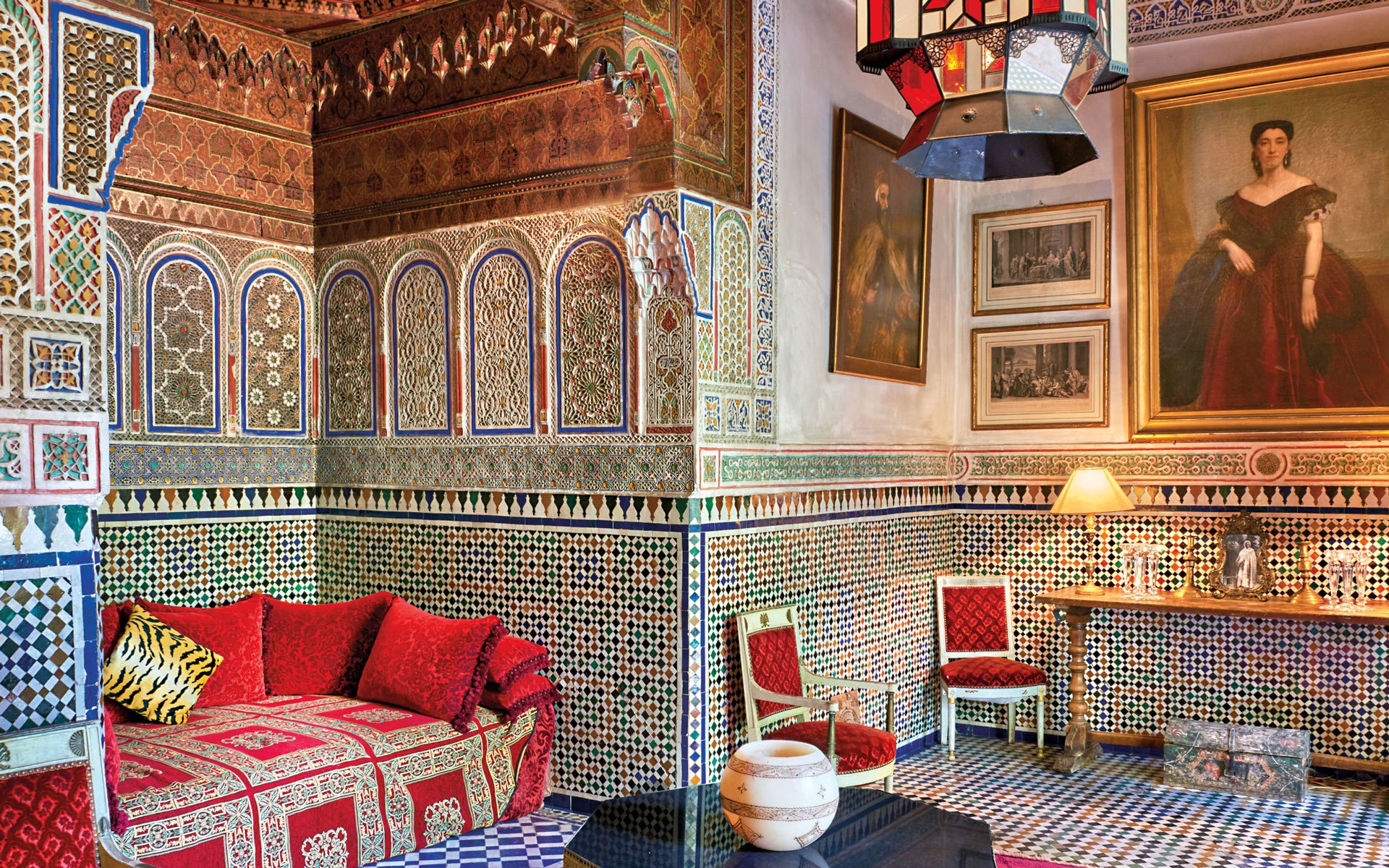 Artists Brice and Helen Marden's Colorful Marrakech Home Is a Painter's Paradise
Historic splendor mixes with spirited contemporary style in a sprawling 19th-century riad within the heart of the city's medina
Three decades ago, Helen and Brice Marden were on their first trip to Morocco together when inspiration took root. It was wintertime, and the artist couple was driving up into the Atlas Mountains. "The red earth was coming through the snow," recalls Helen, "along with blades of young green grass." From that moment came one of Brice's signature minimalist compositions, Helen's Moroccan Painting, a 1980 work in which he distilled the memory of that landscape into a monochromatic rectangle of mossy green atop another in earthy burnt sienna.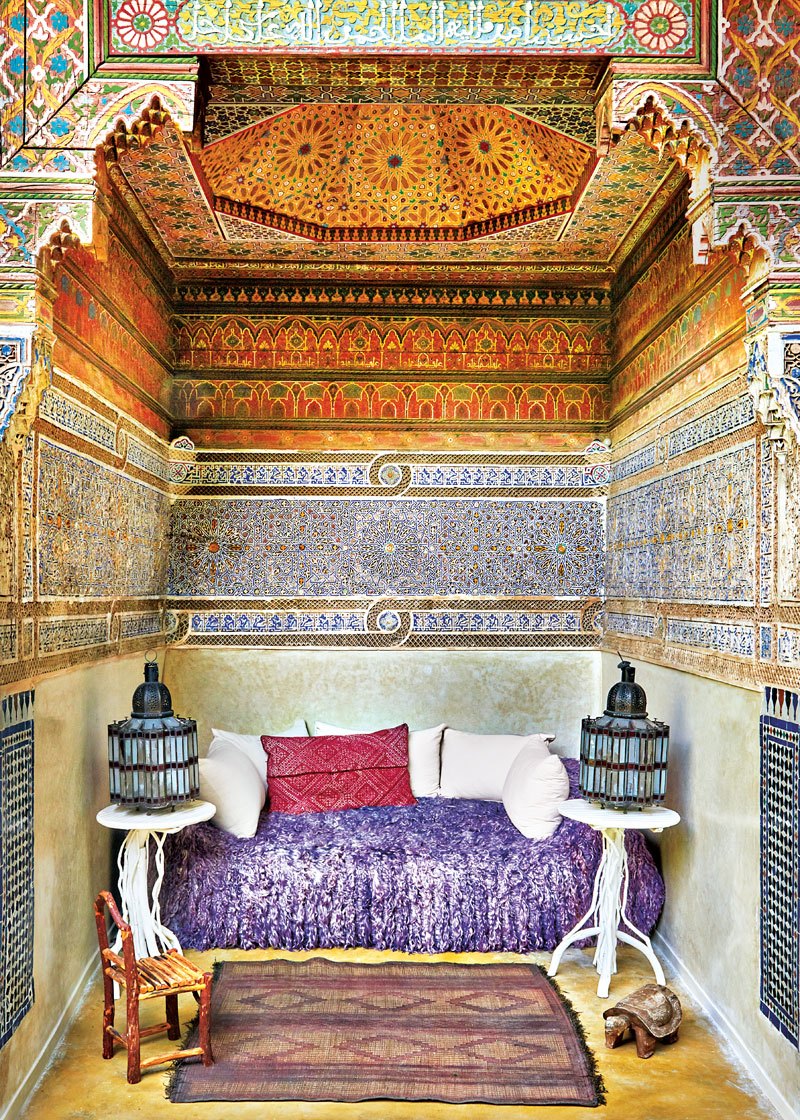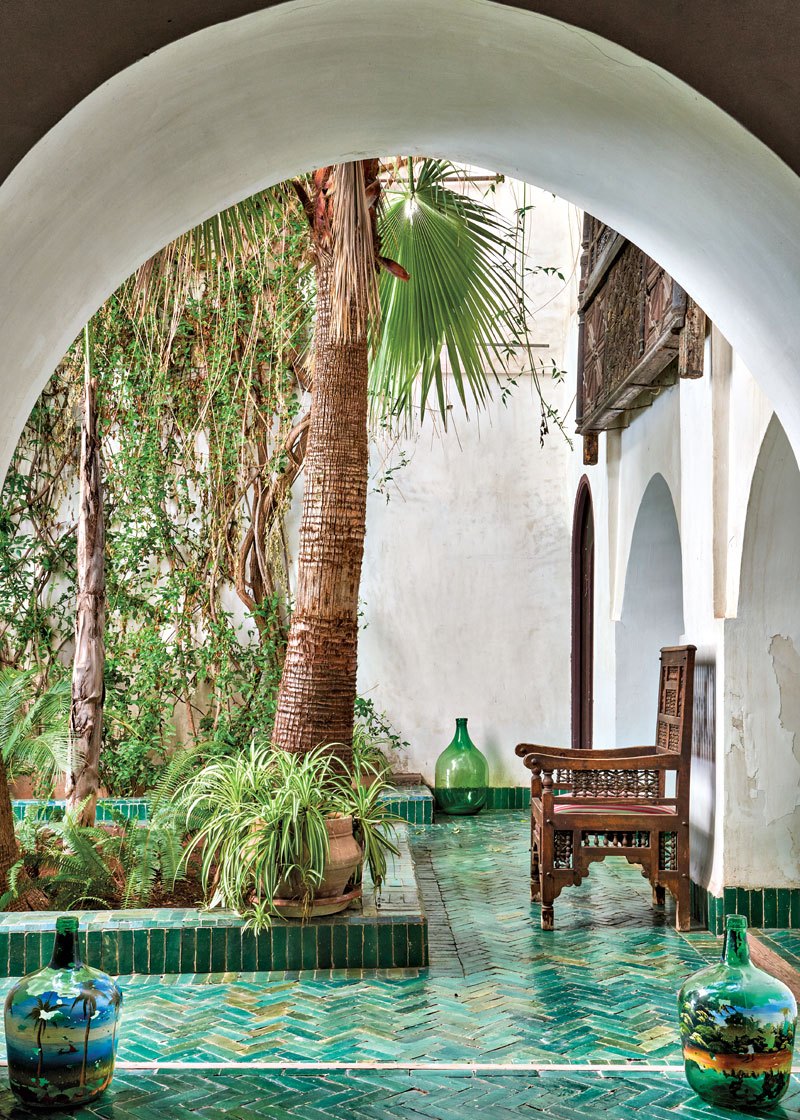 Throughout Brice's career, travel has been integral to his art, including the lyrical, looping, calligraphic abstractions he's arguably best known for. He and Helen have had a notably peripatetic 52-year marriage—though they've cut back since his 2017 cancer diagnosis—and along the way they've acquired properties in several locations, from their base in Tivoli, New York, and their longtime Grecian getaway in Hydra to a retreat on the Caribbean island of Nevis and, most recently, two residences in Marrakech.
"We've been going to Morocco for years, and Brice particularly loves Marrakech because of that beautiful afternoon light with the pink—it's just glorious," says Helen, whose own vibrant canvases were recently exhibited at Gagosian. "Both of us work, especially Brice, wherever we are. And Brice is not Churchill. We can't stay in La Mamounia while he paints."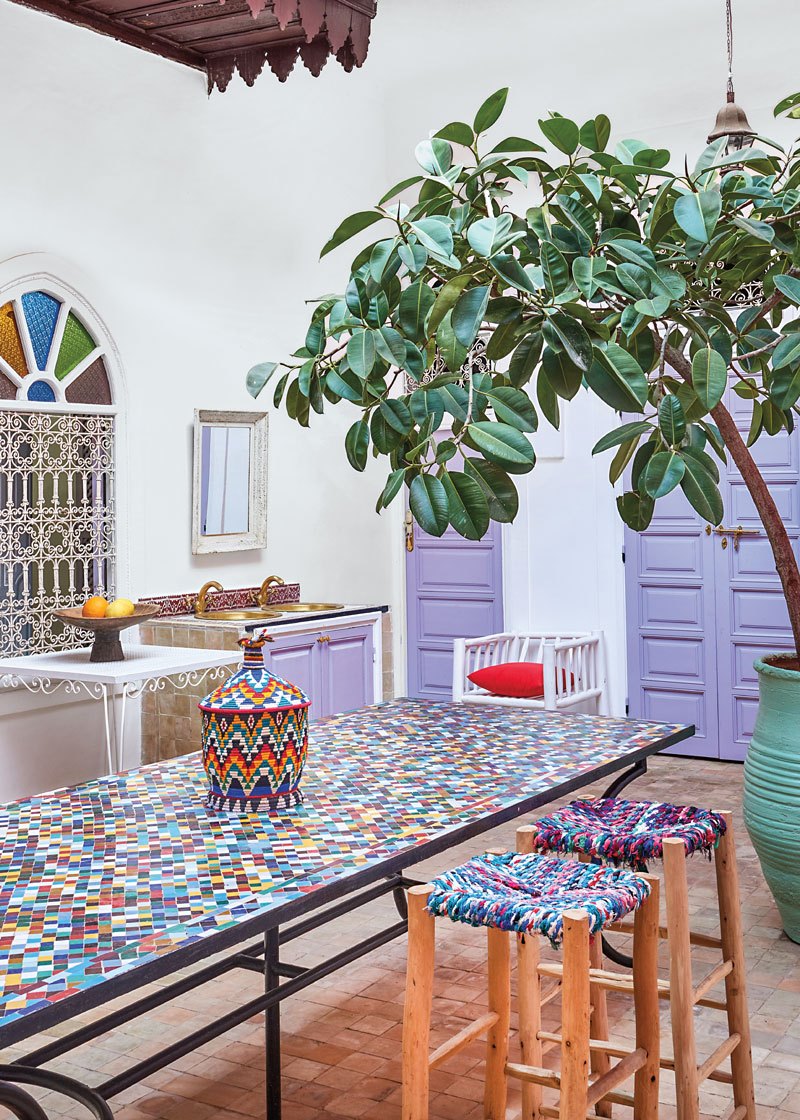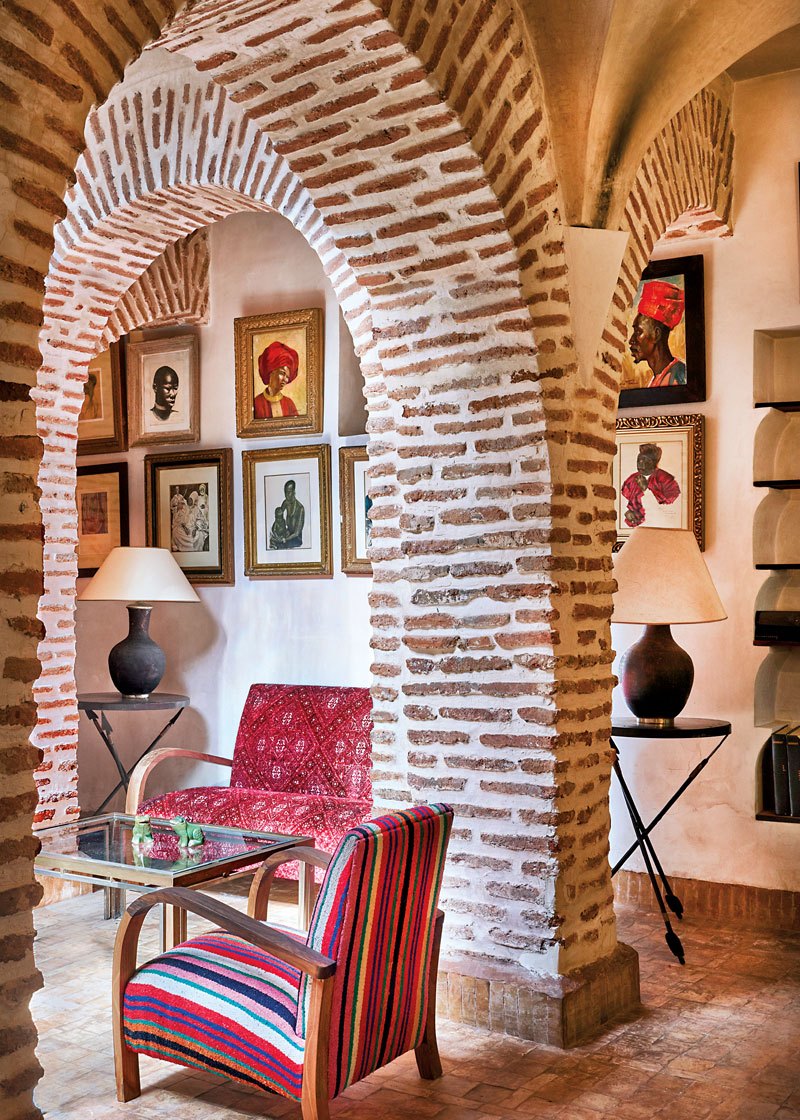 So about five years ago the couple acquired a riad—a traditional home built around a courtyard—near the edge of Marrakech's medina, later adding part of an adjacent house to serve as Brice's studio. Not that they were looking, but a couple of years later they learned about another, much larger riad that was for sale in the heart of the medina. Known as the Riad Madani, the 14-bedroom former palace of the El Glaoui family dates to the mid-19th century and is filled with colorful zellige tiles, exquisite painted ceilings, and walls finished in traditional tadelakt polished plaster.
"It's totally spectacular and a brilliant example of Marrakech's cosmopolitan fusion style"

Meryanne Loum-Martin
The owners who were selling, one of them a former French diplomat, had over the course of decades added an array of furnishings and objects amassed on far-flung travels. "You have the incredible bones of the best of Moroccan architecture mixed with French château furniture, African portraits, painted tapestries from China, and sculptures from Melanesia," says Meryanne Loum-Martin, the owner of the Jnane Tamsna hotel in the Palmeraie district who featured the residence in her new book, Inside Marrakesh: Enchanting Homes and Gardens (Rizzoli), a survey of the city's most stylish interiors. "It's totally spectacular and a brilliant example of Marrakech's cosmopolitan fusion style."
Helen was intrigued enough to make a weekend trip to Marrakech to see it. "When I walked into the riad, the place was so magical," she recounts. "I quickly sent an offer, thinking the owner would counter. But he texted back, 'Great, we'll close in January.' I thought, Yikes, I haven't even told Brice yet."
The residence came with virtually all of its contents, and the Mardens have kept things much as they were, while undertaking some modest renovations. In addition to cleaning and repairing the historic tiles and refreshing the tadelakt plaster, they updated the tired kitchen and enlisted their friend Madison Cox, the eminent landscape designer, who has a home on the legendary Majorelle estate, to work on the overgrown garden in the largest of the four courtyards.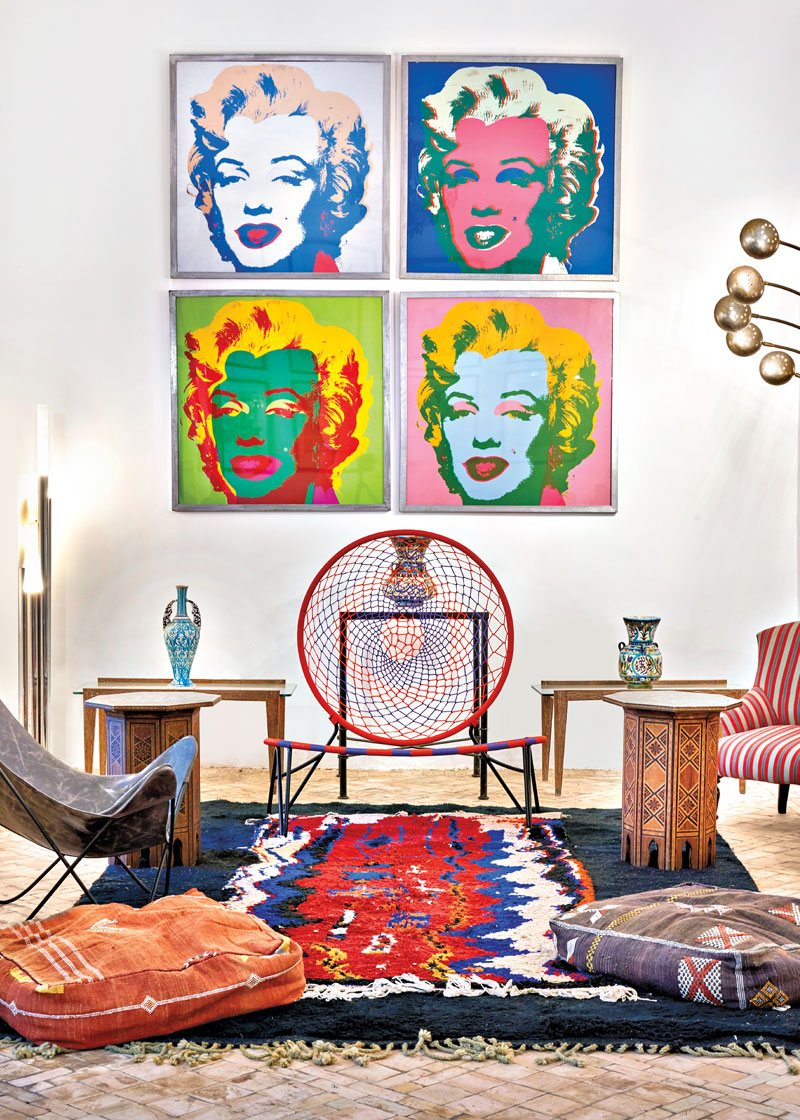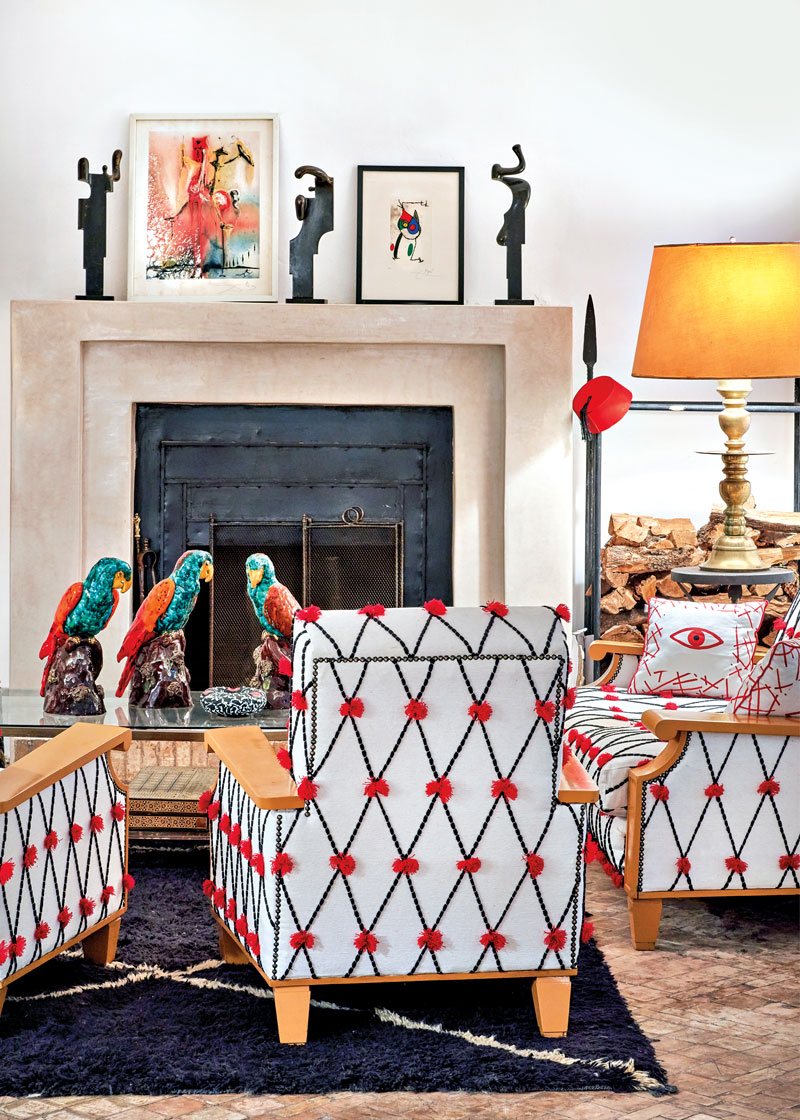 The couple brought in some furnishings from go-to sources like Now on the Ocean, the company founded by writer and garden designer Umberto Pasti, which sells delightfully idiosyncratic tables and chairs made by Moroccan craftsmen. Another trusted source is Mustapha Blaoui, an emporium in the medina that provided much of the furniture in an entertaining space distinguished by brick columns and arches.
In the main living room, which was given a Deco-ish makeover decades ago, Andy Warhol Marilyn screen prints mix with Arabic inlaid tables, a quirky and colorful Tord Boontje hoop-back chair, eye pillows by Greek jewelry designer Elena Votsi, shaggy Beni Ourain and other Moroccan rugs, and armchairs and sofas that the Mardens reupholstered in fabric dotted with spirited red Berber pom-poms.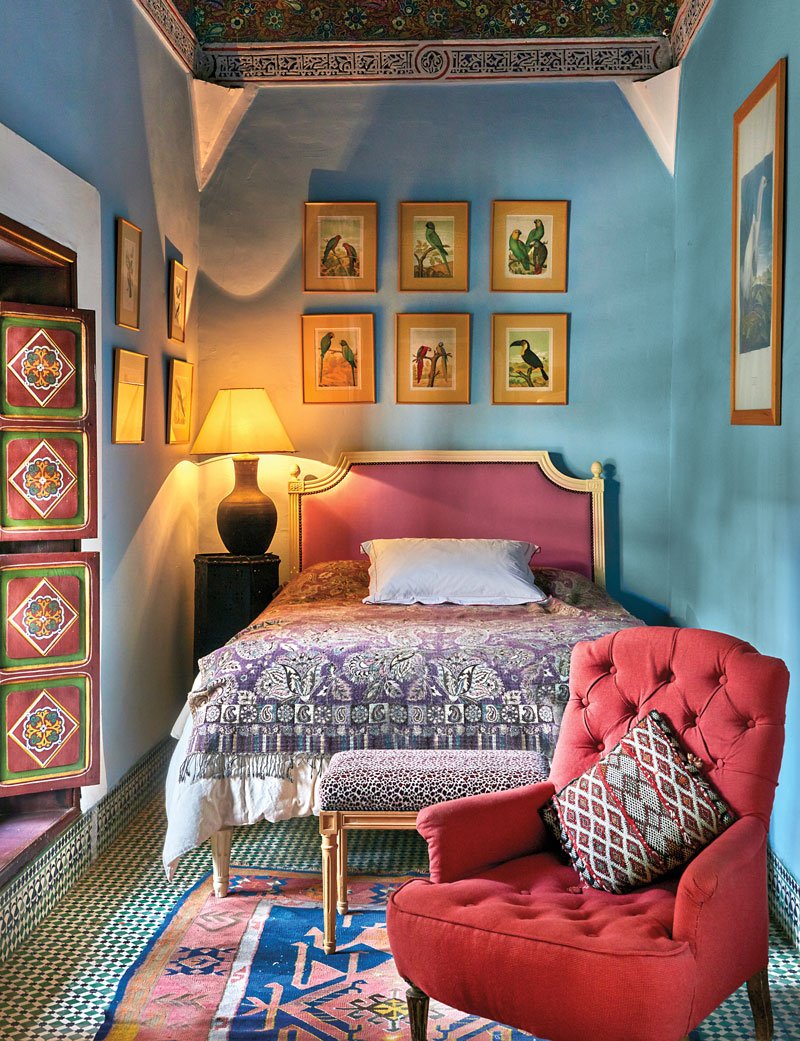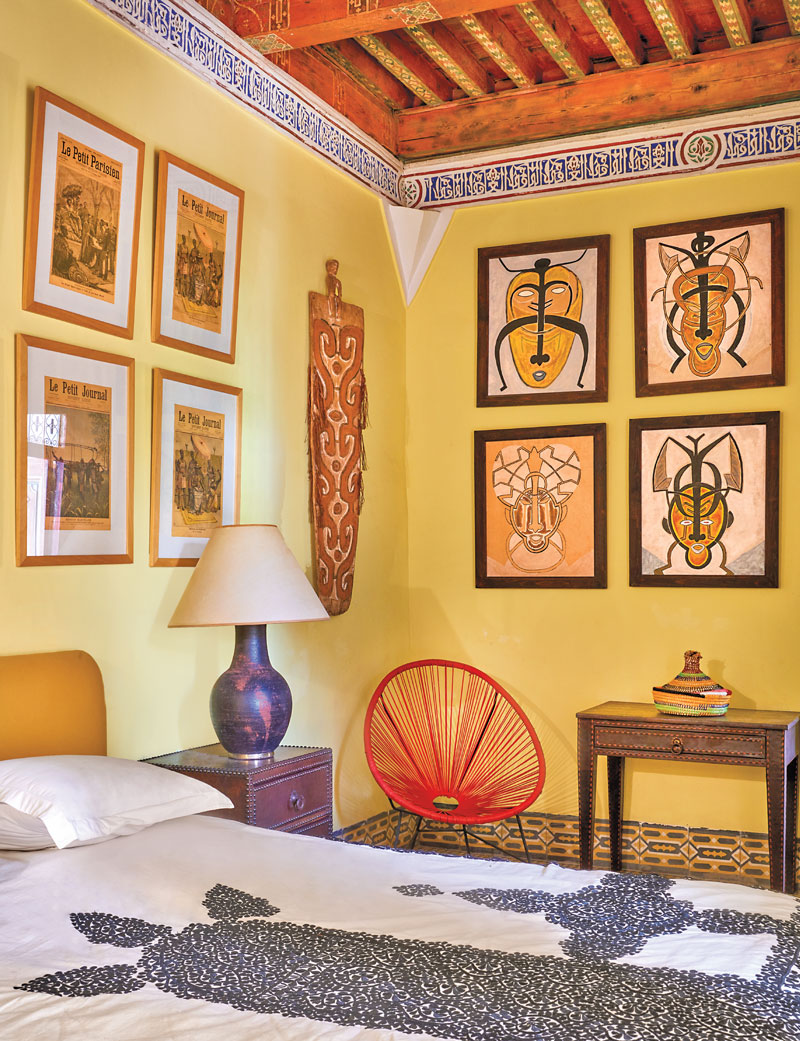 Mornings tend to start with breakfast in a sunny garden spot. Brice often spends part of the day drawing out there as well, when he's not in his studio at the other riad, a 20-minute walk away. As for Helen, she usually finds time to retreat to her favorite second-floor bedroom, which has a sitting room with richly painted ceilings and a window out to the medina. "I just love being up there," she says. "I feel harbored from the world."
A version of this article first appeared in print in our 2020 Fall issue under the headline "Painter's Paradise." Subscribe to the magazine.
Next Post