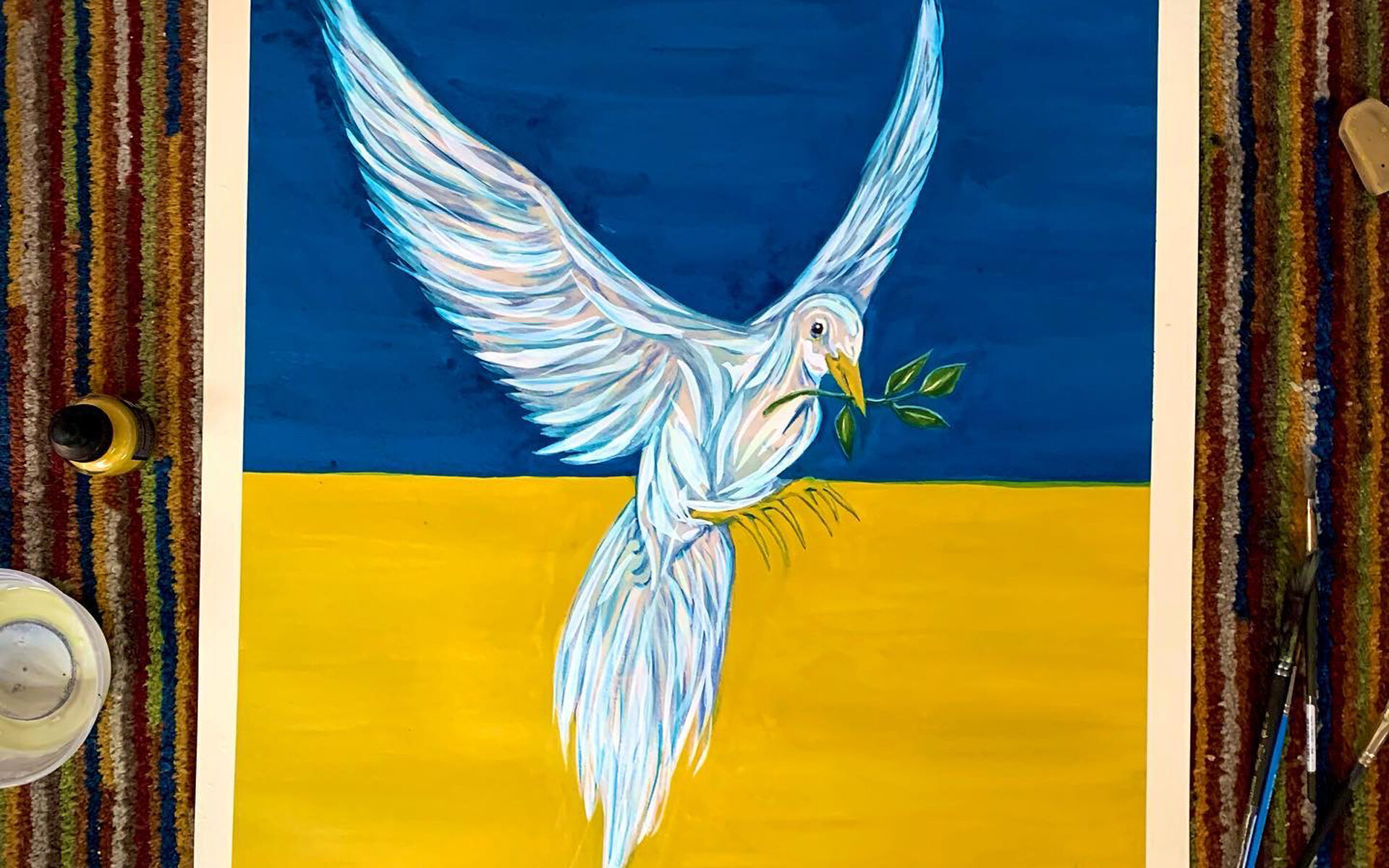 How the Art World Is Responding to the Devastating Situation in Ukraine
As the conflict enters its second week, here is how luminaries including Marcel Dzama, Klaus Biesenbach, and Marina Abramović have made a statement
Art has often served as a way to process the harsh realities faced in periods of crisis. Indeed, some of the most powerful art of the 20th century has come in times of war. Since Russia invaded the Ukraine on February 24, it is reported that the fighting and attacks have already killed hundreds of Ukrainians and injured thousands more. At least a million refugees have reportedly fled the nation, seeking shelter in neighboring European countries. As a response to the humanitarian crisis, the art world has swiftly taken to social media in recent days. Not only are the posts expressing powerful emotional responses to the atrocities, but they share key fundraising links, charitable artwork sales, and in some cases, announce a firm refusal to participate in Russian-backed art exhibitions–including the upcoming Venice Biennale in May.
Below, we share some of these messages.
1. Marcel Dzama
Known for his politically charged Instagram posts and artworks, Canadian artist Marcel Dzama created this painting of a dove with the colors of the Ukrainian flag with a note of support for the Ukraine. "I remember my grandpa playing an old Union song Which side are you on? on his mandolin that he bought on his one trip to Ukraine to see the small village where his father was from," the artist writes. "In this time I feel the power of those lyrics. This war demands you pick a side. Do you support democracy or autocracy? Yes democracy can be messy and isn't always perfect, but we need to stand up to these morally corrupt so called strongmen & their systems of repression & fear." The artwork was also shared on his gallery David Zwirner's Instagram.
2. Venice Biennale's Russian Pavilion Artists and Curators
The curator Raimundas Malasauskas, known notably for his work on Lithuanian Pavilion in Venice in 2013, has been working on the Russian Pavilion for the 59th Venice Biennale for the past year or so. In recent days, he took to Instagram to announce his resignation. "I cannot advance on working on this project in light of Russia's military invasion and bombing of Ukraine. This was is politically and emotionally unbearable," he writes.
The young Russian artists Kirill Savchenkov and Alexandra Sukhareva who were set to represent Russia in April at the Venice Biennale have also pulled out. "There is no place for art when civilians are dying under the fire of missiles, when citizens of Ukraine are hiding in shelters, when Russian protesters are getting silenced," the statement said.
3. Aljoscha
Last week, Ukrainian-Russian artist Aljoscha staged an anti-war intervention in front of The Motherland Monument in Kyiv to protest Russia's invasion. Holding two pink forms made of acrylic, plastic and fiberglass, the Kyiv-based artist stood naked in front of the massive steel statue that commemorates Russia's role in the Second World War. The pink forms refer to a part of his art practice he dubs "bioism," his idea of extending life to non-living beings. "Bioism condemns any violence against humans, animals and plants. The suffering and war must be stopped! There is no justified conflicts, all of them are criminal, causing violence and pain to all kind of biological beings," he writes.
4. Garage Museum in Moscow
Posting a black square, Moscow's Garage Museum of Contemporary Art shared a caption revealing that the team at the museum have decided to stop work on all exhibitions until the human and political tragedy that is unfolding in Ukraine has ceased. "We cannot support the illusion of normality when such events are taking place," the post says. "Garage has always been an international institution open to a plurality of voices. We are categorically opposed to any and all actions that sow division and create isolation. We see ourselves as part of a wider world undivided by war."
5. Kenny Schachter
Art world provacateur and collector Kenny Schachter swiftly organized "NFTUkraine" with a collection of NFTs linked to the official Ukrainian ETH wallet to raise funds for Ukraine in record time. "By nature I am not a political animal—the art world is treacherous enough," Schachter pens in a recent column for Artnet news on his project. "Recent events in Ukraine have led me to pursue a different course of action…." He took to Insstagram to express his support for the Ukrainian president, which amounted to a call to arms via NFT donations.
Teaming up with David Cash, who heads a prominent NFT design firm in Toronto, the collection entitled NFTUkraine was launched. The list of participating artists is growing, and all proceeds will be donated to the official Ukrainian government-sanctioned ETH account. Contributors include established NFT artists like Kevin Abosch, Olive Allen, Nicole Ruggiero, Chad Knight, Brendan Dawes, Flosstradamus, Jason Ebeyer, Julian Gilliam, Frankynines, Foodmasku, Laurel Charleston, Mike Ruiz, and Jen Stein, as well as newcomers to the space.
6. Klaus Biesenbach
Longtime curator of the Museum of Contemporary Art in Los Angeles and now director of Neue Nationalgalerie, German Klaus Biesenbach shared support for a fundraiser in Berlin taking place this weekend. "Together with Berlin's cultural institutions, we are calling for a fundraiser to help people who have fled Ukraine and are arriving in Berlin." Those willing to help are invited to donate from Saturday, March 5, at 10 a.m. through Sunday, March 6, at midnight. An "open microphone" on site asks people to share their own thoughts, music or literature. Visual artists, musicians and actors will be there. Along with monetary donations, people are also encouraged to bring much-needed power banks and batteries for smartphones and mobile wi-fi hotspots.
7. Marina Abramović Institute
The celebrated Serbian performance artist performance artist reads a script in a moving video message about the recent shelling in Babi Yar in Kyiv, where her memorial landmark for the victims of the Holocaust was installed in 2021. "80 years ago, Nazi troops led by Adolf Hitler were involved in the killing of innocent people at Babi Yar in Ukrainian Kyiv. Today, Russian troops led by Vladimir Putin are involved in the bombing and killing of innocent people at Babi Yar. How we united to defeat the insane Nazi regime, the world must unite to help Volodymyr Zelensky and the brave men and women of Ukraine. This is the battle of all of us," she reads.
8. Yoko Ono
Artist, musician, and activist Yoko Ono is occupying digital mega screens across the world to transmit a message of peace. Some of the largest LED billboards in major cities, including Piccadilly Lights in London, and Times Square in New York will be interrupted at 8:22 p.m. local time to broadcast the phrase "Imagine Peace" in bold letters every night for the rest of March. The public art installation is presented by Circa, a platform that utilizes digital billboards for arts programming, as well as London's Serpentine Galleries. The ongoing series, which was created before the war broke out, is more poignant now than ever.
9. Nizo Yamamoto
Reknowned Studio Ghibli animator Nizo Yamamoto was born just eight years after a nuclear bomb was dropped on his hometown of Nagasaki, Japan, by the United States in 1945. Understanding the impact of war on children, and the real possibility of nuclear attack from Russia has prompted the artist to sell an original artwork to help support those affected in the region. "I oppose Russia's invasion of Ukraine," Nizo wrote on Twitter.
10. Have A Butchers Print Sale
A group of photographers have rallied together to sell prints of their work for £50 plus postage, with money raised going to the British Red Cross and the Ukraine Crisis Appeal. The sale runs until March 11, and all of the 8-inch-by-10-inch prints will be made and delivered after the sale. Find the full selection here.
Next Post