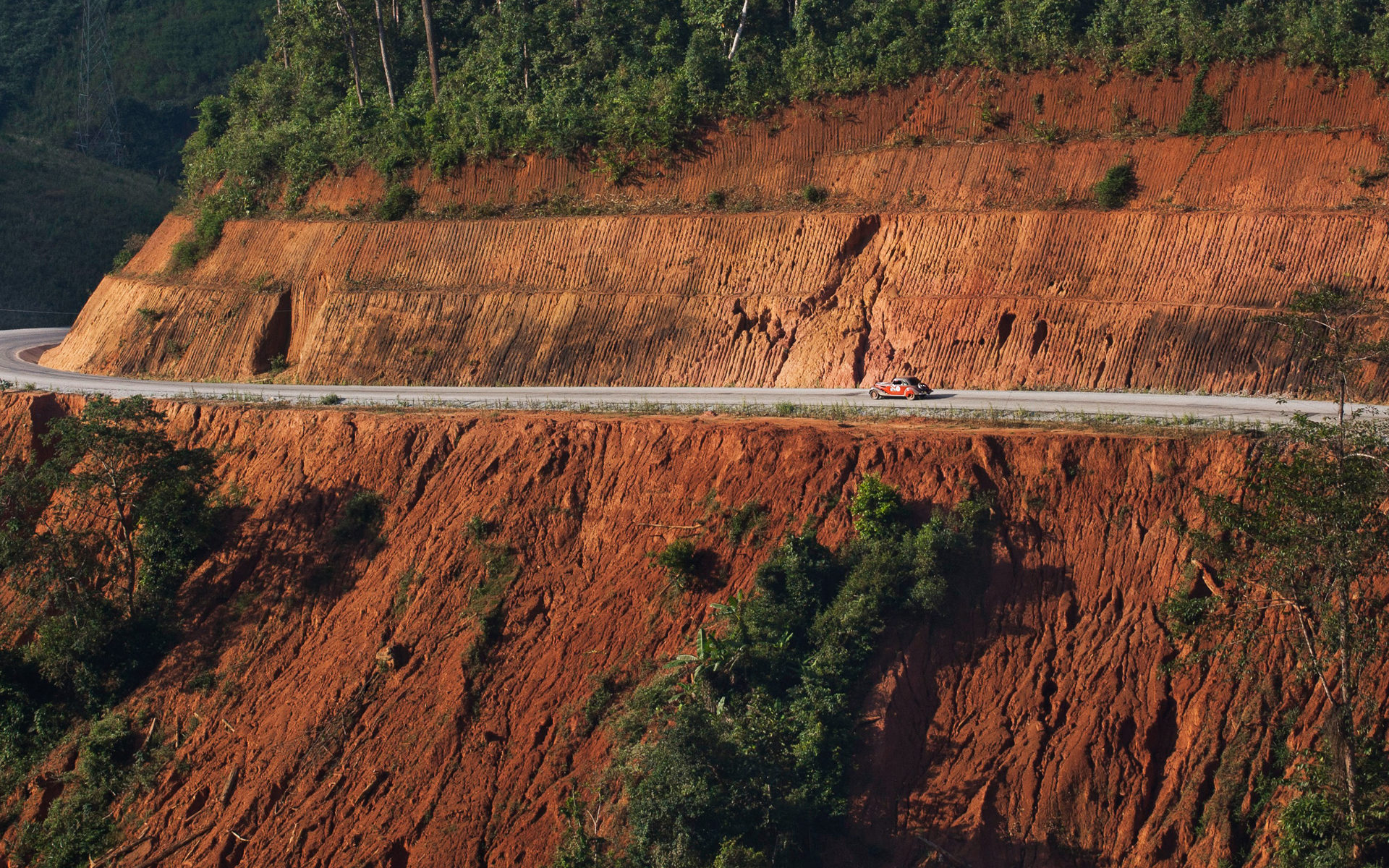 Architect Steven Harris Races Rare Vintage Porsches Around the World
The New-York based talent shares his ultimate form of relaxation: endurance car rallies
I've been obsessed with cars since I was three years old. Because of the cars my father and my uncle owned, I'll be collecting two types of cars for the rest of my life: Porsche 356 and Porsche 911. I still remember what they smelled like, what they sounded like. That's what started the whole thing.
I also love driving—I find it extraordinarily relaxing. Although I've done a fair amount of racing on tracks, I don't really love just going around in a circle. Instead, I've become immersed in car rallies, which can be rigorous and require intense focus. Some rallies are long-distance endurance events—the Great South American Challenge, London to Cape Town—that can cover 10,000 miles and take up to 35 days. You're never going more than about 75 m.p.h., so you're experiencing these remote places while driving through them, as well as making sure your car holds up.
It's very hard these days to find anything that is truly different. The rally from Peking to Paris through Mongolia is definitely different. It's a completely other landscape, culture, people, everything. Mongolia also happens to have almost no paved roads except for in Ulaanbaatar, so you're driving across vast expanses of desert, navigating whether you should go around a mountain by passing on the edge of a cliff or by going through a lake. For the South American rally, you're driving the length of Patagonia—through deserts, glaciers, and alpine forests. I crossed Lake Titicaca on a rickety barge with my car. It's exhilarating but uncomfortable, with incredibly long days filled with car trouble. 
Those long rallies are expensive and well organized—and participants need to be prepared. You have to have your vehicle in top working condition, knowing the drive is going to pretty much destroy the car. Then there's the entrance fees, which break down to about $1,000 per day—plus shipping the car, customs, and other equipment. But what's amazing is that many of the people on the rally are masters of the universe accustomed to controlling everything—and here you have no control. You'll come into a little town in Mongolia with a broken rear strut, and you've got to wake up the local blacksmith to get a piece of rebar to fix your car. You're standing there all night helping him weld the part, and he doesn't want any money. It's very different from railing at your local Mercedes-Benz dealer because your car wasn't clean when you picked it up.
On that rally of 30 cars in Mongolia, there was also a man driving a 1932 Plymouth who, to avoid a pedestrian in Turkmenistan, drove into a ditch and broke an irreparable part of his suspension. Luckily, he had another car just like it that he happened to keep at his vineyard in Portugal. He also happened to have a Gulfstream jet there. He broke the part at 4 P.M., and by 9:30 P.M. the GV had landed with the replacement piece. The next morning he went on with the rally, not missing a single day.

The Porsche 356 from 1964 we used for Peking to Paris and in South America was really built for endurance—strong and tough. When my navigator/mechanic and I finally arrived in Paris, we could have turned around and driven back, while most cars had been wiped out. This Porsche has an enormous skid plate under the car, so if you see a huge rock, you just speed up and bounce over it.
You also have to pack your car for the journey—clothing, tents, all the spare parts, sleeping bags, and protein bars if you don't care for the local cuisine. Before we set off, we also did a lot of research online—charting the route, looking at weather reports. We found that in this part of Mongolia, the average low would be 45 degrees, so we got sleeping bags that worked for the freezing point. The night before we crossed into Siberia, the temperature dropped to zero as we slept in a yurt. We then got back into a car with no heat.
I did Peking to Paris on my 60th birthday, and there was another man celebrating his 40th. We started this game every night, where we would trade the names of decadent hotels over an evening beverage. He would say "Hotel du Cap," and I would answer "Post Ranch Inn"—going back and forth, knowing we could have been staying in those places instead. So why the hell were we here—sleeping outside, shivering, and being miserable?
On the other hand, there's the very comfortable California Mille, which I raced in late April, in its 27th year. It's a lovely rally, which starts outside of the Fairmont hotel in San Francisco, with the 65 cars lined up in chronological order. The cars must be from 1957 or earlier, and we go about 250 miles per day, from one fabulous hotel to the next. I chose my '57 Porsche speedster to drive, and the oldest car in the rally was a 1923 Bentley. You get a route book that's very complicated with all these tricky, spaghetti-like back roads, and you wind up in Calistoga 1,000 miles later.
All the rallies are such unique adventures, and you get to know some amazing people. People you would never meet in a gazillion years—a hamburger heiress, a former partner at Goldman Sachs, a songwriter-musician, a chef, the husband of a movie star, someone who builds cars. You're sharing this fantastic, singular experience along with all this trauma and strain. When you're on the road it's uncomfortable, but when you look back you only remember the good stuff—the sound of your engine, the thrill of the unknown, and the otherness of it all. Everything else disappears in the rearview mirror—at least until I start to plot and plan the next one. stevenharrisarchitects.com 
Next Post