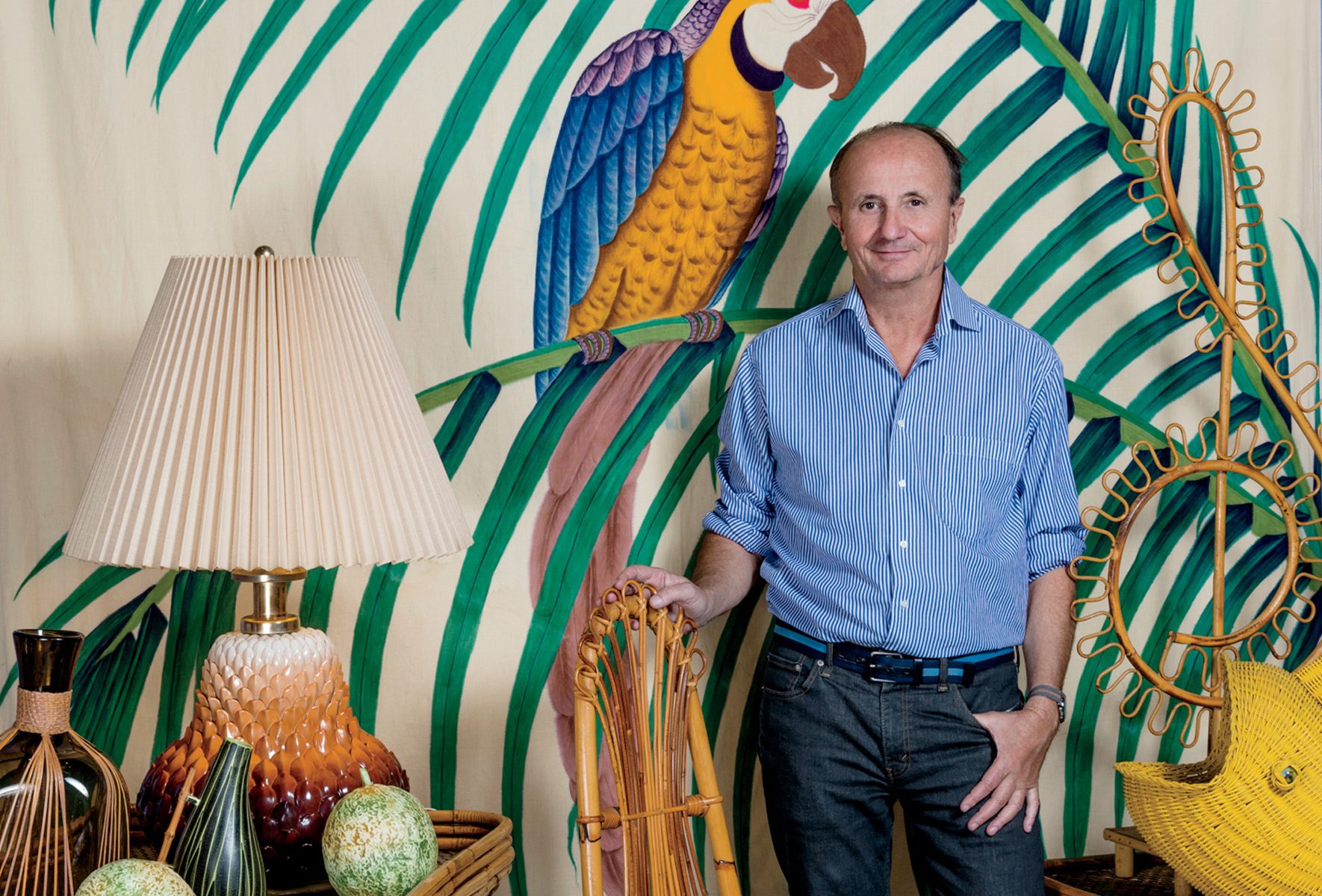 A French Antiques Dealer Offers Up a Stylish Hoard
Jean Yves Legrand's two shops are jam-packed with dazzling treasures
It's true. Entering either of antiques dealer Jean Yves Legrand's Neo Studio emporiums—one on a busy stretch of antiques and vintage clothing shops on the South Dixie Highway in West Palm Beach, Florida—during the winter months—or up a few steps in an old house on a tree-lined street in the still-quaint village of Sag Harbor, New York—in the crowded Hamptons summer season—one comes face to face with what can only be described as a big mess.
Next Post
"I spend hours making it look like that!" said the French Legrand, who was born in the seaside town of St. Malo, in Brittany, obviously pleased with the dizzying agglomeration of tables, vases, chairs, lamps, and assorted tantalizing bits and pieces that can range from a kitschy big yellow rattan open-mouthed fish to a selection of vintage pottery from Vallauris in the South of France, lots of Italian ceramics from the 1950s, a 1960s oak table by the French design team of Robert Guillerme and Jacques Chambron, and a bust of Mimi from La Bohème by artist Lee Menichetti, who also created costumes for many Broadway productions, and an exuberantly decorated 1970s side table by the Danish ceramic artist Bjorn Wiindblad for Rosenthal—and all sorts of other mid-century modern treasures. "It's the contrary of merchandising," added Legrand, showing off the cheek-by-jowl lineup of dozens of unusual and entertaining lamp bases—one of the dealer's specialties in both of his shops, which cover every inch of every table top, as well as a small staircase that reaches up to the ceiling in Sag Harbor. "I see it all as an eclectic mix and an homage to the decorative arts. These are all things ready to be discovered," Legrand noted. Eclectic it is, without a doubt.
The objects Legrand has ferreted out from sources near and far—he often brings in things from France—in a wide variety of materials, plastic and bronze and glass and ceramic, some more modern design-oriented than others, which tend toward the handmade, change every week, and often, like Legrand himself, travel from North to South and back again, making every visit to Legrand's shop a new adventure. "My job is to show an edited version of things that have been gathered by the same pair of eyes," Legrand explained. We get it—and love it.