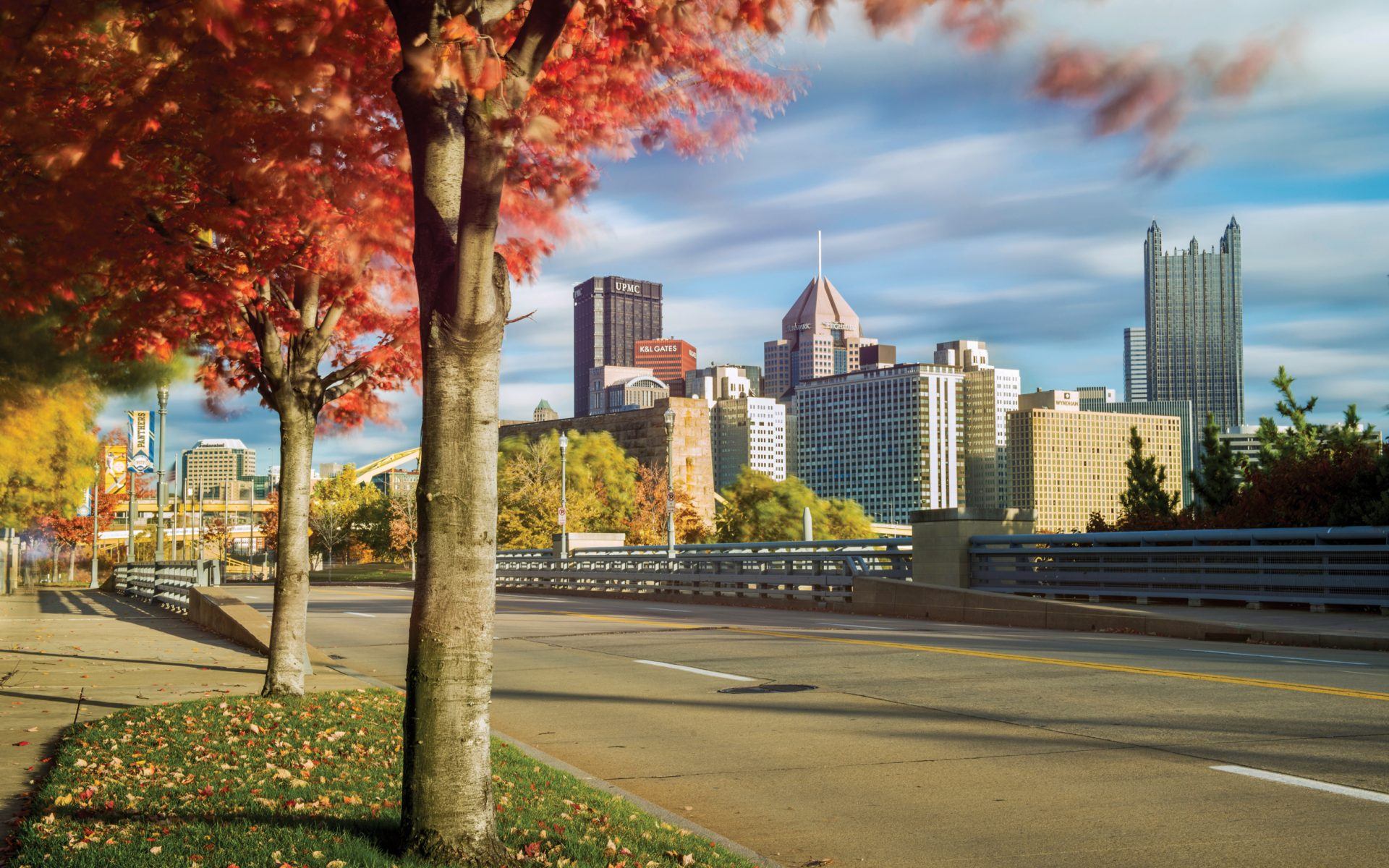 An Art Lover's Guide to Warhol's Hometown of Pittsburgh
The former steel town is full of art and design
Born Andrew Warhola in 1928 in Pittsburgh, Andy Warhol might've left his industrial hometown for the lively streets of New York as a young adult, but the formerly gritty city has developed an artistic persona all its own.
Home to a number of art museums—including one dedicated to its most famous artistic inhabitant—as well as high-caliber restaurants, bars, and hotels, Pittsburgh is the perfect destination for a weekend getaway. Here's what to do when you're in town.
Things to Do
Andy Warhol Museum
There's no better place to start an art-themed trip to Pittsburgh than the Andy Warhol Museum, the largest U.S. museum dedicated to a single artist. Holding thousands of the artist's works across mediums—including Time Capsules, a serial piece comprising 610 cardboard boxes of his ephemera—as well as a vast archive, the museum is the ideal place to learn about all things Warhol.
Mattress Factory
It's all about site-specificity at the Mattress Factory, a contemporary art museum with permanent installations by masters of the medium like Yayoi Kusama and James Turrell, rotation exhibitions featuring established artists, and a residency program that focuses on up-and-coming talent.
Carnegie Museum of Art
One of the first U.S. institutions dedicated to contemporary art, the Carnegie Museum of Art has been collecting works by the "Old Masters of Tomorrow" since 1895, when it was founded by steel magnate Andrew Carnegie. It has more than 32,000 items in its collection, plus 70,000 photo negatives by local photographer Charles "Teenie" Harris. It also hosts the Carnegie International, the oldest North American exhibition of contemporary art.
Miller Institute of Contemporary Art
Founded in 2000 and funded by Carnegie Mellon University, the Miller Institute of Contemporary Art (Miller ICA) is one of the newer players in the Pittsburgh museum field. Keep an eye out for exhibitions by students enrolled in the school's BFA and MFA programs.
Go Antiquing
If you're searching for antique furnishings, whether that's oriental rugs, midcentury-modern sofas and chairs, or Victorian chandeliers, there's likely a Pittsburgh antique shop that's perfect for you. Try Pittsburgh Furniture Company or Who Knew? Retro Mod Decor, both in trendy Lawrenceville, or the sprawling Artifacts, which houses more than 25,000 objects in its 300,000-square-foot showroom.
Fallingwater and Kentuck Kobb
For the architecture buffs out there, no visit to Pittsburgh would be complete without a day trip to Fallingwater, one of Frank Lloyd Wright's most famous projects. But don't miss out on Kentuck Knob, one of the architect's more underrated projects, located just a 15-minute drive from Fallingwater.
Where to Eat and Drink
Grand Concourse
During Pittsburgh's industrial days, the city was also a major train hub, connecting major Midwest cities with East Coast ones. Though trains no longer run through the former Pittsburgh & Lake Erie Railroad Station, its grand architecture was preserved—thanks in part to its listing on the U.S. National Register of Historic Places in 1974. Today, it's the Grand Concourse restaurant, a fine dining establishment serving seafood.
Fl.2
Set in the Fairmont Pittsburgh, Fl.2—appropriately located on the second floor—dazzles with its midcentury-inspired interior by Spanish designer Lázaro Rosa-Violán, who was assisted by local firm mossArchitects. It serves New American cuisine on custom-made plates by Pittsburgh-based ceramist Reiko Yamamoto.
4121 Main
For a more casual affair, head to 4121 Main, a hybrid café that serves as a coffee shop, art gallery, floral designer, event planning office, and a boutique shop. We love the minimalist decor, from the exposed wood shelves to the painted tin ceiling.
Altius
If you'd like to pair your wine with an incredible view, head up the Duquesne Incline to Altius, a luxe American restaurant perched atop Mount Washington. Though the contemporary, streamlined decor is smart and elegant, it plays second fiddle to the vistas of downtown Pittsburgh afforded by the floor-to-ceiling windows.
Hidden Harbor
Indulge in a little tiki kitsch at Hidden Harbor, a Polynesian-themed cocktail bar in Squirrell Hill. The bar is perfectly Pittsburgh with an industrial vibe—take that exposed brick wall, for instance—balanced with some fresh tiki accents, from leafy plants in the front window and hanging from the rafters and tropical wallpaper to match.
Where to Stay
Omni William Penn
Open for business since 1916, the 23-story Omni William Penn Hotel in downtown Pittsburgh is the city's grande dame, furnished with grand Art Deco flair. It has a long list of notable guests, including a number of U.S. presidents, such as Harry S. Truman and Lyndon B. Johnson.
Inn on the Mexican War Streets
Built by Henry Hobson Richardson in 1888 in his signature Romanesque style, the Boggs Mansion on Pittsburgh's Northside was formerly the private home of department store owner Russell H. Boggs. It was converted into a luxurious bed-and-breakfast called the Inn on the Mexican War Streets, named after its neighborhood, in 2000.
Kimpton Hotel Monaco Pittsburgh
While its exterior is that of a 1903 Beaux Arts building, the Kimpton Hotel Monaco has a decidedly more contemporary and eclectic interior—think jade green headboards, houndstooth drapes, and birdcage light fixtures. The hotel is located on Mellon Square Park in downtown Pittsburgh.
Ace Hotel Pittsburgh
Housed in a former YMCA building built more than 100 years ago, the Ace Hotel Pittsburgh brings the brand's hipster flavor to the Steel City. The 63 rooms are decidedly minimalist—they almost exude a dorm room aesthetic but a chic one at that. Guests are drawn to its location in trendy East Liberty, as well as to its on-site restaurant, Whitfield.
Mansions on Fifth
Take a step back in time to Pittsburgh's gilded age at the Mansions on Fifth, a 22-room inn in two historic mansions, Fifth Avenue House and Amberson House, on Millionaire's Row in Shadyside. Rooms are individually decorated with period decor—paired with modern amenities, of course—but the real star of the show is the Oak Room Pub, which recalls an early-20th-century dining club.
Next Post