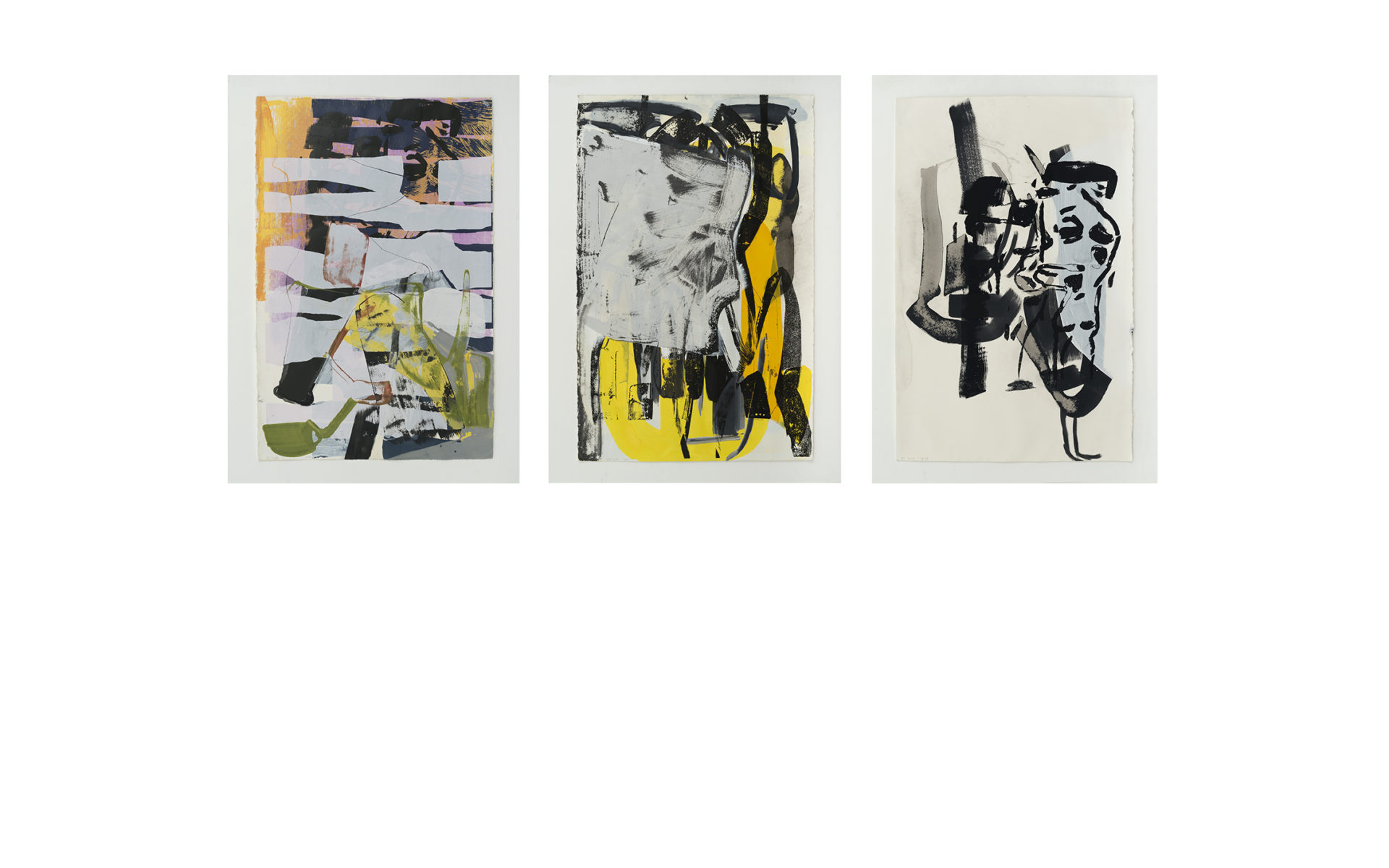 Captivating New Works by Amy Sillman Debut at Gladstone 64
The gallery's Upper East Side outpost features 30 of the artist's intricate pieces, on view through March 3
If artist Amy Sillman's drawings at Gladstone 64 appear as simply colorful abstractions… you're not looking hard enough. Consider how the work was made, and you're suddenly tilting your head, attempting to understand the work's intricate layering. Part appears to be silk screened, and part painted, but it's nearly impossible to tell what's what, or which came first. "My big dream is that you will not know how I made it," Sillman says. "I get a perverse pleasure in making something where somebody looks at it and they're like, 'how did she make that?'"
Gaze long enough at these works, and figures begin to emerge—a woman's torso, a leg, a turned head. Some recur, though there's no clear story being told—the complexities of the Detroit-born artist's compositions intend to simultaneously engage and puzzle. Even the exhibition title resists the idea of an absolute: "Mostly Drawings" suggests that's not all they are.
Through March 3, the second floor of Gladstone Gallery's Upper East Side townhouse will feature 30 works on paper, mounted side by side. The palette varies from gray to navy, canary to pickle, the marks ranging from wide brushstrokes to solid color blocks to a printed mesh-like grid. Thin streaks run across the paper, evidence of paint that Sillman sprayed off with a hose after application, where only a mark's edge survived. Half obliterated swaths function as ghostly remains, hints of painting and process past.
Born in 1955, Sillman has received a Guggenheim Fellowship, a slew of other major awards, and a traveling retrospective that began in 2013 at the Institute of Contemporary Art / Boston. Though she's often associated with process-based painting, Sillman's practice is wide-ranging: she's made zines, animations, and diagrams that often poke fun at artmaking and the art world itself. Her drawings and paintings frequently feature deliberately imprecise, cartoon-inflected edges.
Sillman maintains a studio in Bushwick, where her drawings quickly pile up. Friendly and gregarious, she describes making her work as an alchemical, mysterious undertaking. She applies paint to paper, then runs to her sink to spray it down. "You get whatever you get. You never know," she says. "I still can't quite predict what's going to wash off and how it's going to look, which is one of the great pleasures." She turns some of her paint layers into silkscreens, which she integrates into the work. Many of them resemble body parts, a motif throughout much of her oeuvre.
"The first idea was just to use printing to add something that wasn't already there," she says. Within her brushwork, she attempted to find a "figure," a subject that she could repeat and add to a field. She compares this exercise to a sculptor's attempt to locate a specific form within a block of marble. "I was doing something really romantic like that," she explains. For the series on view at Gladstone, Sillman was particularly interested in exploring the relationship between her figures and their backgrounds, and how she could alter that as she created and washed off subsequent layers.
Importantly, Sillman's engaged in dialogue that reaches beyond aesthetic and formal concerns. Last January, she penned an essay for Artforum calling on artists to resist the incoming administration by making "that awkward, slow, funny, unaesthetic, non-product-oriented, skeptical, passionate, complicated thing you want to make with all your heart, and with the anger."
Sillman loosely connects her recent, rigorous approach to drawing with last winter's Women's March and the energy in the attendant signs. After the election, she struggled with feelings that her work was remote from real politics and advocacy. "It's tormenting to feel you're working in a way that's irrelevant," she says. "I thought, how can I draw with the energy, with the anger, with the immediacy of those great signs? I made so many drawings that were labored and ruined and angry and questioning and washed and cut and destroyed and cut over and cut into." If the resulting surfaces are rough, beguiling, and perplexing, they're also deeply human. Infused with both instinctive feeling and skilled gesture (and its erasure), Sillman's work harnesses the messiness of experience into one 40 1/8 x 26 rectangular format after another.
Next Post