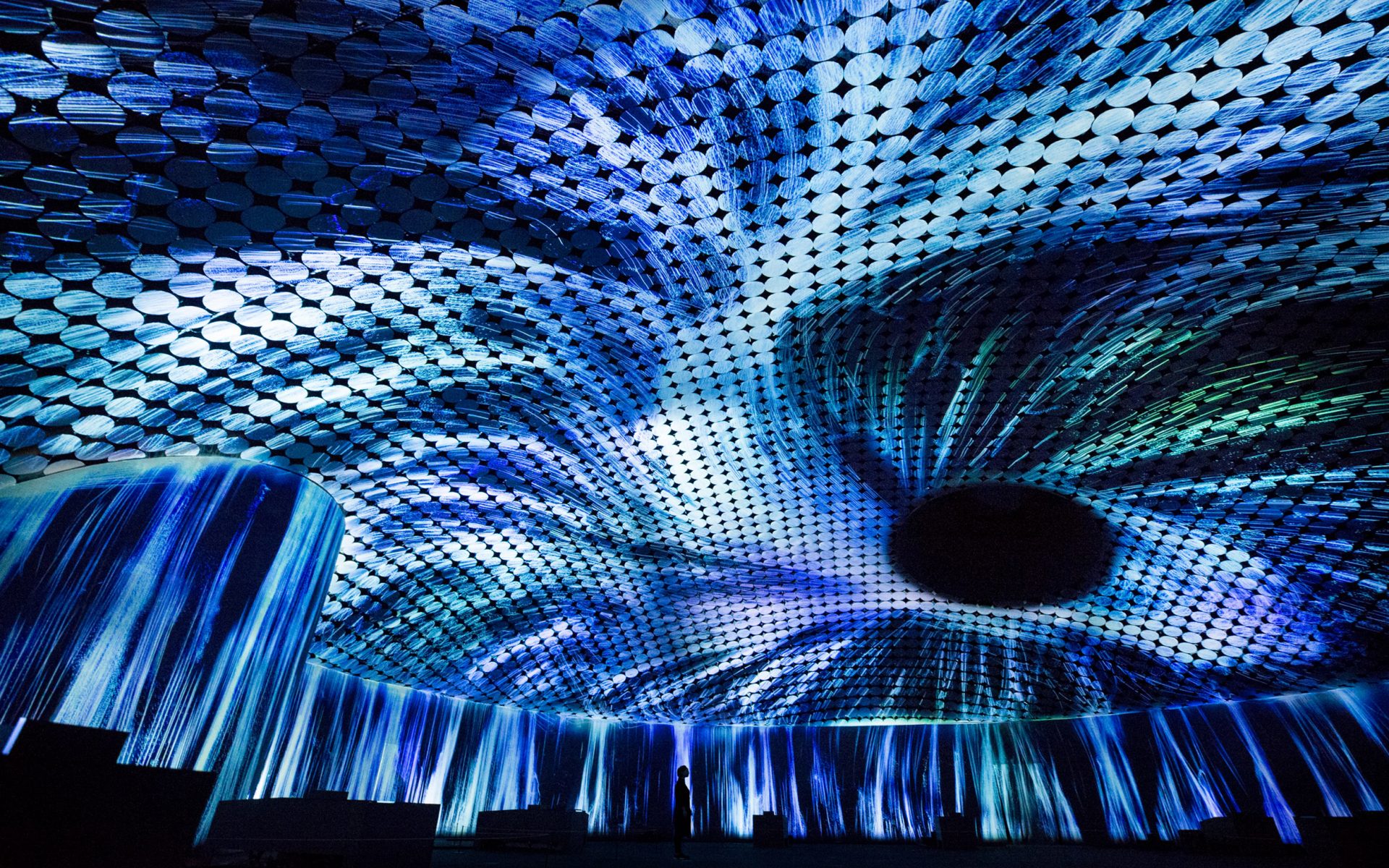 Finland's Amos Rex Museum Opens with Mesmerizing Digital Art Exhibition
A hypnotic installation by Japanese art collective teamLab inaugurates the new Helsinki art space
Already dubbed one of Europe's most innovative new architectural spaces for 2018 by the BBC, Helsinki's cutting-edge contemporary and experimental art museum, Amos Rex, features an incredible series of digital art installations by the Japanese collective teamLab.
Opening August 30, the $64 million museum, designed by JKMM Architects, took five years to build and comprises a 23,350-square-f00t subterranean exhibition hall located under one of the city's most beloved landmarks. The teamLab exhibit is the museum's inaugural show.
Entitled "Massless," the exhibition features a series of digital projections and immersive displays. The site-specific installation, projected on the museum's undulating ceiling, mimics water moving toward a vortex. Called Vortex of Light Particles, the audiovisual work is the largest in the exhibition, utilizing light from over 50 projectors.
Recommended: 7 Fresh Talents to Discover at Copenhagen's CHART Art Fair
"We have created a digital simulation of water pouring upward in reversed gravity toward the uniquely and beautifully domed ceiling, flowing from this underground space to the skylight above," Toshiyuki Inoko, founder of teamLab, told Dezeen. "The trajectories of these simulated water particles form a series of lines, which will in turn create waterfalls and vortex all along the walls and ceiling of this space."
In addition to Vortex of Light Particles, which is a new installation, teamLab has adapted four of its past works, one of which was specifically designed with children in mind. Called Graffiti Nature: Lost, Immersed and Reborn, the work is a multiroom interactive display depicting a wild array of flowers and animals. The creatures move around the walls in response to the visitor's movement and explode when touched. Attendees are even able to draw new animals that will be added to the installation.
There are two other large-scale installations, Black Waves and Crows Are Chased and the Chasing Crows Are Destined to Be Chased as well, Transcending Space, while a fourth, smaller work will be on view in the museum's entrance hall.
"Our guiding principle has been to create a space that takes into consideration changes in art as well as ever-evolving ways in which art is made and presented," the museum's director, Kai Kartio, said in a statement. "Content-wise Amos Rex rests on three pillars: experimental, technically innovative contemporary art; 20th-century Modernism; and ancient cultures. TeamLab brilliantly represents the first of these pillars."
"Massless" is on view through January 6, 2019, at Amos Rex, Mannerheimintie 22–24, Helsinki. 
Next Post