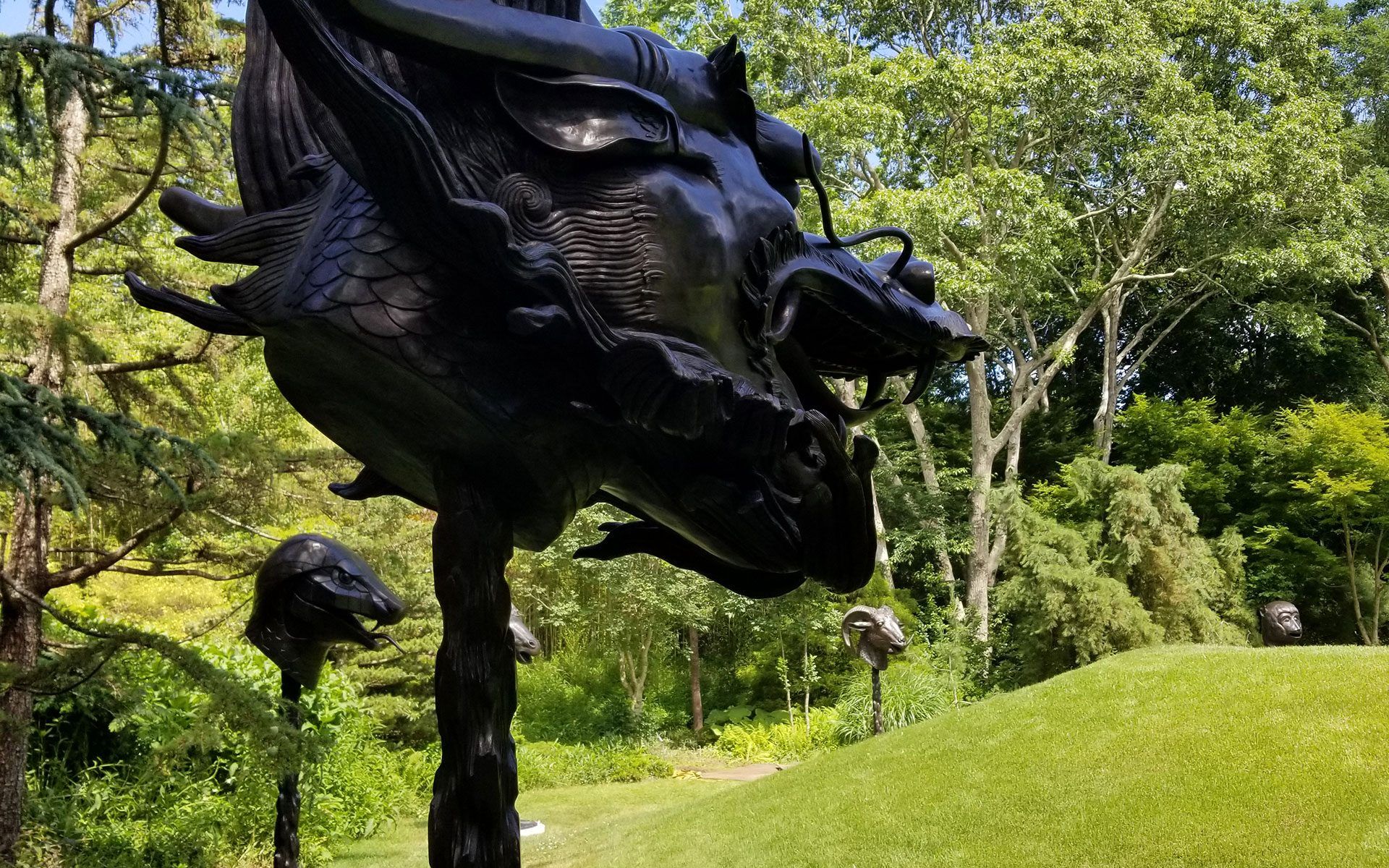 Ai Weiwei Shares the Power of Public Art with Major Project in East Hampton
At the LongHouse Reserve sculpture garden, the world-celebrated artist unveils his iconic Circle of Animals/Zodiac Heads: Bronze
Down a winding gravel path between a canopy of mature specimen trees, the LongHouse Reserve stands as a creative wonderland where unique pieces of thought-provoking art, lush foliage, and verdant landscape come together. Since he acquired the 16-acre property in East Hampton in 1975, textile artist Jack Lenor Larsen has cultivated an ever-changing immersive experience designed to feed the imagination.
Through one allée exploding with brightly colored blooms, named the Red Garden, Larsen himself has designed a visual experiment in perspective. Elsewhere, Miguel Barcelo's Elefandret, an inverted pachyderm balancing on just its trunk, seems to defy gravity. Every twist and turn offers a new discovery, even to guests who return season after season.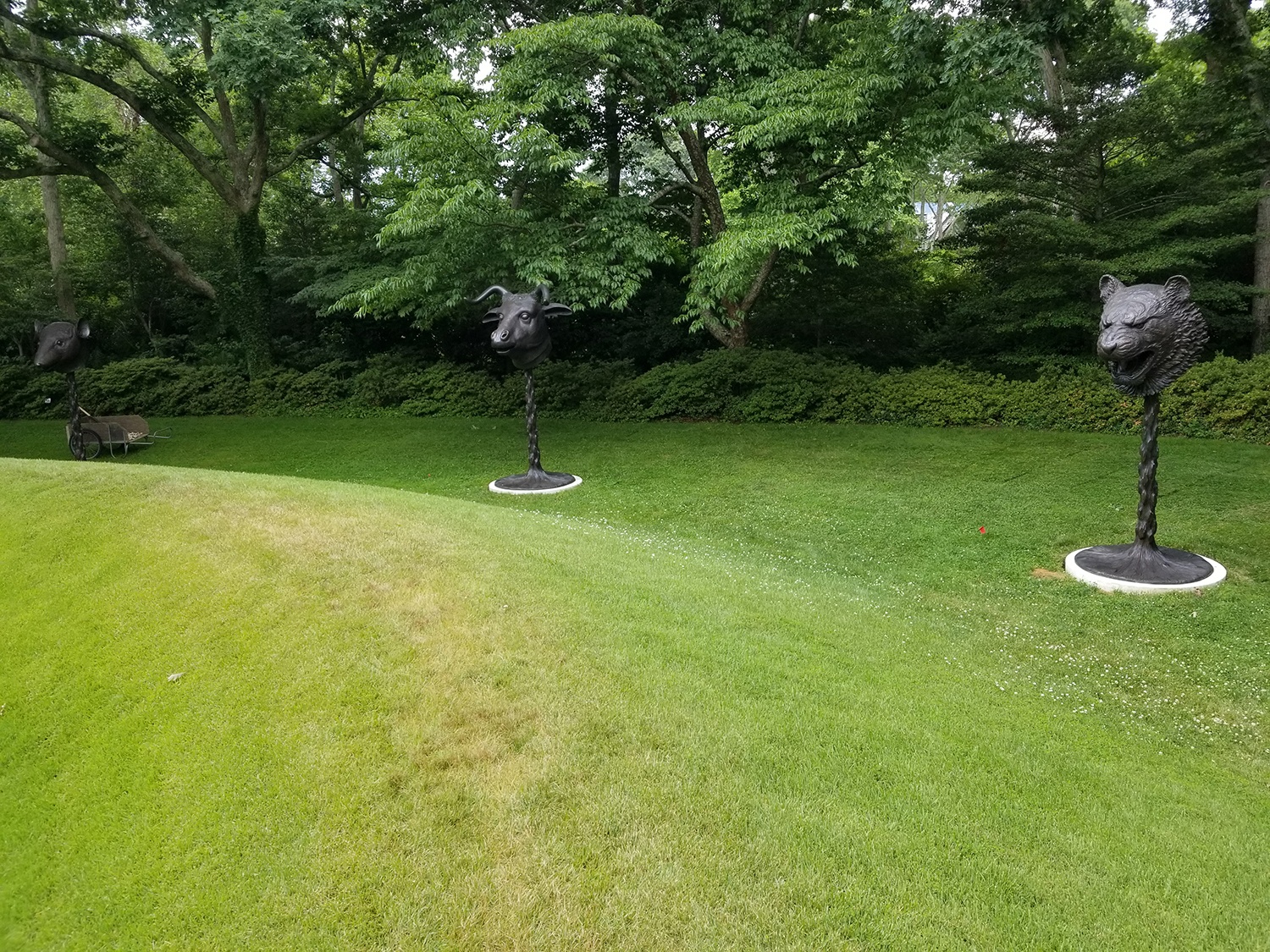 This year's annual Rites of Spring season opener fell right as the Covid-19 pandemic was gripping New York. Thankfully, the garden has reopened to visitors with stringent safety restrictions, but those who do venture out will be greeted by a major new installation with worldwide acclaim: Ai Weiwei's Circle of Animals/Zodiac Heads: Bronze, which will be on view through October 2021.
"All 12 images are familiar for me because I was a collector, and in history they appear in different objects—jade, stone carvings, and two-dimensional designs, everywhere," the artist tells Galerie. "I think it's something that everyone can have some understanding of, including children and people who are not in the art world. When Andy Warhol painted Mao in the 1960s and 1970s, I don't think many people understood Mao, either—it was just this image that people knew, like Marilyn Monroe. So they might see these zodiac animals like that—like Mickey Mouse. They're just animals. Eleven real animals and one mystic animal."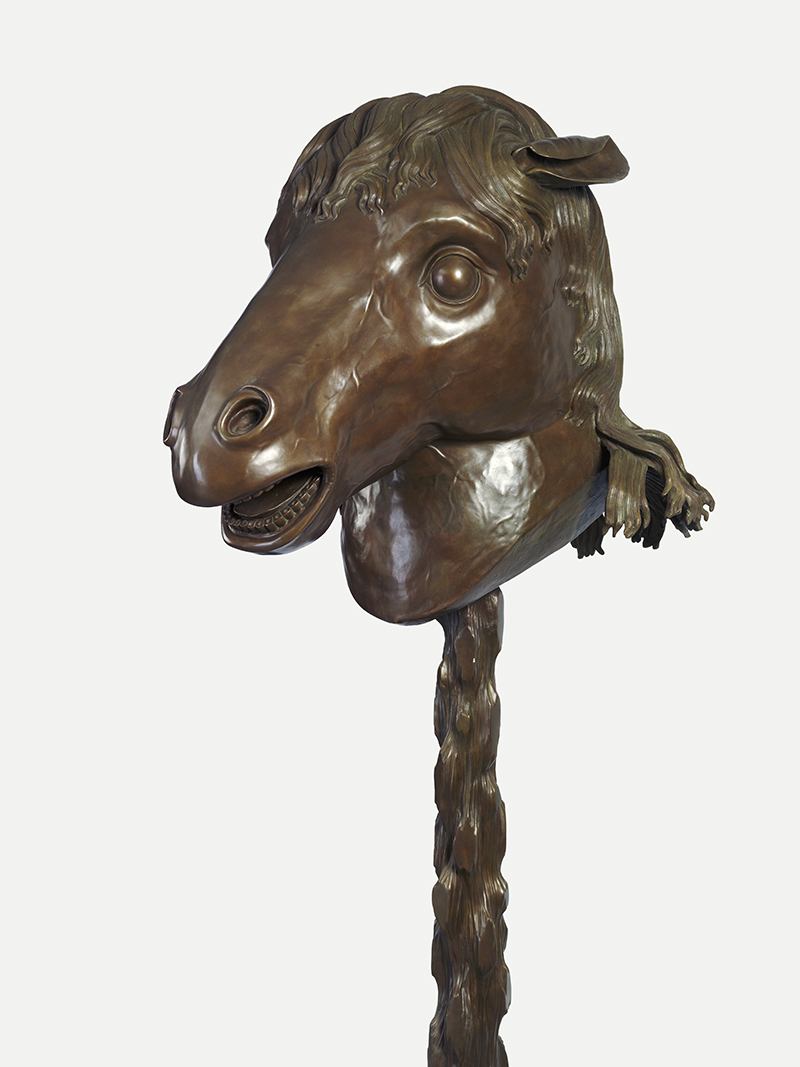 "Art should live in the heart of the people. Life is art. Art is life. I never separate it"

Ai Weiwei
The 12 towering, one-ton bronze sculptures representing the Chinese zodiac have traveled the globe since the artist first unveiled the works in 2010 at the São Paulo Biennial. Over the ensuing years, the pieces have crossed continents, being installed everywhere, from Central Park's Grand Army Plaza, the Carnegie Museum in Pittsburgh, and Los Angeles County Museum of Art to galleries and museums in Ontario, Vienna, Mexico City, Paris, and Taipei. Their exhibition marks the 50th time the ten-foot-high works will be displayed, making them one of the most widely viewed installations in history.
"I think the public deserves the best. Before, only a pope or an emperor could see these kinds of things. Now you can see them in [a public] garden," Ai says. "People don't have to have too much information [about the work]. They should just look at the objects and see the connection through their own experience.
"My definition of art has always been the same," he continues. "It is about freedom of expression, a new way of communication. It is never about exhibiting in museums or about hanging it on the wall. Art should live in the heart of the people. Life is art. Art is life. I never separate it."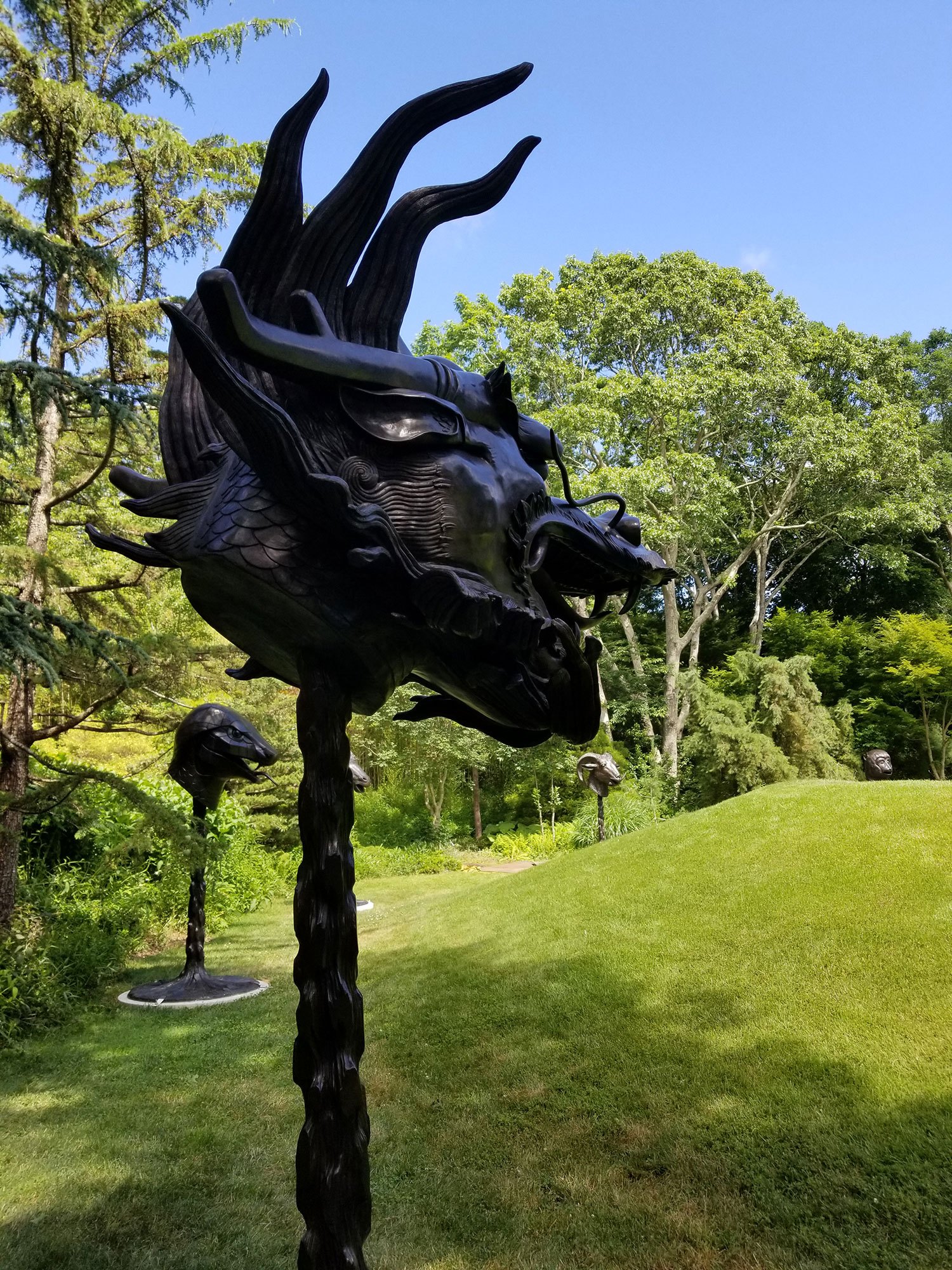 This latest unveiling represents the 50th time the work has been installed and the third partnership between the artist and the East Hampton preserve. Previously, Ai was honored with the LongHouse Award in 2013; under house arrest in Bejing at the time, the artist sent a video as an acceptance speech. That same year his Circle of Animals/Zodiac Heads: Gold was displayed on the property.
"From its inception, LongHouse has always exhibited art with a global perspective in mind," says curator Wendy Van Deusen. "The Zodiac heads represent the democratic spirit behind Ai Weiwei's work, telling a story about the freedom of imagination and the persistence of ideas. As a political activist and champion of freedom of expression, Ai has long been publicly critical of the Chinese government's record of human rights violations. Now more than ever, it's important that we learn more about Ai Weiwei and understand how relevant his beliefs are to our times."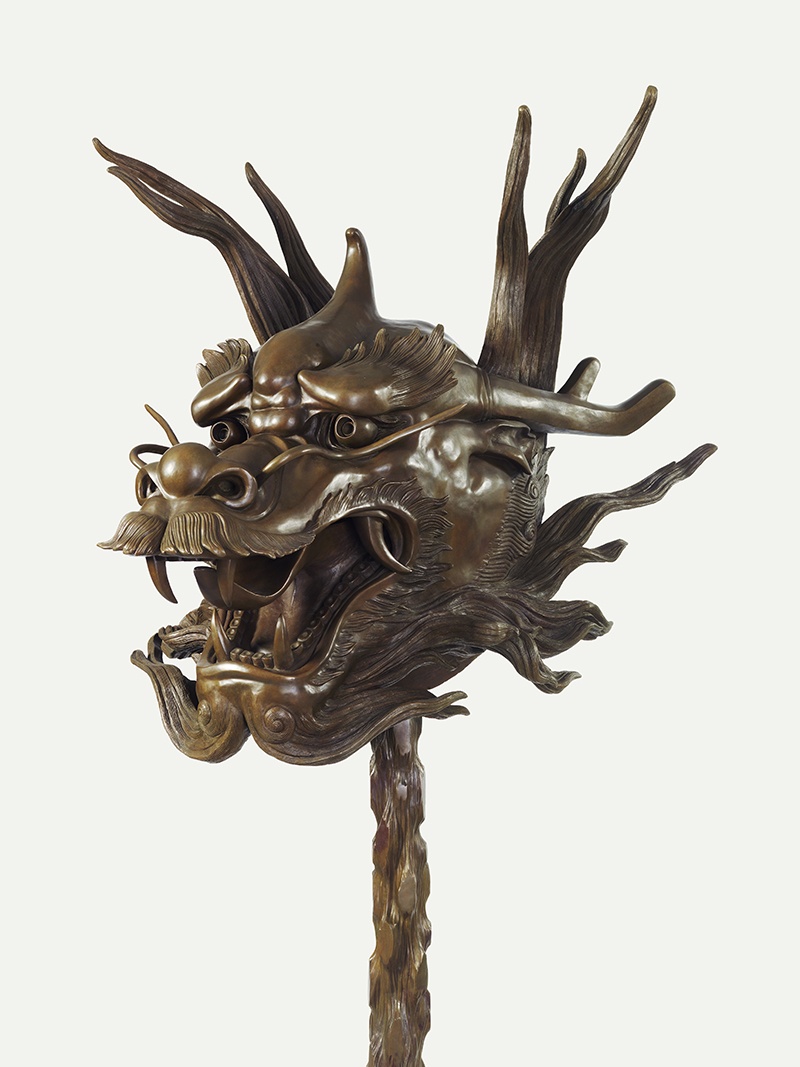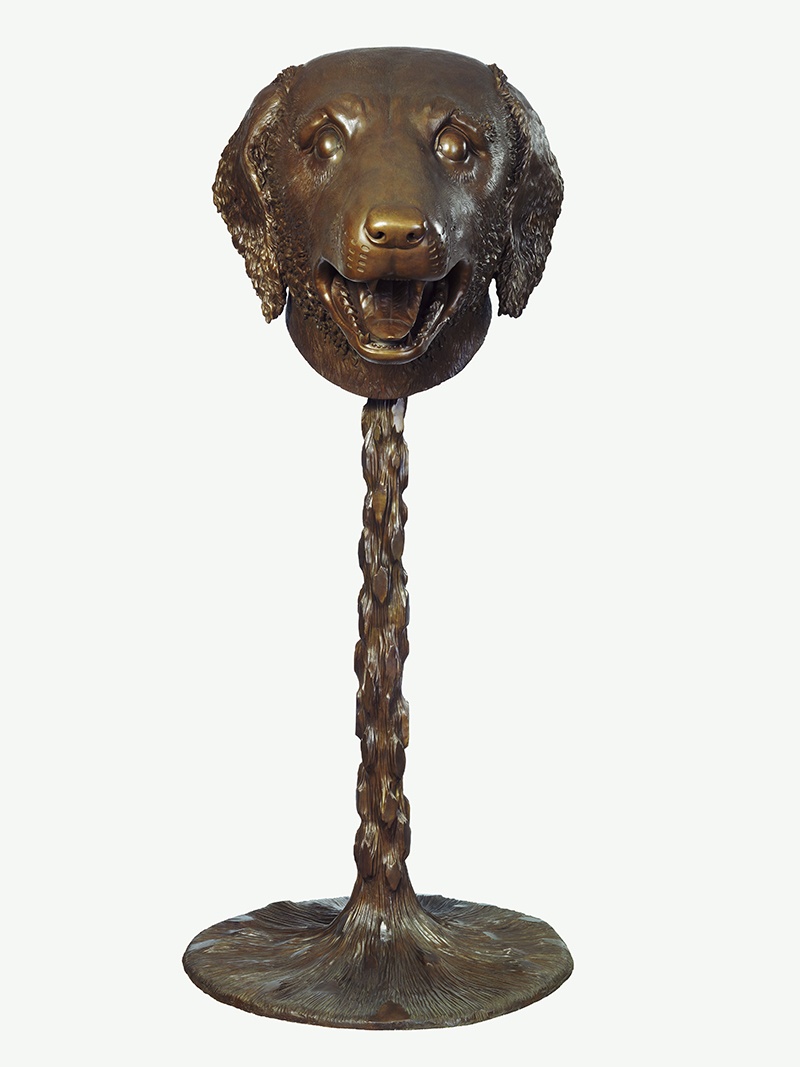 This newest partnership is just the latest in a long-standing tradition of friendship and mutual respect between LongHouse and Ai Weiwei. And it couldn't be a more poignant time to visit the ten-year-old work as cultural conversations have shifted so dramatically over the same period.
"China never really cares about culture—this is the nature of the Communist, to destroy the old world to rebuild a new one," says the artist. "The zodiac is perfect to show their ignorance. The sculptures are based on heads that were designed during the Qing dynasty for the fountain clock of the Yuanming Yuan, an imperial retreat outside Beijing. Zodiac Heads seeks to address looting and repatriation, what is 'fake' and a copy in relation to the original. I don't think this is a national treasure. This did not have anything to do with national treasure. This was designed by an Italian and made by a French, for a dynasty who is an invader to China. When we talk about national treasure, which nation do we talk about?
"I love New York—every inch of it," Ai adds. "It was a little bit scary at that time [when I lived there], but still, the excitement was so strong—visually and intellectually."
Next Post