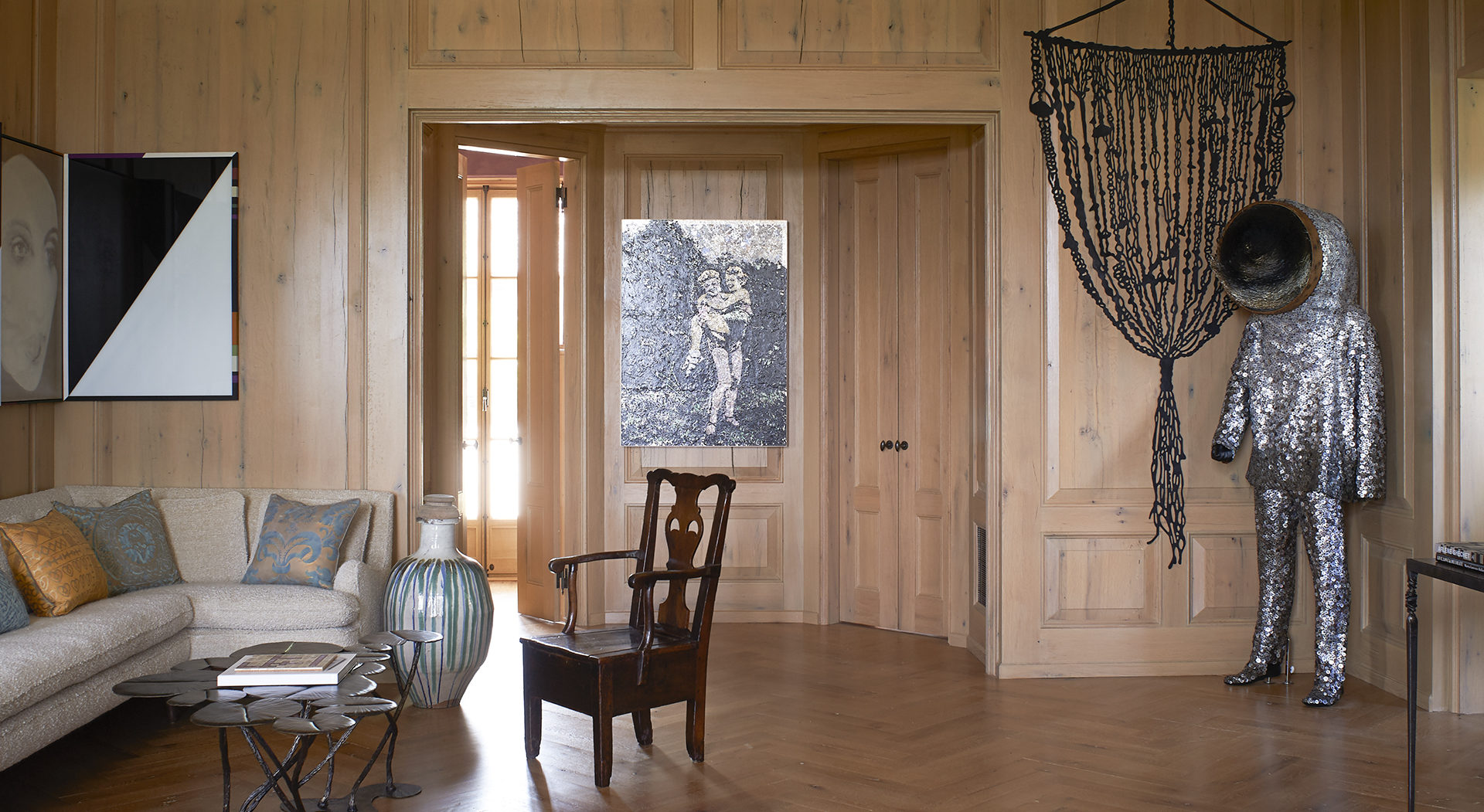 Tour a Country Manor Filled with Edgy Art
Designer Ellen Hamilton outfits this Connecticut home with a medley of rustic antiques and cutting-edge contemporary works
Ellen Hamilton sums up the vivid contemporary art that fills the five-bedroom stone house in rural Connecticut in one word: Gutsy. But the New York-based decorator who designed the interiors might have been talking about herself.
For one room, Hamilton ordered the oak-paneled walls slathered in blue milk paint, nearly bringing the woodworkers to tears. For another, she smudged the walls with graphite. And there's just no other word for suspending—over a two-story stairwell—a chandelier composed of miniature shaded lamps, like a spiraling procession of black mushrooms, by Frederik Molenschot of Studio Molen in Amsterdam, Holland, which was so big that it had to be hacksawed into three pieces for shipping from Europe and reconstructed on site with a welding torch.
So what is the outcome of so much boldness? Serenity. Inspired by antique Flemish and Dutch farmhouses, Hamilton and her clients—philanthropists and art enthusiasts, but, above all, supporters of living artists—many of whom are from Brooklyn, New York—designed rooms warmed by rustic nuances. Draperies are delicately woven, carpets distressed, furniture occasionally rough or gnarly. The materiality of the scheme—plaster walls, Belgian tiles, old beams, and blackened steel—underpins the rich, inviting atmosphere. The strong, bedazzling art pieces rest comfortably in this environment, and so does everyone else.
"It's a very authentic place," Hamilton said. "The miracle is that it's new." Built on the site of a former dairy farm, the house was assembled from local schist and reclaimed oak, so in many details it is legitimately old. "A broad objective was to let this thing be as neutral and real feeling as we could," explained Reese Owens, the architect whose office is in Washington Depot, Connecticut. "There's very little finish on most of the interior surfaces. We really valued natural, uncovered materials."
[See more photos of this country manor filled with edgy art.]
Once Hamilton and her clients settled on historical models, they flew to Belgium and the Netherlands to shop for antiques. Among other objects, they picked up a Flemish money-changing table and a handsome 17th-century commode built into a chair. "Everyone needs a latrine in their very glammy living room," Hamilton quipped. In the same multifunctional Renaissance spirit, they furnished a foyer so it could be converted into a formal dining room with an expandable antique Flemish mahogany table.
Other furnishings were made to look vintage, like the Turkish tulu rugs James Ffrench, head of antique carpets at Beauvais Carpets in New York, reproduced down to the imitation worn pile. Some elements were inspired by period motifs, like the Belgian linen curtains that the textile artist Tara Chapas, of Chapas Textiles in Brooklyn, based on a subtle grid by Anni Albers, the German-born American textile artist.
[See more photos of this country manor filled with edgy art.]
There is no shortage of new design, but it all adds to the character. David DeSantis, an artist based in Hudson, New York, forged the iron hardware and much of the wrought metal furniture. Installing the art was largely organic. For a hanging sculpture by the American sculptor Petah Coyne—an exuberant netted assemblage of flowers and tassels—the client had her eye on a spot above the slipper tub in the master bathroom, but was concerned it might seem disrespectful. She invited the artist over to scout for a place and was gratified when Coyne agreed that the bathroom was best.
Hamilton recalled that when the living room was done, the client typically wanted to get a feeling for the space before deciding which artworks were needed. "It's very matte," the decorator pointed out, alluding to the neutral palette and low-profile furnishings. "It wants sparkle." The client returned with a group of portraits in black rhinestones by the African-American artist Mickalene Thomas, a glittering Soundsuit by the sculptor and performance artist Nick Cave, and a deer trophy by the Japanese artist Kohei Nawa, sculpted using glass balls and sequins. "Talk about listening to your designer," Hamilton said.
A version of this article first appeared in print in our 2016 Summer Issue under the headline Wild & Wonderful. Subscribe to the magazine.
Next Post