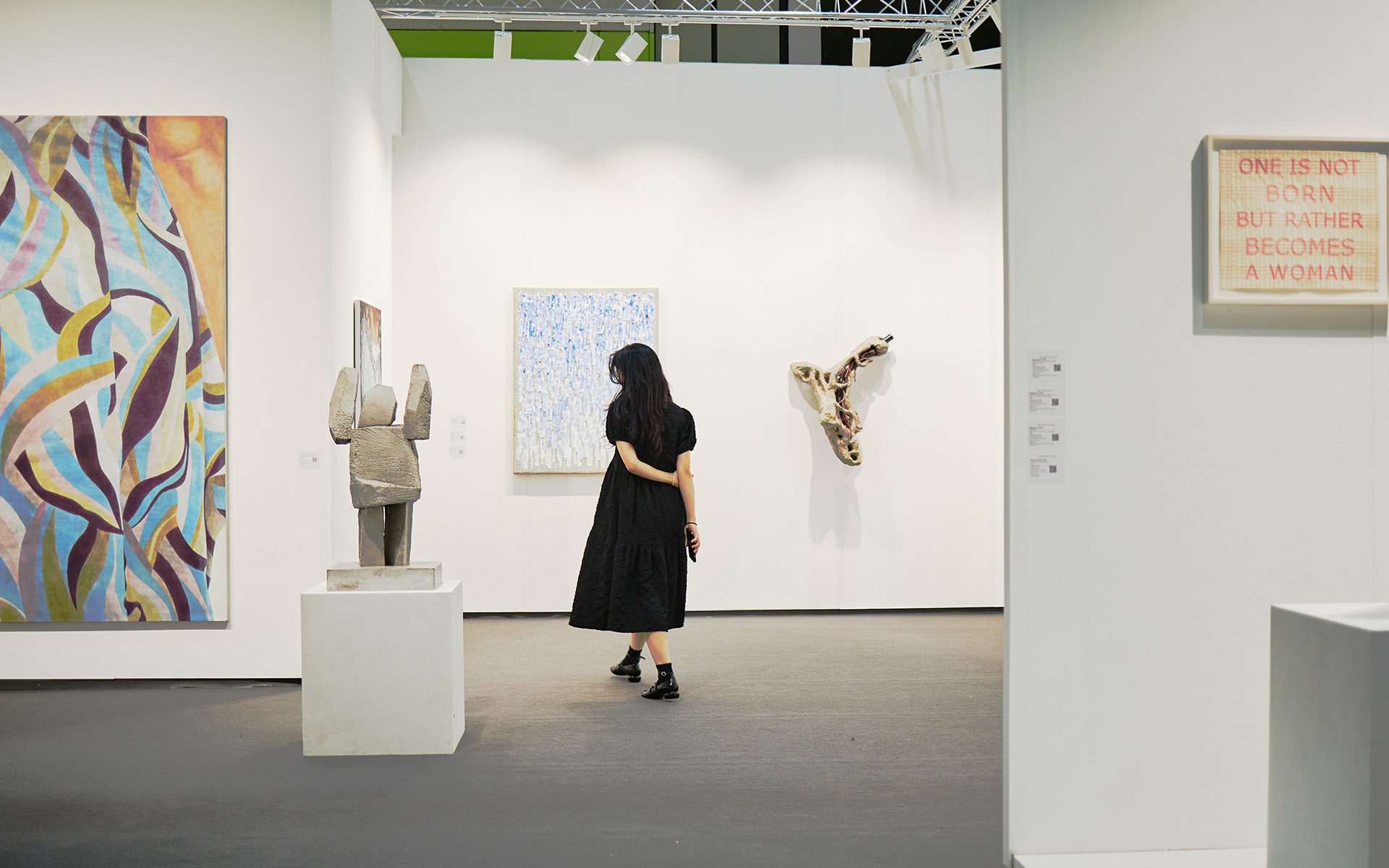 9 Standout Artworks at Frieze Seoul 2023
Discover what made an impact at the second edition of the fair, which featured more than 120 galleries from 30 countries
Seoul, Paris and Los Angeles are the art world's latest hot spots, with a staggering amount of new galleries opening in these three cities. But it was Seoul where the art world was gathered last week, as Frieze Seoul kicked of its vibrant second edition.
Featuring more than 120 galleries from 30 countries around the globe, Frieze Seoul (September 6-9, 2023) returned to the Convention and Exhibition Center (COEX) in the city's illustrious Gangnam district, marking its first fair here in the post-pandemic world. Taking place alongside Kiaf SEOUL (September 6-9, 2023), which is operated by the Galleries Association of Korea, the two fairs worked together to celebrate the city's flourishing creative community.
Home to an impressive array of international art powerhouses—including Perrotin, White Cube, Pace, Thaddaeus Ropac, Gladstone, Esther Schipper, Lehmann Maupin and Whitestone—and such local gallery favorites as Kukje, Arario, Gana, Hakgojae, Hyundai, and PKM, the city had a few notable pop-ups in traditional Korean hanok houses this year. Lisson Gallery presented a group show of gallery artists, centered around the theme of time and its passing, in the heart of the Bukchon Hanok Village, while art advisor Lawrence Van Hagen mounted the exhibition "12 Masters," featuring Calder, Kusama, Warhol and others, at the historic home of Korean design virtuoso Teo Yang.
"The strength of a fair like Frieze is the community that surrounds it. The addition of Frieze Seoul provides a platform for international audiences to engage with the city's diverse cultural offerings, while also introducing local audiences to a cross-section of the best art from across the globe," Frieze Seoul director Patrick Lee told Galerie. In addition to showcasing the region's leading artists and galleries at the fair, we will continue to work with the various creative communities across the city—its institutions, non-profits, artists and beyond—to both celebrate and amplify Seoul's distinct cultural landscape."
See our favorites from Frieze Seoul 2023 below—all of which added something special to the city's cultural landscape, even if only for a week.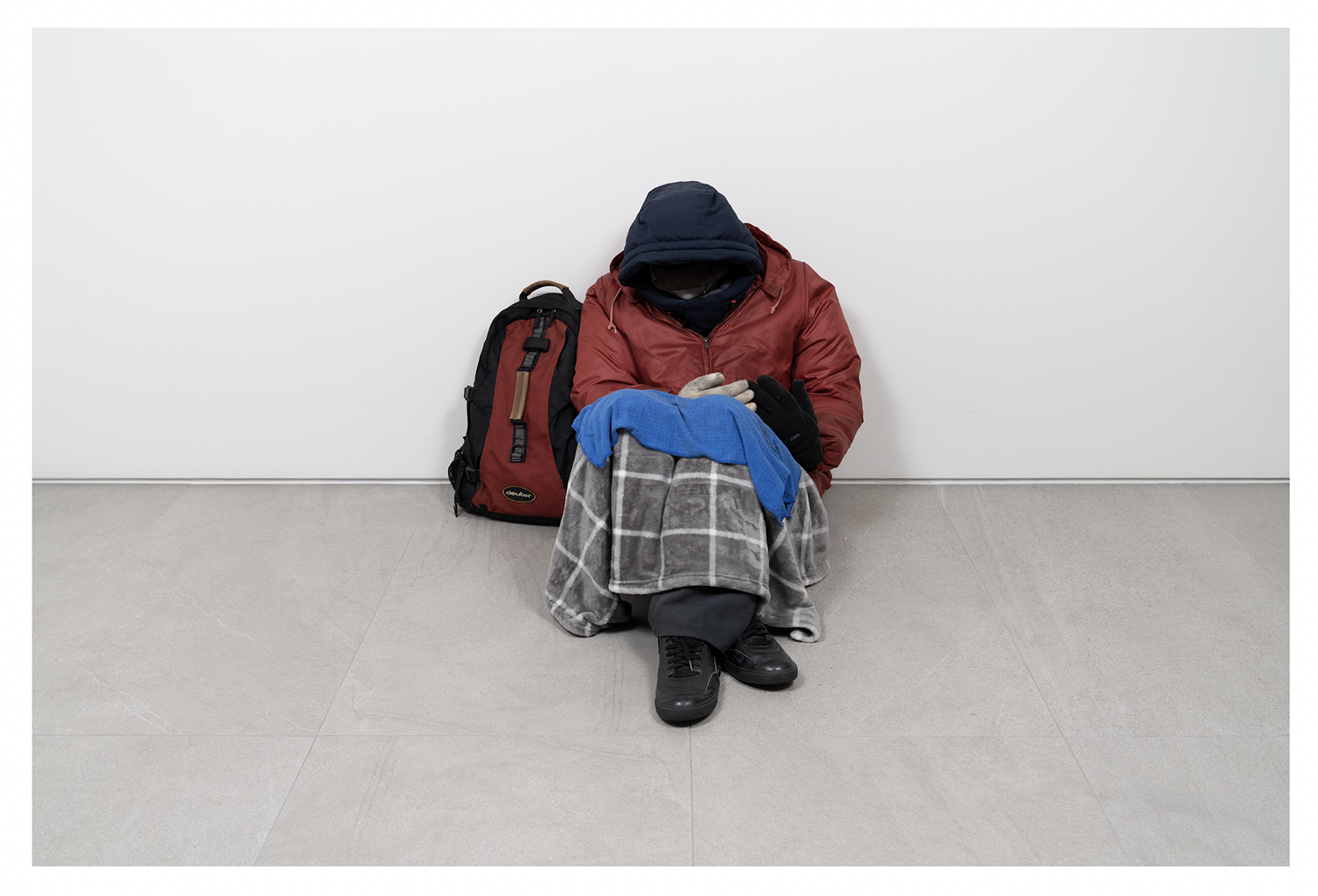 1. Maurizio Cattelan at Perrotin
Exhibited earlier this year in his survey at the Leeum Museum of Art in Seoul, Maurizio Cattelan's life-like sculpture of a homeless man nestled outside of Perrotin's booth was as startling to see at an upscale art fair as it was in the lobby of the museum. The latest sculptural figure in his ongoing Homeless series, which brings attention to the plight of the destitute, the down-and-out man was fashioned from wood, styrofoam, stainless steel, clothing, shoes and props, such as his blankets and backpack, in human-size proportions. Since each of these figurative sculptures, dating back to 1996, is named for the country where it is exhibited, this work of art is titled Junho, which translates to talented and bright in Korean. It's a name that makes his situation all the more dire.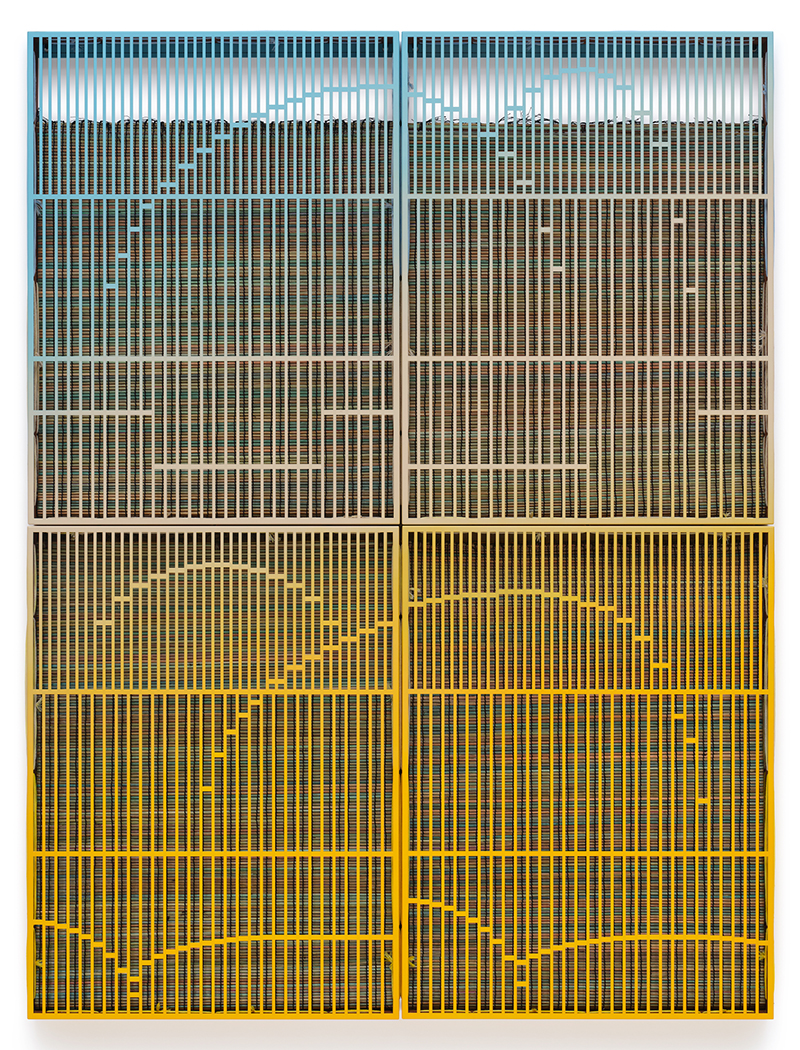 2. Suki Seokyeong Kang at Kukje Gallery
The subject of a current solo show at the Leeum Museum of Art, where she is exhibiting paintings, sculptures, installations and videos that conceptually reference the medium of painting and modernist industrial design, Suki Seokyeong Kang is one of Korea's leading contemporary artists—yet one who consistently mines the histories of pre-modern Korea. At the fair, Kukje Gallery and Tina Kim Gallery—operated by mother and daughter art dealers—presented wall-works from the coveted artist's Mat series, which mix painted steel and traditional woven and dyed Hwamunseok mats with other materials such as leather scraps, to make highly engaging, grided abstractions, with the minimalist Mat #23-02 especially catching our eye.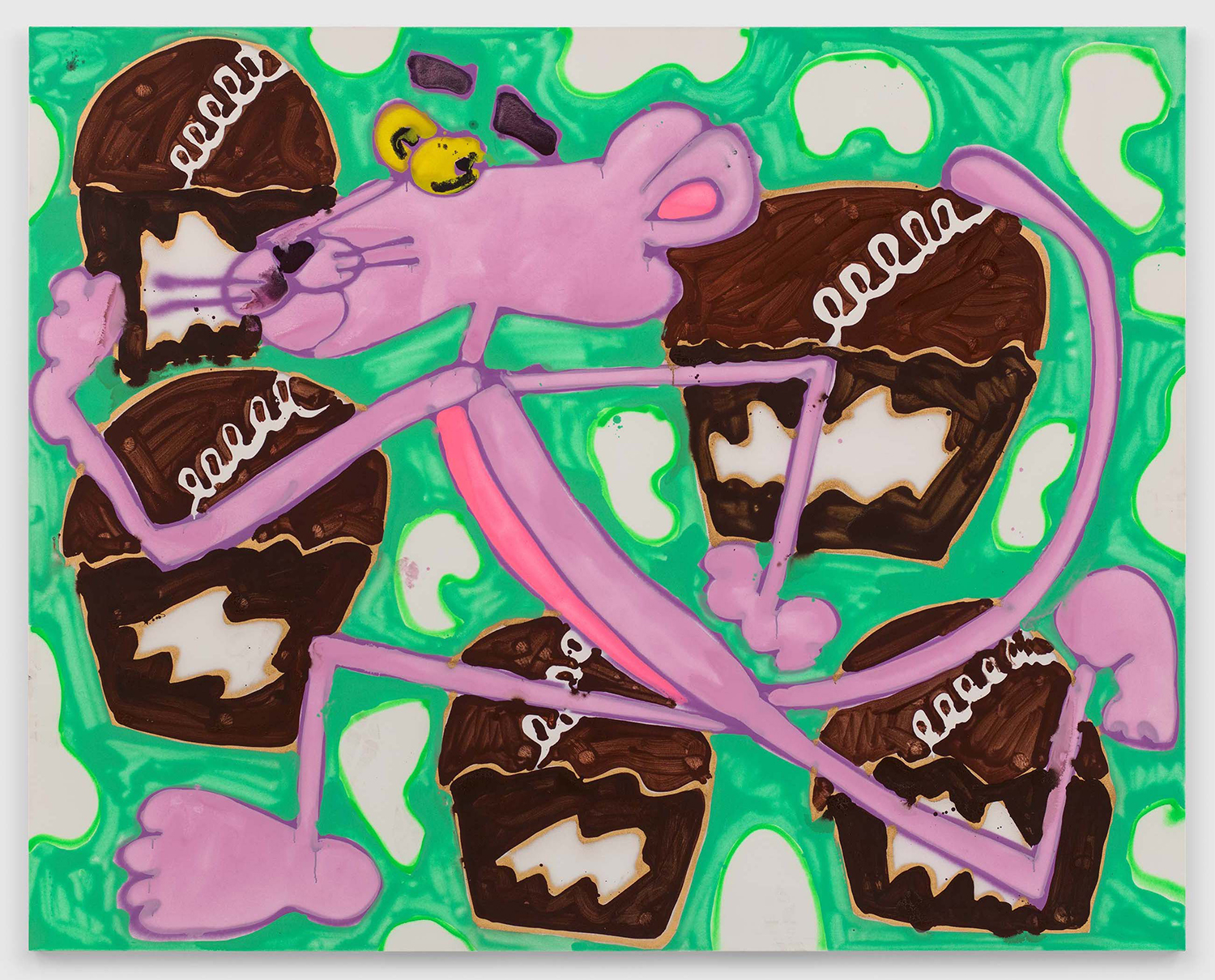 3. Katherine Bernhardt at David Zwirner
Blurring the boundary between Pop Art and colorfully expressive abstraction, Katherine Bernhardt has taken the art world by storm over the past decade—rising through the ranks from showing at small but adventurous galleries in her early days to the top tier international art dealers today. Best known for her vibrant paintings of cigarette butts, cartoon characters, consumer products and popular foods, the St. Louis-based artist, whose chic modernist home was recently profiled in The New York Times Style Magazine, had paintings at the fair portraying the Pink Panther and E.T. at Canada and David Zwirner. Our favorite—and her biggest canvas on view in Seoul—was Bacterium Run, which captures the mischievous Pink Panther exiting stage right while amusingly running through a constellation of cupcakes in a sickly sphere of green slop.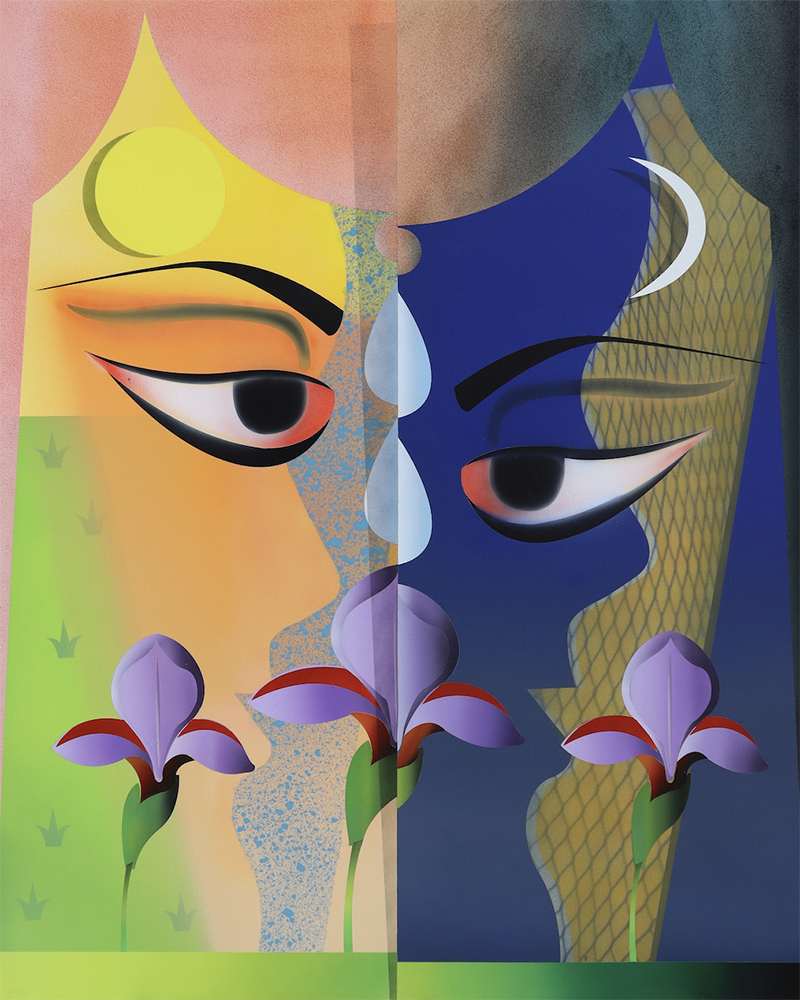 4. Hoda Kashiha at Dastan
An Iranian artist who received her MFA from Boston University and now lives and works in Tehran, Hoda Kashiha makes sophisticated graphic paintings that deconstruct the body—particularly the female body—in new, uncanny ways. Inspired by Indian miniature paintings and the relationship between figures, forms and nature conveyed in those works, Kashiha uses line drawing, color and geometric shapes to construct poetic narratives, which are at times romantic and at other times playfully erotic. Her painting The Milk and the Iris, displayed at the center of the gallery's booth, symbolically portrays a seemingly male sun figure in pursuit of a female moon figure, but together their eyes create a face that invites the viewer to enter their enchanting realm.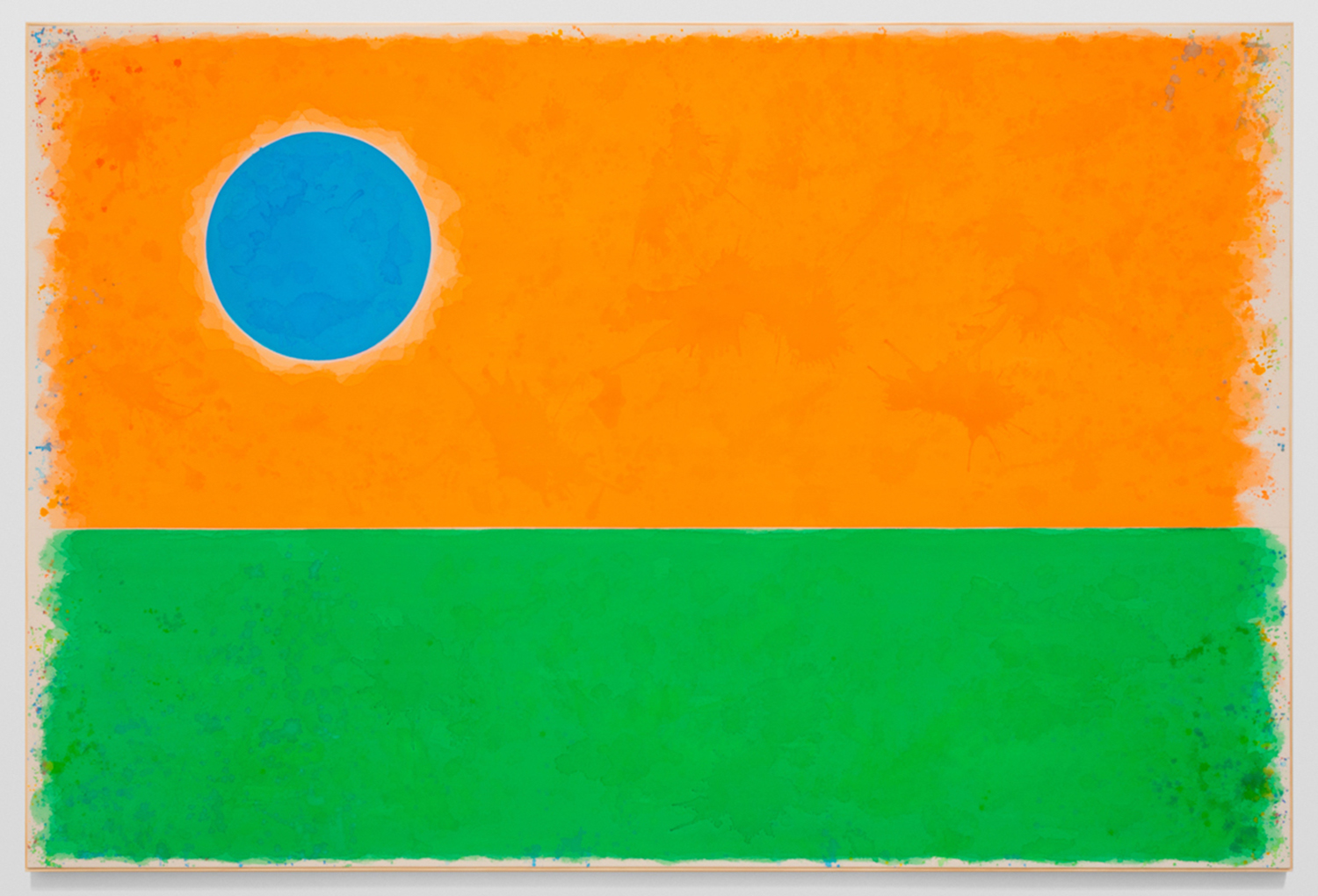 5. Ugo Rondinone at Mennour
One of the most exhibited artists at the fair, Ugo Rondinone's sunrisesunset paintings were on view—in a variety of sizes and colors—at Mennour, Gladstone, Esther Schipper, Galerie Eva Presenhuber and Sadie Coles HQ, where there was a full room full of the small canvases with small candle sculptures on the floor in related hues. Begun in 2020 during the pandemic lockdown to depict the sunrise or sunset on a particular day, the paintings visually capture the passing of time, similar to how an On Kawara date painting does with numbers and words. Titled for the date that it was created, the artist's painting at Mennour's booth, einundzwanzigsteraprilzweitausenddreiundzwanzig, which is from 21 April 2023, was the largest of his canvases at the fair—and it was so vibrant, that viewers could virtually bask in its glow.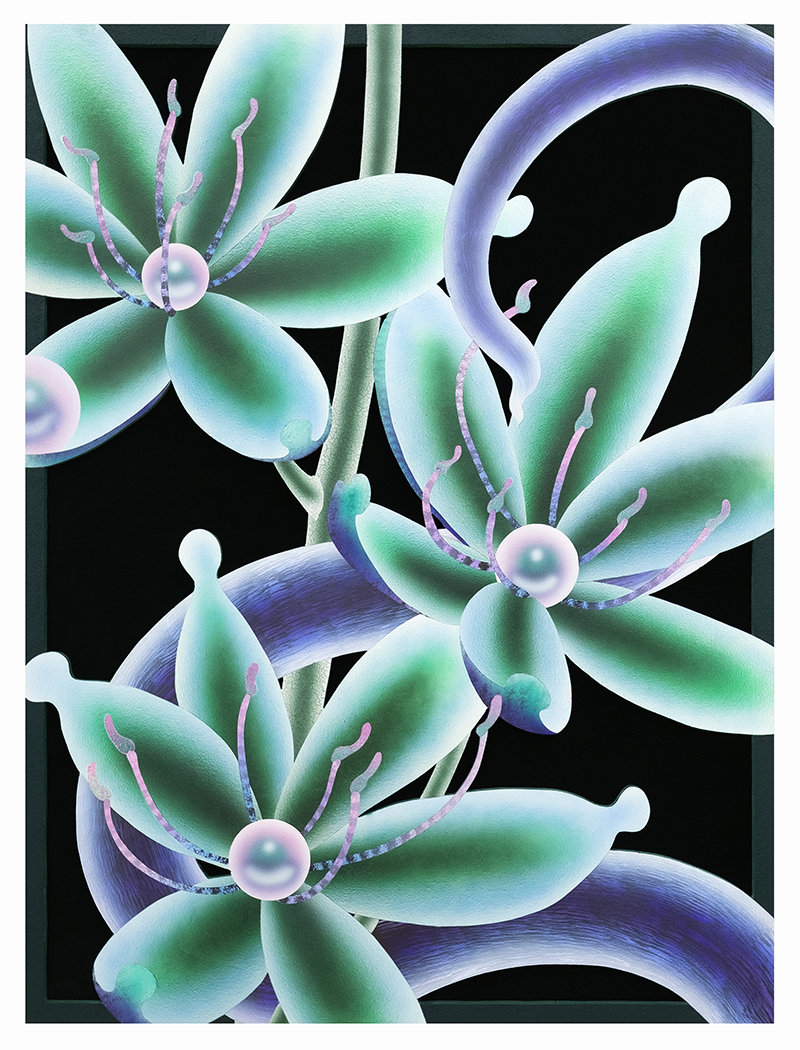 6. Mevlana Lipp at Capsule Shanghai
One of our favorites when Capsule Shanghai presented his work in a group presentation at Art SG, the first edition of the international art fair in Singapore in January of this year, Mevlana Lipp is back with a solo show at the gallery's Focus Asia booth. Painting glow-in-the-dark plant life that looks like it's been transformed by a nuclear reaction or photographed in a color X-ray machine, the German artist takes us on a virtual trip to an exotic island—one that Paul Gauguin must have missed in his earlier journeys. Simulating a sensational garden of radiate flora for an art fair audience, Lipp is seeking to draw a parallel between the expressive impulses and drives of human beings and those of plants. He succeeds by providing the sort of visual stimulation that we get from LED lights in an urban environment through the sci-fi nature of his luminescent landscapes.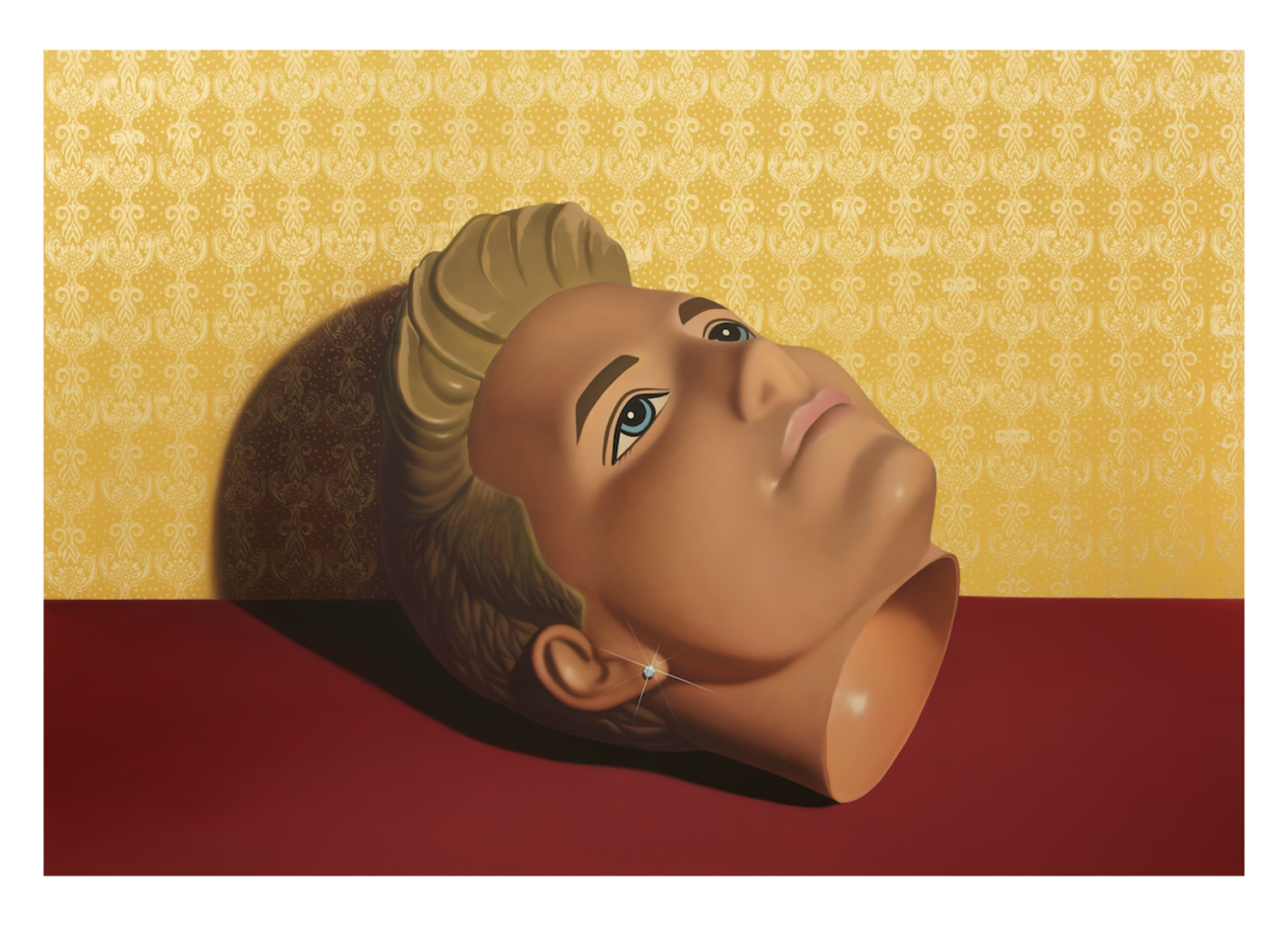 7. Sun Yitian at BANK
Widely exhibited and collected in Asia, Sun Yitian makes hyper-realistic paintings of toys and mannequin-like figures, inspired by the colorful consumer goods that she was surrounded by in her hometown of Wenzhou, where they were mass-produced. Working from staged photographs, which she usually takes herself, the Beijing-based artist paints inflatable toys, animals and comic book characters with the photorealism of her portrayals and reflective studio lighting making the commonplace objects appear more precious than they are. In her Ken series, Yitian paints Barbie's fictional boyfriend's head detached from his body. Ken's an object of desire. He's handsome, but without a body he's just another trophy animal for the artist's wall—or in this case, a collector's home.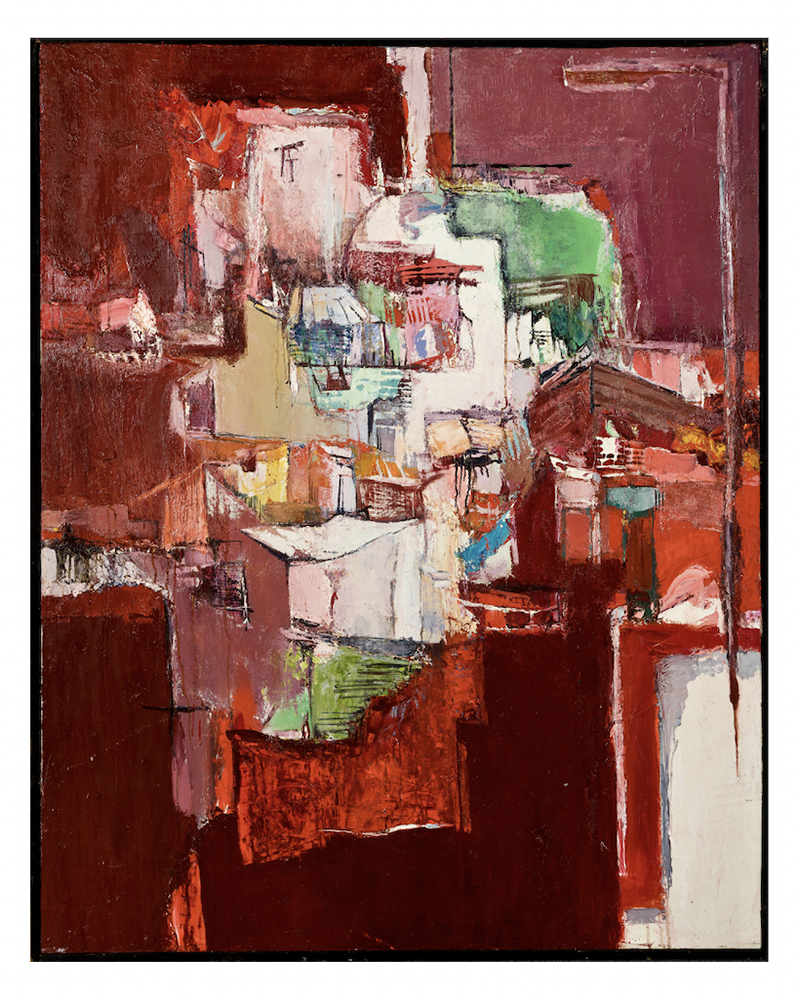 8. Chiharu Shiota at Gana Art
Celebrated for her sprawling web installations engulfed in knotted threads, which create fantastical scenes, and everyday objects surreally encased in the same material, Chiharu Shiota actually got her start as a painter, studying in Kyoto, and a performance artist, trained in Berlin. Returning to her roots at Gana Art's booth in the Frieze Masters section of the fair, the Japanese artist had two energetic paintings conceived in an expressionist style with lively, impasto brushwork and palette knife actions applied in a thought out, controlled manner. Reminiscent of Hans Hoffman's push-pull method of painting and the form of Cubism first explored by Picasso and Braque in their renditions of the rooftops of Spanish villages, Shiota's landscape canvases capture the essence of rural villages and urban neighborhoods perched on hilltops that cascade down to valleys and streets below.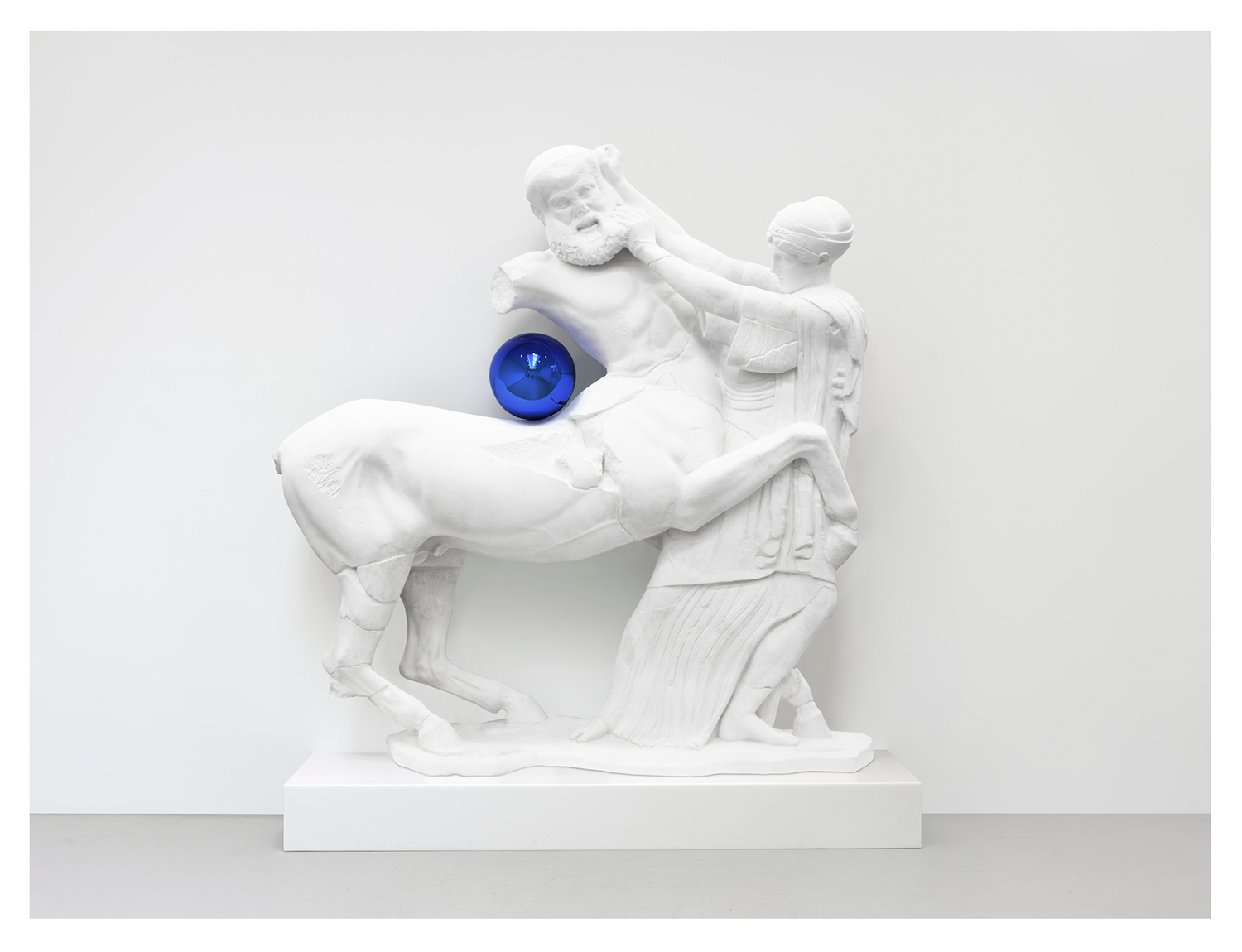 9. Jeff Koons at Robilant+Voena
Recalling the blue sculptural balls that he grew up seeing in the yards of his neighbors in York, Pennsylvania, Jeff Koons began making his Gazing Ball sculptures with reflective, hand-blown glass globes in 2013. Making masterful copies of art historical statuary and such pedestrian objects as a snowman and mailboxes in pure white plaster and attaching the deep blue gazing balls to them, the artist gave viewers a chance to look at fine art masterpieces and kitsch objects in the same moment that they could catch a glimpse of themselves engaged with culture. In Gazing Ball (Centaur and Lapith Maiden), Koons made a cast of a 5th century Greek marble, from the collection of the Archaeological Museum, Olympia, Greece, which can however, be found at other museums around the world as a plaster copy. Making a copy of a copy, Koons reclaims it as his own in this contemporary version—a sort of assisted readymade, in the conceptual nature of Marcel Duchamp, one of the American artist's art historical heroes.
Next Post