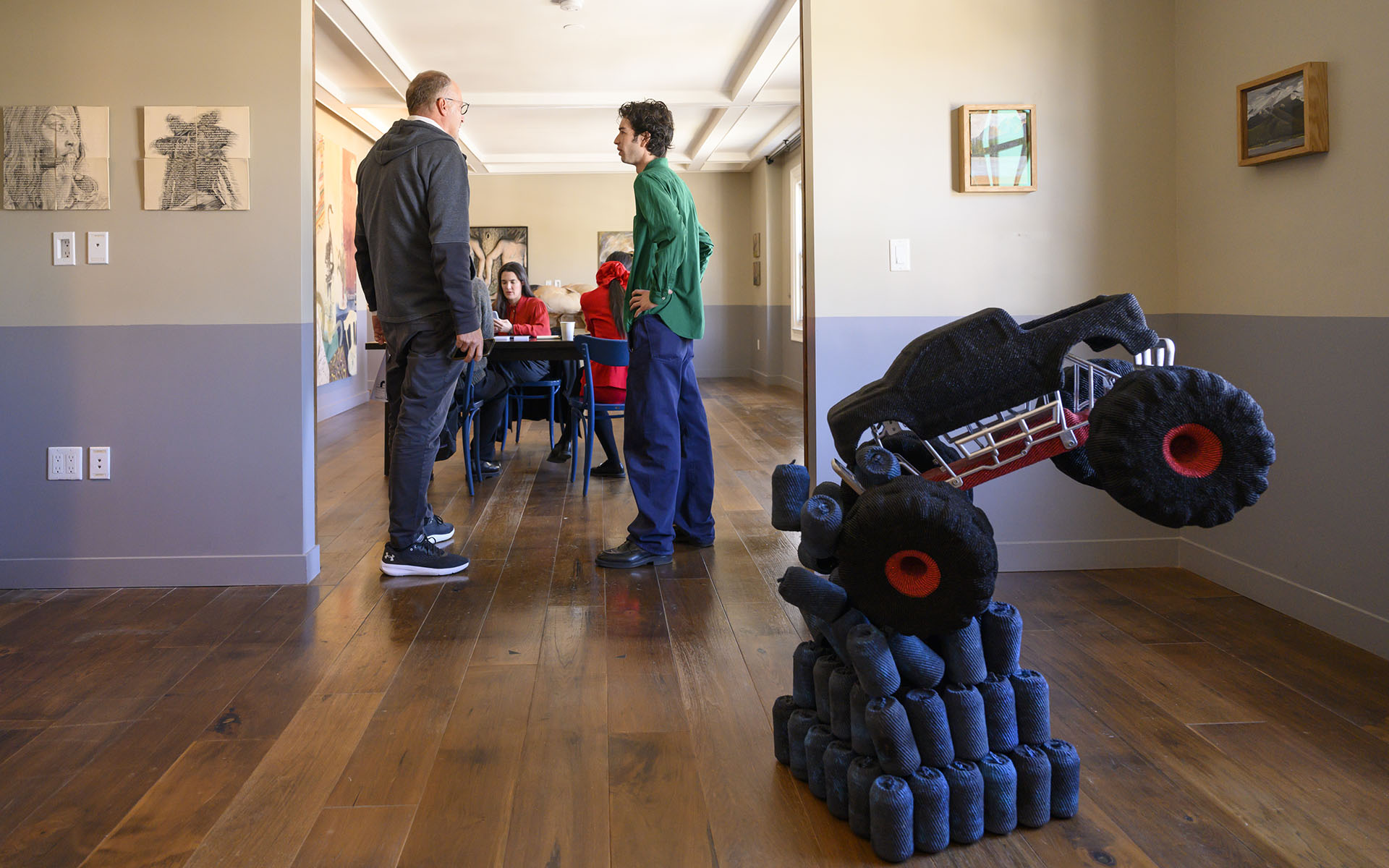 8 Standout Artists to Watch from Felix Art Fair in L.A.
On view from February 15 to 19 at the famous Hollywood Roosevelt Hotel, the fair presented 65 galleries from around the world
Overflowing with collectors anxiously trying to secure the best works in the shortest amount of time, the fifth edition of Felix Art Fair was proclaimed an outstanding success within the first few hours of its opening on February 15.
Founded in 2019 by art collector Dean Valentine and gallerist brothers Al Morán and Mills Morán with the goal of creating a fair experience that prioritizes connoisseurship, collaboration, and community among collectors, dealers, and artists, Felix LA has been a hit from the start.
On view February 15-19 at the famous Hollywood Roosevelt Hotel, the fair presented 65 galleries from around the world in the pool cabanas of the hotel and in the more expansive rooms on the 11th and 12th floors above.
"I made every phone I could to get the sun out this week," Mills Moran told Galerie. "I called in every favor from everyone I knew. In the five years of the fair, there was never a day so nice. You could tell by the buzz around the pool and the galleries were all crowded. This year finally felt like we were back to normal."
Adams and Ollman sold 20 pieces in the first three hours and continued to make significant sales every day of the fair. See the fair highlights below and the artist to keep on your art collecting radar.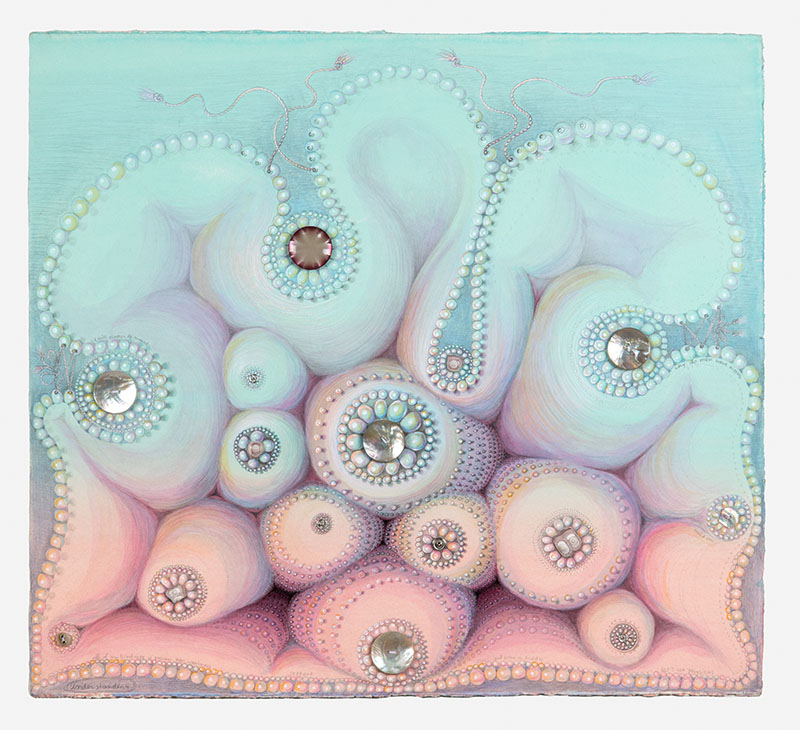 1. Kinke Kooi at Adams and Ollman
A Dutch female artist exploring issues of gender equality and notions of the other through drawing and collage, Kinke Kooi makes magical artworks encompassing playful objects. Her whimsical, 2020 work Why Do Men Have Nipples? at Adams and Ollman depicted fleshy breast-like forms, topped with buttons and shells as nipples. Simulated strings of pearls, seemingly drawn tight to create the accumulated breasts' outer shape completes the spirited piece, which could amusingly be seen as an impish aerial view of a wildly surreal, anthropomorphic garden.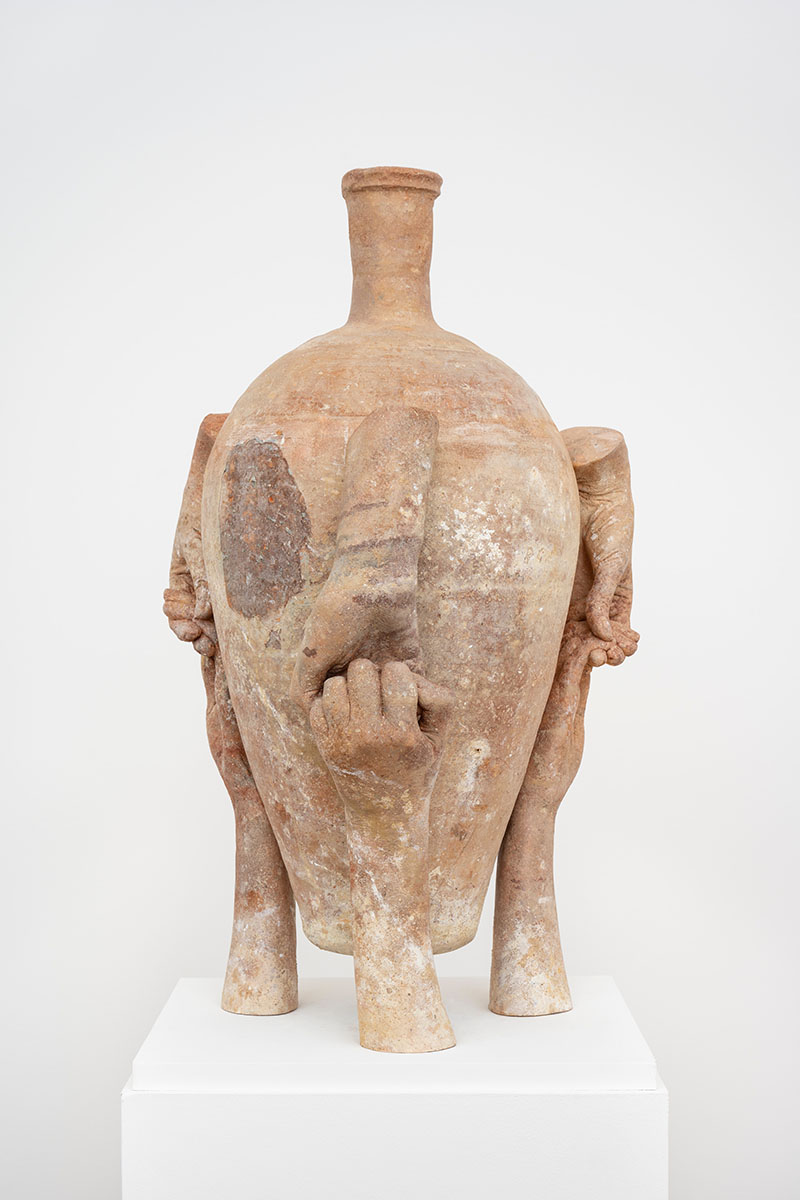 2. Clementine Keith-Roach at PPOW Gallery
A British artist who lives on a rural farm outside of London, Clementine Keith-Roach originally studied art history before turning to ceramics as her creative medium. Inspired by travels through Greece, Turkey and the Middle East, she began collecting old ceramic vessels which she employs as what Marcel Duchamp dubbed an "assisted readymade" by casting her own body parts and attaching them to these utilitarian objects. Painting her hands to match the patina of a found terracotta vessel, her 2023 Colonnade II sculpture almost makes a funny face as the artist's clutching hands become supporting stems that keep the transformed vessel afloat.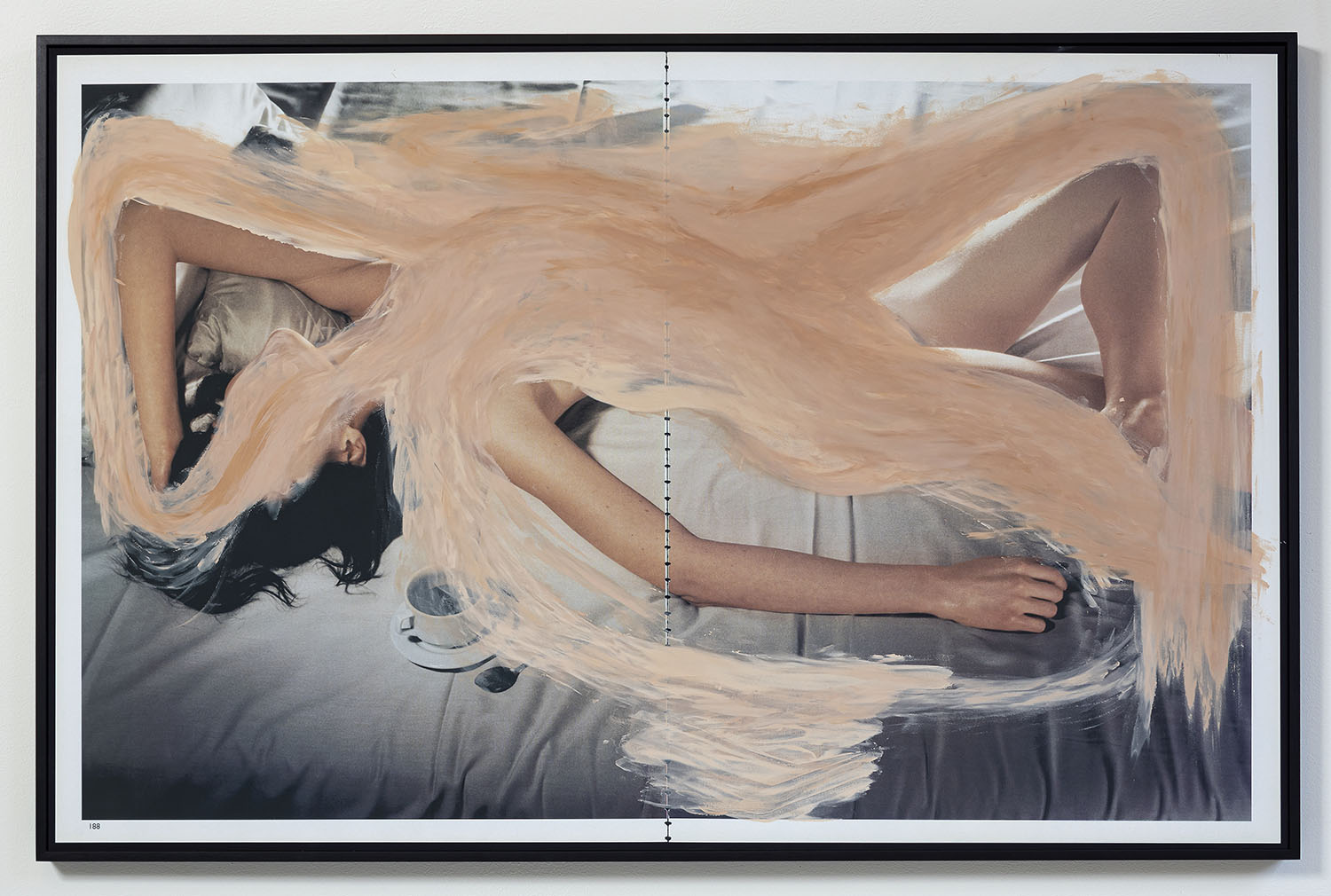 3. Amie Dicke at Anat Ebgi
Another talented Dutch female artist, Amie Dicke is widely known for her cutting and altering of fashion magazine imagery, as captured in a new monograph of her amazing artworks, published by Walther Koenig. Making inventive use of existing photographs, she incises, sands and scratches the glossy surface of the fashion shots to make far edgier pictures. Reprinting images culled from magazines and books, she creates an absence of form by rubbing the pictures with sandpaper, by cutting out defining parts, by blowing ink on depicted bodies from ballpoint pens and by painting over areas with cosmetic foundation. Her 2023 picture 188 Spread takes a magazine editorial spread as its point of departure and then turns the piece into a haunting landscape with a mysterious figure trying to perilously pop out.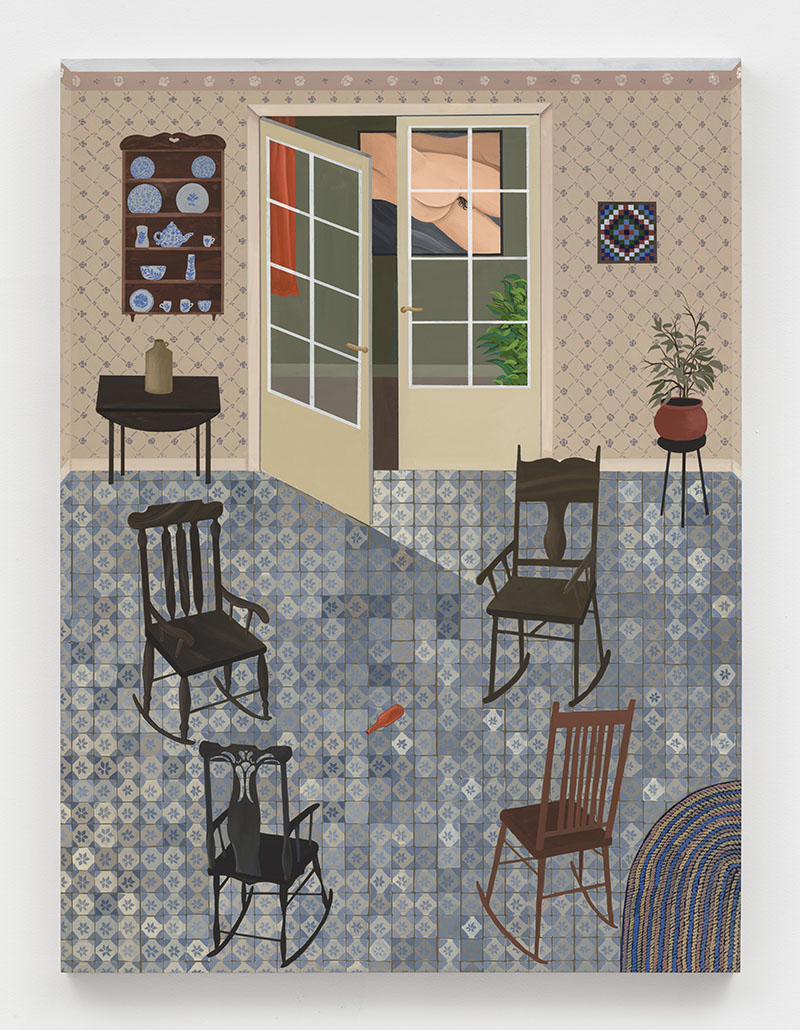 4. Anne Buckwalter at Rachel Uffner
Inspired by folk art traditions of the Pennsylvania Dutch country, where she spent her childhood, Anne Buckwalter makes similarly flattened depictions of domestic interiors and pointed arrangements of personal objects in her realistic paintings and works on paper. Mixing hex signs, quilt patterns and homegrown crafts with nudes reflected in mirrors and captured on artworks displayed on the walls or seen on a screen, Buckwalter adds an erotic edge to her otherwise decorative environments. In her 2022 Four Rockers painting (one of several paintings and works on paper at Rachel Uffner), the Portland, Maine-based artist cunningly captured a game of spin the bottle, which innocently took place at the center of four rocking chairs but now seems to have turned into a rousing orgy, as seen through the windowed door that voyeuristically leads us into the next room.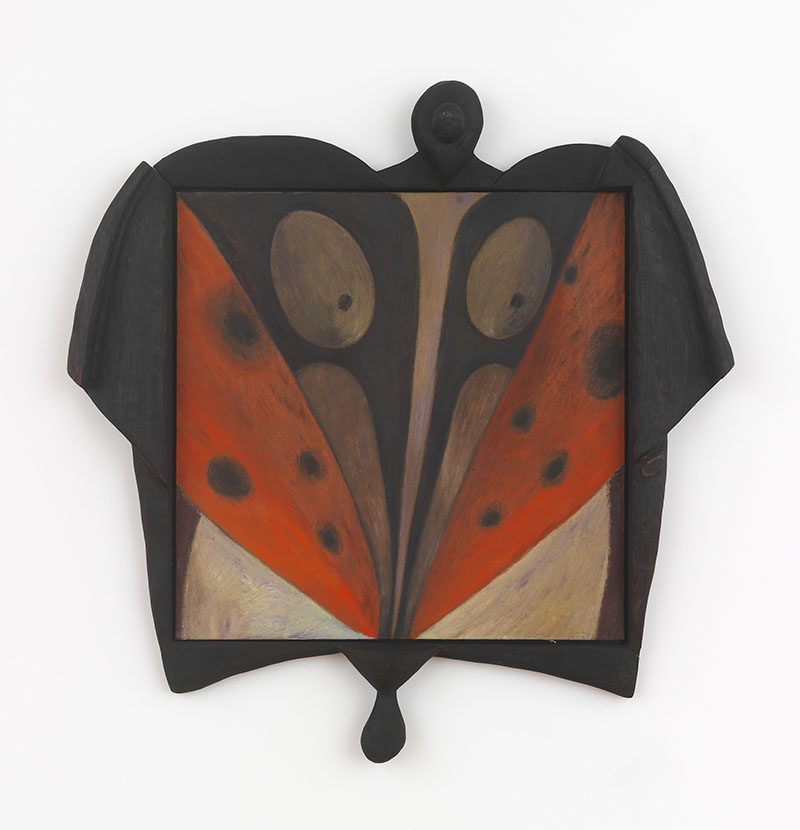 5. Ever Baldwin at Marinaro
An Upstate New York-based artist who works intuitively, Ever Baldwin makes hybrid paintings/sculptures of transcendental subject matter. Painting body parts at various points of abstraction, Baldwin completes his otherworldly compositions by crafting strikingly hand-carved frames from beautifully blackened, charred wood. His hybrid 2022 painting Pinned looks like a bat, but probably references a butterfly ironically caught in someone's private collection.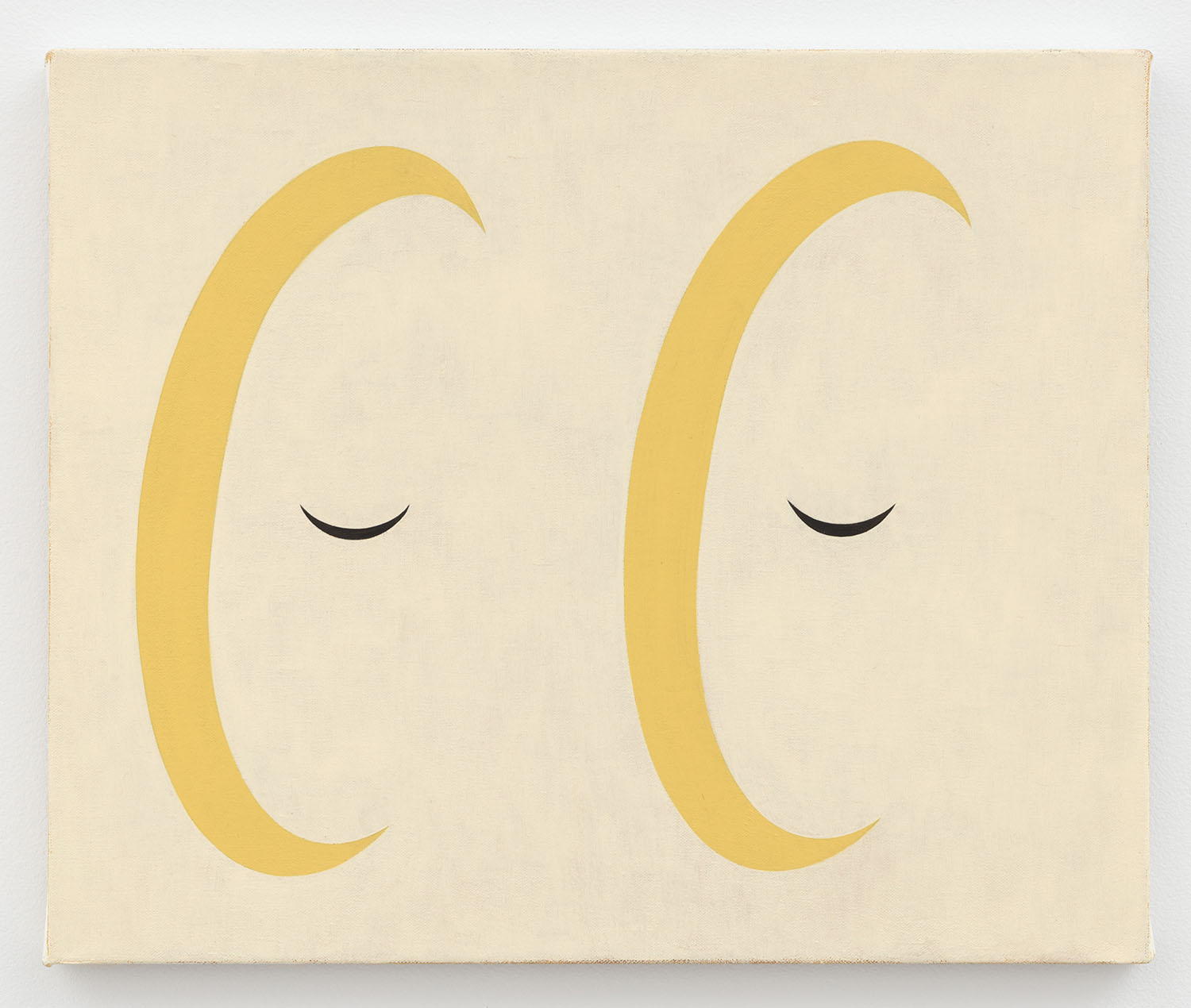 6. Alice Tippit at Nicelle Beauchene Gallery  
A mid-career, Chicago-based artist who's been gaining traction internationally over the past several years for her graphic depictions of figurative subjects as silhouetted, flatly-colored forms, Alice Tippit makes charming, small-scale oil paintings and watercolors that whimsically transform human body parts and everyday objects into ambiguous signs and symbols. Her 2021 painting Hollow at Nicelle Beauchene Gallery portrayed a pair of vertical, yellow "C" forms interrupted by two black, horizontal arch-shape forms. Creating a playful pair of eyes or breasts on a monochromatic ground, the arresting canvas says a lot with a little. Elusive in meaning, Tippit's amusing art makes you ponder what it is that you are perceiving when you are precisely in the act of seeing.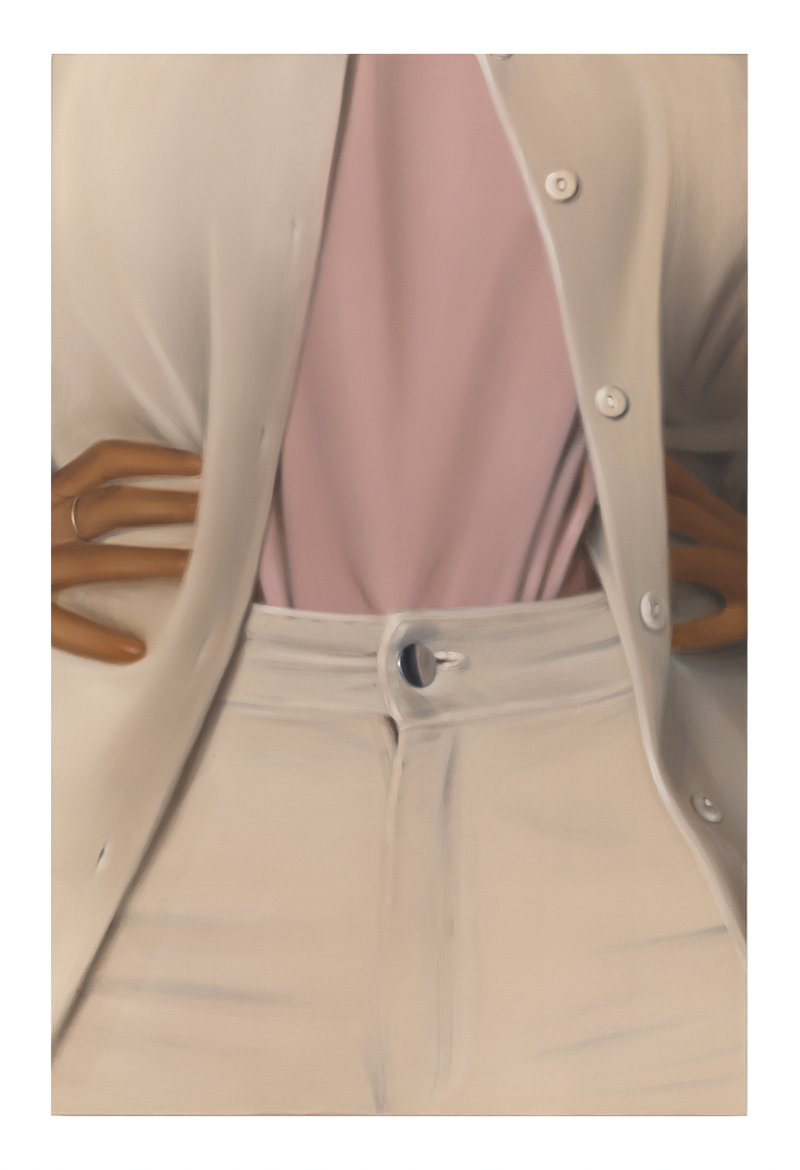 7. Alexis Ralaivao at Kasmin
Born to a Madagascan father and French mother, Alexis Ralaivao earned degrees in languages and communication before turning to art. Self-taught as a painter, he was inspired to pick up the brush by such Dutch Golden Age masters as Jan Steen and contemporary artists like John Currin. Creating close-cropped compositions of intimate moments observed during his daily life, Ralaivao turns diaristic scenes into sensual canvases. His 2022 fleshy painting Madame Ingres at Kasmin transformed a sophisticated shot of a stylishly dressed woman into a dreamy object of desire. Subtle changes in his nearly monochromatic palette make buttons, hands, rings and wrinkles more sensual than they ought to be in his visually exciting, soft-focus pictures.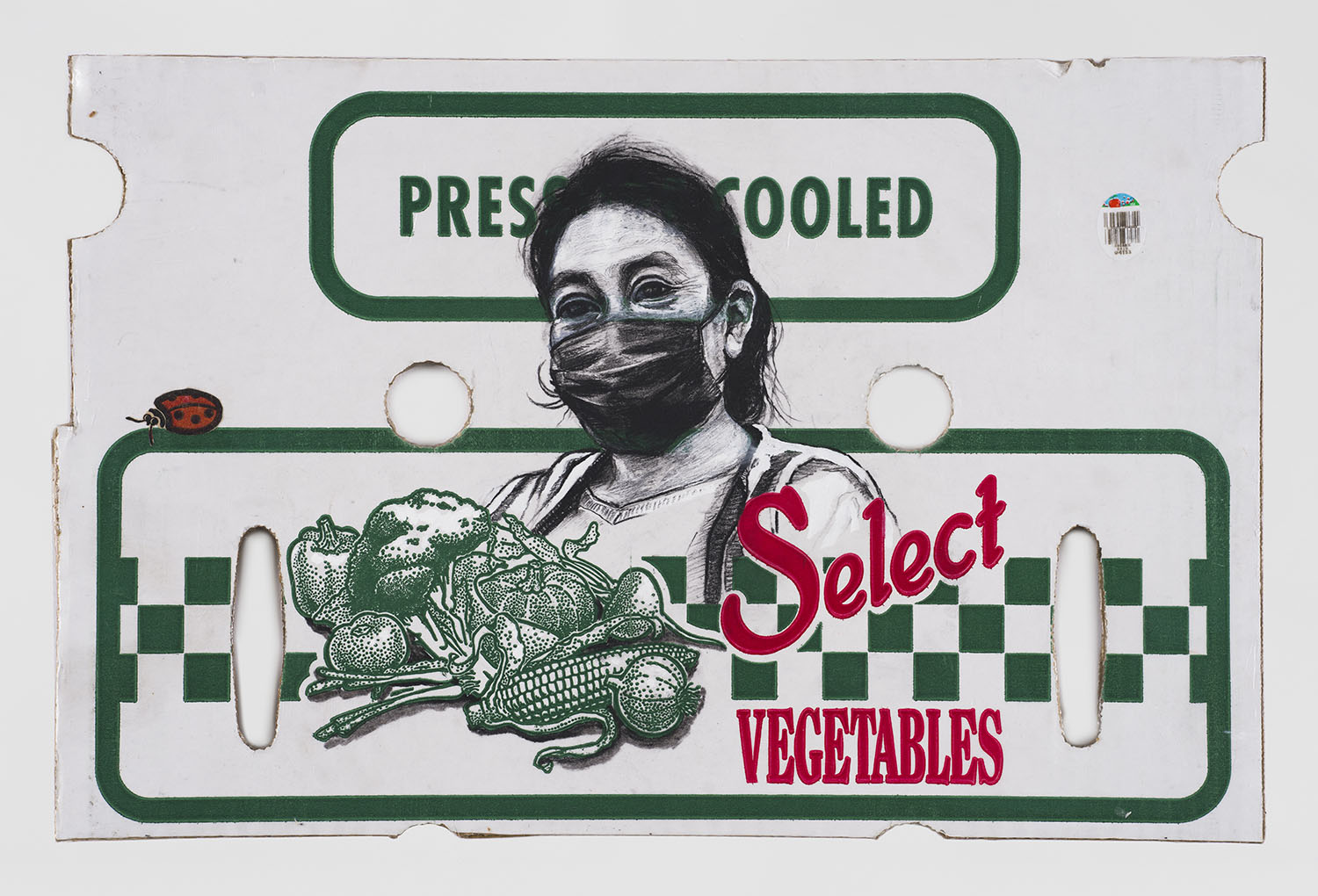 8. Narsiso Martinez at Charlie James Gallery
Immigrating to the United States from Mexico when he was 20 years old, Narsiso Martinez attended a community adult school to earn his high school diploma while working at apple orchards in Washington State. Step by step he gained his Associate of Arts degree, a BFA, and finally his MFA from California State University Long Beach in 2018. Making drawings on cardboard produce boxes to commemorate the migrant experience and farm laborers for the past several years, Martinez became an overnight success with his solo show, "Superfresh," at Charlie James Gallery in 2020. Recently profiled in the New York Times and winner of this year's Frieze Impact Prize, he had a few fascinating drawings in the gallery's Felix presentation, including 2022's Select Vegetables, which poignantly captured a woman migrant worker on the packaging for food that she may have picked.
Next Post