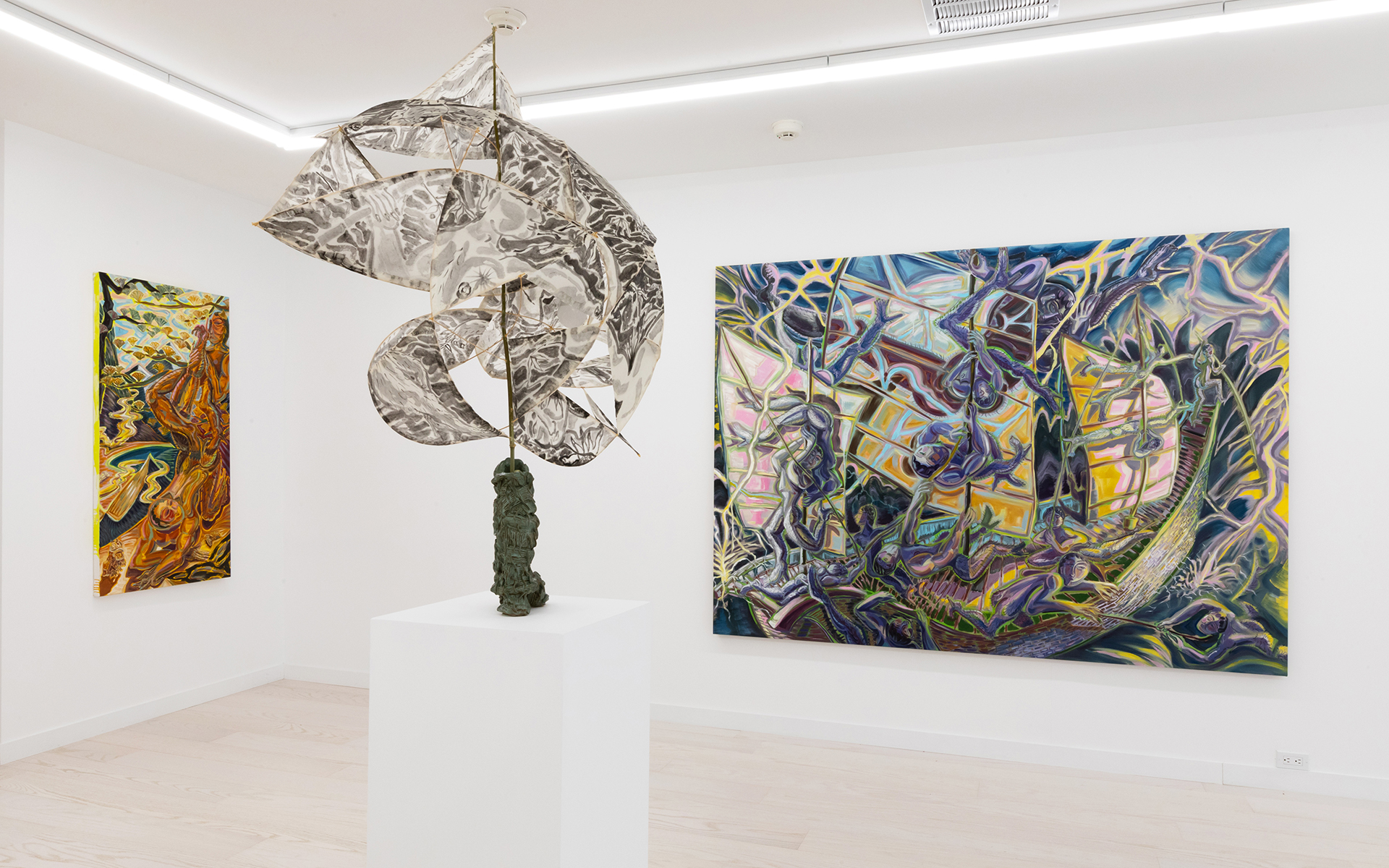 8 Must-See Solo Gallery Shows in September
From Jeffrey Gibson's moving abstractions at Sikkema Jenkins & Co to April Gornik's luminous landscape paintings at Miles McEnery Gallery, these are the not-to-be-missed shows this month
Rounding up the best gallery exhibitions across the United States each month, Galerie kicks off the fall art season with a curated selection of work in a variety of media from five different cities. Ranging from Jeffrey Gibson's moving abstractions with linguistic references at Sikkema Jenkins & Co and April Gornik's luminous landscape paintings at Miles McEnery Gallery in New York to Matt Kleberg's geometric canvases of architectural elements at Berggruen Gallery in San Francisco and Beat Generation poet Allen Ginsberg's snapshots of famous friends at Fahey/Klein Gallery in Los Angeles, these are the not-to-be-missed shows this month.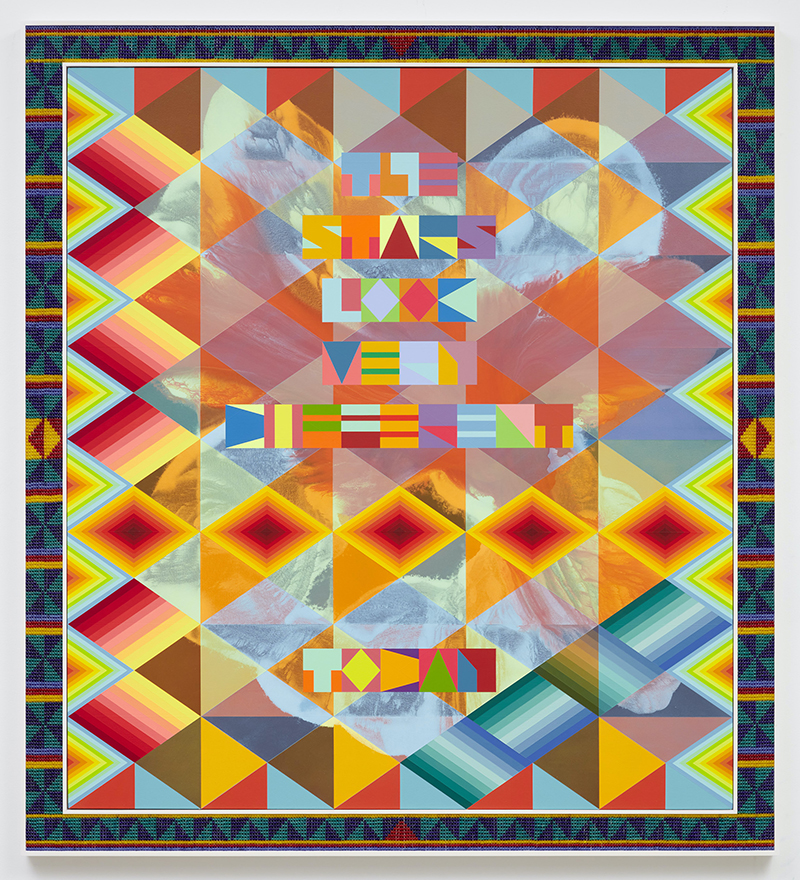 1. Jeffrey Gibson at Sikkema Jenkins & Co, New York
Recently named by the U.S. State Department as the first indigenous American artist to represent the country at the Venice Biennale in 2024, Jeffrey Gibson returns to New York for his third solo outing with the gallery—his 50th one-person exhibition since earning his MA from the Royal College of Art in London in 1998. Presenting new paintings and sculptures that highlight traditional methods of patterning, textiles and beadwork, his "Ancestral Superbloom" exhibition mixes vibrant abstract motifs with popular literary and musical references to create a colorful combination of inspirational art and language. In a departure from his signature style, there are two paintings on elk hides that layer abstract forms as well as a bronze sculpture that combines a statuary head of a stereotypical chieftain with the body of a kitsch Native American-style figurine, made for naïve consumption.
Through October 21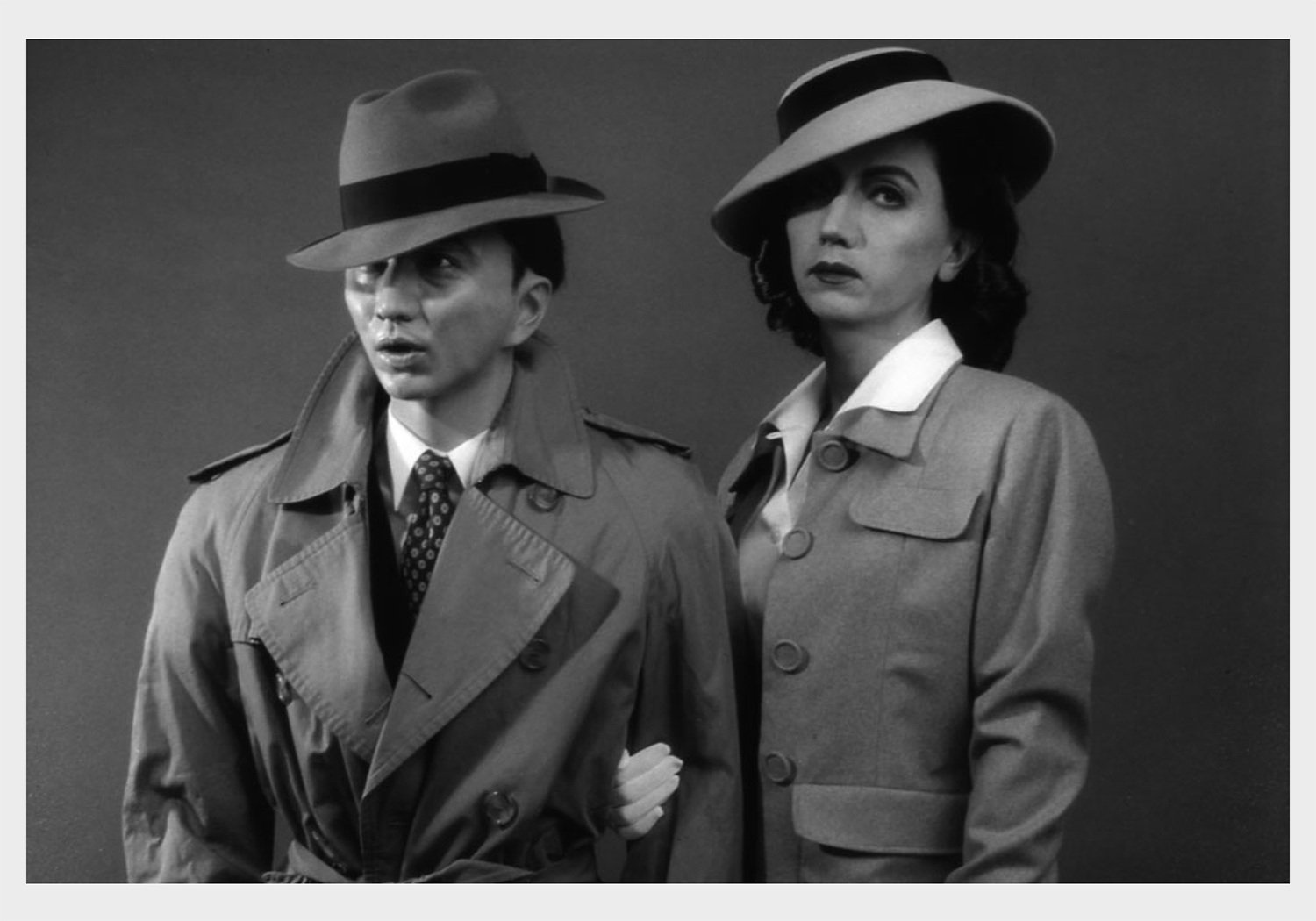 2. Yasumasa Morimura at Luhring Augustine, New York
One of Japan's most celebrated conceptual artists, Yasumasa Morimura's staged photographs, performances, and films have been attracting international acclaim for the past 40 years. Transforming himself into prominent artists, actors, singers and historical figures from the past, the artist challenges prevailing perceptions of Western femininity, identity and fame. From his large-scale, color photographs of Marilyn Monroe and Elizabeth Taylor—from 1996, the year that he was a finalist for the coveted Hugo Boss Prize and part of its Guggenheim Museum show—to his indexical group of 100 black-and-white self-portraits, made between 1993 and 2000, his playful pictures continuously keep viewers amazed and amused.
Through October 21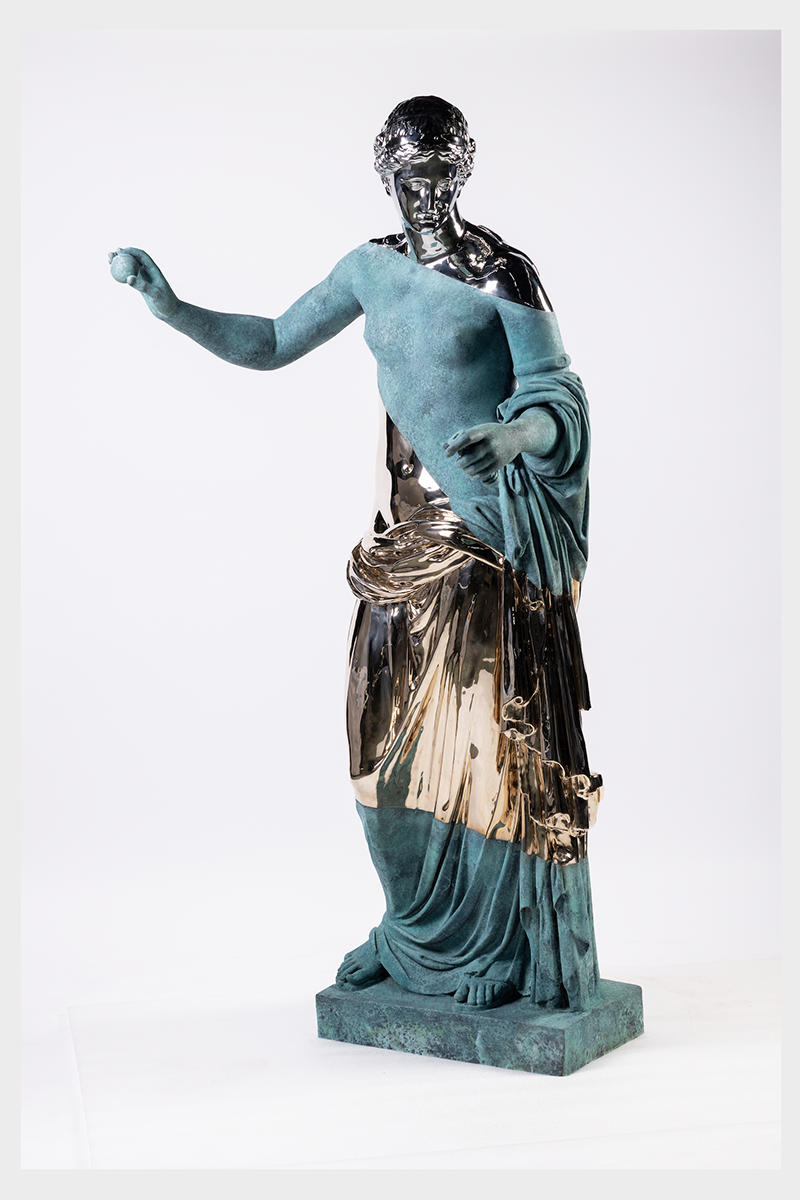 3. Daniel Arsham at Perrotin, New York
Presenting dual solo shows in New York and Paris, the exhibition "20 YEARS" pays homage to the equally monumental collaboration between Daniel Arsham and Emmanuel Perrotin, his longtime, career-supporting gallerist. Best-known for his popular sculptures, paintings, drawings and editions that revolve around his concept of fictional archaeology, the artist spins a back-to-the-future scenario with his eroded casts of modern artifacts and figures, which look like they have just been unearthed after being buried for 100 years. Keep your eyes peeled for striking drawing studies of sculptures from the past, present and future on hotel and business stationery, new bronzes that mix patinas across iconic statuary figures and a whimsical, white monochromatic sculpture of R2D2—complete with crystals sprouting from its craggy cavities.
Through October 14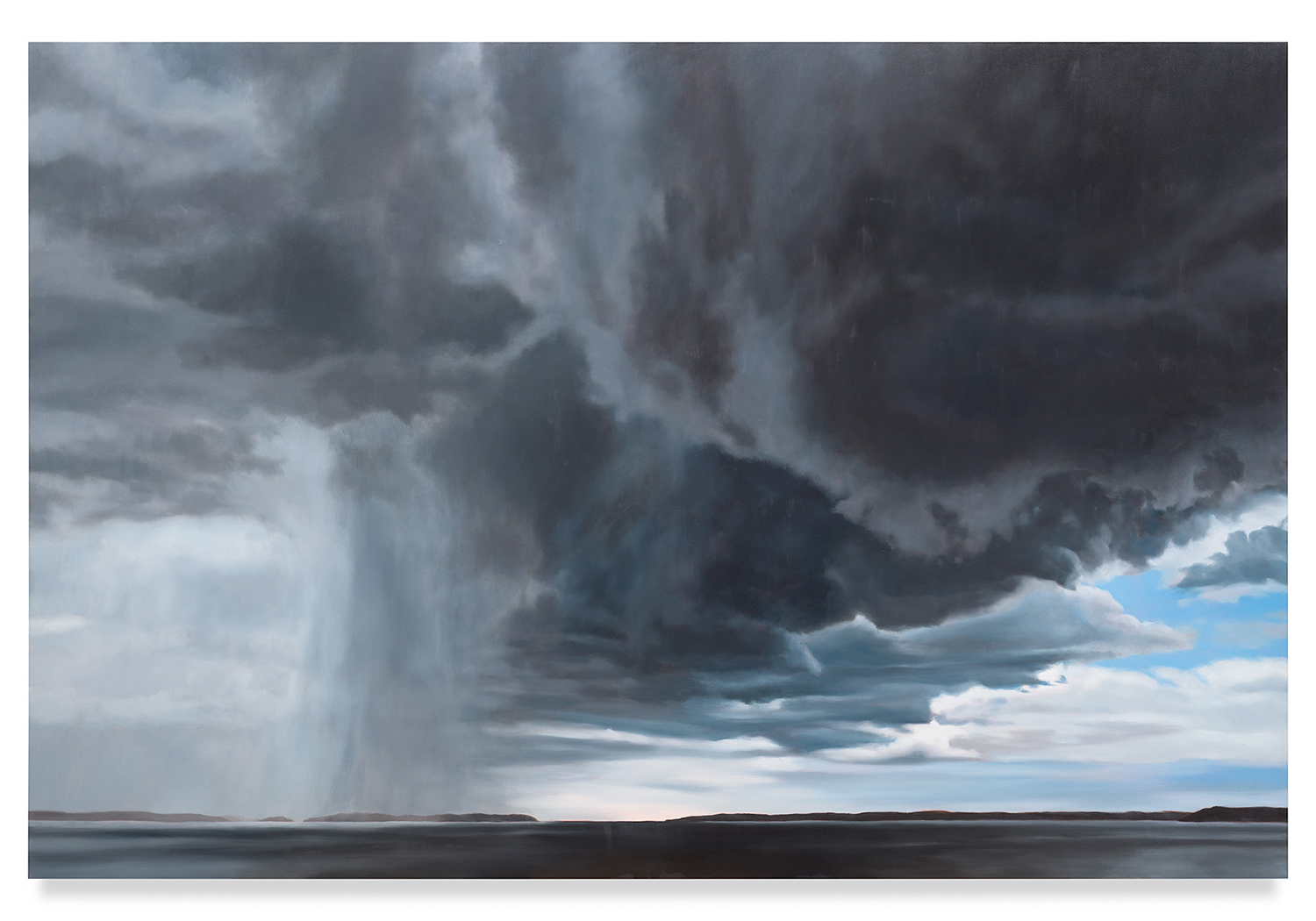 4. April Gornik at Miles McEnery Gallery, New York
A Cleveland-born landscape painter who has long been a leading member of the lively arts community on the East End of Long Island, April Gornik has been making moving paintings and drawings of the sublime side of nature since the early 1980s. Realistically rendering skies, forests, fields, lakes, oceans and streams without any signs of human or animal life, she creates poetic pictures about the environment, which expose the importance of keeping it pure. Working from memories, dreams and photographs to construct a visionary view of nature in "The Other Side," Gornik presents 10 new paintings, which range from petite to grand, that capture colorful skies harmoniously meeting pastoral grounds with an incredible sense of lucidity and bliss.
Through October 21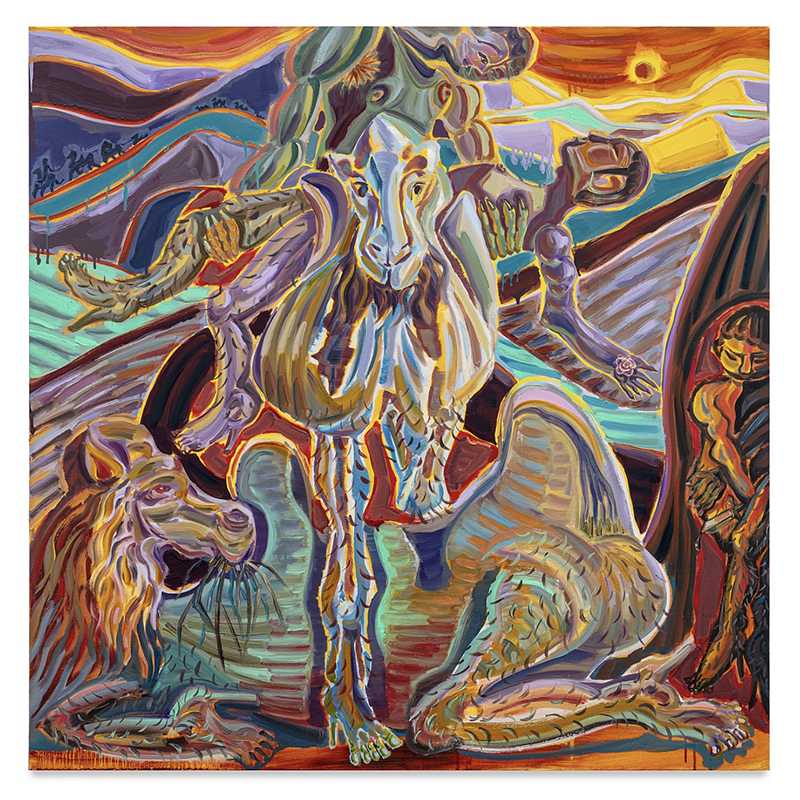 5. Yesiyu Zhao at Harper's, East Hampton
A Brooklyn-based artist who was born in China and schooled in New York, where he received a BFA from the School of Visual Arts in 2018 and an MFA from SUNY Purchase College in 2020, Yesiyu Zhao paints gender-fluid figures in culturally symbolic scenes. Mixing mythologies of the East and the West, the emerging artist draws from personal experiences of migration to construct mystical allegories, where warriors and lovers are visually woven into surreal scenes. In the "Wanderers" exhibition, his first solo show with the gallery, nomadic characters journey through the imaginary landscapes of his canvases in search of marvelous experiences rather than any set destinations, while a pair of poetic sculptural ships place abstracted bodies on ink-brushed sails in ceramic boots and high heel shoes, which indicate his voyage is taking a turn on the wild side.
Through September 27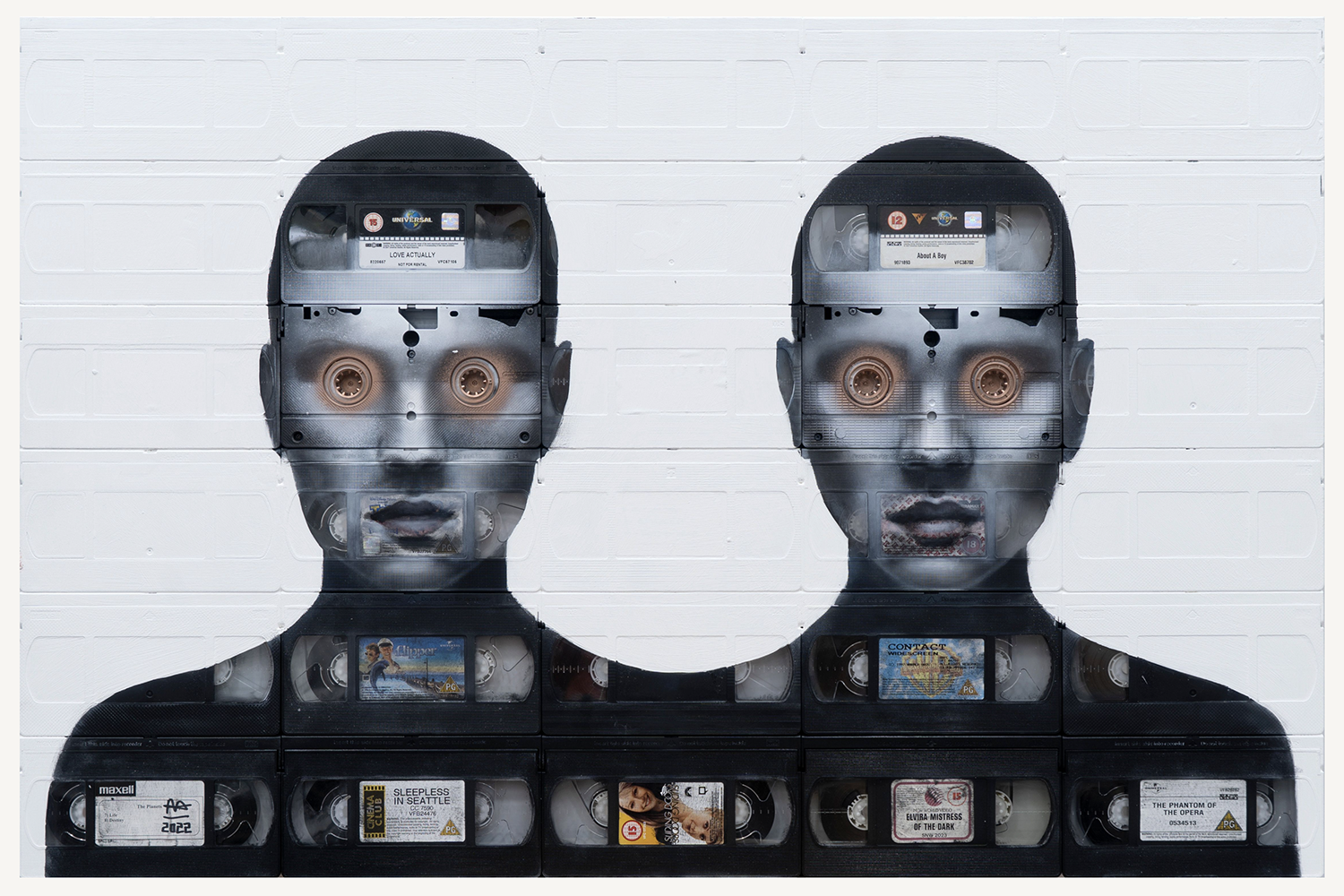 6. Nick Gentry at Robert Fontaine Gallery, Miami Beach
A graduate of Central St. Martins, where he received a master's degree in 2006, Nick Gentry has created a new form of portraiture over the past decade that's been influenced by the development of technology, identity and cyberculture. Making what he dubs "social art from the obsolete," Gentry doesn't consider the faces he forms to be the subject matter—instead, his avatars' bodies become vehicles for information from the past. In a new body of arresting assemblage paintings for the exhibition "Skin Deep," the London-based artist uses crowd-sourced VHS tapes and floppy disks as the grounds for extraordinarily realistic portraits of cyborg sensations. Offspring of Metropolis and Ex Machina, Genrty's wide-eyed people, who wear informational histories on their skins, tell us as much about the future as they do about the past.
Through September 30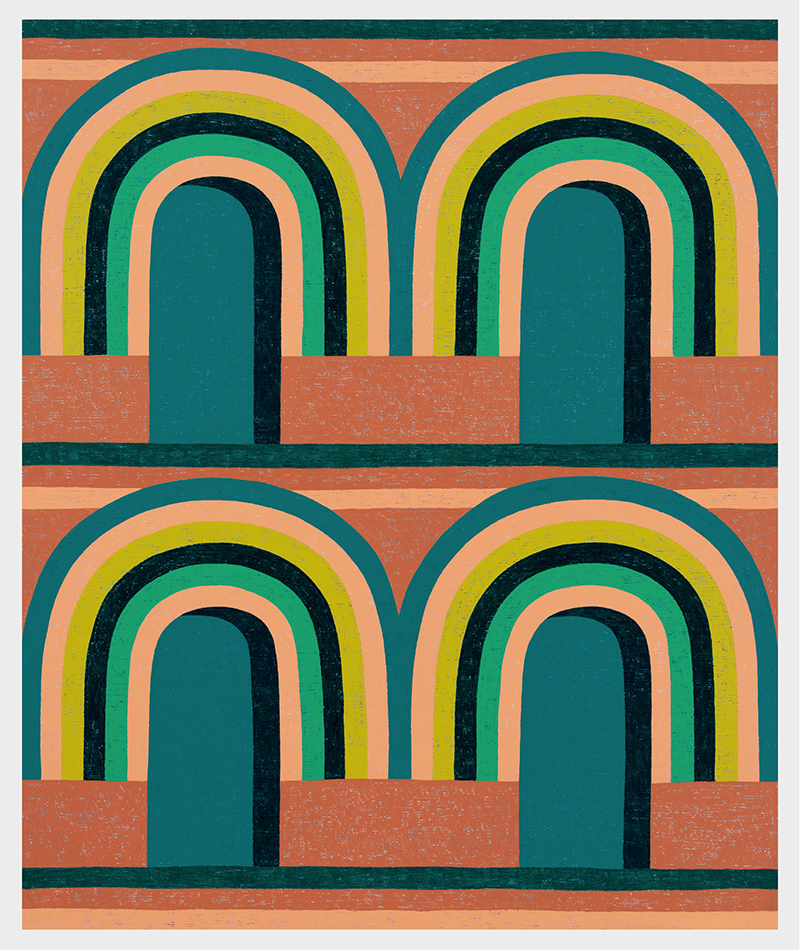 7. Matt Kleberg at Berggruen Gallery, San Francisco
One of the most talented painters working abstractly today, Matt Kleberg started taking painting lessons at age 13 and eventually turned that training into an apprenticeship, which he continued until heading off to college. Inspired by architectural moments encountered on his neighborhood walks and more adventurous travels, he makes sketches to spark ideas for small-scale studies and larger paintings of architectural elements reduced to colorful, geometric forms. Mostly mesmerized by entryways and windows, he isolates their arched and rectangular structures and paints them in contrasting colors—often creating textured surfaces through the use of oil stick on canvas.
In the gallery's exhibition, "Pigeon Holes," the San Antonio-based artist has made a series of canvases based on an ancient Roman columbarium, a building with small niches for funerary urns. Employing these pigeon hole compartments as his point of departure, Kleberg paints meditative works that abstractly convey the sense of an urban environment in the same way that these age-old, domesticated birds let us know that we are at the very heart of one.
Through October 13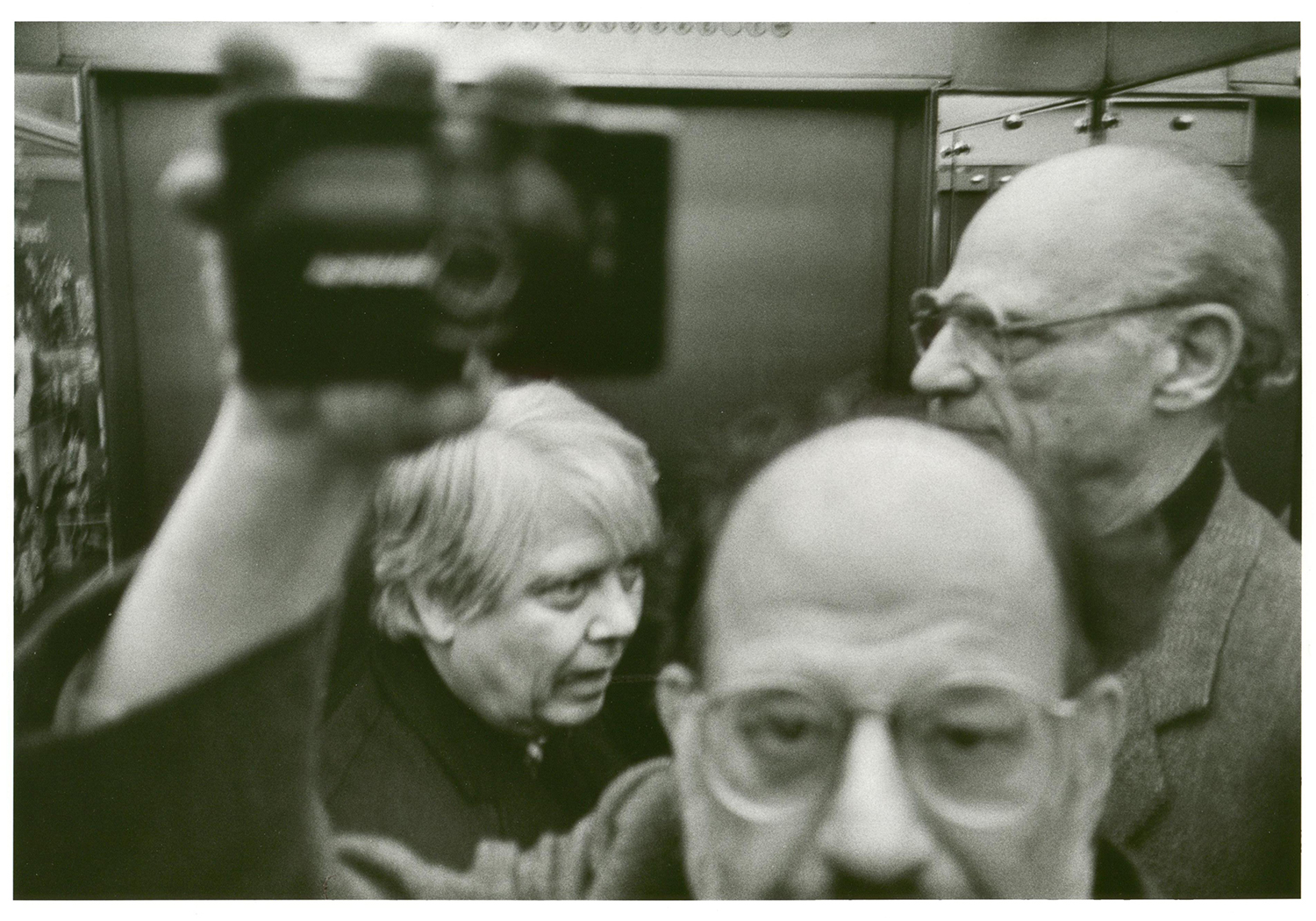 8. Allen Ginsberg at Fahey/Klein Gallery, Los Angeles
A celebrated Beat Generation poet and writer who was at the forefront of the counterculture revolution in post-war America, Allen Ginsberg started taking snapshots of his literary pals—writers like Jack Kerouac, William S. Burroughs, Gregory Corso and Neal Cassady—in the 1950s and '60s. Inspired by other concerns, he set aside photography for 20 years, when he returned to the medium with better equipment and renewed interest. Mingling with a new generation of creative talents, he made portraits of Francesco Clemente, Jean-Michel Basquiat, Robert Frank, Patti Smith and Ai Weiwei, while often embellishing his black-and-white pictures with handwritten descriptive captions beneath the images. The intimate photographs in his "Muses & Self" exhibition transport viewers back to an era when poets were considered as meaningful as musicians and actors—a time that's wonderful to revisit through Ginsberg's visual art.
Through September 23
Next Post