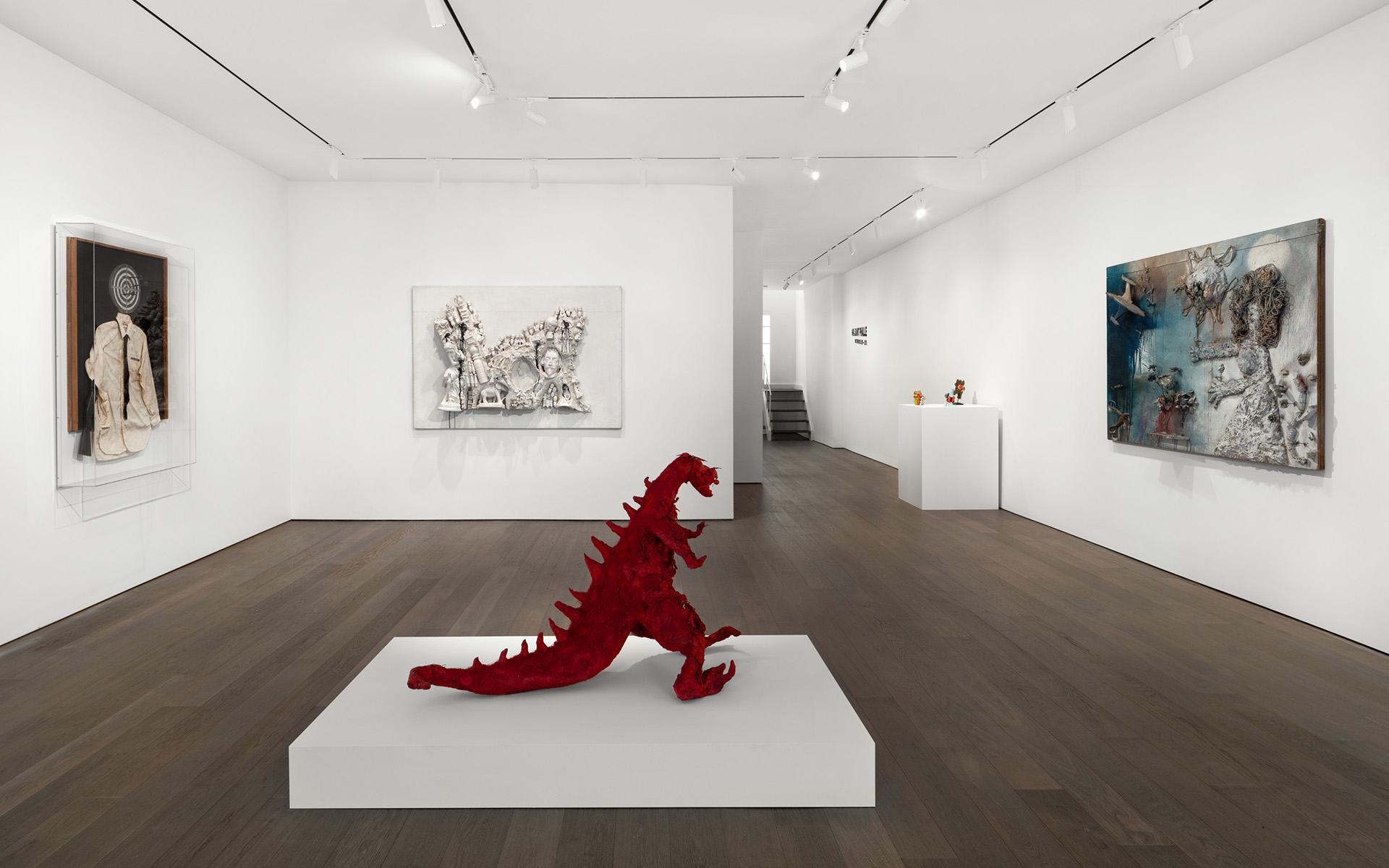 8 Must-See Solo Gallery Shows Around the U.S. in November
From Jean-Michel Othoniel's geometric flower paintings at Perrotin to Dana Schutz's solo show of allegorical paintings and sculptures at David Zwirner
Rounding up the best gallery exhibitions across the United States each month, Galerie journeyed from New York and Philadelphia to San Francisco and Los Angeles to discover the top solo shows for November. From Jean-Michel Othoniel's American debut of his geometric flower paintings at Perrotin and Dana Schutz's premier solo show of her allegorical paintings and sculptures at David Zwirner in New York to Alessandro Pessoli's paintings and sculptures of idyllic figures in colorful settings at Nino Mier Gallery in Los Angeles, these are the not-to-be-missed exhibition this month.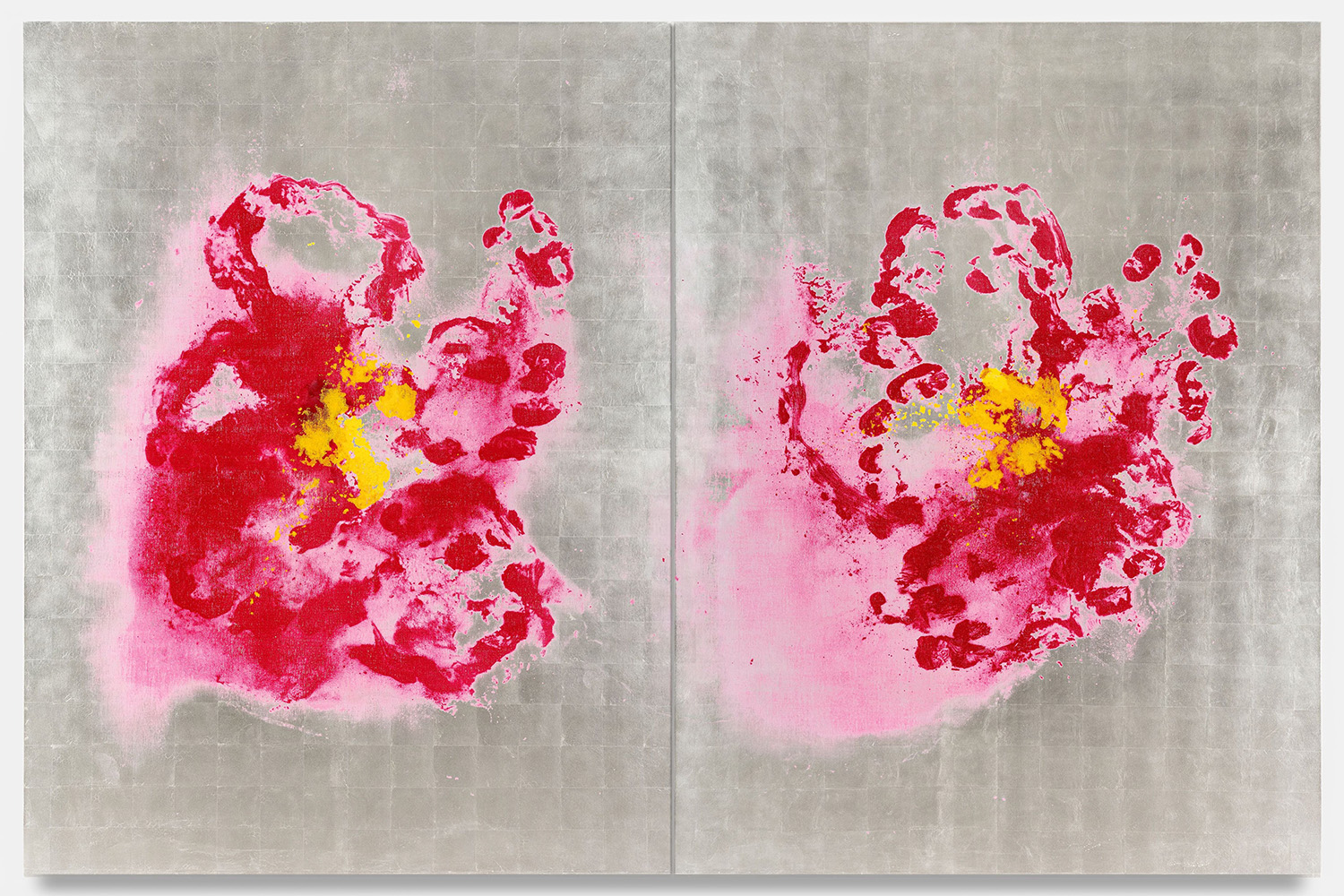 1. Jean-Michel Othoniel at Perrotin, New York
Fresh off his solo show of sculptural geometric flowers at the Brooklyn Botanic Garden, Jean-Michel Othoniel shifts our view from his public artworks to his more intimate glass sculptures and large-scale paintings in his exhibition "The Reconciliation of Opposites." Exploring the process of painting geometric floral forms on a structural field of white gold leaf over the course of the past decade, the celebrated French artist (he was recently named Knight of the Legion of Honor—France's highest public decoration—by President Macron) has had a dynamic collection of geometric rose paintings on view in the niches of the Cour Puget at the Louvre in Paris since 2019, yet this show is the first presentation of his paintings in New York.
Rendered with ink, which is expressively dripped and brushed onto the surface of a sheet of paper and then transferred to the precious white gold leaf ground, the paintings hypothetically reflect his luminous sculptural flowers while offering another realm for which these forms to conceptually bloom. Roses, poppies, plum blossoms and wisteria burst forth from their seductive surfaces like fireworks creating recognizable mirages erupting in the air and then dissipating before our eyes—but these sublime works have the potency to remain eternal. Complementing his painterly blooms, Othoniel offers two new groups of glass works from his ongoing Precious Stonewall and Wonder Block series, which assemble colored glass bricks into symbolic sculptures that engage our minds while stimulating our sense of sight.
Through December 22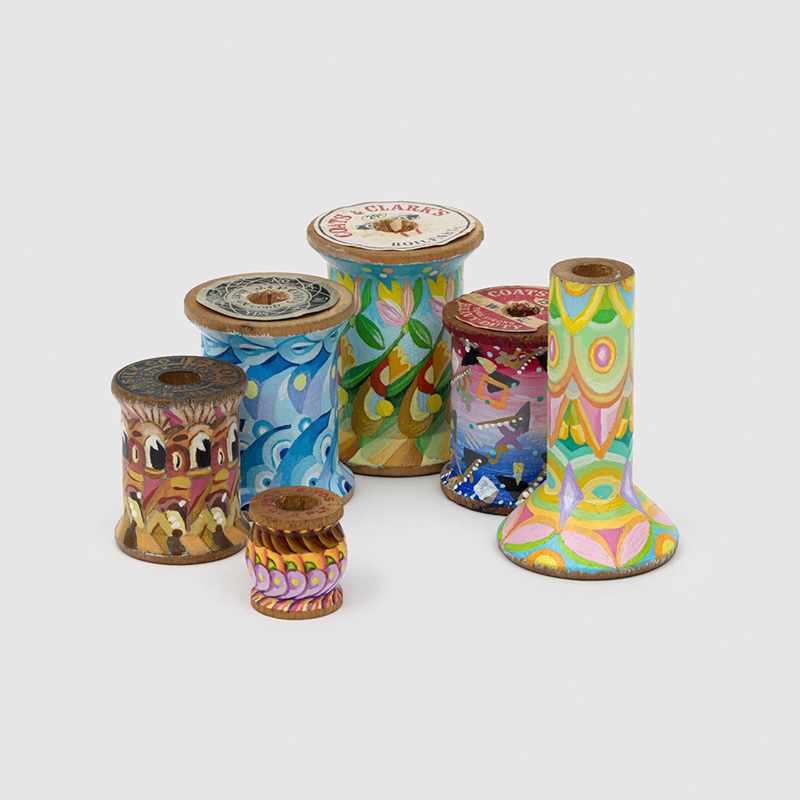 2. Charles LeDray at Peter Freeman, New York
A self-taught American artist who has been sewing, carving and making ceramics since childhood, Charles LeDray has turned his love of craft into a unique way of making meaningful art. Best known for his small-scale sculptures of everyday objects that are made over an extended period of time and often exhibited in clusters, which ironically make these collections of pieces appear to be mass-produced, the New York-based artist sews miniature clothing from scraps of fabric, hand-carves wood and bone objects, casts common goods in plastic and cement and hand-throws tiny dishes and vessels in clay.
For his second solo show with the gallery, titled "Shiner," the artist presents a selection of hand-drawn advertisements and comics from the past, a handwritten recipe for elephant soup, and vintage packaging for paper clips, sewing machine needles and the game of jacks. Adding to these graphic works, LeDray has sewn a man's miniature suit that's displayed backward in front of a small-scale Pop Art-style painting that reads MEN MAN WOMEN WOMAN, which he interestingly made with crayon rubbings on paper. The icing on the cake, however, is a large group of wooden spools—appearing to be found objects, but you never know, as they could have been meticulously hand-carved and labeled by the artist—that are marvelously painted with patterns and abstractions and displayed on glass shelves.
Through January 6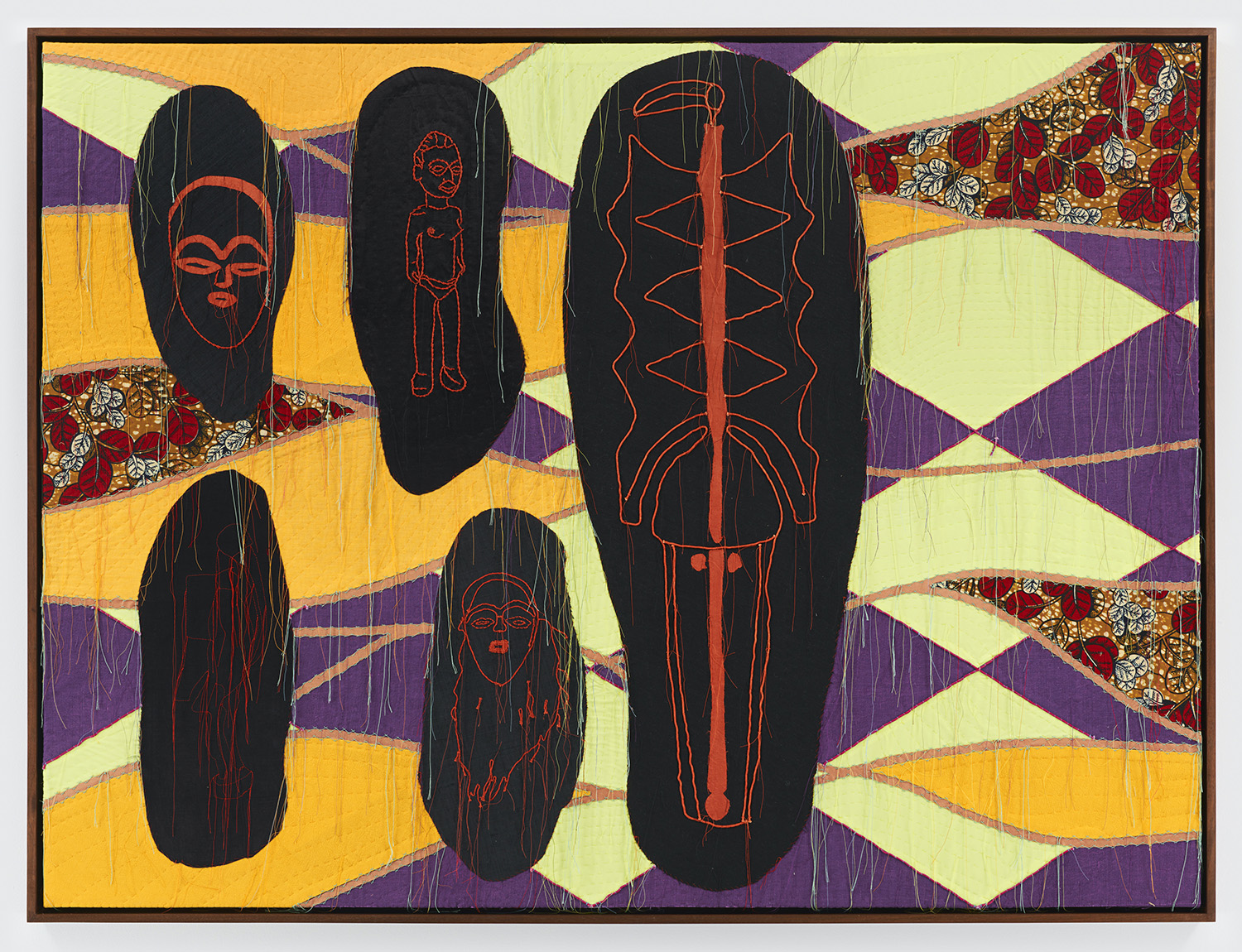 3. Yinka Shonibare CBE at James Cohan, New York
With recent exhibitions in the Deutsche Bank Wealth Management lounges at Frieze London and Frieze Masters commenting on the tangled relationship between Africa and Europe and their economic and political histories, a current solo show at London's Stephen Friedman Gallery exploring the Dada spirit challenging bourgeois values and traditions of Western art and his selection as part of the Nigerian Pavilion in next year's Venice Biennale, Yinka Shonibare CBE is on a roll. Celebrated for his work in a variety of media examining race, class and cultural identity, the British-Nigerian artist's work has been widely exhibited and collected since its inclusion in "Sensation: Young British Art from the Saatchi Collection," which began at the Royal Academy of Arts in London in 1997 and then toured internationally.
In his "Boomerang: Returning to African Abstraction" exhibition at the gallery, Shonibare presents a new series of pictorial quilts that highlight African artworks owned or referenced by such European modernist artists as Pablo Picasso, Constantin Brancusi and Francis Picabia. Embroidered images of the African works float on backgrounds that mix the artist's signature Dutch wax textiles with a diamond motif evoking the quilts of Gee's Bend and Picasso's Harlequin paintings. Another textile piece, Shonibare's first tapestry to date, examines the African aesthetic roots of European modernist abstraction, while three new bronze sculptures, painted with Dutch wax textile patterns, continue the artist's interest in freezing a moment in time by giving form to the wind, which he intriguingly sees as a metaphor for the migration of people across the planet.
Through December 22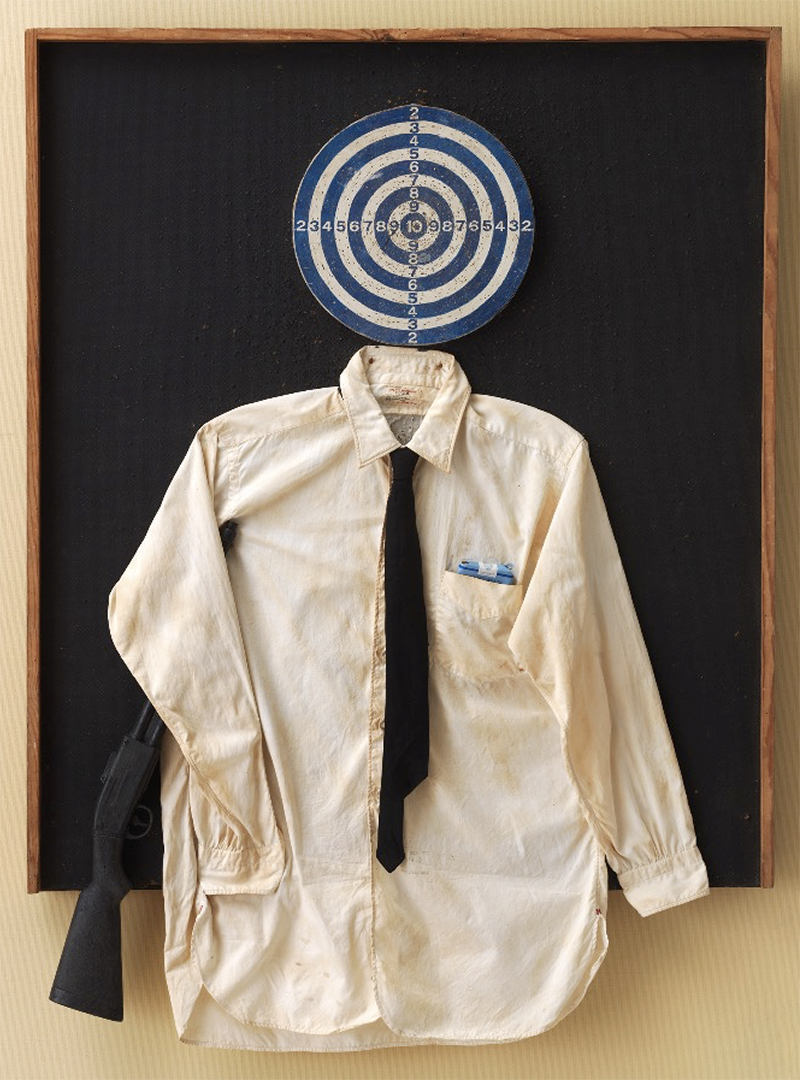 4. Niki de Saint Phalle at Fleiss-Vallois, New York
A model-turned-artist, Niki de Saint Phalle became an overnight success in the 1960s with paintings made by shooting a rifle at plaster-covered reliefs embedded with containers of paint, which would erupt over their white surfaces. A media darling, the French-American charmer parlayed her fame into blockbuster museum shows, public art projects and signature products that she used to wage a feminist battle against the religious, political and cultural patriarchy of the time. Although she didn't have any formal training, she displayed a talent for painting naïve portraits before delving into more complex narratives with female figures. Inspired by the organic architecture of Antoni Gaudí, she added stones, beads and broken dishes to her canvases, made assemblages with found objects and created massive mosaic figures for parks and gardens.
The exhibition "Niki de Saint Phalle: Masterworks 1959-1970" offers an overview of her most prolific period, when she first made her famous Nana figures and became the only female member of the Nouveau Réaliste movement, which is the European counterpart of Pop Art. A 1959 collage painting features a toy gun embedded in plaster; her 1960-61 self-portrait places a dart board as a head above a man's shirt with a rifle tucked under its arm; and a 1962 assemblage of plaster-covered baby doll torsos and other found objects portray an infamous French serial child killer with black, bloodlike wounds streaming on it. Other pieces, including a 1964 frightening portrait of Dr. Mabuse, a fictional villain and master of disguise, made from scraps of paper, string, fabric and chicken wire, and a series of miniature Nana sculptures, the artist's goddess-like symbols of femininity and maternity, round out this sensational show.
Through November 22
5. Dana Schutz at David Zwirner, New York
The subject of a current survey exhibition at the Musée d'Art Moderne de Paris, Dana Schutz has been a highly coveted artist ever since 2002, when she graduated from Columbia University's prestigious MFA program. A keen observer of society, Schutz paints what she sees happening but with a bittersweet point of view. Creating allegorical paintings of imaginary scenes with bold brushstrokes and compelling colors and expressive bronze sculptures from contorted clay that depict grotesque creatures in farcical situations, her semi-abstract, figurative works can make viewers cringe, even as they are enchanted by the uncanny narratives she portrays.
For her first solo show at the gallery, poetically titled "Jupiter's Lottery," the New York-based artist offers a selection of large-scale paintings and sculptures, in which people and objects seem to be dissolving into their surroundings and into each other. In her painting The Ride, men, women and children are perched on a wooden cart headed toward turbulent skies and a barren unknown, while in her canvas The Island the young and old tend a flock of irreverent sheep, as all gather together on a small plot of land in the middle of a blood-red sea. Schutz's sculptures, like The Gardner, which captures a pile of people, animals, objects and bones making a messy mound, are equally as dark yet they brilliantly complement the paintings in their dystopic view of contemporary life.
Through December 16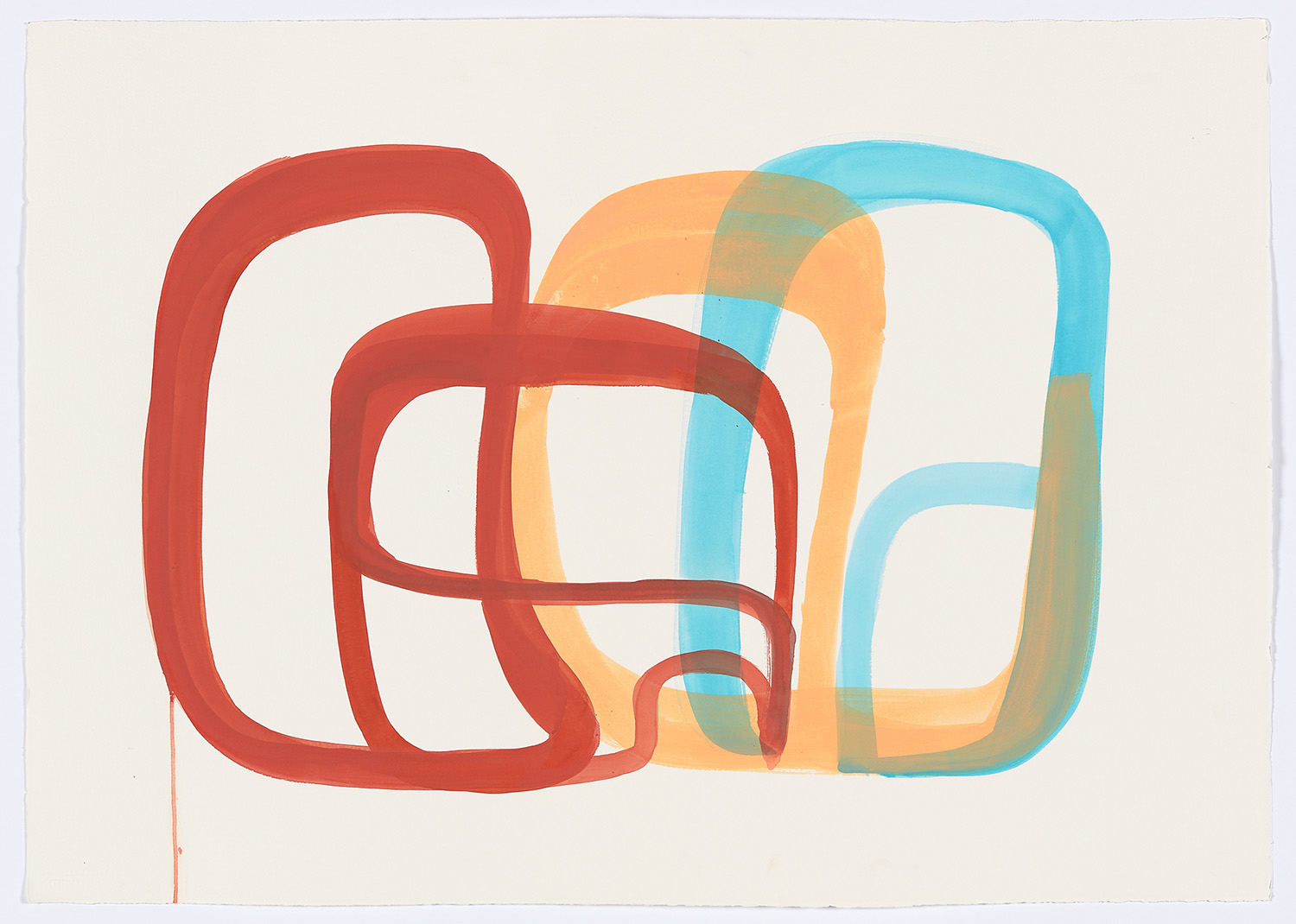 6. Joanna Pousette-Dart at Locks Gallery, Philadelphia
Best known for her shaped canvases for colorfully stacked forms that appear to be in a state of momentary balance, Joanna Pousette-Dart was schooled by Color Field painters in the 1960s but found her own style by breaking up the planes of color and layering linear brushwork over the underlying forms. Letting her palette be influenced by time spent in New Mexico, where she has worked on and off since the early 1970s, the artist—whose father was a well-known painter and her husband is also one—has forged a path unrelated to any particular major art movement. Exploring what she calls "a visceral interchange with nature," her work is inspired by natural landscapes, the curvature of the earth and the effects of peripheral vision.
Earlier this year, Pousette-Dart traveled to Mexico City to make the 15 Mexican Suite drawings that are on view in the "Line Moving Through Light" exhibition at the gallery. Working within the confines of the rectangular sheets of paper rather than on shaped canvases, she layered contours of color over one another to create variations in temperature and tonality. From layers of monochromatic hues to contrasting ones, her improvisational brushstrokes mix dense colors that butt up against one another and thin transparent lines that make the curvy forms seem like they are moving.
Through November 30
7. Michael Craig-Martin at Berggruen Gallery, San Francisco
Starting out as a conceptual artist making minimalist sculptures in the late 1960s and then making wall drawings and installations in the 1980s and '90s and computer portraits in the 2000s, Michael Craig-Martin has been an influence on young British artists and the international art scene for generations. An inspirational teacher at London's Goldsmiths College, he was a Tate Trustee from 1989 to 1999, was awarded a CBE in 2000 and was subsequently knighted by Queen Elizabeth II for his services to art in 2016.
Represented internationally by Gagosian and in London by Cristea Roberts Gallery, the artist is having his first solo show with the San Francisco gallery. Aptly titled "California Dreaming," the colorful exhibition presents 14 recent paintings that reference musical instruments, everyday objects, personal accessories, flowers and food. Flatly painted with vibrant acrylic colors on square sheets of aluminum, Craig-Martin employs precise lines, distinct graphics and bold compositions to lend visual stimulation to his seemingly simple yet impactful paintings. Untitled (yellow triangle) layers fragments of orchestra instruments in contrasting colors, while Untitled (Prada trainer) captures a stylish sneaker detailed in blue and red that's harmoniously resting on a bright Fuschia-colored ground. In this show at least, California dreamin' is becomin' Sir Michael Craig-Martin's reality.
Through December 22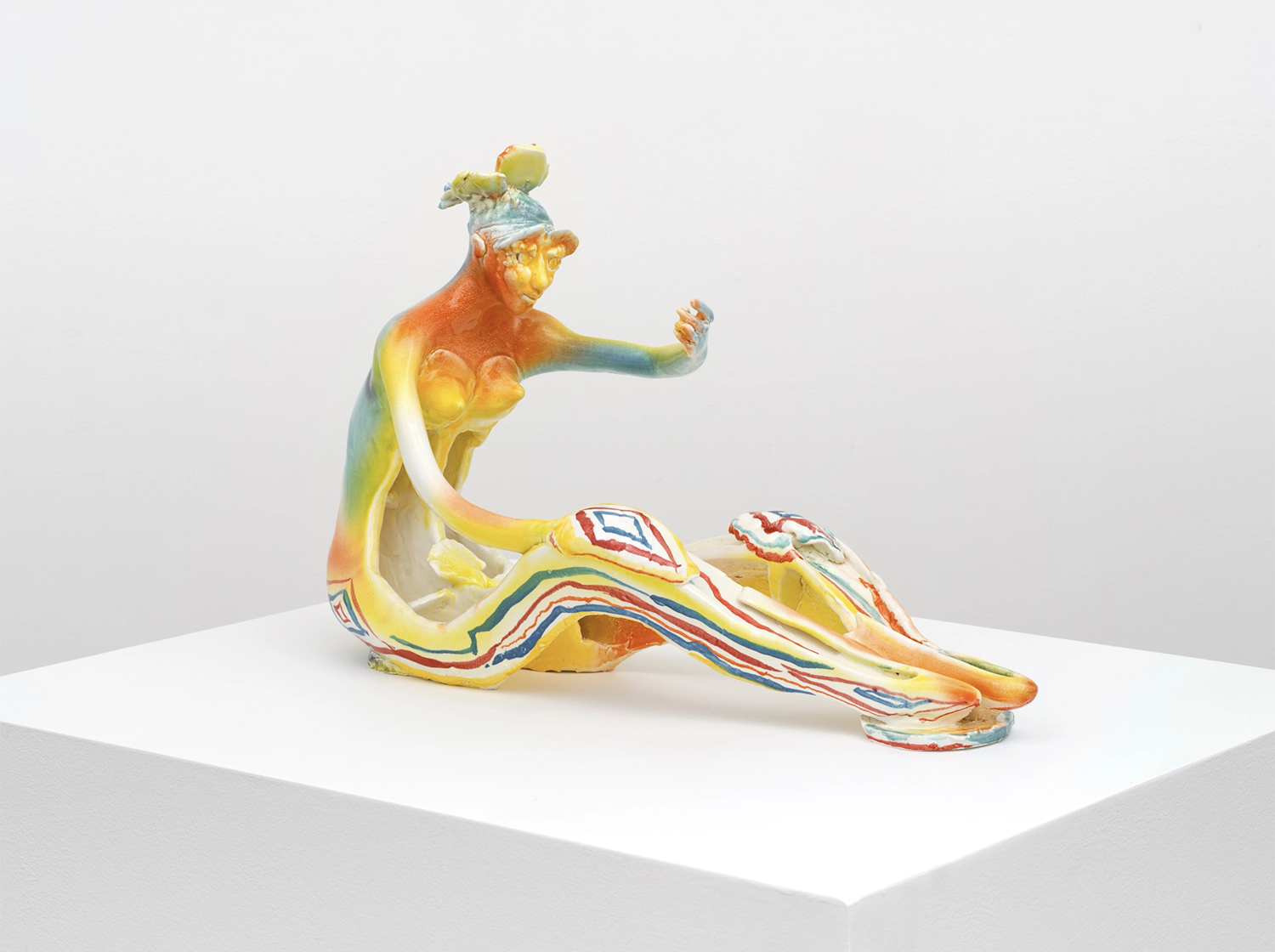 8. Alessandro Pessoli at Nino Mier Gallery, Los Angeles
An Italian artist who is living and working in Los Angeles, Alessandro Pessoli's work is coveted worldwide for the lively mix of photorealism and expressionism in his satirical paintings and drawings and clever combination of ceramics, bronzes and found materials in his playful sculptures.  Employing a variety of media, including spray paints, oils, pastels, pencils and collage on his canvases and experimenting with ceramic techniques in his sculptures, Pessoli creates comical scenarios that comment on the human condition.
In his third exhibition with the gallery, titled "The Golden Hour," the artist introduces a series of new paintings and sculptures that mingle Italian Renaissance figuration with pop imagery and psychedelic iconography. In such colorful paintings as La dolca ora (The sweet now), Figura del cardellino (Figure with goldfinch) and Eternal Garden, idyllic nudes pose wearing theatrical hats in modernist, patterned and animation-like environments. And on the sculptural side of his practice, the painted Maiolica pieces Arlecchino (Harlequin) and Rainbow teenager portray flower-clad hippies in a wild array of sprayed and brushed colors, while adding another level of delight to this dreamlike show.
Through December 16
Next Post