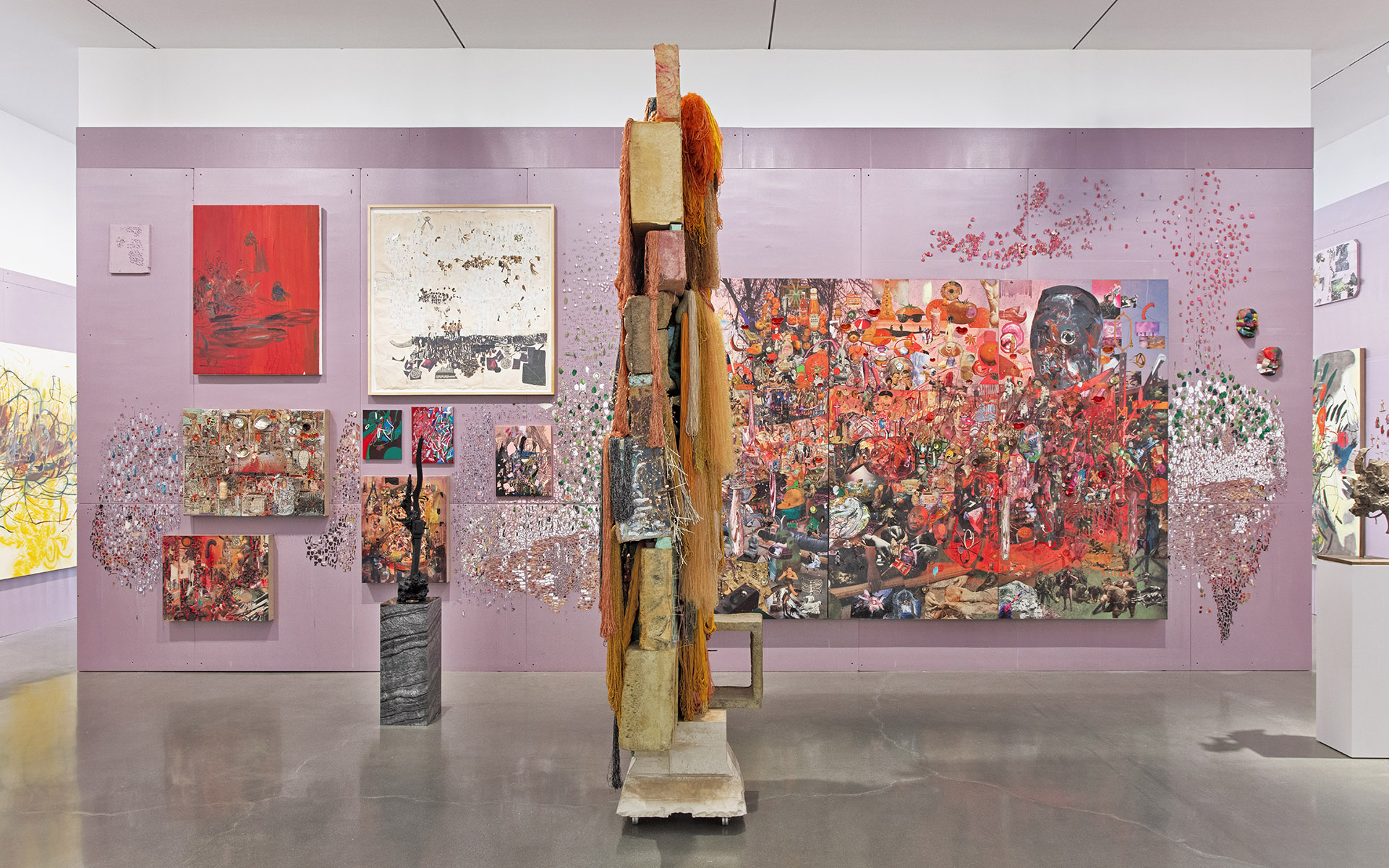 8 Must-See Gallery Solo Shows in February
From alluring abstractions by Hans Hartung at Perrotin to figurative delights by Janet Werner at Anat Ebgi, these are the most interesting shows of the month
On the lookout for the most interesting gallery solo shows across America every month, Galerie surveys the art scene in search of artists who should be on every collector and connoisseur's must-see list. For February, we have our eye on alluring abstractions by Hans Hartung at Perrotin and Yuan Fang at Half Gallery in New York and figurative delights by Janet Werner at Anat Ebgi and Jim Shaw at Gagosian in Los Angeles. From the streets of Manhattan to the boulevards of Beverly Hills, these shows are not to be missed.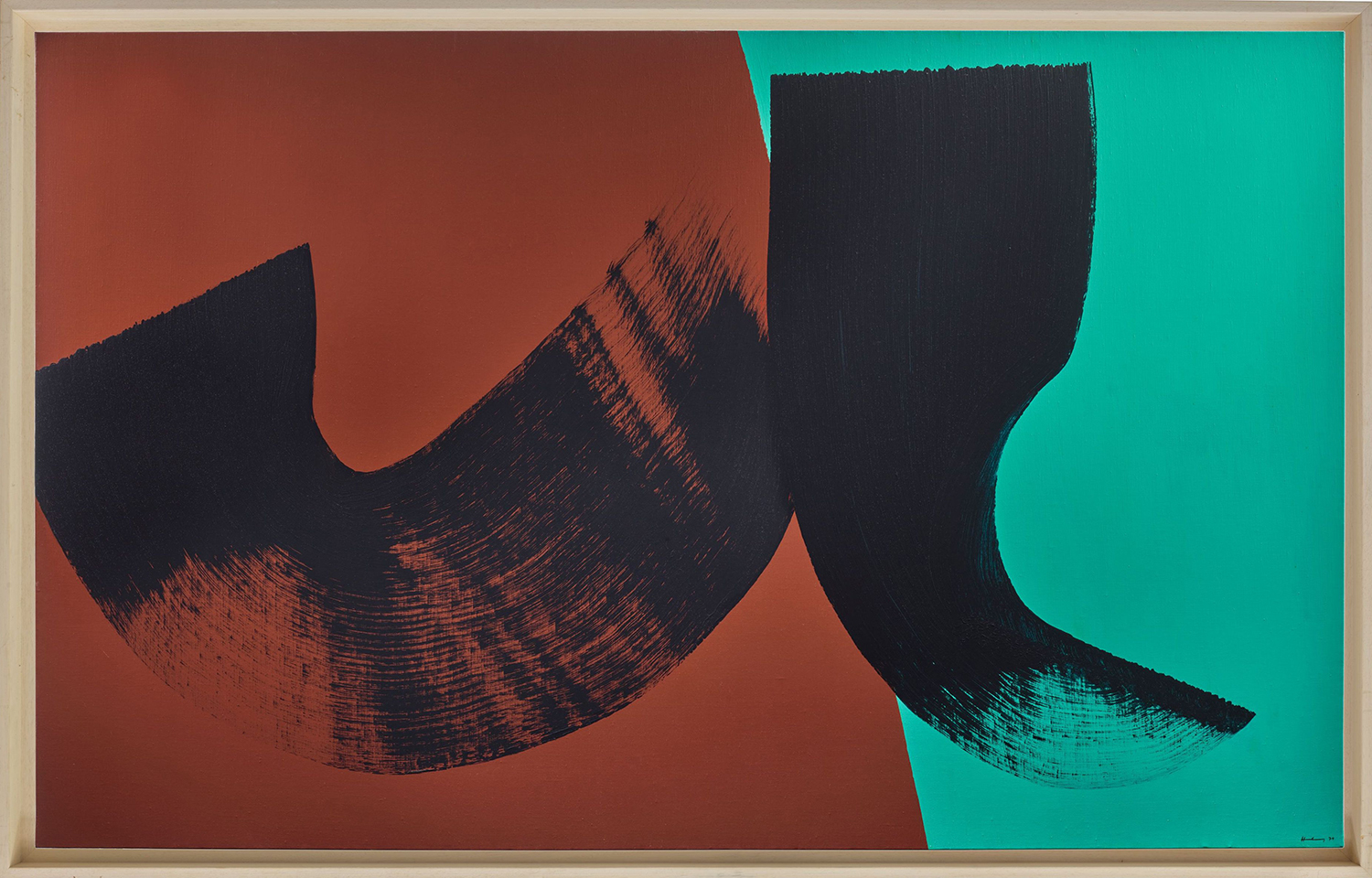 1. Hans Hartung at Perrotin, New York
A pioneer of abstract art, Hans Hartung studied philosophy and art history before turning to painting in his native Germany in the early 1920s. Experimenting with abstraction since he was 17, he later migrated to France to work amongst the artists he admired and stayed to escape the rise of fascism and the Nazi's suppression of abstract art. Remaining in France for the rest of his life, he lost a leg fighting with the French Foreign Legion in WWII, but it didn't stop him from becoming one of the most influential painters of the Art Informel, Tachisme and Lyrical Abstraction movements of the 1950s, '60s and '70s.
Following a survey covering 70 years of his paintings at Perrotin and Nahmad Contemporary in 2018, the current exhibition "Revenge" focuses on Hartung's improvisational paintings of the 1970s, with 47 powerful paintings on cardboard and canvas dynamically displayed on Perrotin's three distinctively different levels. Several paintings on view were part of the artist's 1975 solo show at The Met, where they were maliciously panned by NYTimes critic Hilton Kramer—upon whom this show now takes revenge by letting viewers see the innovation and spontaneity that Kramer so dimly missed. Employing a calculated spontaneity created with unconventional tools, which differentiated his gestural works from his Ab Ex colleagues, Hartung's paintings radiate light while offering a harmonious merger of vivid colors and abstract forms.
Through February 25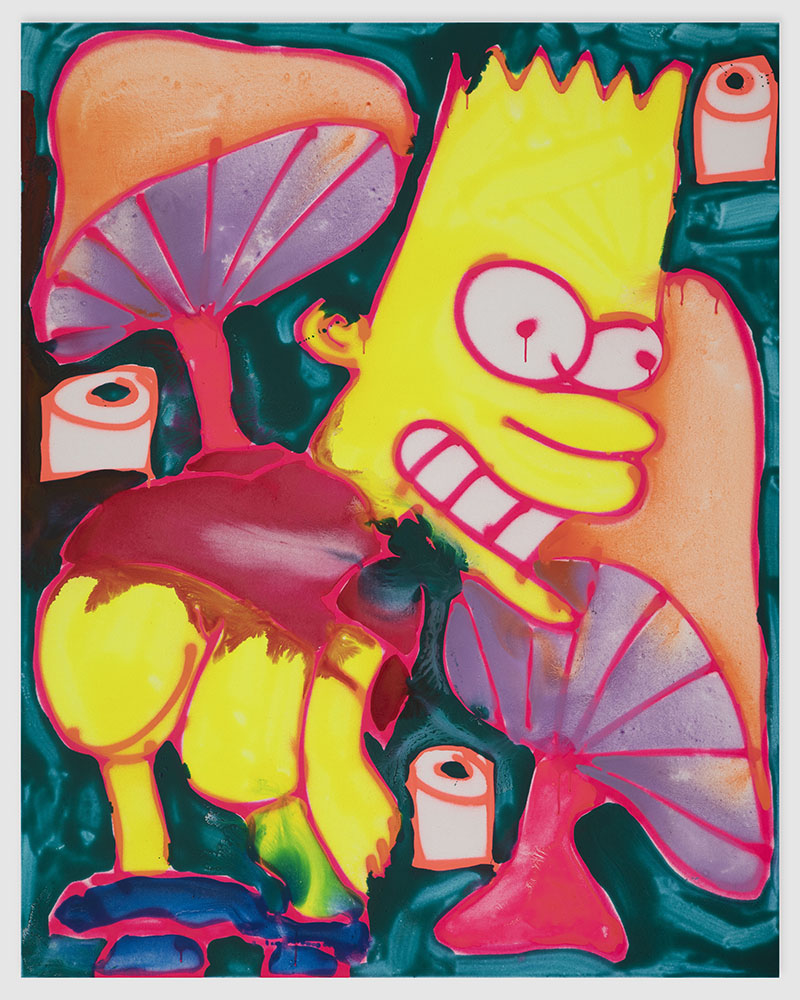 2. Katherine Bernhardt at Canada, New York
Best known for her expressive paintings of pop culture characters, food and consumer goods, Katherine Bernhardt returns to New York with a new bag of tricks for her 50th one-person exhibition since her first solo outing in 2000, the same year she received her MFA from the School of Visual Arts. Continually adding to the vocabulary of images that she has whimsically employed from the start, Bernhardt mines the obsessions of her own childhood—and the current interests of her son—to make artistic magic with the some of the most mundane iconography of our times.
Building her own recognizable brand with colorful canvases that are chock full of shapes, symbols and graphics, Bernhardt has cast a rebellious Bart Simpson as the protagonist in her new series of paintings, sculptures and watercolors for the arresting exhibition "I'm Bart Simpson, who the hell are you?" Playfully portraying Bart with his pants pulled down to his ankles while mooning the audience, Bernhardt captures the adolescent surrounded by cigarette butts, toilet paper, mushrooms and his cartoon celebrity pals—Pink Panther, Garfield and E.T. Outlined with spray paint and then completed with decisively messy brushwork and poured pools of acrylic paint, her lively canvases possess a Street Art sensibility combined with a clever, Color Field approach.
Through February 25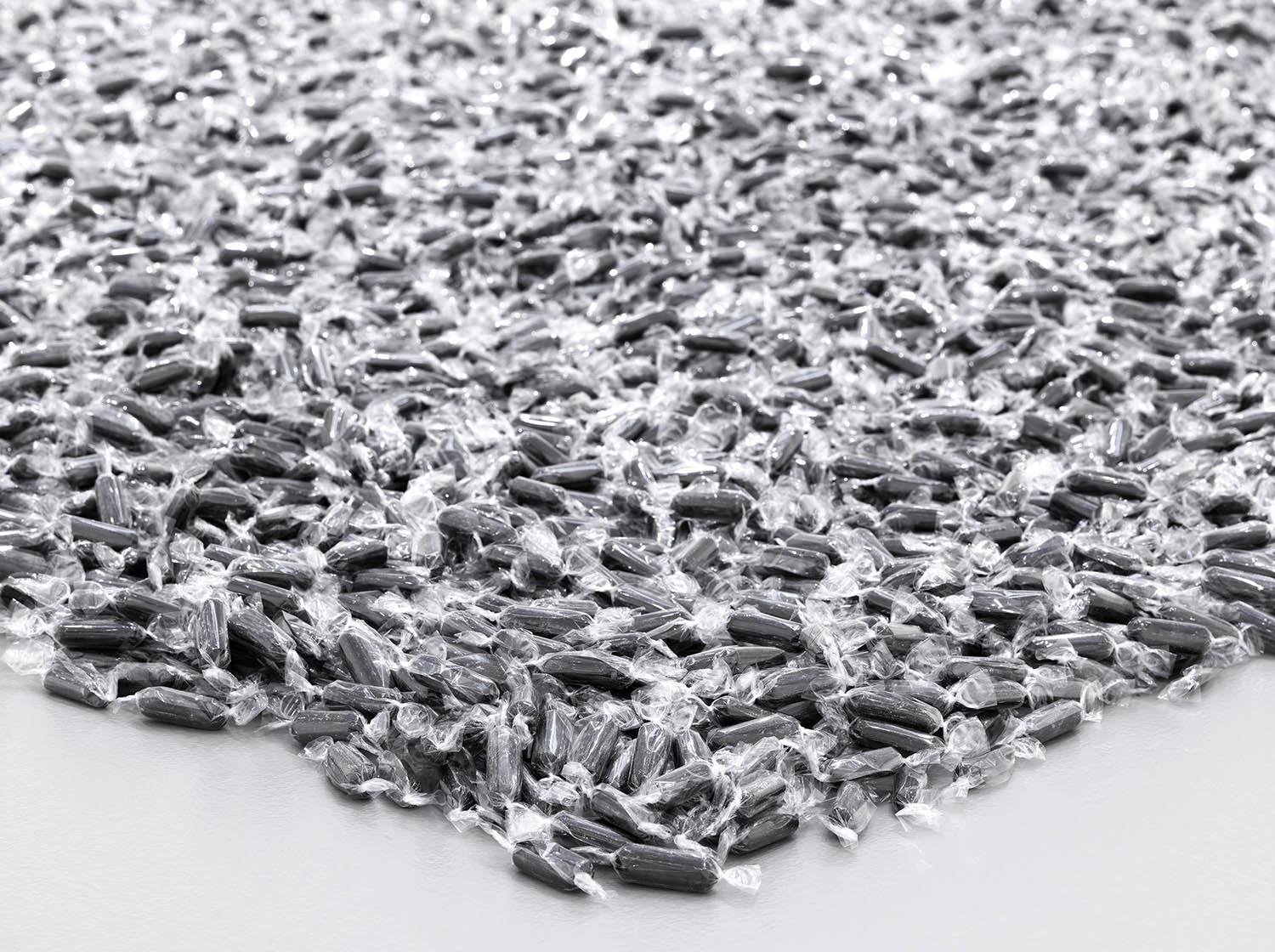 3. Felix Gonzalez-Torres at David Zwirner, New York
A Cuban-American conceptual artist, Felix Gonzalez-Torres studied art at the University of Puerto Rico before moving to New York to continue his art education at the Whitney Independent Study Program and Pratt Institute, where he received his BFA, and the International Center of Photography and NYU, earning his MFA in 1987. Initially making his mark as a member of Group Material, a band of conceptual artists creating socially engaging exhibitions related to the AIDS crisis, democracy and education in public spaces, he went on to establish himself as a solo artist with major shows at the New Museum and the Guggenheim Museum, before his death from complications related to AIDS in 1996.
The Zwirner survey presents seminal pieces from the artist's Candy Works, Datelines, Doubles, Puzzles, and Birds in Sky series. The Candy Works installation displays 700 pounds of clear-wrapped black candies as a rectangular floor piece, while the Birds in Sky installation consists of two parallel, freestanding billboard structures with jumbo photos, accompanied by timed sound and light components. Both galleries displaying these works have Dateline word works—one reinterpreted by Glenn Ligon and the other updated by Coco Fusco—that mix the names of social and political figures with cultural and world events. The smallest work on view is a Puzzle, which depicts a bird flying freely in the sky, but the exhibition show-stopper is the Doubles, a pair of equal size pools of water, that nearly touch, carved into the concrete floor. Symbolic of two spirits coming together or bodily fluids close enough to mix—whichever interpretation you choose—the allegorical power of the work goes even deeper than the depth of the paired reflective pools.
Through February 25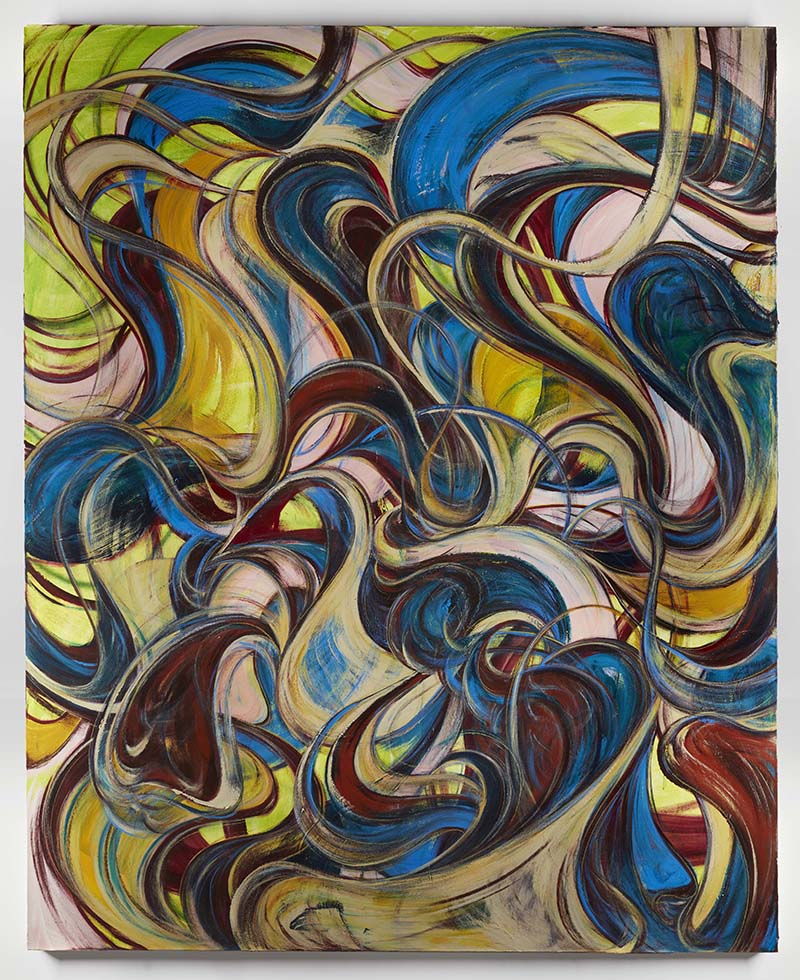 4. Yuan Fang at Half Gallery, New York
Born in Shenzhen, Yuan Fang journeyed from China to New York to study photography at the School of Visual Arts (SVA), but after turning her photographic images into digital abstractions and mindlessly doodling in class, she shifted her major to painting and a passion for it quickly developed. She had her first one-person exhibition shortly after receiving her BFA from SVA and continued to have solo shows in the U.S. and China while still pursuing her MFA, which she gained with honors from SVA in 2022. An avid museum and gallery goer, Fang recently told an interviewer that she learned more from looking at the work of Jackson Pollock and Lee Krasner in the city's museums, however, than she did in school.
One of the more captivating emerging artists currently working with abstraction, Fang paints layer upon layer of bold swirling brushstrokes to build up compelling compositions that immediately catch the eye and keep it in continuous motion. Starting with looser background marks, including broad brushwork and paint pours, each gestural layer gets tighter, more physically engaging and more intense. Fang's sensual layering of curvilinear forms creates a visual vortex that sucks the viewer into the action—creating a mesmerizing entanglement in the pictorial space rather than a traditional reading of it. One senses the battle that the artist is having with the medium and the thought, energy and labor that she puts into the effort of being triumphant in that grand, living-in-the-moment encounter.
Through February 11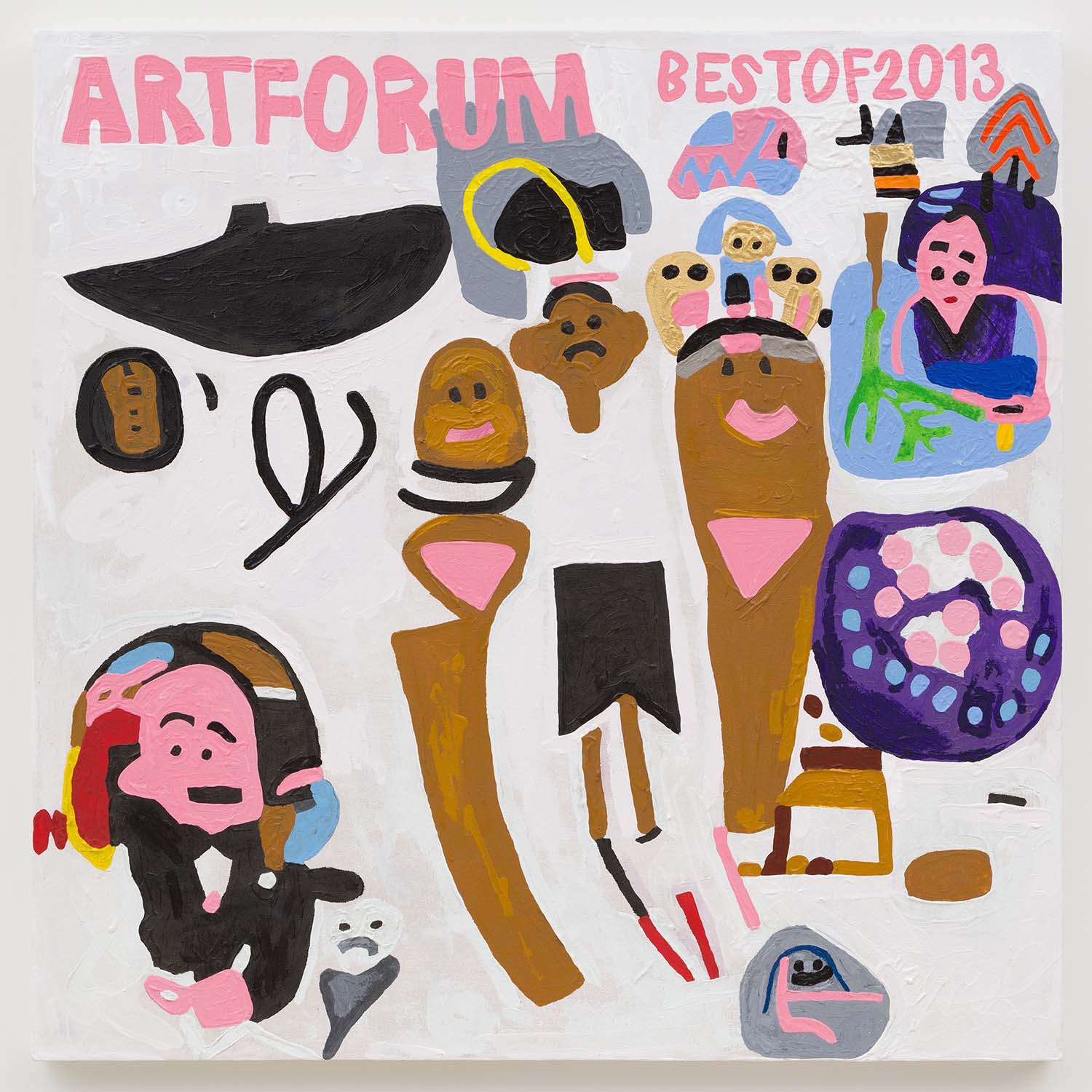 5. Marlon Mullen at JTT, New York
An autistic artist supported by the NIAD Art Center in Richmond, California, Marlon Mullen has become widely known for his boldly colored, semi-abstract paintings and works on paper of appropriated imagery from lifestyle, news and contemporary art periodicals. NIAD was founded in 1985 by artist Florence Ludins-Katz and her husband, clinical psychologist Elias Katz (the couple had established Creative Growth in nearby Oakland 11 years earlier) and Mullen, who rarely uses spoken or written language to communicate, began working there in 1986.
The African American artist's early paintings on paper (fragmented abstractions of elements in nature) fill the back gallery at JTT, while his vibrant canvases of abstracted imagery, culled from magazines, complete the rest of the show. Paintings from 2016 take covers of ARTnews and Artforum as points of departure, with the graphic ARTnews canvas highlighting the bar code and question, "Are you looking at prices or art." Paintings from 2022 feature the covers of older art publications (donated by the NIAD staff of practicing artists) with Mullen enchantingly interpreting Art in America's 2003 Annual by focusing on specific words and numbers and by transforming the visual grid on Artforum's Best of 2013 issue into a playful arrangement of interlocking colors and forms—all marvelously rendered in Mullen's signature style of thick, lively brushwork.
Through February 11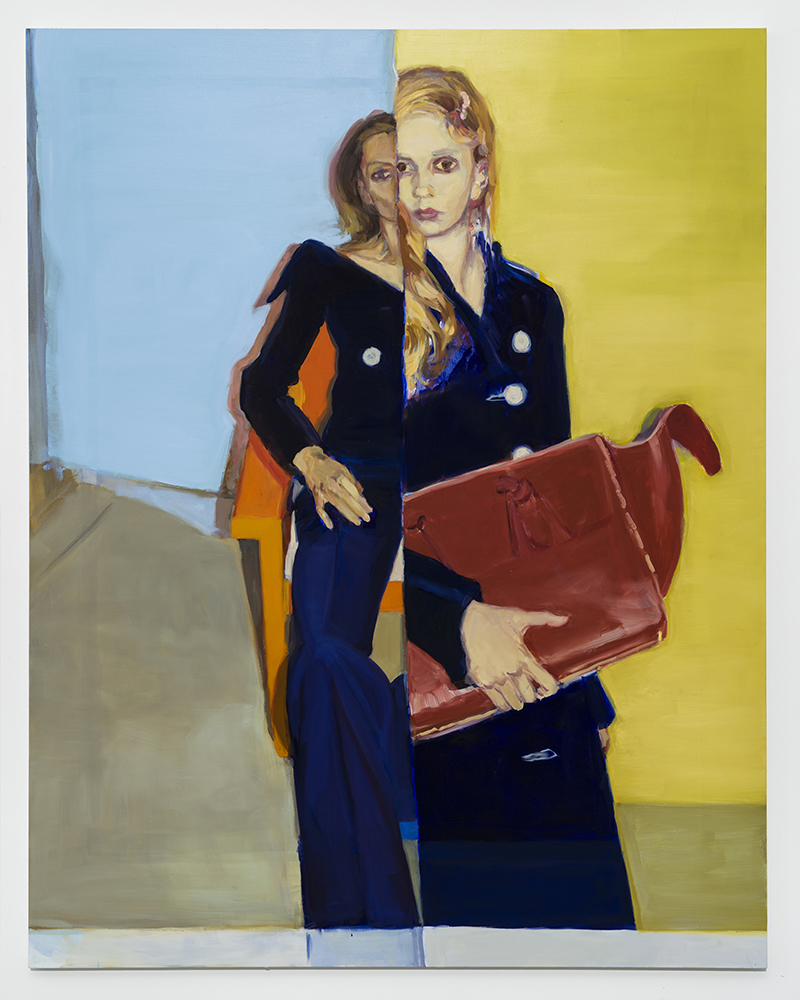 6. Janet Werner at Anat Ebgi, Los Angeles
Celebrated for her psychological portraits of women that are based on found fashion photography and art historical imagery, Canadian painter Janet Werner has been deconstructing and reformulating parts of pictures into new compositions for the past 15 years. Starting out by shrinking and enlarging the heads of models or by altering their faces in somewhat surreal ways, the 1987 Yale MFA grad took her subversive style of portraiture to the next level by splitting her figures like the characters in an exquisite corpse drawing or by placing images of women within images—resulting in a sensational series of both shapeshifting and haunting pictures.
For "Call Me When You Start Wearing Red," her second solo show with the gallery, Werner continues her compelling concept of "broken pictures," while adding an aspect of performance with levitating bodies, upside-down figures and costumed clowns. The artist's love of fashion is obvious in her depiction of her stylish subjects' outfits, accessories and shoes, as well as their sophisticated grooming. Creating composite characters that speak to the complexity of women's roles today, Werner successfully subverts the narrative by smartly revealing the psychological challenges of acting the parts that the media ultimately wants women to play.
Through February 25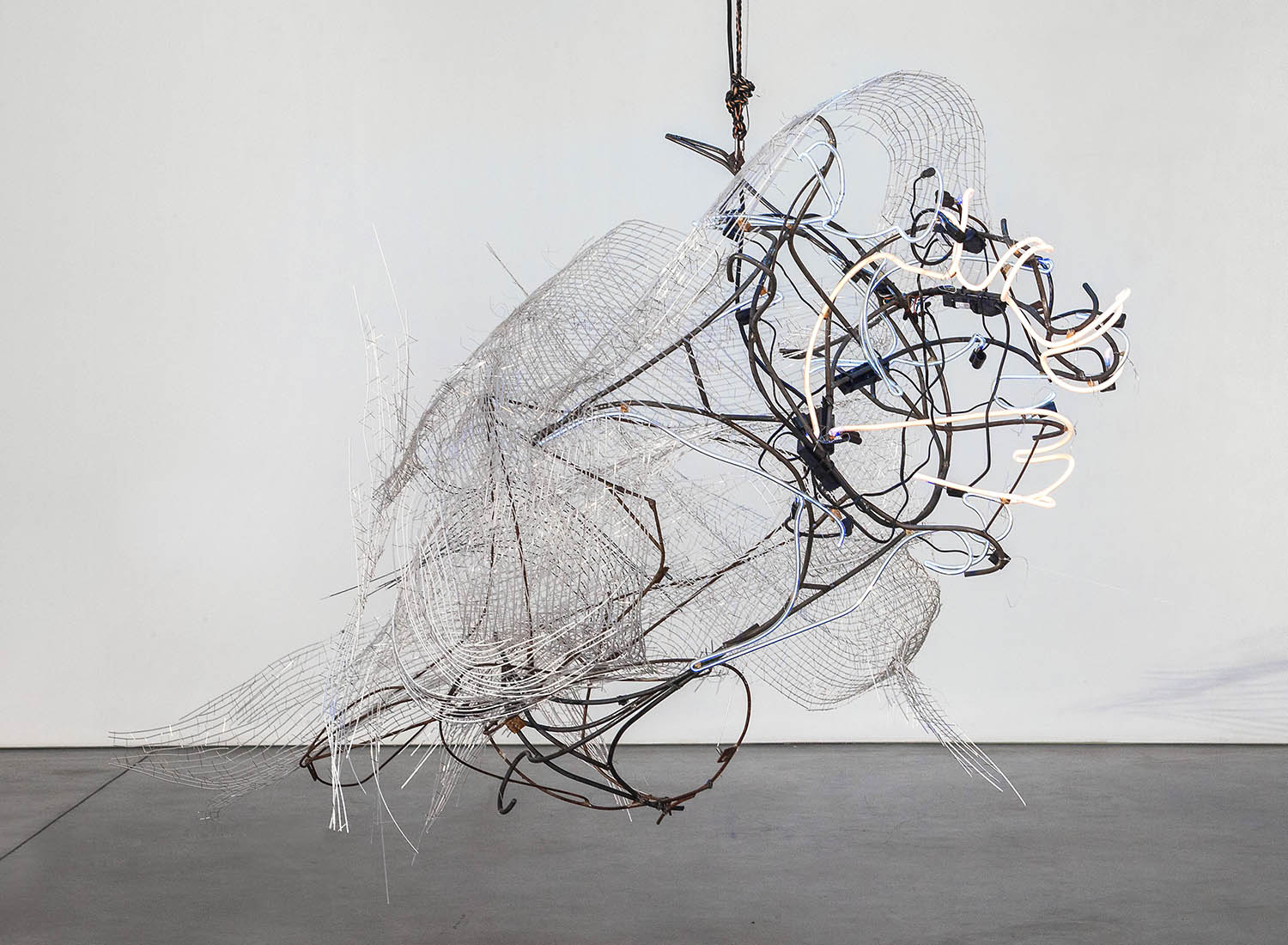 7. Elliott Hundley at Regen Projects, Los Angeles
A painter, sculptor and collage artist, Elliott Hundley has been creating beguiling artworks ever since finishing grad school at UCLA in 2005. Both figurative and abstract, his maximalist constructions are most often based on ancient Greek tragedies and the works of such modernist avant-garde playwrights as Antonin Artaud and Jean Genet. Staging photographs of impromptu scenarios with family and friends in theatrical roles and drawing upon a diverse source of readymade materials, which range from cut-up magazines to string, plastic and trash, the Los Angeles-based artist makes collage dreamscapes and abstract assemblages that are loaded with historical baggage.
The exhibition "Echo" enthusiastically presents a curated selection of poetic pieces from the past 20 years to show the breadth and depth of Hundley's passionate practice. Bringing his garden-inspired studio into the gallery, Hundley added visual footnotes around the installed pieces to draw connections between the different bodies of works and their eccentric forms. The sprawling show is anchored by the 40-foot mural Balcony, a dynamic collage based on Genet's play that Hundley obsessively constructed during the pandemic. Other notable pieces on view include Echo, an eponymous sculpture made by assembling bits of pink foam shredded by his pet parrot, and Drawing of Head, one of a series of sculptural neon chandeliers made from scrap materials that are hanging in one of the gallery's strikingly animated spaces.
Through February 19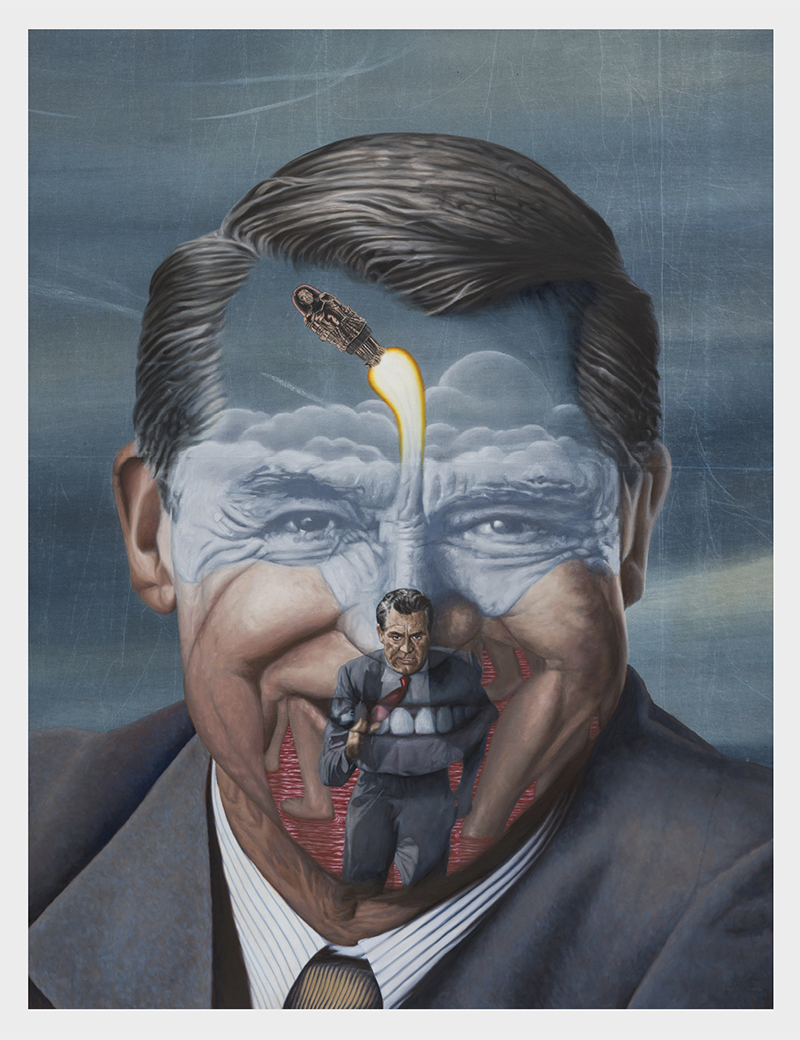 8. Jim Shaw at Gagosian, Los Angeles
Best known for his early cartoon drawings inspired by his personal life and dreams, as well as a number of bodies of work expressing his frustrations with American society, Jim Shaw journeyed from Michigan after undergrad with friend and fellow artist Mike Kelley to pursue his MFA at CalArts, which he received in 1978. A celebrated collector of lowbrow thrift store paintings, which have been presented in exhibitions around the world and accumulated in a critically acclaimed book, and the inventor of O-ism, a fictional religion with a pantheon of characters and rituals, Shaw is an American visionary and a master of many mediums.
His first solo show with Gagosian since joining the gallery in 2021, "Thinking the Unthinkable" presents a new series of paintings that mix mythological themes with political history and figures from popular entertainment. A panoramic, black-and-white painting from 2020 depicts Donald and Melania Trump descending an escalator to Dante's Ninth Circle of Hell, a frozen lake reserved for the worst sinners, including traitors, betrayers and oath-breakers. Another recent canvas captures Raquel Welch as Shiva/Kali god/dess of destruction and rebirth, flattening the headquarters of 20th Century Fox, which was acquired by Rupert Murdoch's News Corporation in 1984 and became the cornerstone of Fox Broadcasting Company in 1986. Taking it one step beyond, Shaw's paintings of Hollywood legends Cary Grant and Esther Williams conjure visions of their supposed LSD trips. Shaw goes even further by imagining William's remembrance of her lover, the handsome Jeff Chandler, as a transvestite in her hallucinations and Williams as a hermaphrodite, posing as Botticelli's Venus de Milo, in his striking portrait of the dreaming heartthrob.
Through February 25
Next Post