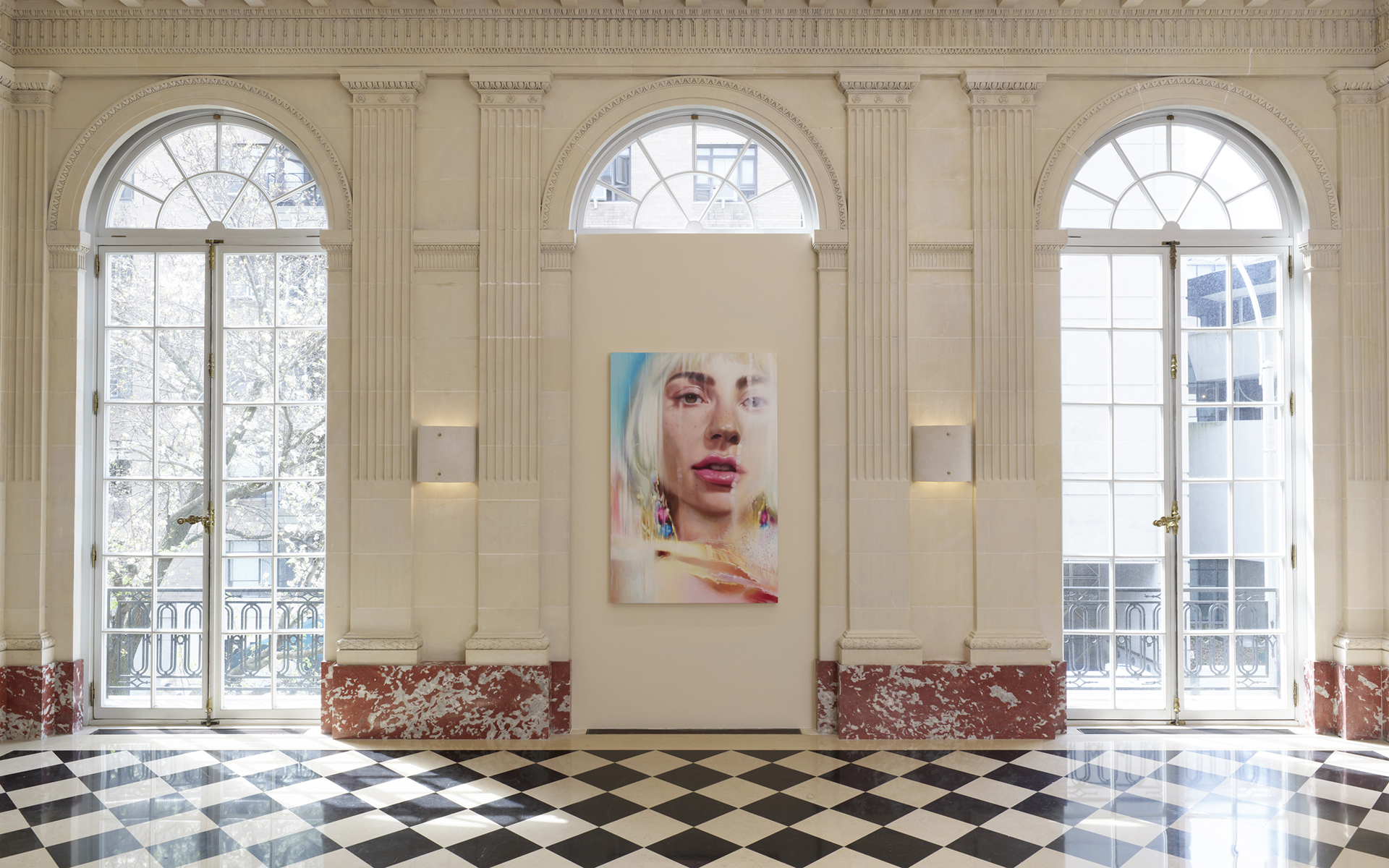 8 Must-See Gallery Shows Around the U.S. This May
From Seth Price's gestural paintings incorporating AI-generated imagery at Petzel to Marilyn Minter's realistic renditions of feminist icons at LGDR
Rounding up the best gallery exhibitions across the United States each month, Galerie journeyed from New York and Chicago to Los Angeles and neighboring Santa Monica to discover the top solo shows for May. From Seth Price's gestural paintings incorporating AI-generated imagery and 3D graphics at Petzel and Marilyn Minter's realistic renditions such feminist icons as Monica Lewinsky, Mickalene Thomas and Lady Gaga at LGDR in New York to Jaume Plensa sculptural installations dealing with collective memory at GRAY in Chicago and emerging artist Larissa De Jesús Negrón's paintings exploring childhood and adult trauma at Nicodim in Los Angeles, these are the not-to-be-missed shows this month.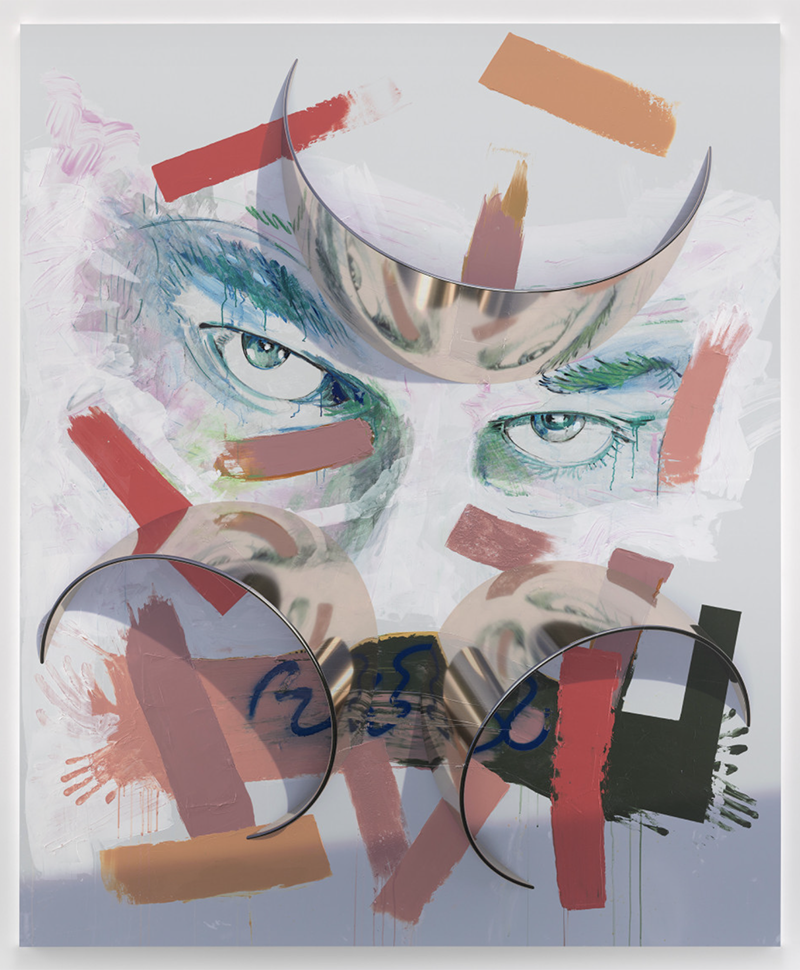 1. Seth Price at Petzel Gallery, New York
Born in Palestine to American parents working abroad and raised in Boston, the adventurous Seth Price is an artist, author, musician, poet and filmmaker. Since his first New York solo show at Artists Space in 2002—the same year that his work was exhibited in the Whitney Biennial—the experimental practitioner has been exhibiting around the globe, with his art also being collected by major museums worldwide. Making 21st Century art that doesn't fit the usual aesthetic molds, Price's work is as much about the materials that he transforms with imagery and new technologies as it is about avant-garde ideas.
Presenting a new body of work that marries AI-generated imagery and 3D graphics with traditional gestural painting, Price moves back and forth between the digital techniques and analog processes to achieve a new form of painting in the ten large-scale pieces on aluminum and wood in the exhibition "Ardomancer," his sixth solo show with the gallery. Employing a modern-day version of Brion Gysin and William Burrough's cut-up technique for writing, Price creates illusionistic montages with paints, pens, objects and words that get photographed and fed into the computer and then printed and transferred in painterly ways onto the seemingly improvisational surfaces of his finished artworks. Enigmatic in meaning, they merge the human with the machine.
Through June 3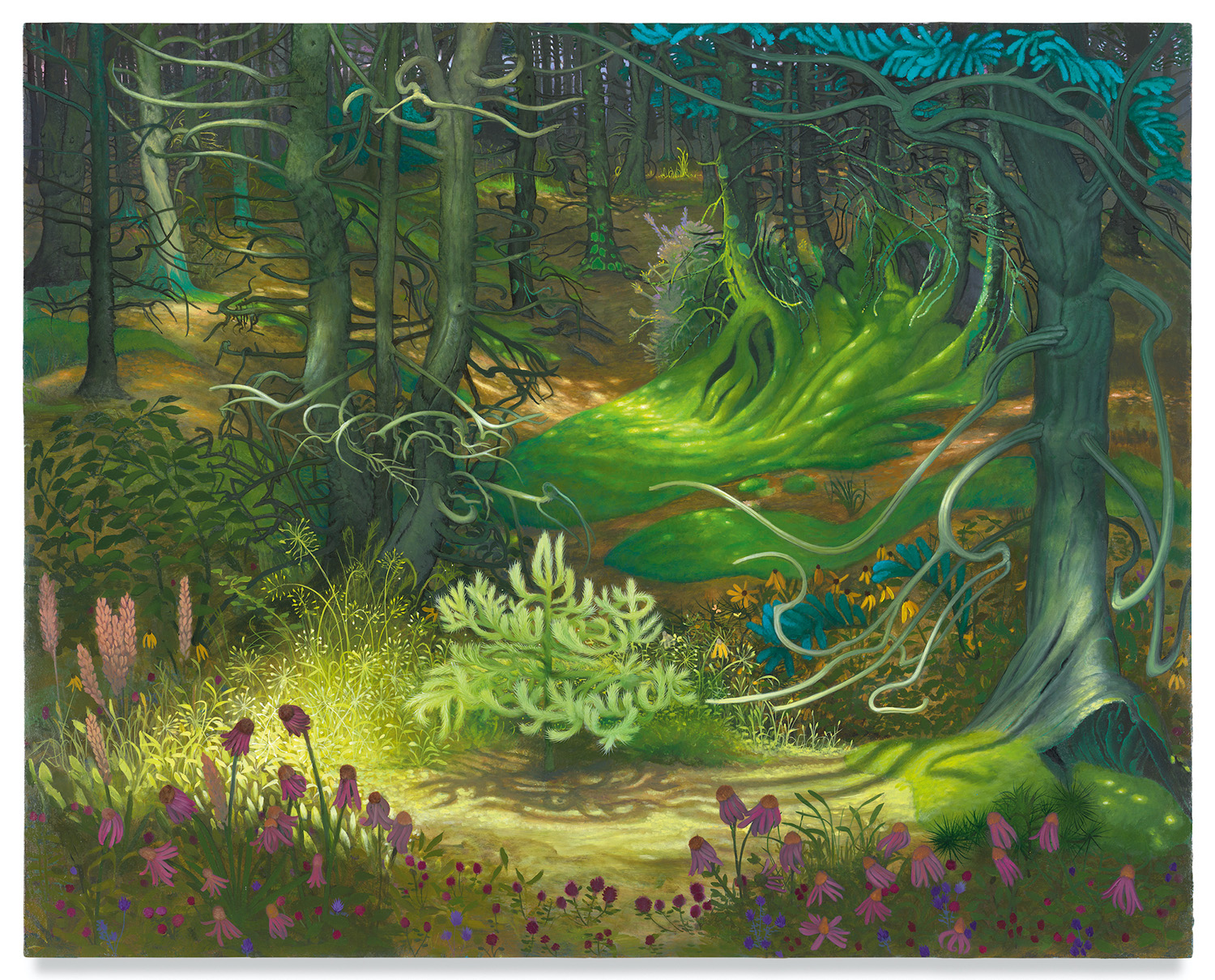 2. Inka Essenhigh at Miles McEnery Gallery, New York
Making the world a more delightful and beautiful place with her art, Inka Essenhigh paints dreamlike worlds and childlike fantasies on canvas. Mixing the imagined with the real, the 1994 School of Visual Arts MFA grad creates fantastical realms that are completely devoid of evil. Painted with straight-from-the-can, household enamel paints, her colorful compositions and high-gloss surfaces construct a spectacular vision of nature, where anthropomorphic trees, flowers and people occupy fairytale scenes.
The ten vibrant canvases on view, which were painted over the course of the past year, offer a lively array of mystical landscapes and surreal scenes. Giant flowers and plants explosively fill the frames of several pictures, while accumulations of petals and leaves form otherworldly figures longing and partying in woodland domains in other paintings, both large and small. Masterfully rendered and fluidly composed, the artist's joyful canvases take the abundant bounty of nature to exceedingly playful and picturesque heights.
Through June 3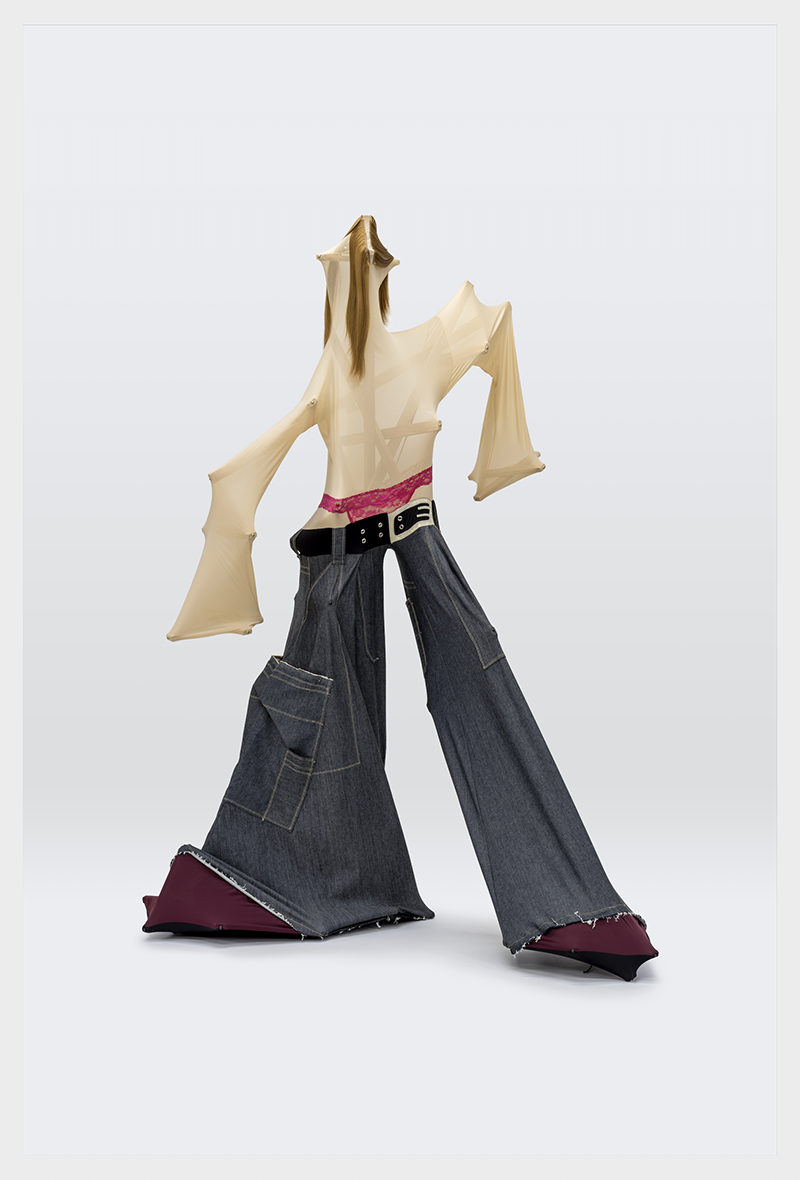 3. Lara Schnitger at Anton Kern Gallery, New York
A seasoned master at constructing provocative forms with fabric and sticks, Lara Schnitger shows that art is a straightforward game, best played by the passionate. The Dutch-born, Los Angeles based artist studied in a variety of cultural capitals before making her eventual mark with inventive fabric collages and cloth-covered stick sculptures that explore the erotic, combative nature of women at play. Whether expressing her quirky constructions in two or three dimensions, the crafty artist's metaphorical pieces take Amazonian ideals to a new level.
The dozen fabric collage paintings and three giant sculptural assemblages (all from 2022 and 2023) in her exhibition "10 Feet High and Rising" present powerful portrayals of female hippies, dancers, flappers and artists in a tightly installed space. The massive sculptures dominate the elongated gallery, with a giant bell-bottomed gal strutting her stuff and a dragon-tailed lady in a bra and panties holding a "Follow Me" sign while facing off with a half-clad woman giving birth to a bevy of babies. The surrounding walls are filled with a cast of colorful characters (many inspired by the titles and lyrics of pop songs), with the largest collaged canvases capturing wild women letting loose, in ways that are similar to their daring sculptural counterparts.
Through May 26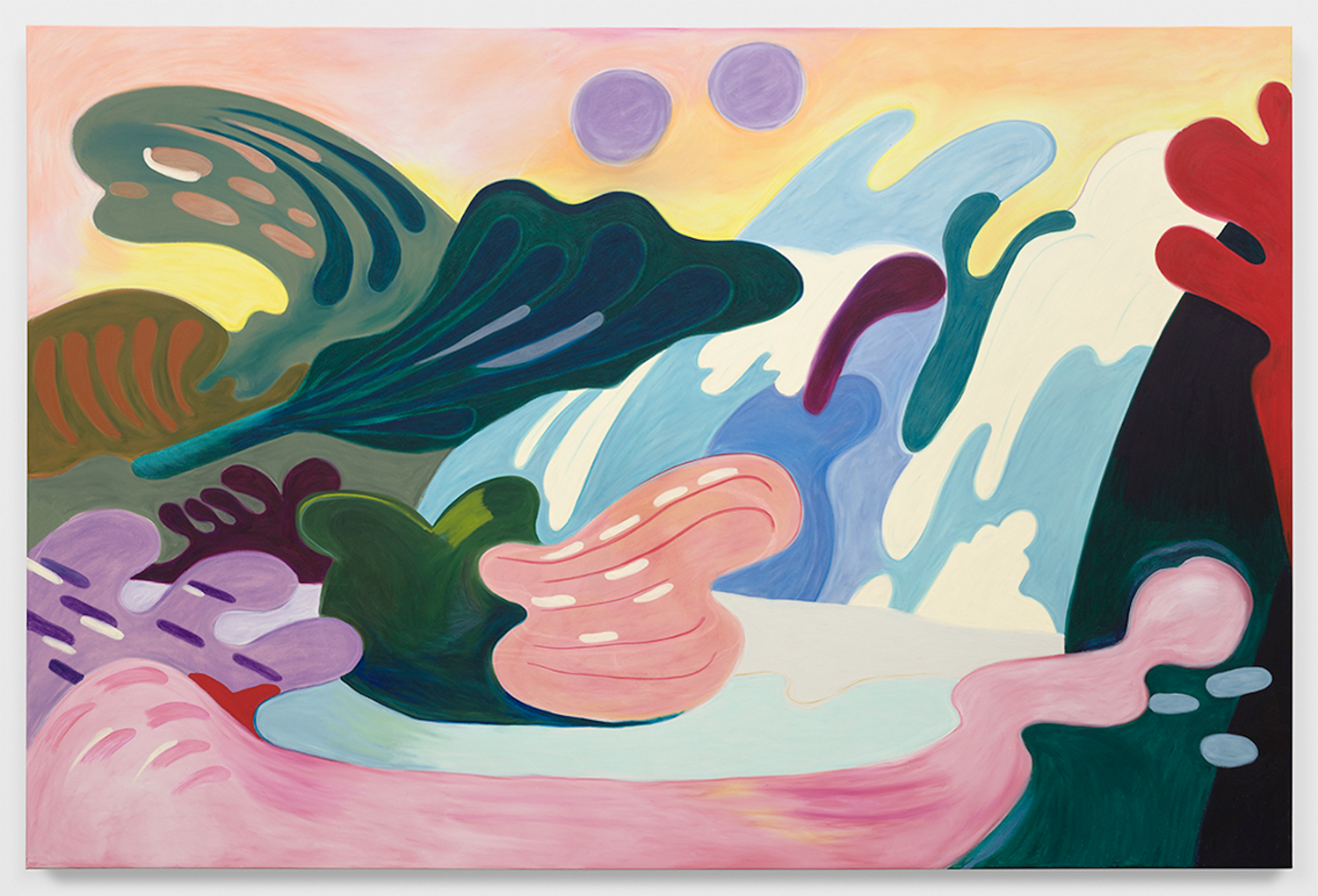 4. Hayal Pozanti at Timothy Taylor, New York
Inaugurating the London and New York gallery's new 6,000 square-foot Tribeca space, designed by architect Markus Dochantschi and Studio MDA, Hayal Pozanti has filled the dynamic white box with colorful, shapely landscapes. A 2011 Yale MFA grad, the Istanbul-born artist draws inspiration from the current location of her home and studio in Vermont and her concerns for climate control and environmental issues to make paintings and works on paper that celebrate the beauty of nature.
The nine new paintings on view in her solo show "The World for a Mirror" offer a look at natural landscapes through the mind's eye of an artist. Exaggerating the natural contours of mountains, skies, plants and trees, Pozanti applies a variety of shapes from a personal vocabulary of organic forms. Stimulated by the natural world that surrounds the artist in her rural realm and by such modern art forerunners as Jean Arp and Wassily Kandinsky, Pozanti presents a jubilant vision of the environment that's humming with amoeba-like shapes.
Through May 27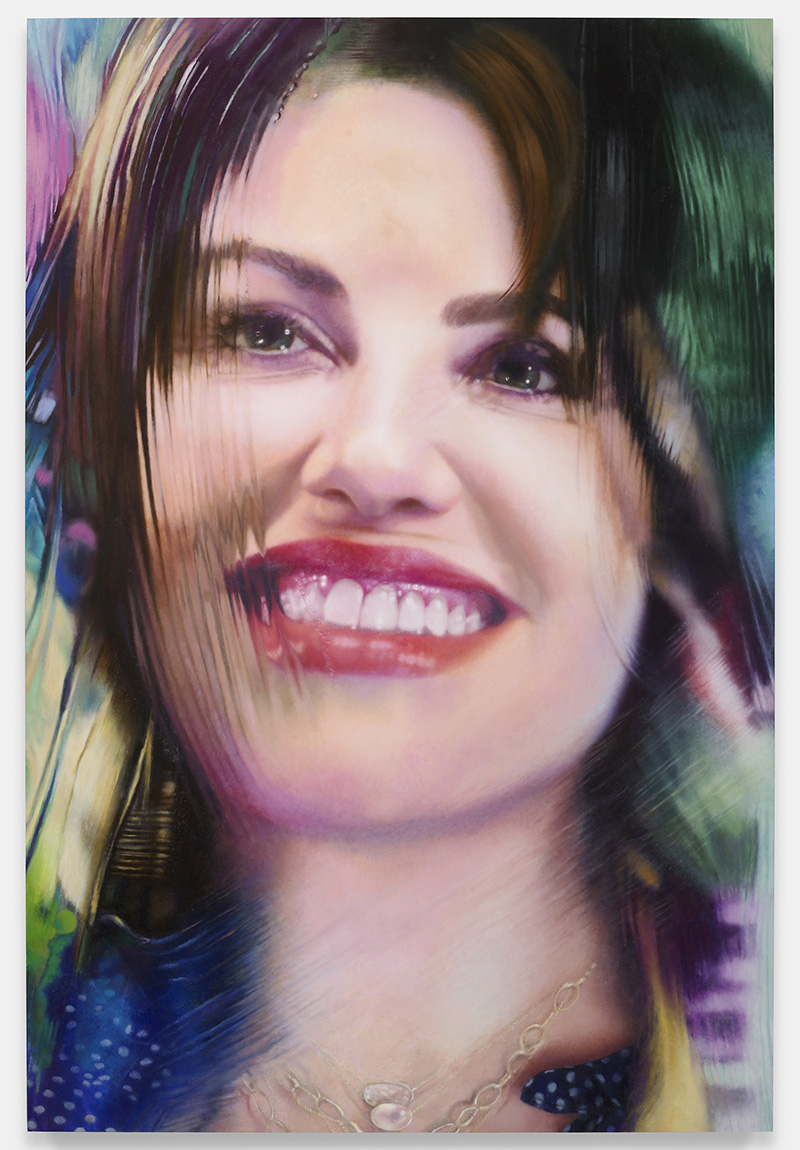 5. Marilyn Minter at LGDR, New York
A painter, photographer and video artist, Marilyn Minter is celebrated for imagery that freely explores sexuality and erotica. Starting out as a photographer in Florida, Minter moved to New York in 1976 and soon became a fixture on the downtown art scene. In the 1990s she advertised eroticized food on late night TV shows and then shocked the art world by painting close-up pictures of hardcore porn. Undeterred, she added to her expanding body of work in the '00s by revealing the nasty side of fashion in a new group of profound photographs, paintings and films. A feminist at heart and longtime fighter for women rights, Minter is unafraid of picturing subjects that are often considered taboo.
Occupying three floors and six gallery spaces of LGDR's stylish East 89th Street building, Minter continues her exploration of beauty and desire with works from several recent series of paintings, sculptures, videos, photos and prints. Monica Lewinsky, Mickalene Thomas and Lady Gaga are captured in eye-catching painted portraits, while Lizzo and @browngirlcurator Jasmine Wahi are strikingly painted posing like classical odalisques. Mining another traditional subject, the artist has a series of paintings of nude bathers seen through the glass of steamy showers. Shifting the conversation back to the "au courant" with paintings and prints of open mouths and drinking fountains screening videos of lips and tongues manipulating glitter and pearls in mouths full of spit, hair and grime, Minter marvelously reminds us that art can be fun.
Through June 3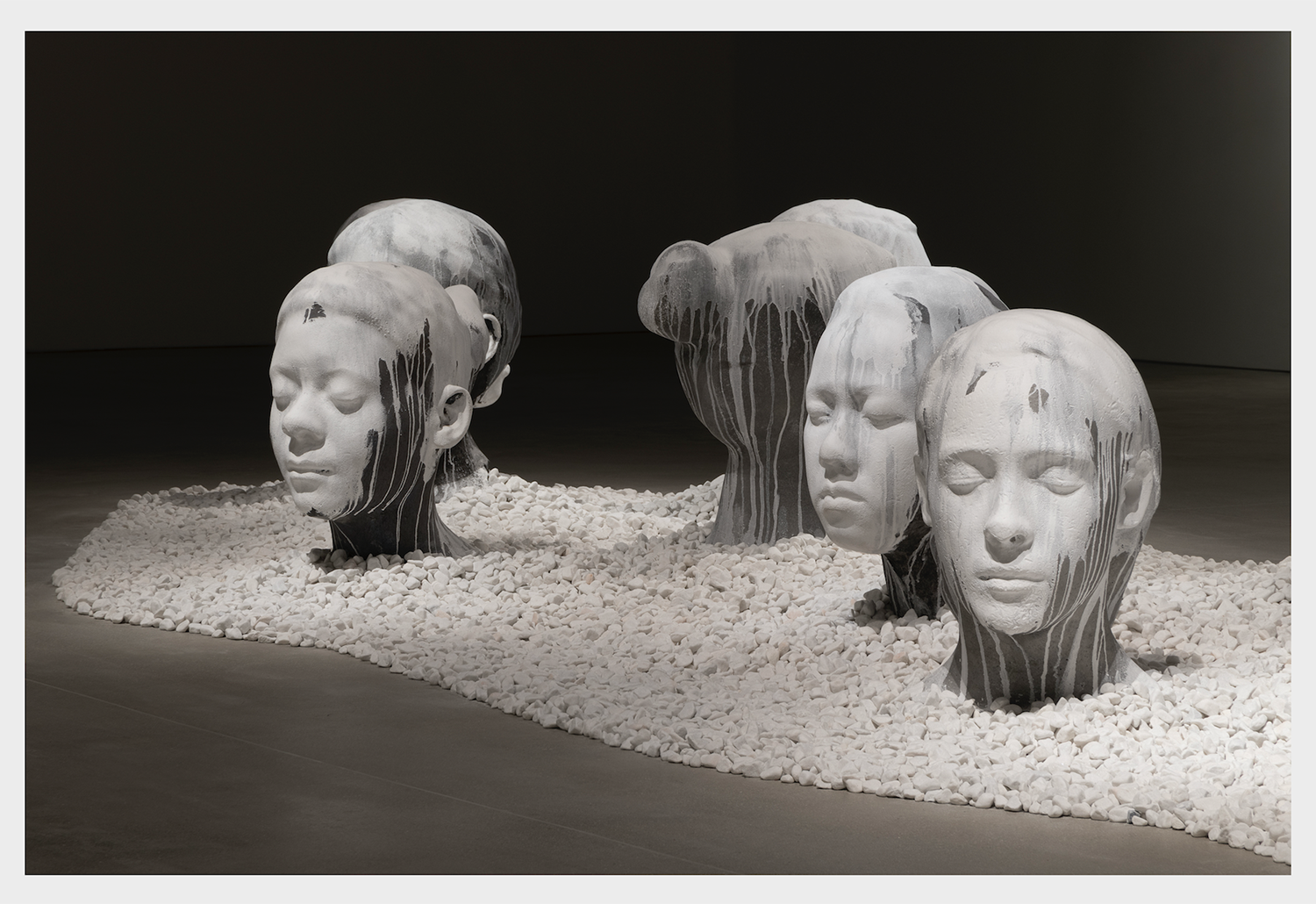 6. Jaume Plensa at GRAY, Chicago
A Spanish sculptor best known for his public art projects dealing with spirituality, the body and collective memory, Jaume Plensa's work has been exhibited in cultural capitals around the world. Conceived in steel, glass, marble, polyester resin, concrete and bronze, his larger-than-life-sized figurative portrait heads offer both visible and invisible, tangible and intangible visions of the human condition. Celebrated for his steel sculptures composed from letters and numbers that let the viewer get into the head or enter the body of the figure and outsized marble heads of children with their eyes closed and a finger at their lips to usher in silence, Plensa is an artist with universal appeal.
The exhibition "Forgotten Dreams," the artist's 10th solo show with the gallery, features two large sculptural installations presented between opposite Silence figures, one made with white marble and the other realized in black granite. The sculptural wall-work Forgotten Dreams offers a series of 21 solid aluminum doors with the articles of the Universal Declaration of Human Rights presented on their surfaces. In front of the doors, an equal number of cast aluminum heads of young girls with closed eyes float on a shaped field of white pebbles in the installation Where Are You? Staged in a dramatically lit space, the paired pieces speak to the hopes of a better future—a future not shaped by conflict rather one formed by peaceful interactions and common rules that protect everyone's rights.
Through June 3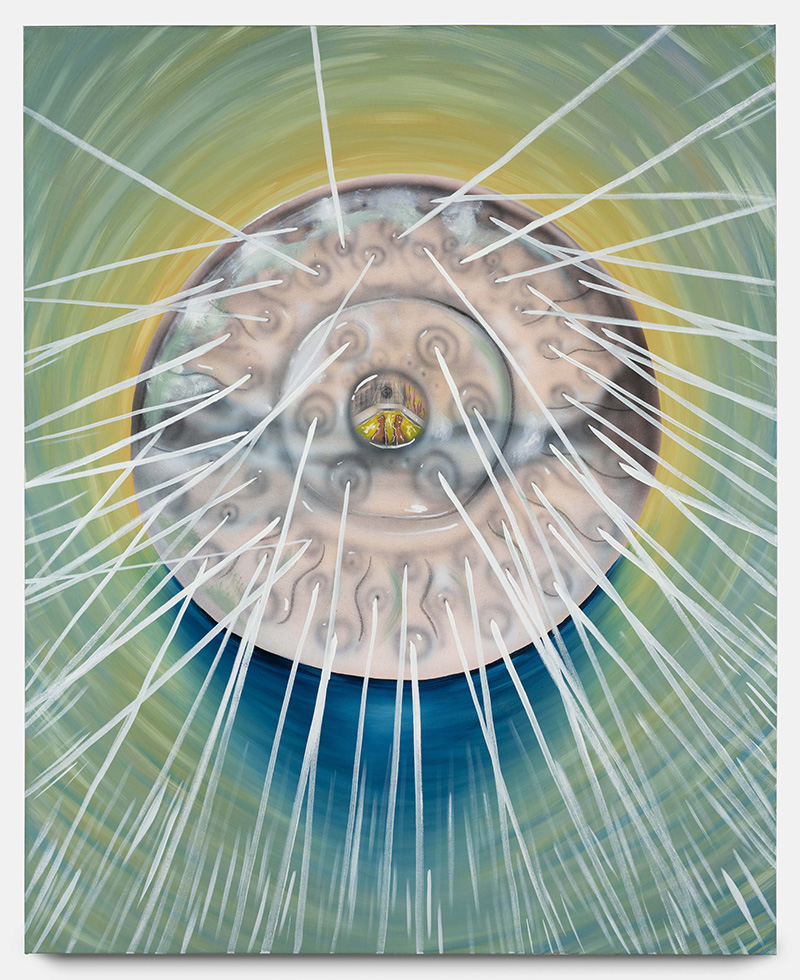 7. Larissa De Jesús Negrón at Nicodim, Los Angeles
An emerging artist who is definitely one to watch, Larissa De Jesús Negrón makes paintings to process her childhood and adult trauma. Born in Puerto Rico, where she started making art at age nine, she moved to New York at 19 to attend Hunter College, earning a BFA in Painting in 2017. Mining her subconscious, De Jesús Negrón uses art as a form of healing—making moving paintings that deal with issues of inadequacy, fear, doubt, nostalgia, and anxiety while also exploring moments of joy and excitement. Exhibiting internationally since 2020, her paintings have been shown in dozens of group exhibitions and eight solo shows, with the collector base for her surreal style of storytelling growing every day.
For her current exhibition "Eso Pasa," whose title roughly translates as "that happens" or "this too shall pass," the introspective painter presents eight new canvases and a painted rug that focus on the present, her inner feelings and the ordinary things that are part of her daily life. Water and cleansing play an active role in the paintings, as figures, which appear to be self-portraits, are captured in healing baths and moments of enhancing grooming. The purging bubbles and droplets of the baths, however, can also quickly turn onto deeply touching tears. Cathartic artworks, the paintings reveal her emotional risk-taking, even as the artist stylistically strives to remain experimental, so that both she and her art can keep moving forward.
Through May 13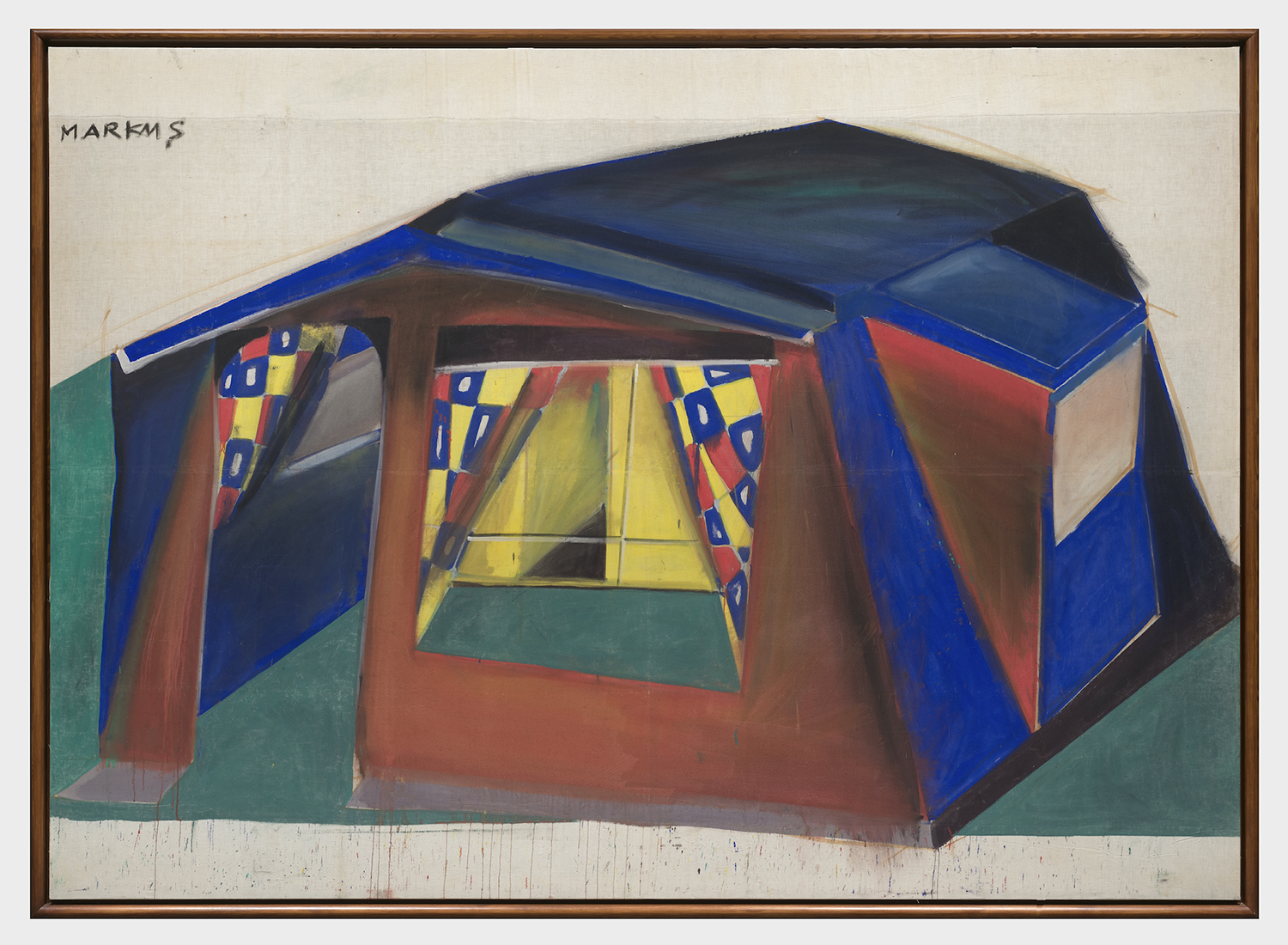 8. Markus Lüpertz: at Vito Schnabel Gallery, Santa Monica
A leading member of an international group of Neo-Expressionist artists who came to prominence in the 1970s and '80s, the German painter and sculptor Markus Lüpertz is best known for his archetypal works that mine history and myths while blurring the boundary between representation and abstraction. Exhibiting since the early 1960s, the 82-year-old Berlin-based artist has participated in documenta and the Venice and Berlin Biennales, created countless set and costume designs for stage productions, and had his work shown at major museums and galleries worldwide.
The exhibition "Markus the Painter or the Ratio of the Impossible" at the gallery, which occupies the massive Old Santa Monica Post Office, presents a survey of Lüpertz's painting practice. Featuring 30 paintings from the past six decades, the exhibition offers a rare West Coast viewing of select canvases made by the artist between 1964 and 2021. The earliest works in the show explore a style of painting that he called dithyramb, referencing an ancient rhythmic chant to honor the Greek god Dionysus. Starting with a two-dimensional representational image, Lüpertz would construct a 3D image through the marriage of abstract colors, lines, shading and forms. That unique way of working continued through a series of still lives and landscapes, before the artist began exploring German historical subject matter in the later '60s and '70s and through the dynamic figure studies that followed—with prime example of these periods of his painting highlighted in this must-see show.
Through June 11
Next Post