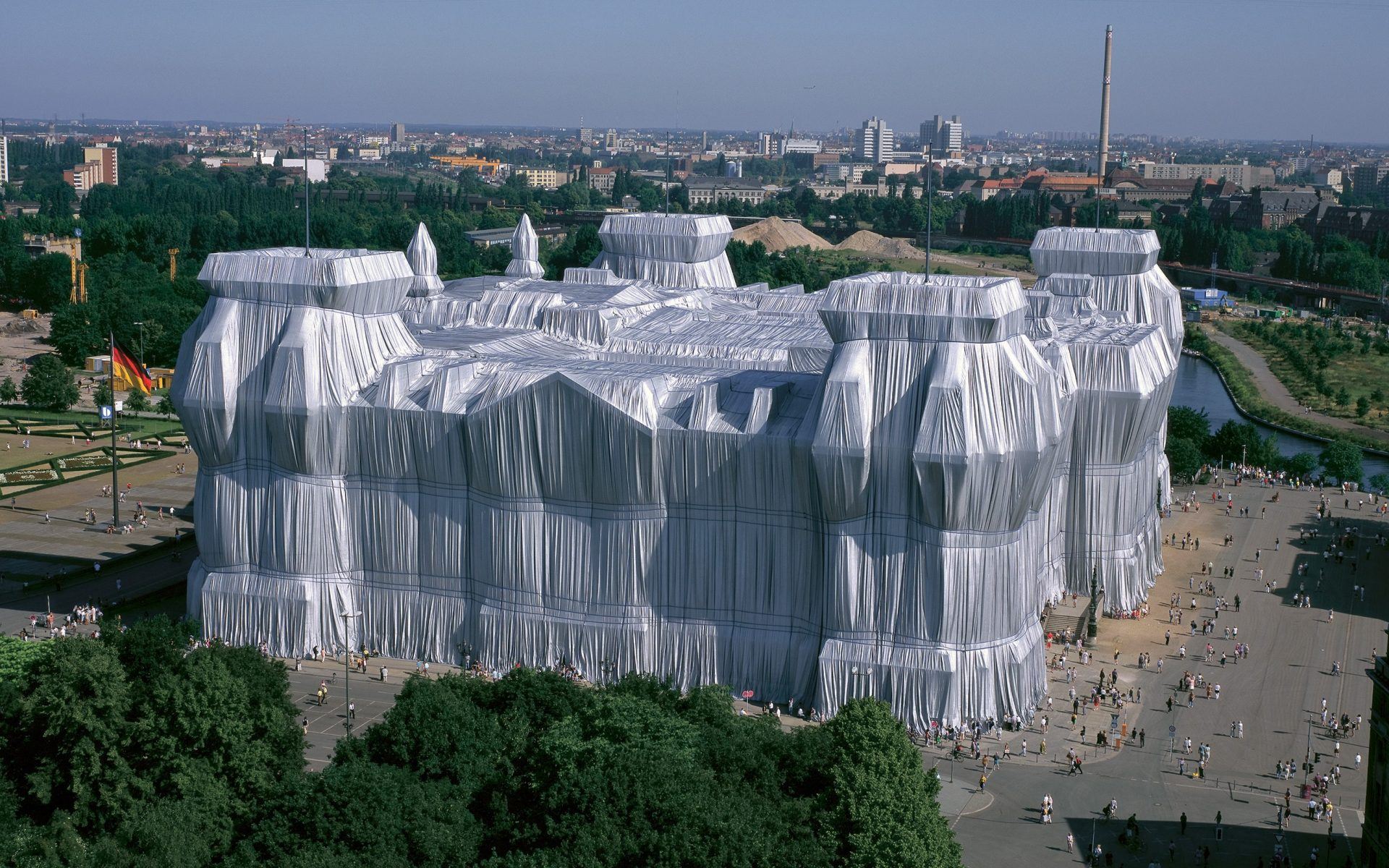 8 Iconic Artworks That Defined Christo's Legacy
With news of the artist's recent passing, we celebrate his greatest works and the fascinating stories behind them
Christo, the conceptual artist who, together with his wife, Jeanne-Claude, dazzled audiences around the world with monumental temporary installations, died on May 31 at the age of 84 from natural causes. "Christo lived his life to the fullest, not only dreaming up what seemed impossible but realizing it," a statement from the artist's office on Facebook read. "Christo and Jeanne-Claude's artwork brought people together in shared experiences across the globe, and their work lives on in our hearts and memories."
Both born on June 13, 1935—Christo in Gabrovo, Bulgaria, and Jeanne-Claude in Casablanca, Morocco—the pair met in their twenties after Christo fled the repressive Soviet regime in his country for Paris. Their romantic and artistic union would continue for five decades until Jeanne-Claude's death in 2009, and together they created some of the most celebrated sculptures the world has seen. (Although their projects were collaborative, they were solely credited to Christo until 1994, when Jeanne-Claude's contributions were revealed and formally acknowledged.) Wrapping, sheathing, and draping iconic buildings and museums as well as natural land formations, their oeuvre challenged the concept of public art and offered viewers a fresh look at familiar landmarks.
The temporary installations were visually spellbinding for the short time they remained on view, but that was only one small element. Projects were often decades in the making and required working with multiple corporations, landowners, government officials, and the local community. It took the artists 24 years to get permission to wrap the Reichstag, in Berlin, for example. The result, Wrapped Reichstag, was on view for just two weeks.
Similarly, The Gates in New York's Central Park, which comprised 23 miles of flowing saffron-colored portals, was conceived in 1979 and came to fruition only in 2005. For Christo, the arduous behind-the-scenes work was part of the art itself: "The whole process becomes an esthetic—that's what I'm interested in, discovering the process. I put myself in dialogue with other people," Christo said in an interview with the New York Times in 1972. And in an interview with the Tate in 2012 he said: "Our projects are sometimes discussed by hundreds and thousands of people before they exist."
Another key aspect was that Christo and Jeanne-Claude's work was entirely self-funded, and they never accepted donations. Instead, they would sell preparatory drawings, collages, scale models, and original lithographs to raise the significant sums required. Working on just one project at a time, they would dedicate all their resources, energy, and finances to make it happen.  "I like to be absolutely free, to be totally irrational with no justification for what I like to do," he once said. "I will not give up one centimeter of my freedom for anything."
Below, we share the stories behind some of his key works:
1) Early wrappings (1958–60) 
Christo's earliest wrapped sculptures were composed of cans and bottles found in his Paris studio between 1958 and 1960. They were to form part of a larger installation, Inventory, a room-size installation of numerous wrapped objects revealing the artist's interest in the modern-day phenomenon of packaging. When Christo and Jeanne-Claude moved to New York in 1964 and were unable to pay the rent on their Paris storeroom, however, their landlord is said to have thrown all the works out. (Some pieces survived, as they were left at Christo's other studios and storage rooms.) Today, these early works are extremely rare and are scattered among a few collections.
2) Wall of Oil Barrels/The Iron Curtain, (Paris, 1961–62)  
One of the pair's first collaborations involved wrapping dozens of oil barrels with cloth and rope, and stacking them in layers across public spaces in order to block access. Christo was fascinated by this idea of spatial reconfiguration—a theme that would play out in many future projects. For the duration of eight hours on a summer night in 1962, Christo and Jeanne-Claude closed off the rue Visconti (one of the narrowest streets in Paris, boasting such legendary tenants as Delacroix and Balzac) with 89 oil barrels. Given its title, the piece was read by many as a powerful political statement on the Berlin Wall, which had been erected the year before. Christo said in the 2012 interview with the Tate: "We work with space that is not usually used for art. . . . Everything in the world belongs to somebody. There is not one square meter in the world that does belong to somebody. What Jeanne-Claude and I do is borrow that space and create a gentle disturbance for a few days." The work was a precursor to the 2018 The London Mastaba, where 7,506 painted barrels floated on London's Serpentine Lake.
3) Wrapped Coast—One Million Square Feet, Little Bay (Sydney, Australia, 1968–69)
At age 34, Christo and Jeanne-Claude traveled to Australia to realize what would be their first major environmental project. Commissioned by Kaldor Public Art Projects, they wrapped a mile and a half of rugged coast and cliffs up along the coast of Little Bay, in southeast Sydney—an extraordinarily radical idea at the time. When swathed in a loosely synthetic fabric and fastened with rope across the natural forms, the area took on a surreal, otherworldly appearance. It took 17,000 hours of manpower over a period of four weeks and remained wrapped for ten weeks. "For this project, no drawing could simulate it," Christo said in an interview with Kaldor Public Art Projects in 2012. "Our project was like life: Fragile, something we don't have forever. . . . From the waterline, it was absolutely unbelievable. . . . You see the proportion. You can see the unexpected change of forms the fabric took with the wind. This is something we never ever expected, and that came from the incredible wind." 
4) Pont Neuf (Paris, 1975–85)
On September 22, 1985, Christo and Jeanne-Claude transformed Paris's oldest bridge into a groundbreaking modernist work of art. The entire structure and its 44 lamps were covered in 440,000 square feet of golden fabric, trussed with 36,300 feet of rope. The project began in 1975 but was halted by the French bureaucracy and considered a major triumph when finally completed ten years later. As with all their installations, the resources that went into it are astounding. Around 300 workers were needed to complete the $2.5 million project, and Christo personally attended to details such as the wrapping of lamp standards.
5) Surrounded Islands (Miami, 1980–83) 
For the striking pink installation that took over Miami in 1980, Christo and Jeanne-Claude encircled 11 islands in the Biscayne Bay with 6.5 million square feet of fabric. While the project was initially met with some concern from wildlife activists and residents, the artists worked closely with the U.S. Army Corps of Engineers and state and county regulators in order to ensure its safety. The detailed preparations were on view in early 2019 in a documentary exhibition at Pérez Art Museum.
6) Wrapped Reichstag (Germany, 1975-1985)
"We won!" cried Christo on February 25, 1994. After struggling for 24 years to get his vision of wrapping the Reichstag approved, the German Parliament had finally granted approved it. Inspired by the Victorian building's symbolism, he hoped to celebrate its majestic proportions and and architectural details. Work began on June 17, 1995, and was completed on June 24 and remained wrapped in a silver fabric tied with blue rope for 14 days. "It was refused three times, in 1977, '81, and '87," Christo said in an interview with the Tate. "For the first time in the history of art, the existence of a work of art was decided by the 70-minute debate of the parliament of the nation, a roll call vote, and we defeated the prime minister of Germany."  
7) The Floating Piers (Italy's Lake Iseo, 2014–16) 
For 16 days in 2016, visitors were given the chance to walk on water. Composed of 226,000 high-density polyethylene cubes, the saffron-hued walkway that spanned Sulzano on the lake's eastern edge to the island of Monte Isola cost roughly $17 million to construct. Like all of Christo and Jeanne-Claude's projects, The Floating Piers was free and open to the public.
8) L'Arc de Triomphe, Wrapped (Project for Paris) Place de l'Étoile–Charles de Gaulle (Paris, forthcoming) 
The news of Christo's death comes as the artist was in the midst of preparing for one of his most ambitious projects: wrapping Paris's Arc de Triomphe in 269,097 square feet of fabric. First conceived in 1962, the installation was originally planned for fall 2020 but due to the COVID-19 pandemic, the new dates are September 18 to October 3, 2021. The project will involve covering the arch with a silvery blue polypropylene fabric held together with approximately 23,000 feet of red rope. "Thirty-five years after Jeanne-Claude and I wrapped the Pont-Neuf, I am eager to work in Paris again to realize our project for the Arc de Triomphe," he said in a press statement. 
Next Post