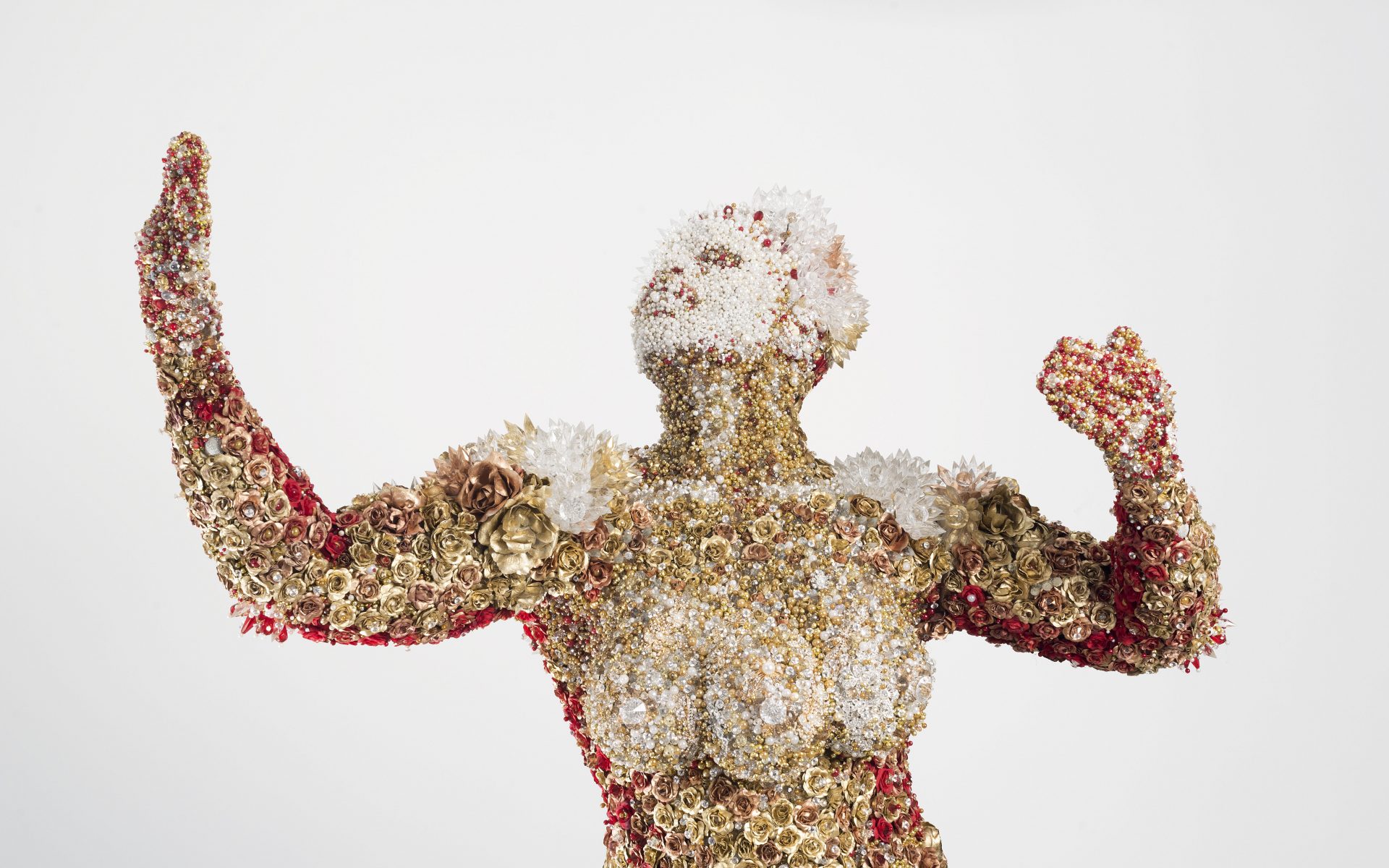 6 Artists to Know at 1-54 Contemporary African Art Fair
The sixth edition of the fair offers work from 43 galleries in countries across Africa, Europe, the Middle East, and North America
Set in the storied Somerset House, the 1-54 Contemporary African Art Fair offers a wide array of galleries from Africa, Europe, the Middle East, and North American. Much of the most striking work we came across saw artists mining their own personal histories and cultural backgrounds to examine the construction of identity and to offer critiques of contemporary culture both within African countries and in diasporic communities in the West. The mix of established and lesser-known galleries is refreshing, and there are plenty of projects, talks, and performances to keep it dynamic. And the historic Somerset House offers a welcome respite from the fair tent. It's worth a trip. Here is a small selection of the artists you'll see at the fair.
Larry Achiampong
Copperfield, London
Larry Achiampong's work integrates photography, video, performance, and sound to navigate class as well as a postdigital identity that straddles cultures. He mines his own personal narrative to explore constructions of the "self," offering work that reveals sociopolitical contradictions of contemporary society. His current project for Copperfield, London, at 1-54 offers a fusion of the domestic environment with religious space to probe the connection to diasporic communities in the West.
Zak Ové
Vigo Gallery and Lawrie Shabibi
Zak Ové's colorful and evocative sculpture, tapestry, film, and photography reflect his interest in diaspora and African history, specifically through the lens of his own cultural background. (His father is black Trinidadian, and his mother is white Irish.) In 2016, also for the 1-54 Contemporary African Art Fair, his installation Black and Blue: The Invisible Man and the Masque of Blackness, of 40 graphite statues in the courtyard at Somerset House, caused a sensation and was quickly snapped up. It's part of a series of outdoor work celebrating 40 years of the Yorkshire Sculpture Park. Vigo Gallery has a striking sculptural work, while Lawrie Shabibi has Ové's colorful crochet doily tapestries.
Recommended: See Highlights of Frieze London and Frieze Masters
Lebohang Kganye
Afronova Gallery
Lebohang Kganye is a South African photographer who takes photographs of herself and her family as a starting point for exploring memory and fantasy. Her work often integrates sculpture, performance, and installation, blending real people with fictional characters to create new narratives.
Athi-Patra Ruga
What If the World Gallery
Athi-Patra Ruga is part of a new generation of South African artists navigating the complicated terrain of the nation's colonial history, its postcolonial current state, and their own personal experiences (in this case as a queer man). His work, which extends into photography, performance, tapestry, and sculpture, celebrates the marginalized: queer, black, and female people.
Kyle Meyer
Yossi Milo Gallery
A traveling fellowship granted multidisciplinary artist Kyle Meyer the opportunity to experience South Africa, where he has developed several projects that center on LGBT rights, ritualistic religious practices, and HIV awareness. With each new series, Meyer (who was born in rural Ohio) always includes traces of the handmade—whether through weaving, layering, or hand-dying. With the "Interwoven" series, Meyer explores the challenges of homosexuality in the hypermasculine culture of Swaziland. He asked each man to don a head wrap normally worn by a woman in order to express an individuality they ordinarily have to hide. He then weaves the photographic portrait with the fabric from the head wrap.
Shiraz Bayjoo
VIP Lounge (Ed Cross Fine Art)
London-based artist Shiraz Bayjoo's recent body of work is connected to his personal relationship to the Indian Ocean island of Mauritius, where he was born. His multidisciplinary practice incorporates found objects, painting, mixed media, and installation and is developed through the researching of archives and oral accounts for images, sounds, and objects that are connected both with personal and historical histories. For 1-54, Bayjoo has been commissioned to create the VIP lounge, which features colorful glazed earthenware objects and shiny acrylic-and-resin-on-wood paintings, as well as a set of East India Company stools and tables.
 1-54 Contemporary African Art Fair runs through October 7, 2018 at Somerset House in London. 
Next Post