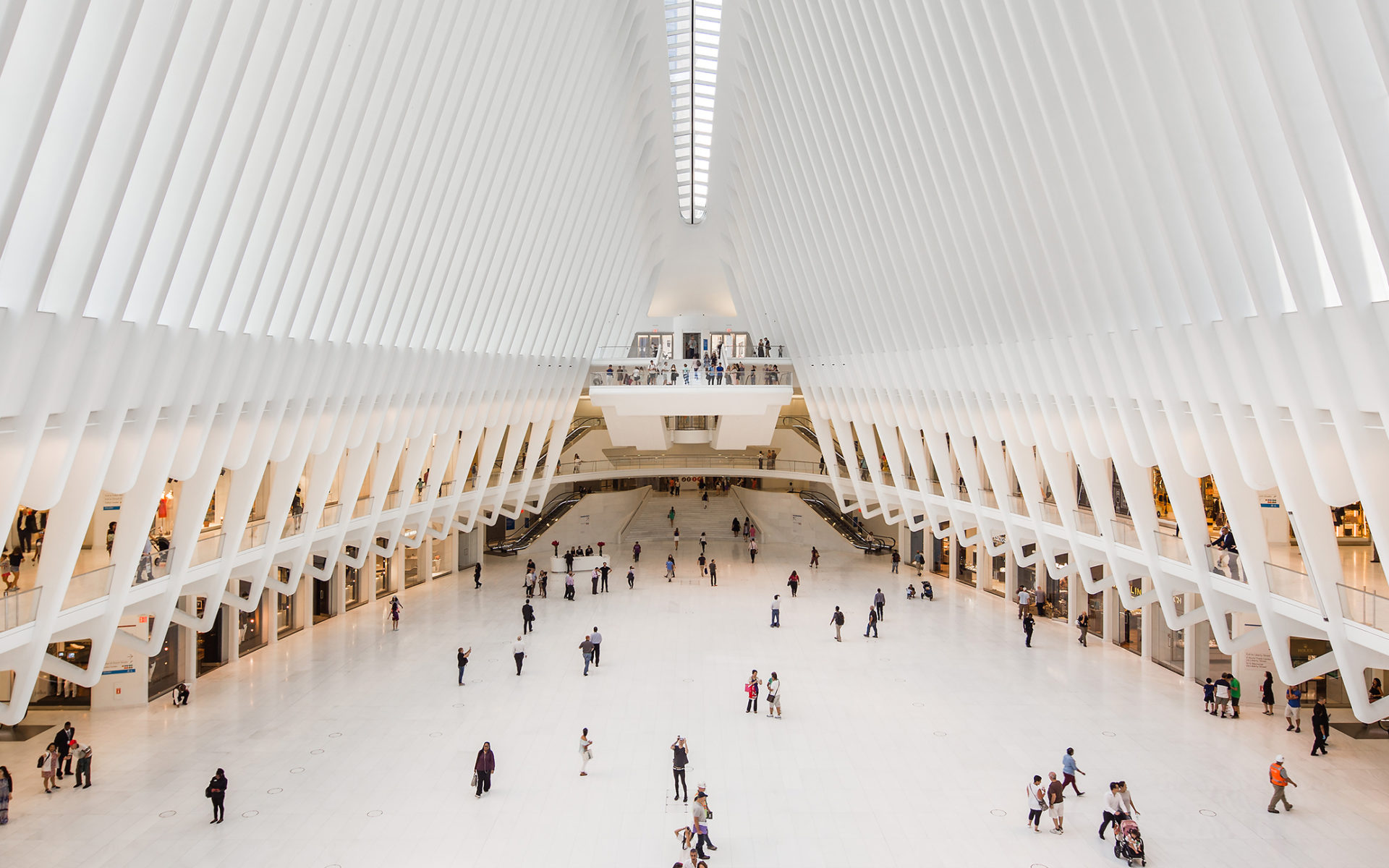 50 Modern Buildings That Changed New York
A new book by architectural photographer Pavel Bendov beautifully captures the city's most significant new structures
One of New York's best amenities is the seemingly endless trove of architectural treasures that line its bustling streets. A simple stroll down Fifth Avenue or even Bleecker Street showcases a mesmerizing display of some of the most beautiful buildings from Beaux-Arts to Post-Modern. Architects in the most recent period, however, have grappled with how to rebuild following unfathomable destruction; the terrorist attacks of 9/11 cast a long, dark shadow over every aspect of city life and called into question the future of the built environment.
Thankfully, after an initial pause in development, the last fifteen years have seen a slew of projects given the green light. The most striking and inventive of these structures have now been catalogued by fast-rising architectural photographer Pavel Bendov, who was born in a small Belarusian town and moved to the city in 2011. "New York has it all," he tells Galerie. "There is just so much to see and do on every corner." The book, titled New Architecture New York ($45, Prestel), spotlights 50 game-changing buildings designed by the world's top talents, including Frank Gehry, Santiago Calatrava, and Annabelle Selldorf, with an introductory essay penned by leading architecture critic Alexandra Lange. 
Of course, bringing these buildings to life provided its share of obstacles. "New York is very challenging for architectural photography," explains Bendov. "It's so dense and there's always something going on in front of or next to the building you are photographing—plus there's endless construction, car traffic, road work, and narrow streets." Despite this, the 224-page title offers a fascinating glimpse of how real New Yorkers interact with their ever-changing city. "I like to capture the relationship between space and the people who occupy and use it," he says, adding "there is no staging or set up." See below for a selection of the standouts included in the book. 
Jane's Carousel (2011)
"My favorite project in the book is Jane's Carousel," says Bendov, referring to the meticulously restored 1922 Merry-go-round, now safely encased in a minimalist acrylic box devised by Priztker Prize–winning architect Jean Nouvel. Originally located in Ohio, the fanciful machine now occupies a prime riverfront spot in Brooklyn Bridge Park.
56 Leonard (2016) 
Pritzker Prize–winning architecture firm Herzog & de Meuron prompts comparisons to a game of Jenga with this playful 60-story tower, home to 145 of Tribeca's most coveted apartments—each of which comes with its own outdoor space. The glass building also features a host of luxe amenities, including a 75-foot infinity pool, outdoor theatre, and (soon) a massive Anish Kapoor sculpture that recalls his famous Cloud Gate. 
Barclays Center (2012)
This 19,000-seat arena catapulted architecture firm SHoP into the design-world stratosphere and created an icon of the new Brooklyn at the same time. Boasting a signature weathered-steel skin, the state-of-the-art structure is home to the Brooklyn Nets as well as the New York Islanders, plus it regularly hosts concerts by the likes of Janet Jackson, Jay-Z, and Ariana Grande.
Spring Street Salt Shed (2015)
Designed by Dattner Architects with WXY, this government-owned salt shed in Soho fittingly resembles a salt crystal, with its angular shape and blue-tinted concrete façade. At 6,300 square feet, the warehouse can hold up to 5,000 tons of salt, which the Department of Sanitation utilizes during wintry weather.   
New York Times Building (2007)
Devised by visionary Italian architect Renzo Piano, this 52-story Midtown skyscraper serves as headquarters for the Times. Embracing the eco-friendly trend, Piano clad the structure in silvery ceramic tubes that reduce energy usage by regulating light and temperature.
Campbell Sports Center (2013)
At the northern tip of Manhattan, Steven Holl conceived an elevated athletic compound for Columbia University, where he also teaches architecture part-time. Comprised of concrete, steel, and sanded aluminum boxes, the game-changing structure offers some 50,000 square feet of space for meetings, conferences, workouts, offices, and studying.
Hearst Tower (2006)
The first skyscraper constructed in the wake of 9/11, Hearst Tower was actually 80 years in the making. Completed in 1928, the six-story masonry base was always intended for a larger tower—but plans were halted by the Great Depression. Now home to Hearst Magazines, the Norman Foster–designed structure is clad in a faceted diamond pattern composed of 85% recycled steel, a feature that aided its distinction of being the city's first LEED Gold skyscraper. 
VIA57 West (2016)
For his first New York building, daring Danish architect Bjarke Ingels conceived an enormous apartment house (with 709 units total) with a striking pyramidal silhouette. Located at the western terminus of 57th Street—otherwise known as Billionaire's Row—the edifice has been described, fittingly, as a "courtscraper" thanks to the lush oasis of green space that occupies the central courtyard. 
Sugar Hill Development (2015)
Tanzanian-born architect David Adjaye proves affordable housing doesn't need to skimp on aesthetics with this eye-catching mixed-use development in Harlem. Combining 124 below-market-rate apartments with office space and a museum, the design also borrows elements from the neighborhood's aesthetics (think abstract roses on the concrete exterior, which in turn resembles a collection of townhouses).
LeFrak Center at Lakeside (2013)
These minimalist pavilions, crafted by Tod Williams Billie Tsien Architects, serve as year-round sports centers for visitors to Brooklyn's Prospect Park. In the summer, a water park and roller skating rink offer a place to let off some steam, while the complex morphs into an ice-skating rink come winter. 
New York by Gehry (2011)
Frank Gehry brought his signature twists and turns to lower Manhattan for this 76-story rental tower, which is located at 8 Spruce Street. Recalling the architect's sculptural Guggenheim Bilbao museum, the tower is wrapped in 10,500 stainless-steel panels, each specially crafted for this project. Providing much-needed educational space to the neighborhood, the base of the building includes an elementary school. 
Oculus WTC (2016)
Perhaps the most Instagrammed building of 2016, Spanish architect Santiago Calatrava's $4-billion transit hub quickly became synonymous with the rebirth of the World Trade Center site. Replacing the mall that was destroyed on 9/11, the spindly structure offers over a hundred retail spaces, plus a breathtaking "oculus" that filters light down to the acres of white marble.
Next Post