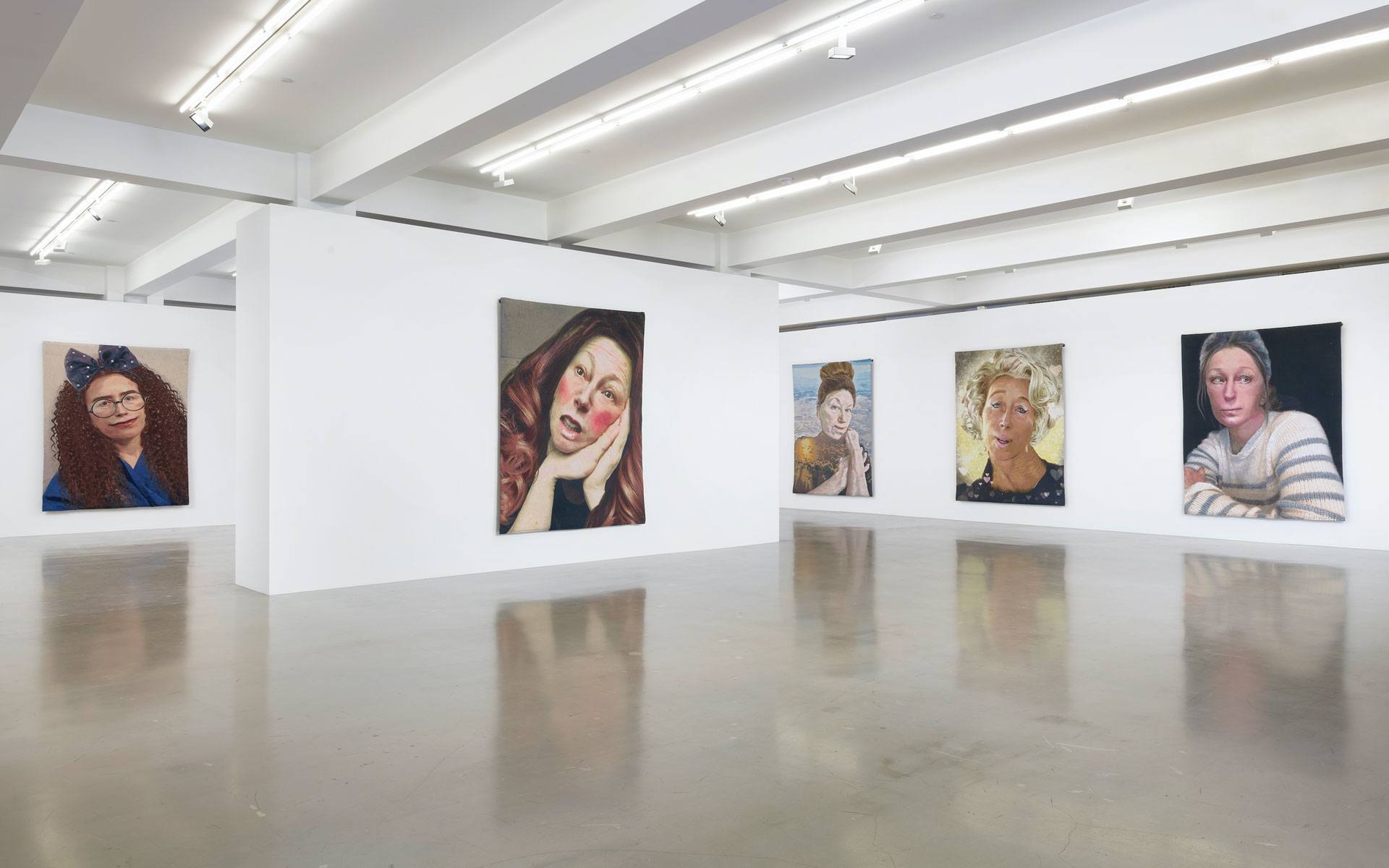 5 Must-See Figurative Exhibitions Exploring Our Turbulent Times
From Cindy Sherman's tapestries of Instagram selfies at Sprüth Magers in L.A. to Christian Marclay's comic book collages at San Francisco 's Fraenkel Gallery, these new exhibitions are not to be missed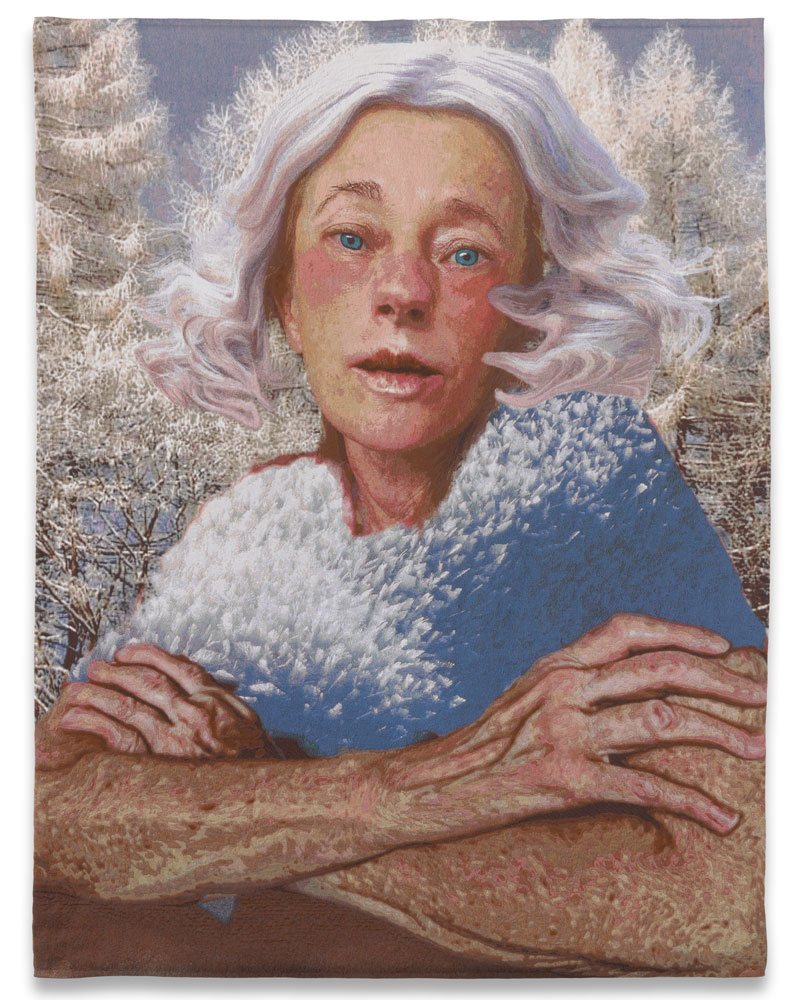 Our current fascination with figurative art shows no sign of waning. It's popularity over the past few years is at an all-time high, with museums and galleries celebrating forgotten, established and emerging artists focused on the body from multiple points of view. Tapping into the phenomenon, we've rounded up five fabulous gallery exhibitions of figurative art taking place across the United States now.
From Cindy Sherman's tapestries of her screwball Instagram selfies at Sprüth Magers in L.A. and Christian Marclay's comic book collages of characters and words capturing the horrors of the past year at San Francisco's Fraenkel Gallery to Maia Cruz Palileo deconstructing the colonial past of her Filipino heritage at Monique Meloche Gallery in Chicago, James English Leary's humorous juxtapositions of heads and hands at Nina Johnson in Miami, and Jonathan Meese's deep dive into his inner self during lockdown at New York's David Nolan Gallery, these exhibitions reveal how turbulent times are shaping our contemporary art.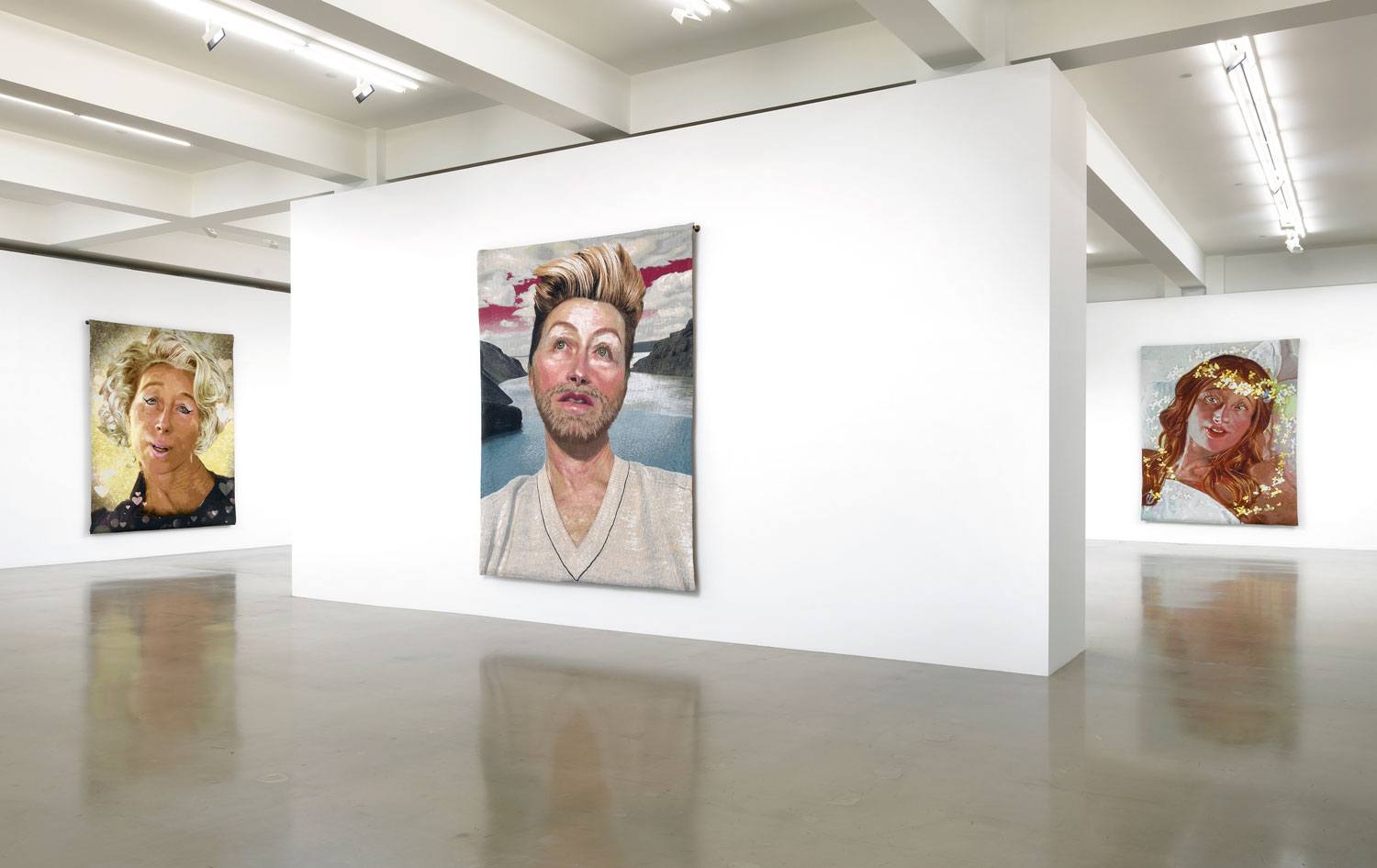 1) Cindy Sherman at Sprüth Magers, L.A
When Cindy Sherman joined Instagram in 2016, she started out uploading snapshots of the people, places and things that she was encountering. But when her hair colorist introduced the creative chameleon to the retouching app Facetune, Sherman's social media playtime became a way to make art. Shooting selfies in a variety of settings, Sherman applied Facetune, along with other photo editing tools, to create an assortment of offbeat characters. The images, however, only existed online until she began to transpose them into large-scale tapestries. Two of these striking woven works debuted at Metro Pictures' booth at Art Basel in Miami Beach in 2019 and a few more were exhibited in the artist's critically acclaimed, 2020 retrospective at the Fondation Louis Vuitton in Paris, but this new L.A. exhibition, which features eleven woven works that were fabricated in Belgium over the past three years, is the first survey of her entertaining textile editions. Produced in Belgium, and made of cotton, wool, acrylic and polyester, each tapestry represents a different character.
"Feeling a little nostalgic today," Sheman wrote when she posted an Instagram portrait on May 17, 2018 of a goofy, curly haired woman with big round glasses and a bow atop her head. The complex stitching of the striking 2019 tapestry turns the low-resolution, internet image into a dynamic, painterly picture. Likewise, a Sleeping Beauty-style portrait of a woman who has awakened to a vision of flower petals dancing around her head, which Sherman posted on August 22, 2017 and labeled "Goo-goo eyes," makes a dreamlike  impression.
Some of the self-portraits were shot in front of a green screen so that Sherman could add a background to suggest a narrative. A May 11, 2018 portrait of an androgynous bearded blonde, which she captioned "Ahoy," has a scenic seascape, while a white-haired woman with aged arms is placed before snow-covered trees. Posting this picture to Instagram on August 8, 2019, Sherman wrote, "Chill" which humorously fits the image.
Cindy Sherman at Sprüth Magers, L.A is on view through May 1.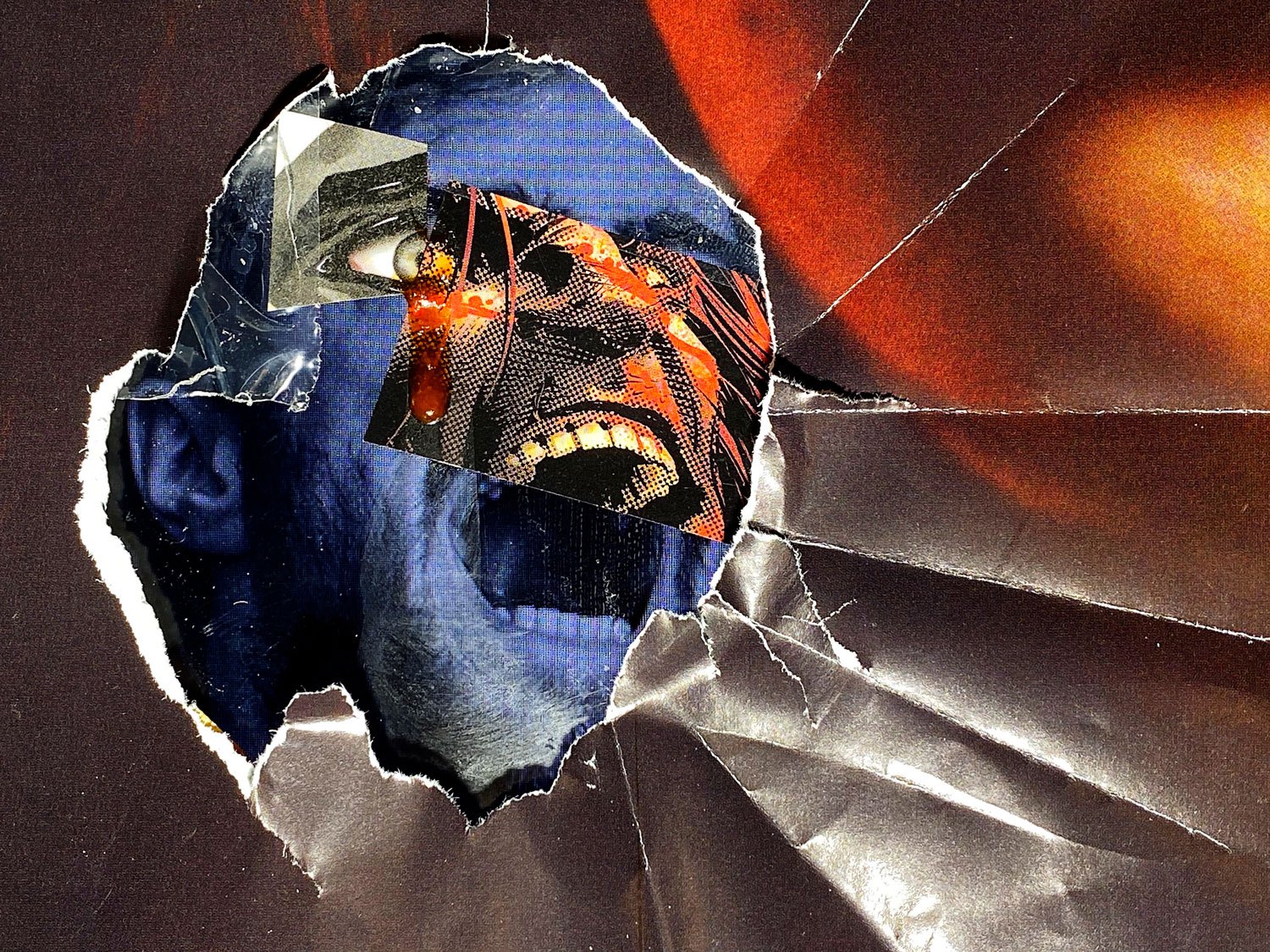 2) Christian Marclay at Fraenkel Gallery, San Francisco
Celebrated for his fusion of fine art and audio cultures, Christian Marclay has been turning elements of sound, film, and other pre-existing media into art for nearly 40 years. In his earliest series of works, "Recycled Records," he cut up vinyl records and reassembled the parts to create new cycles of sound, while his 2010 film The Clock was the result of  thousands of film clips compiled to chronicle the hours and minutes of a complete day.
Over the past few years, Marclay has been employing appropriated words and images from comics and manga to make collages, prints, paintings, photos and videos that evoke sounds. His current show continues that investigation, but takes it to a new level that's informed by an emotional response to the COVID-19 pandemic, systemic racism, climate change and other political issues plaguing the world. The collage Collective Emotion (No. 2) assembles around 70 rectangular comic book cutouts on a red piece of paper showing people passionately screaming, while Face (Ecorché) uses a pair of eyes and dozens of onomatopoeias cut from comics to construct a Medusa-like head shouting out emphatic sounds.
Marclay scanned several collages to create editioned digital chromogenic prints. Untitled (Crying) presents a hollering head that seems as though it's bursting through a computer screen. The collage Raging Fire pastes together an accumulation of comic book cutouts of red and yellow flames, while fragments of flames in the related video animation, Fire, presents a raging firestorm in continuous motion.
The showstopper Is No!, a series of 15 collages of comic book cutouts. Conceived as a graphic score for a solo voice performance, it takes the audience on the rollercoaster ride of emotions—from breathless and pained to panicked and crazed—that people have had to endure over the past chaotic year.
Christian Marclay is on view at Fraenkel Gallery, San Francisco through March 25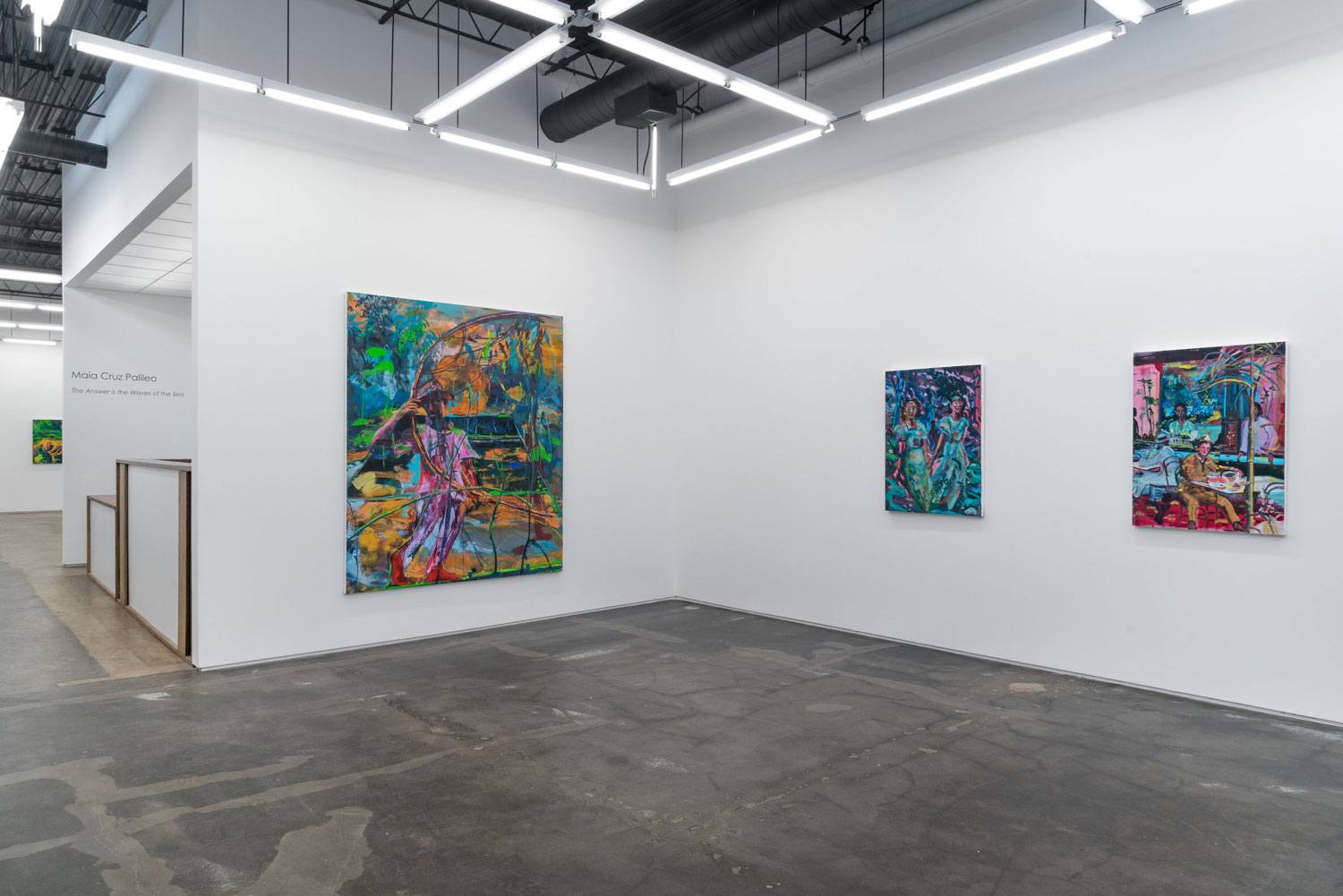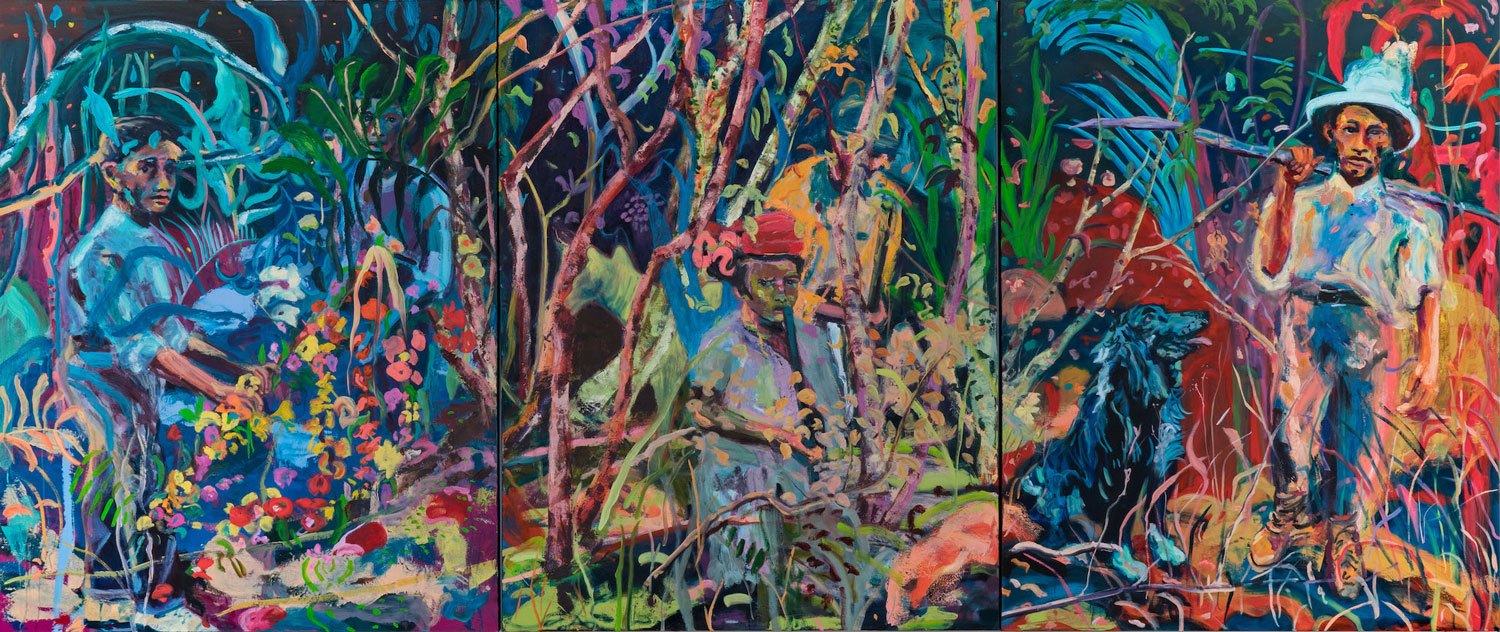 3. Maia Cruz Palileo at Monique Meloche Gallery, Chicago
An artist of Southeast Asian descent, Maia Cruz Palileo became interested in mining her family history after recreating her immigrant grandparents' living room for an art installation during college. Digging deeper into her ancestors' photo albums and researching cultural archives documenting her Filipino heritage, she uncovered the unsettling colonial history between and U.S. and the Philippines. In this new exhibition at Monique Meloche, Palileo uses painting to reconstruct visual tales in a way that's similar to how oral histories are passed down, reclaiming her subjects from their colonialist histories and reanimating them with her new narratives. The Answer is the Waves of the Sea is an amalgamation of archive images, where a universe of flora and fauna is caught in a semi-circle. Partially painted with a palette knife, its layers of colors boldly capture the spirit of the tropics. Towards the Bay Shores Where Reeds Grow is based on her great grandfather's story of an accidental shooting, but by her morphing of memories the focal point is now drawn from a photo of her uncle listening to his radio on the beach.
The largest canvas in the show, an expressive triptych titled Through the Fronds There Were No Stars, portrays workers in a jungle setting, where the artist has hidden ghost-like figures in the brush to represent a history that has been lost. Utilizing content that's informed by images and imagination, Palileo's paintings collapse time and space to tell a new story, which is more humanist than the ethnographic depictions of the past, and one that may be truer to life if people are left in peace.
"The Answer is the Waves of the Sea" is on view at Monique Meloche Gallery through April 10, 2021.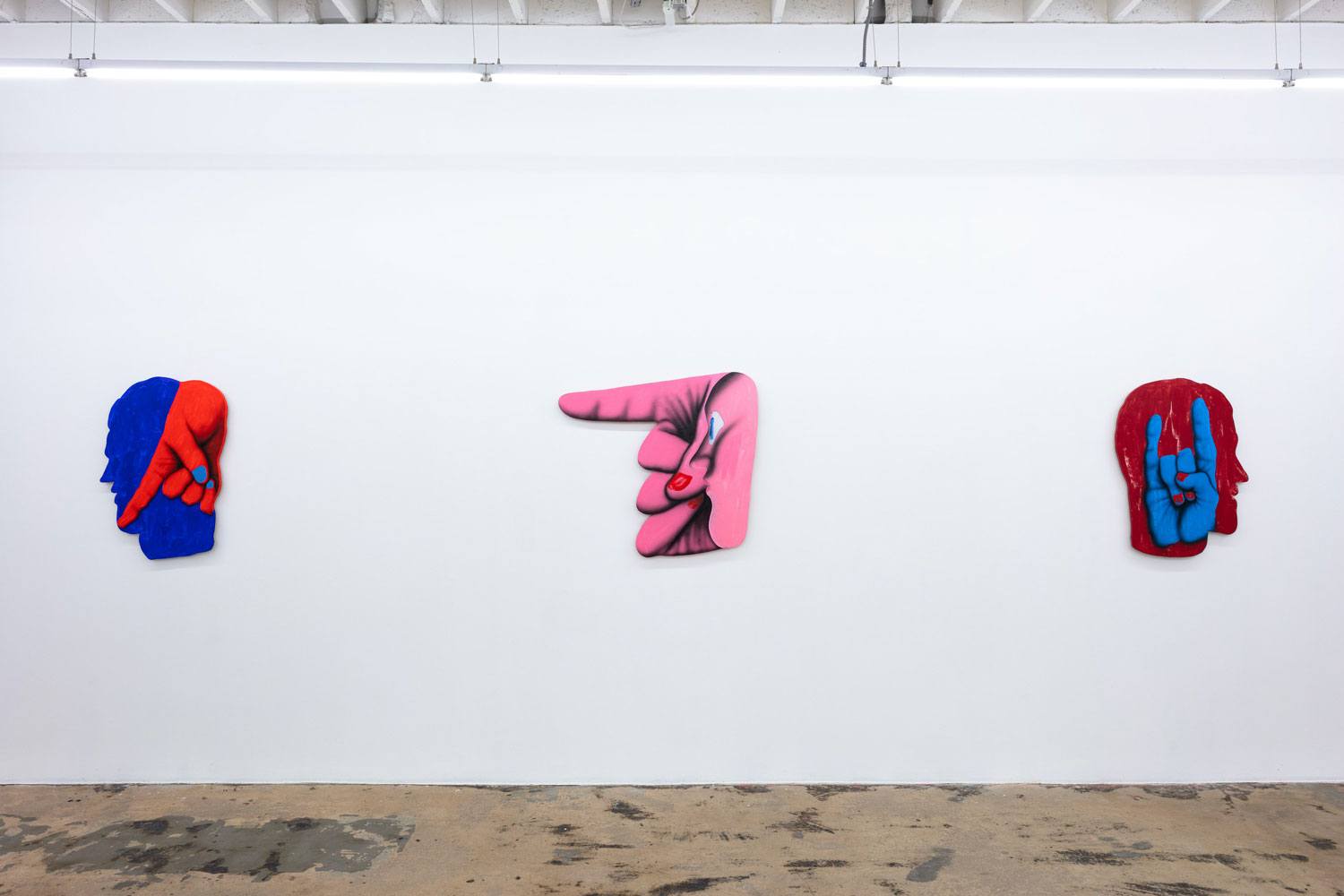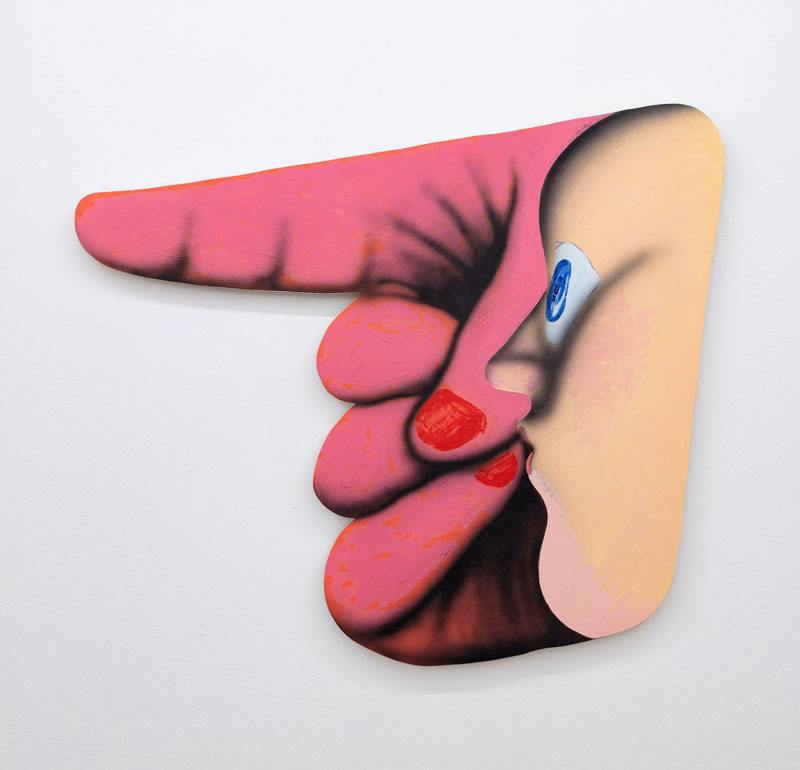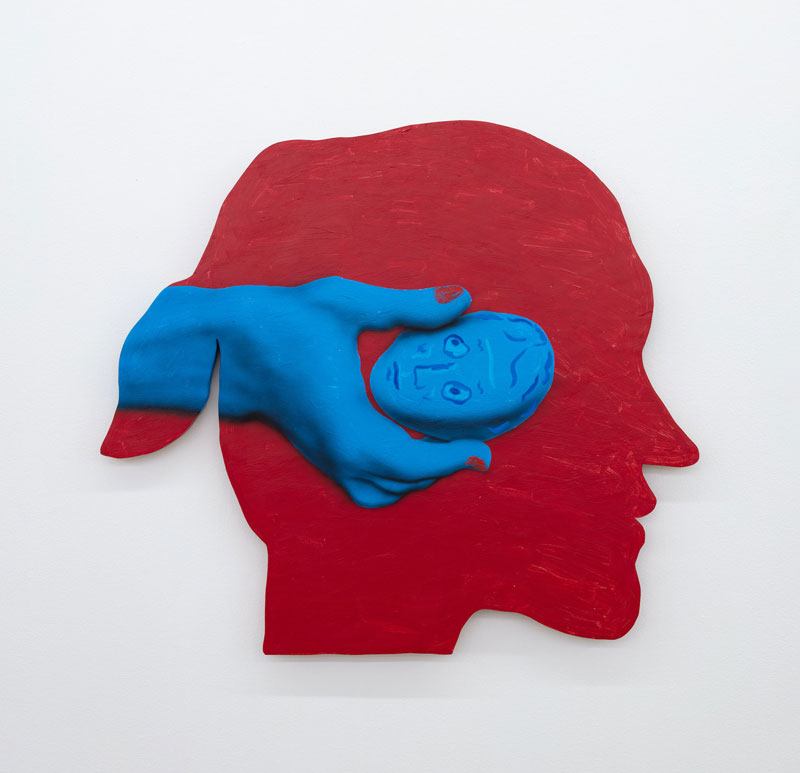 4) James English Leary at Nina Johnson, Miami
One of the co-founders of the Bruce High Quality Foundation, a collaborative group of subversive artists who were active on the international art scene in the first decade of the 2000s, James English Leary has been forging his own path in the art world since the time of the group's mock retrospective at the Brooklyn Museum in 2013. Continuing to work with a sense of humor, Leary makes shaped, built paintings that blur the boundary between abstraction and figuration while playing with psychological associations.
Seven shaped paintings in the show that portray a pointing hand overlaid by a face in profile take the title Pointer. Varied in palette but similar in composition and shading, the large hand looks realistic while the scaled-down face is cartoonish. Repeated at different sizes throughout the installation, the Pointer canvases are intermixed with three shaped paintings of heads in profile that conversely incorporate hands.
Cameo (Offering) presents a red woman's head with a blue hand offering a smaller head within it; Cameo (Horns) offers a red man's head and a blue hand flashing the Hook 'em Horns signal; and Cameo (Pointer) connects the two bodies of work with a blue head with a red pointing hand splitting its form. Awkward and absurd yet curiously compelling, Leary's colorful canvases are poetically entertaining.
"Patter" is on view at Nina Johnson, Miami through April 10, 2021.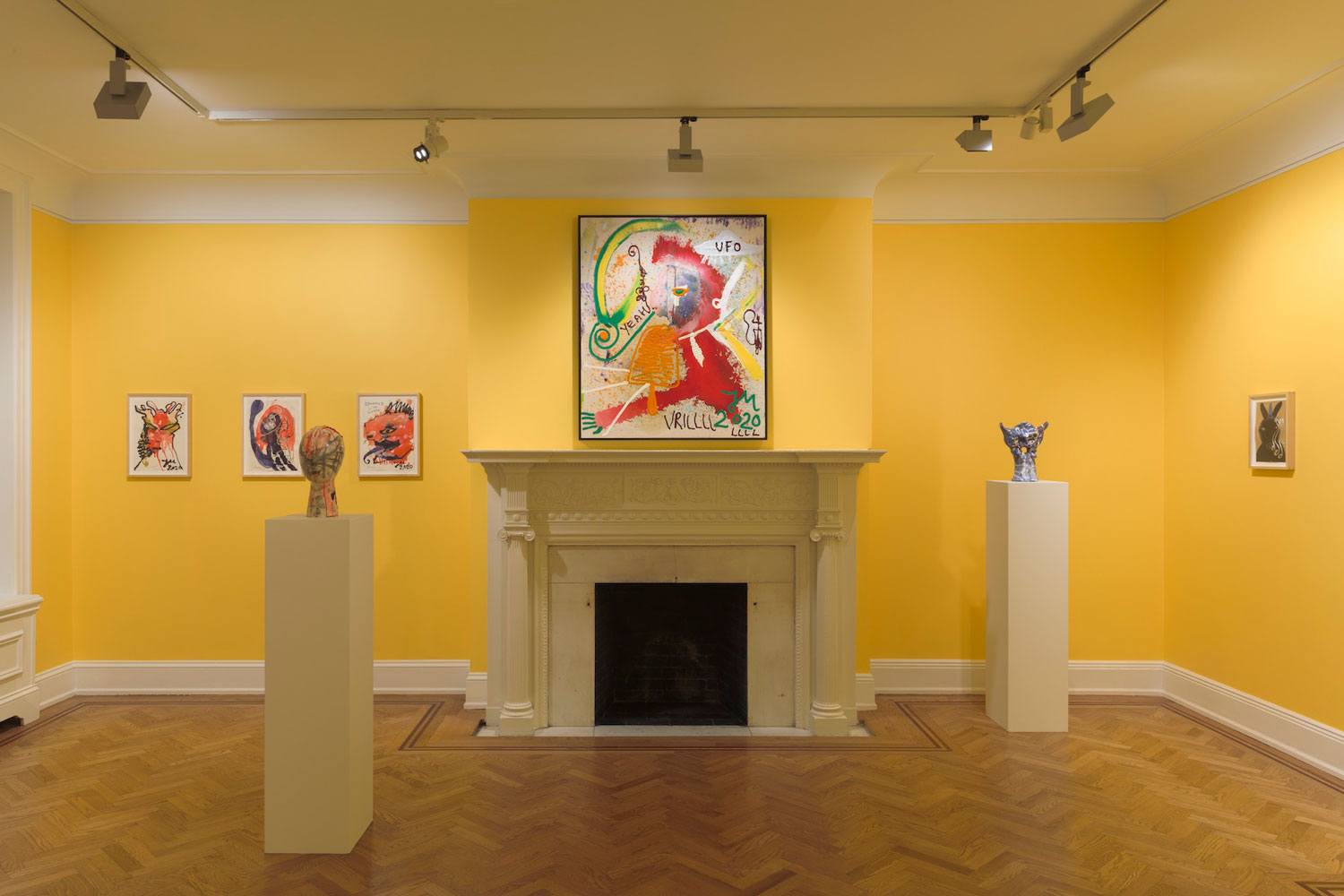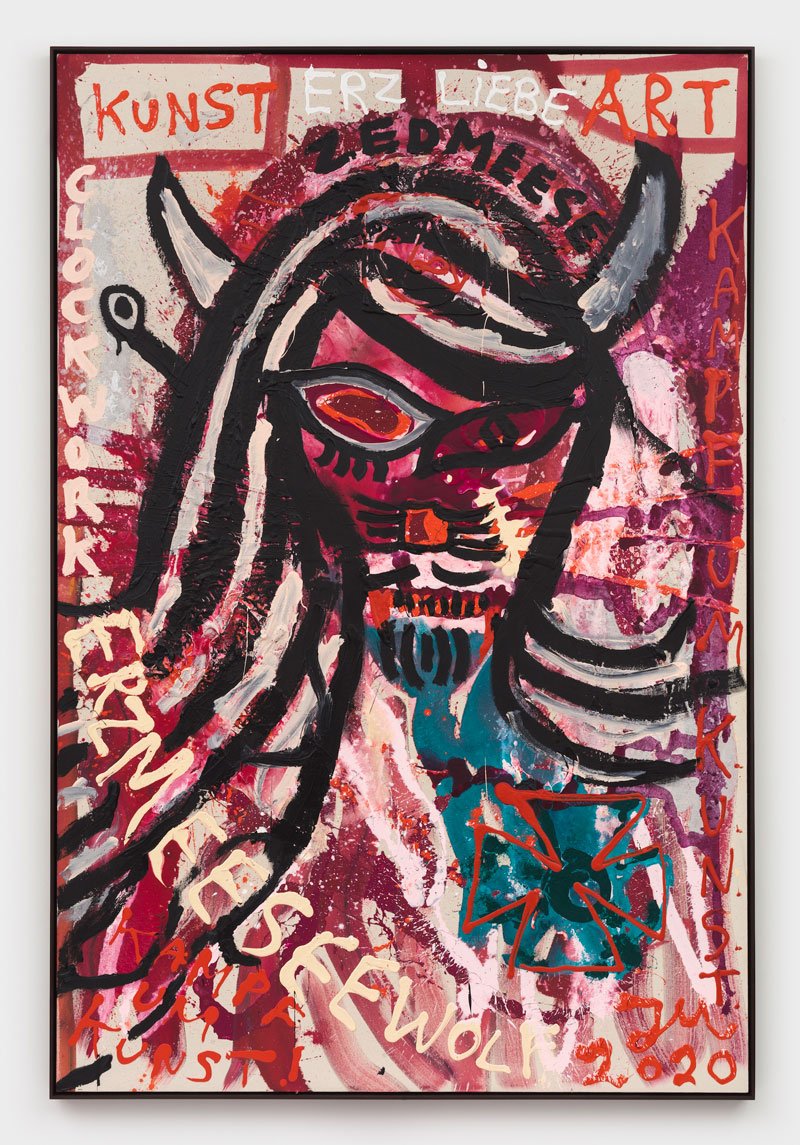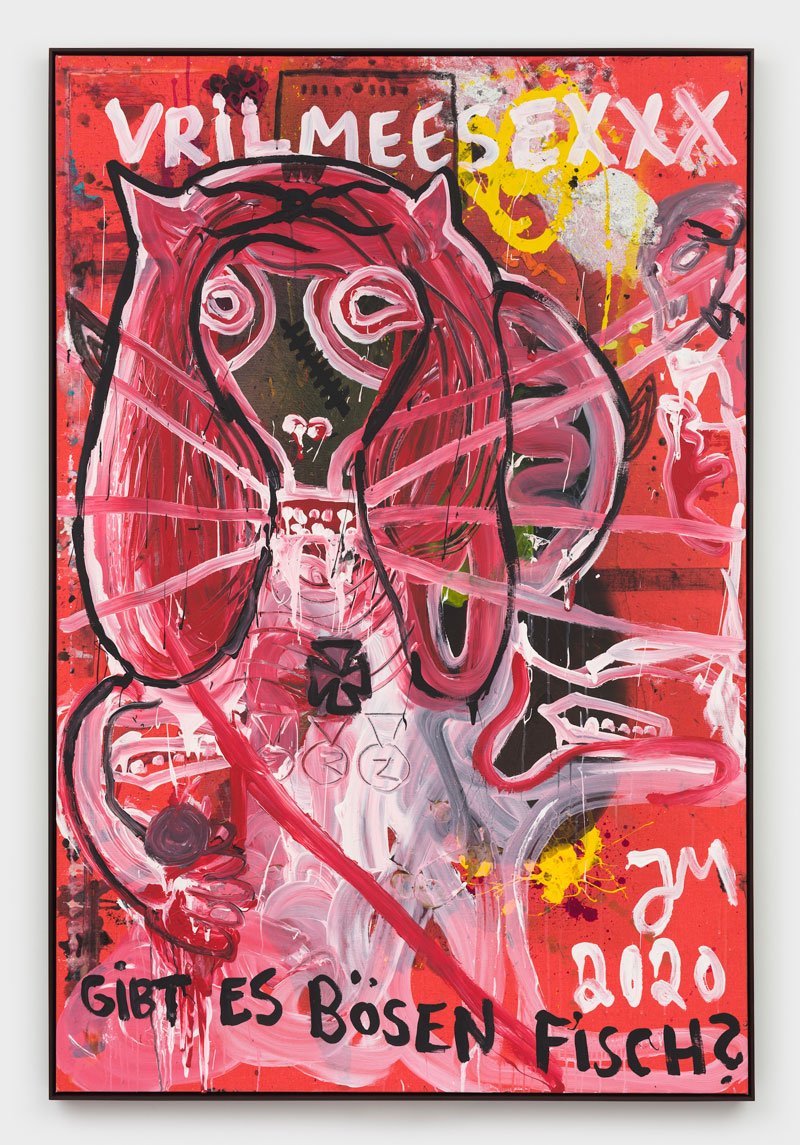 Jonathan Meese at David Nolan Gallery, New York
Created at home during quarantine, Jonathan Meese's new paintings, sculptures, and drawings find the hermetic artist assuming a variety of different personas and forms. Aiming at an ideal future through art and love, Meese conjures devils, dragons, and messiahs on a journey of self-discovery through what he calls "the dictatorship of art." Working in an improvisational way, he embraces childlike instincts to refute the reality of the world outside of his self-proclaimed "castle of art."
Four dramatic pencil drawings, titled "DR. SELFMEESE," capture the long-haired, bearded artist as a soldier of art in the woods, wearing a silver cross and fighting against the ideology of politics and religion. In several paintings on paper, he becomes hybrid animals—ranging from lions to unicorns—and assumes the roles of the Phantom of the Opera and a samurai to confront the enemies of art. Likewise, sculptural heads present cyborg warriors ready for battle, with one of the devilish creatures sucking away reality through art to bring forth a new world—or at least that's how the artist explains it in a videotaped walk through the show on the gallery's website.
Meese best lets his expressionistic angst loose in two larger than life paintings. ICH SPACE UP "OFF" S.V.P.! is a red, black and white self-portrait of the artist an animal, child and soldier of art, while KUNST: DER WELTRAUMFAHRERZ DE MEESI! employs a similar palette to portray him as a demonic space traveler. But perhaps one of the smallest paintings, EVA MEESE OHNE SCHLANGE!, captures the artist at his purist, yet at the same time at his most twisted. Based on a photo of Meese at age 12, it's strikingly painted with the minimum of brushstrokes. But it's the title that turns it on its head, with Meese taking on the name of Hitler's mistress, Eva Braun, and conjuring Medusa with the words "ohne schlange," which ironically translate from German to "without the snake."
"Across the Universe" is on view at David Nolan, New York, through March 27, 2021
Next Post