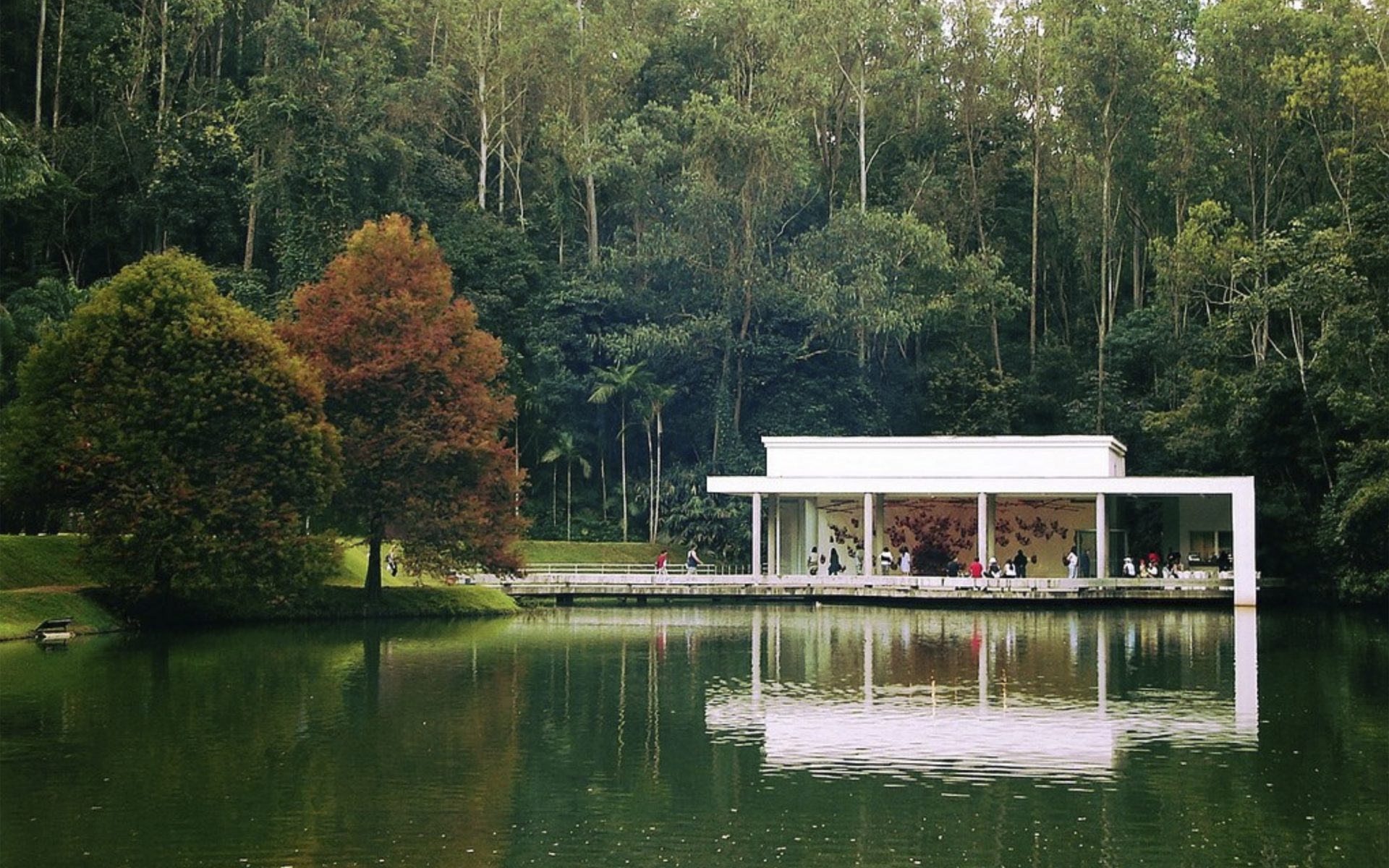 5 Incredible Art Museums in the Most Remote Destinations
From a sprawling art complex in the hills of Brazil to a subterranean museum off the coast of Japan, these private art spaces are worth the trip
James Turrell Museum | Salta, Argentina
Opened in 2009, this private museum dedicated to light artist James Turrell is located 7,500 feet above sea level on the 96,000-acre property of the oldest winery in Argentina, Bodega Colomé (a four-hour drive from the nearest airport). It's the third museum created by Swiss-born winemaker and collector Donald M. Hess, joining those at his Hess Collection winery in Napa Valley and at Glen Carlou in Paarl, South Africa.
The 18,000-square-foot brick building is divided into nine chambers according the artist's specific measurements, and spans five decades of his career. Don't miss Unseen Blue, 2002, the artist's largest "skyscape," which surrounds an interior courtyard and reaches its peak intensity at sunrise and sunset. bodegacolome.com
Museum of Old and New Art | Tasmania, Australia

The $200 million brainchild of gambler and art collector David Walsh, the six-year-old Museum of Old and New Art, succeeded in putting the sleepy island of Tasmania on the art world's map. Visitors typically arrive by ferry from the main city of Hobart before descending into a sandstone bunker where 1,500 works of art, spanning from antiquity to the present day, are on display across three dimly lit levels.
An avowed anti-museum, there are no wall texts (instead visitors are armed with an "O" device that uses GPS technology to offer up details about the art), and visitors are greeted with a fully stocked bar. Attention-grabbing highlights include a site-specific work by Anselm Kiefer made from impossibly-high shards of glass and concrete housed in a pavilion on the river's edge, Christian Boltanski's The Life of C.B (the artist agreed to have his every move in his Paris studio live streamed, 24 hours a day, in the museum, until he dies), and Chris Ofili's The Holy Virgin Mary, which set off a famous firestorm when it was exhibited at the Brooklyn Museum in 1999. mona.net.au
The Chichu Art Museum | Naoshima, Japan
Built mostly underground on an island off the southern coast of Japan—a six-hour trip by train and boat from Tokyo—the Chichu Art Museum (literally translating to "art museum in the earth") was designed in 2009 by Tadao Ando.
Part of a network of art sites on island developed by Japanese businessman and art collector Soichiro Fukutake, the museum features polished concrete chambers housing the work of three artists: a selection of Claude Monet's water lily paintings (the skylight and glistening mosaic floor creates a shrine-like experience); an installation by Walter de Maria that consists of a central, polished granite sphere sitting on a staircase with surrounding gilded wall sculptures; and three James Turrell light works. No artificial light sources have been used in the museum in an effort to create a harmonious relationship with nature. http://benesse-artsite.jp/en
The Chinati Foundation | Marfa, Texas
In the 1970s, the American minimalist artist Donald Judd set up in the small town of Marfa (a six-hour drive west from Austin) to escape the New York art world. With the help of the Dia Art Foundation, Judd created the Chinati Foundation on the site of a former army barracks for the purpose of exhibiting his work as well as that of his contemporaries John Chamberlain and Dan Flavin, with an emphasis on works linked to the surrounding environment.
Since then, the collection has grown to include permanent works by Carl Andre, Roni Horn, Richard Long, and Claes Oldenburg along with a rotating program of temporary exhibitions. chinati.org
The Instituto Cultural Inhotim | Brumadinho, Brazil
Located some 40 miles from Brazil's third-largest city, Belo Horizonte, this sprawling art complex is set upon 5,000 acres of rolling countryside. Founded by mining magnate Bernardo Paz, the private oasis opened to the public in 2006. Dozens of outdoor sculptures dot the grounds, along with impressive standalone structures containing site-specific works by individual artists.
Doug Aitken's Sonic Pavilion, for example, features a deep hole in the center filled with sensitive microphones that capture tremors deep inside the earth, while Matthew Barney's geodesic glass dome houses a giant tractor clutching at an uprooted tree. Inhotim's vast gardens are also home to one of the largest botanical collections on the planet. www.inhotim.org.br/en/ 
Next Post