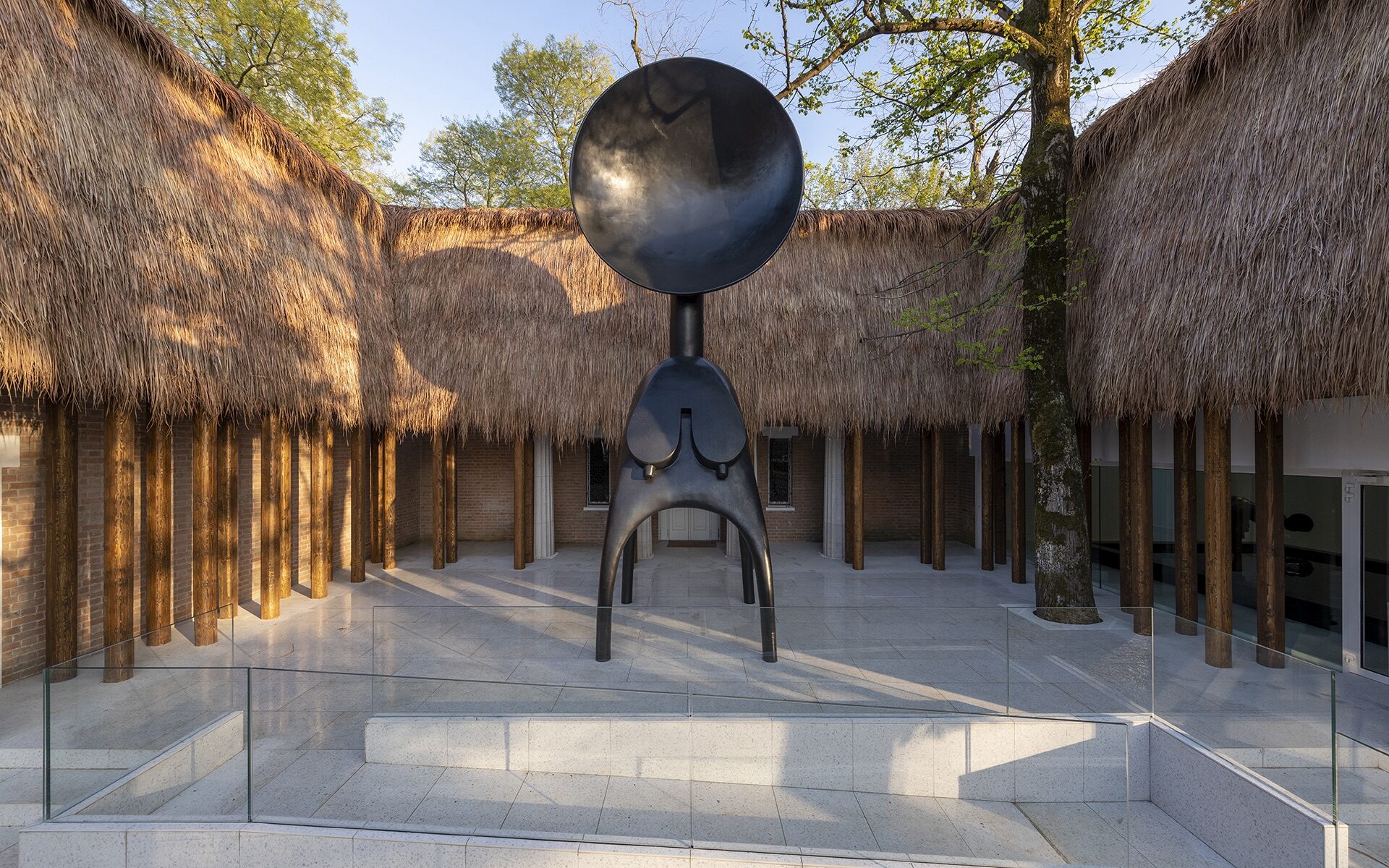 Here's What Art Lovers Can't Miss at the 2022 Venice Biennale
Among the highlights are installations by Simone Leigh, Anish Kapoor, Katharina Grosse, and other leading talents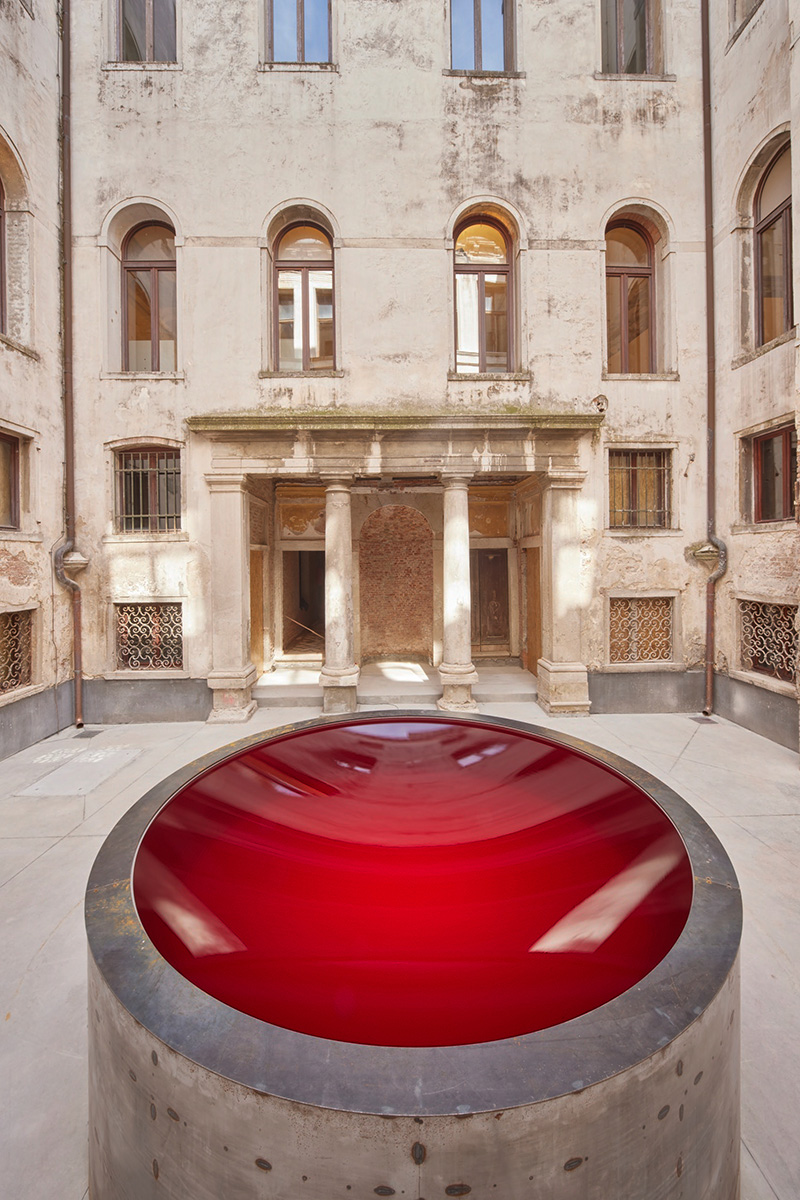 "I wore my comfy clothes, I just thought I'd be sitting at the back," said the artist Sonia Boyce to a friend, after she stepped up to the podium on Saturday to collect the Golden Lion at this year's Venice Biennale. Bestowed upon the artist considered Best National Participant, Boyce had nailed it with her exhibition in the British pavilion.
Now 60, Boyce has been influential on the British art scene since the 1980s, as part of a campaigning Black artists group in that decade, and also as an educator and a practitioner with a deep belief in collaboration and participatory work. In Venice, she focussed on the act of rehearsal and improvisation to tease out the importance (and neglect) of Black female musicians in British society, turning her camera on five remarkable singers of jazz and other genres. The resulting films are shown against a wallpaper of tessellated triangles, where gold mirrored segments absorb viewers right into the proceedings of the pavilion. Boyce declared herself to be "utterly overwhelmed" by her win, saying she was going to "go home, close the blinds, and lie down and cry for an hour."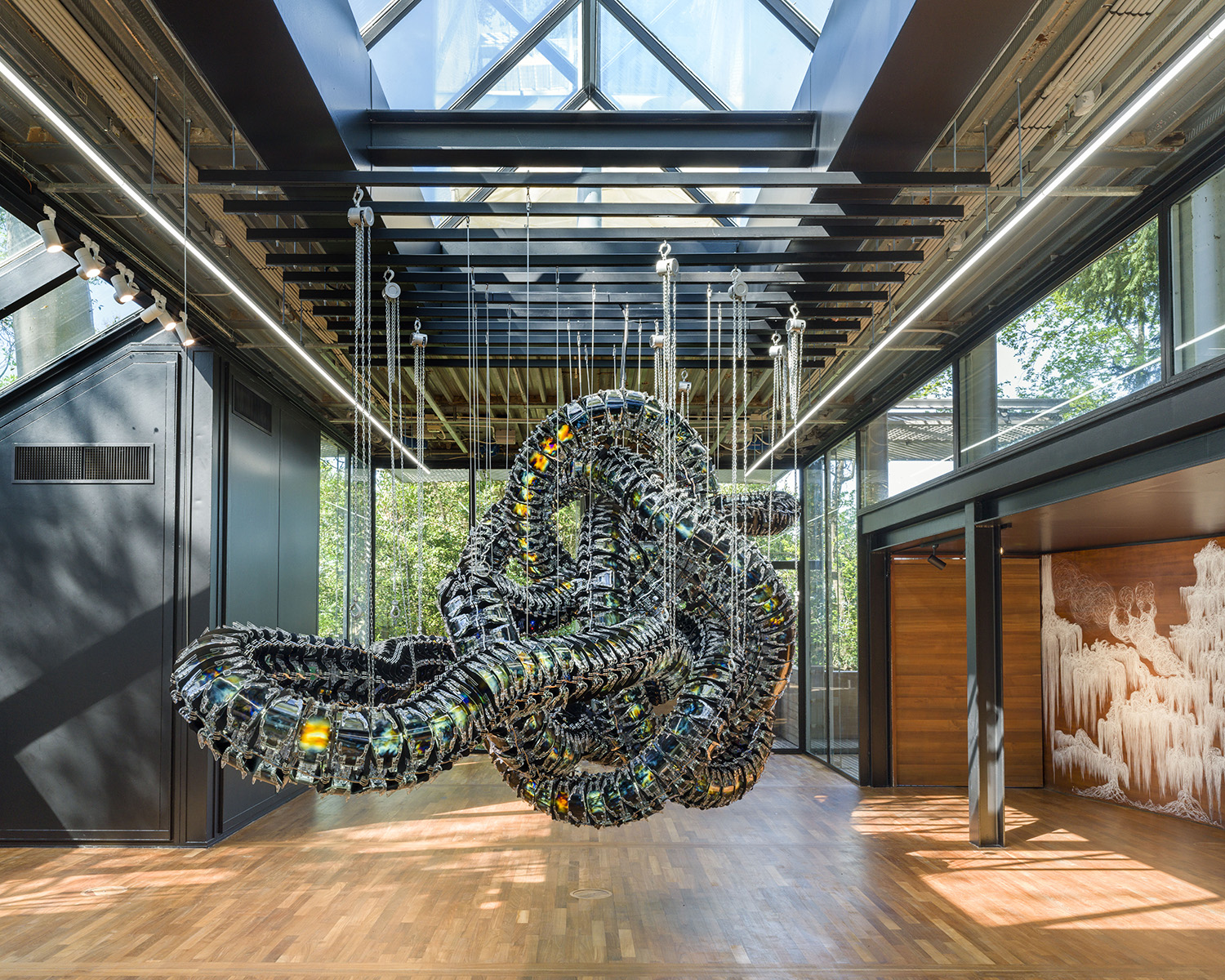 The Biennale is now in its 59th year and, having been postponed from 2021 due to the pandemic, has found itself opening against the backdrop of a brutal and unexpected war in Ukraine instead. In the Giardini, where the national pavilions stand in an increasingly questionable old-world order, the shuttering of the Russian one—a jade green palazzo festooned with historical architectural references—is a sign of the times. (It's even patrolled by armed guards.) Russian visitors were missing too, making the opening week a noticeably less dressed-up and yacht-filled occasion than usual.
Meanwhile, the fraught delivery of the Ukrainian artist Pavlov Makov's contribution to the main exhibition in the Arsenale proved a major talking point. Curator Marie Lanko had packed the 78 bronze funnels that make up his sculpture into her car as the war broke out, and driven along back roads with it in her trunk for three weeks, finally arriving in Vienna. Though first devised in 1995, its title–Fountain of Exhaustion–could hardly be more appropriate. A lively spurt of water from its top that gradually peters out to a mere trickle as it makes it way down the metal pyramid could easily refer to the attention we pay to world issues at the beginning, and the consequent diminution of concern.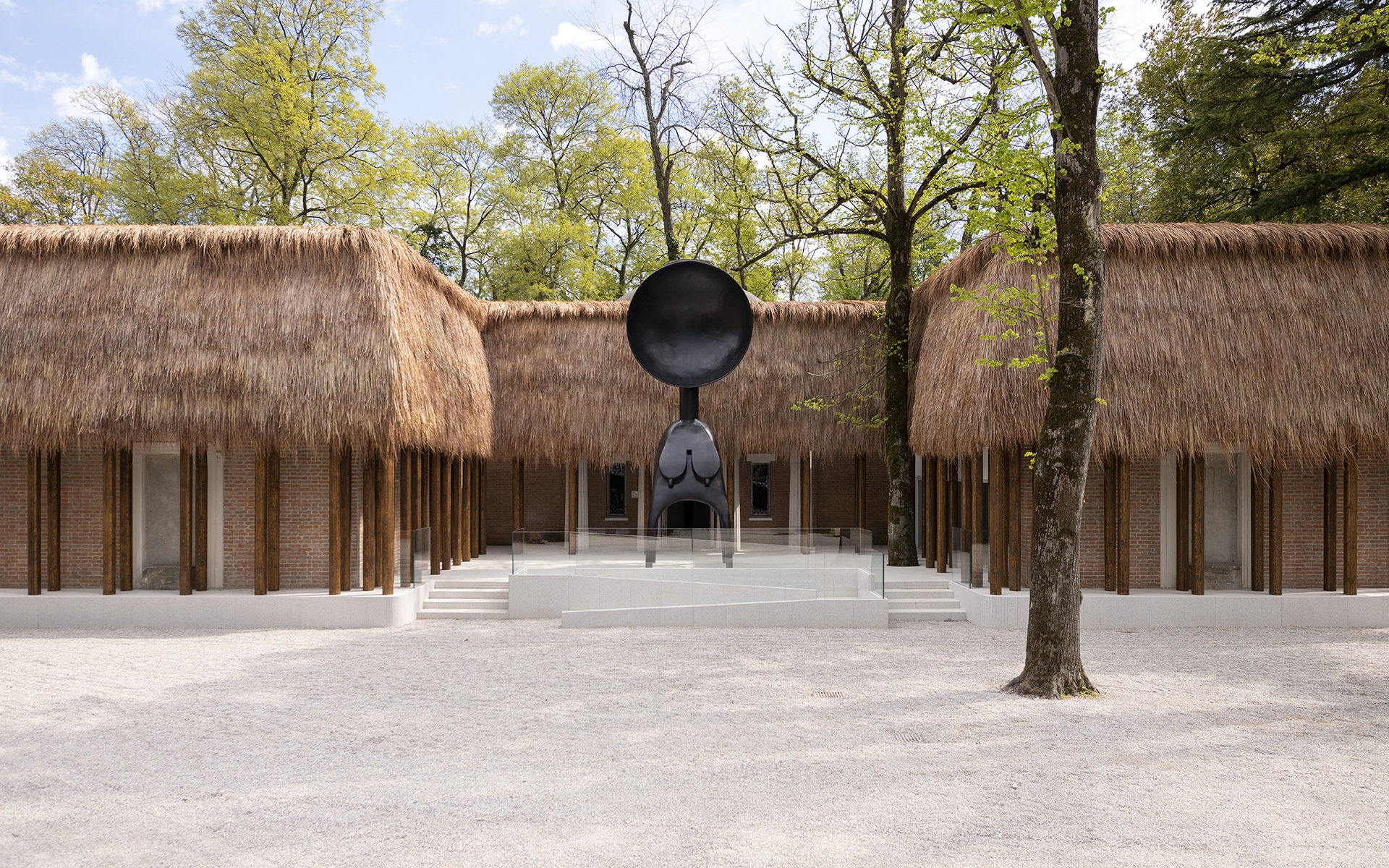 Off-site, fellow Ukrainian known only as Zinaida was showing a triptych of richly textured black and white films made deep in the Carpathian mountains where, adhering to centuries-old tradition, men take their sheep to pasture for several months in the summer. Though completed in 2019, the films, called Without Women, chimed neatly with the act of going away to war. Zinaida, who had come to Venice from Kyiv in February to scope out her appropriately unvarnished venue in Castello, has not been able to return home since.
Back in the Giardini, American artist Simone Leigh appeared primed to win a prize with her astonishingly polished pavilion and wardrobe of bespoke outfits from Irish fashion designer Simone Rocha. She has reconfigured the neo-classsical-ish U.S. pavilion into a colonial Caribbean house, with wooden pillars and a freshly thatched roof, and filled its interior with sleek bronze and ceramics sculptures of extraordinary scale critiquing Afro-American history. But it was for her presence in the Arsenale, where one part of curator Cecilia Alemani's main exhibition called The Milk of Dreams plays out that she won the Best Partipant prize. Here, standing supreme, is Leigh's 16-foot high bronze Brick House, a smiling female figure, with billowing skirts that form a shelter, and that you may even recognise from walks along the New York High Line, where another version was installed in 2019.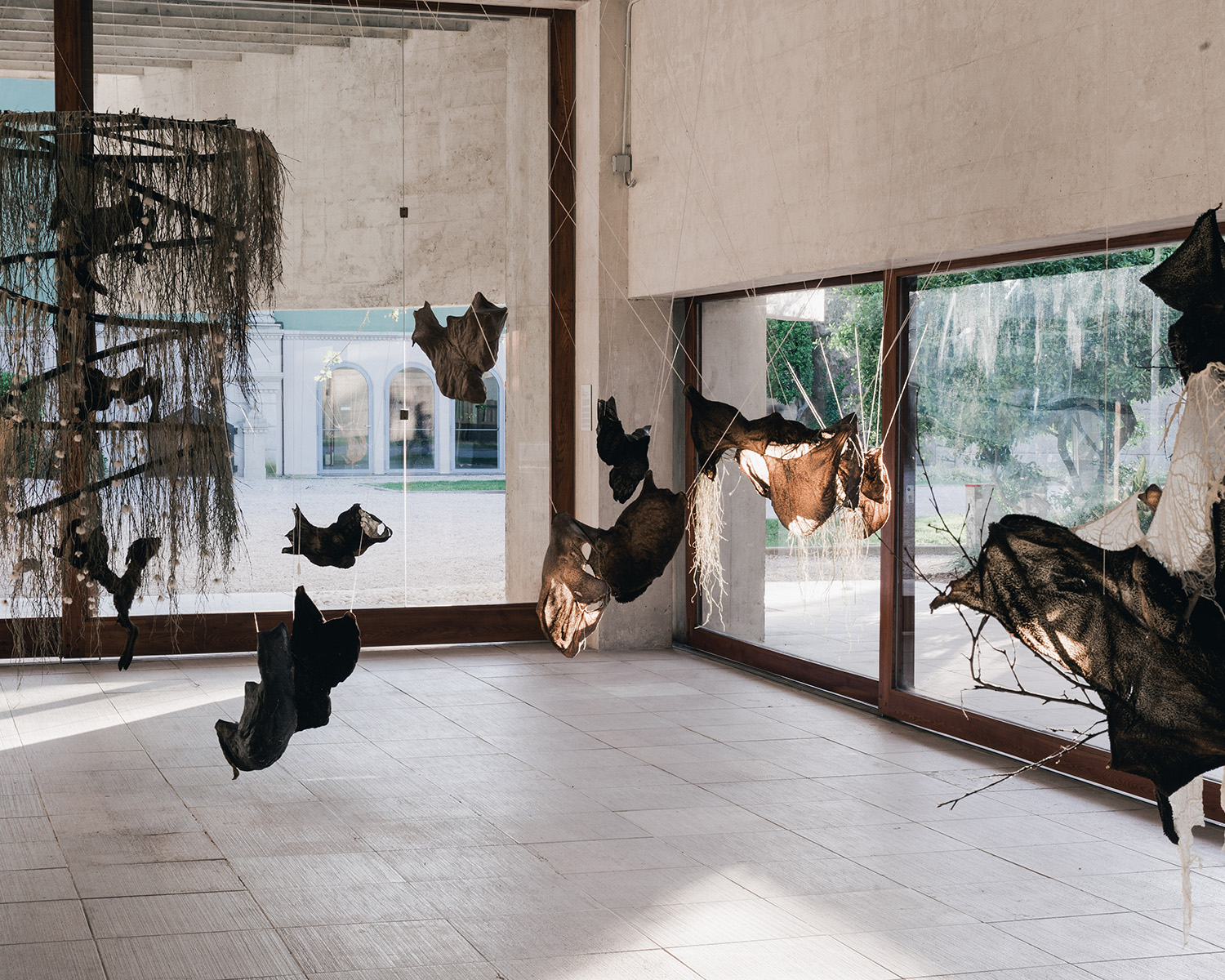 Boyce and Leigh's victories make this a landmark event for Black female artists. In fact, in the Biennale's 127 years, it's the first time they've won anything. But Cecilia Alemani has pushed proceedings firmly in this direction, with her emphasis on female practitioners (90 percent of her chosen 200 or so artists are women). Even the title, The Milk of Dreams, comes from the writings of Leonora Carrington, and Surrealism (which defined Carrington's own practice) looms large here, and elsewhere in the city this summer, including a dedicated show at the Venice Guggenheim, "Surrealism and Magic." It's surely no coincidence that a movement that grew out of the aftermath of World War I—with its emphasis on the unconscious mind; the super-reality of the landscape of dreams; the convolution of the human body; and the mythological being—should seem like a relevant filter for examining our current chaotic conditions. Oh, and that it was a movement that allowed women a lot of agency, too.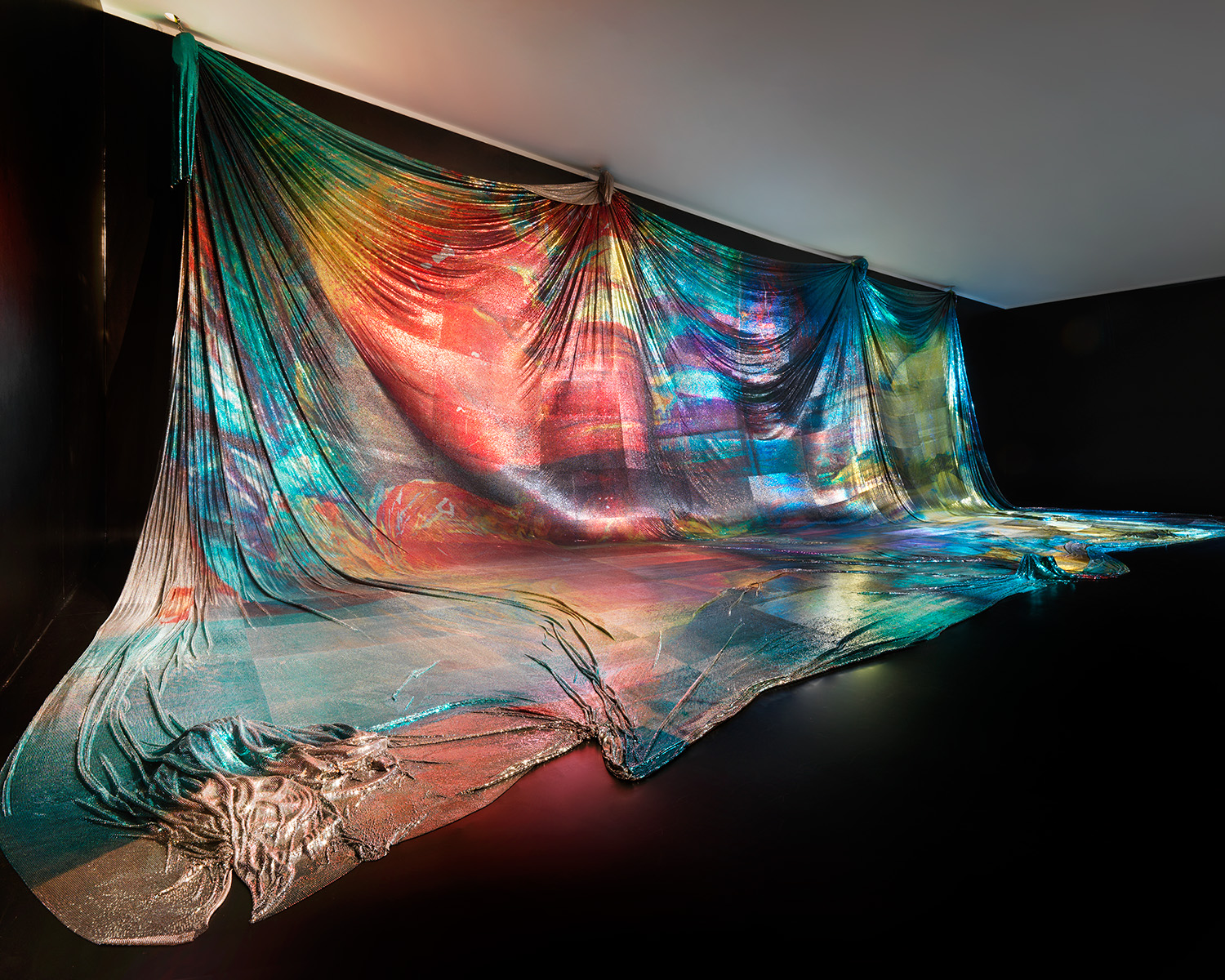 White male artists, hitherto the mainstays of these pavilions and halls, must be bewildered by their almost instantaneous exclusion, though on the opening day, veteran German maestro Anselm Kiefer was a conspicuous visiting presence. He couldn't take his eyes off a video, filmed by Sidsel Meiniche Hansen in a blow-up doll brothel, of an employee deep-cleaning and applying make-up to a recently used latex model. His own mega-show – a towering take on Venice–is staged in the Palazzo Ducale on St. Marks Square.
Highlights of the Giardini's main pavilion, then, include a stunning display of dangling Venetian detritus by Cecilia Vicuña; a hypnotic film by Nan Goldin, assembling affecting scenes from 30 of her favourite films; heroic tapestries by Rosemarie Trockel; and new works by the young breakout Zimbawean painter Kudzanai-Violet Hwani. In the Arsenale, a huge installation by Precious Okoyomon of paths winding through earthen beds of invasive Kudzu vines, overseen by chunky figures made of earth and straw, finishes off the show with a post-human bang. The plants are taking over.
Back in the national pavilions, there is joy to be had–at Hungary, for example, where Zsofia Keresztes' sculptures, clad in tiny mosaics in shades of tangerine, pale blue and lilac are replete with surrealistically inclined orifices and eyes. If Nikki de St Phalle had spent a month in Miami, she might have come up with the same.
In the Belgium pavilion, Francis Alys shows how children create exuberant games in the worst of situations. His latest film, number 29 of a years' long project, has children in Democratic Republic of Congo rolling inside a tyre down the world's biggest slag heap, Lubumbashi; a joy that can only be achieved by the exhausting activity of rolling the tyre up the hill first.
The Sami people are given a moment at the Nordic pavilion with sculptures made of Reindeer parts and films of relocated fisherman trying to ply their trade in new waters – a discourse on endangered lifestyles and environments. At Korea, artist Yunchul Kim dives into matters of life and the cosmos with sculptures made of transparent spiral tubes filled with seawater and huge knots composed of thousands of screws.
Meanwhile, in the Canadian pavilion, a peer of Sonia Boyce, the Canadian artist Stan Douglas, has staged an incisive show of huge manipulated photographs that tell the story of 2011's year of discontent. His scenes of rioting and misrule – in New York, Vancouver, London and Tunis – all emanate from the basic need of people to own the space they live in. A sister show, off-site in the beautiful waterside Maggazine del Sale (an old salt warehouse), tells a different story through film and music. An imaginary rap battle between Grime performers in London and rappers in Cairo is packed with energy and hope, and one of the highlights of Venice.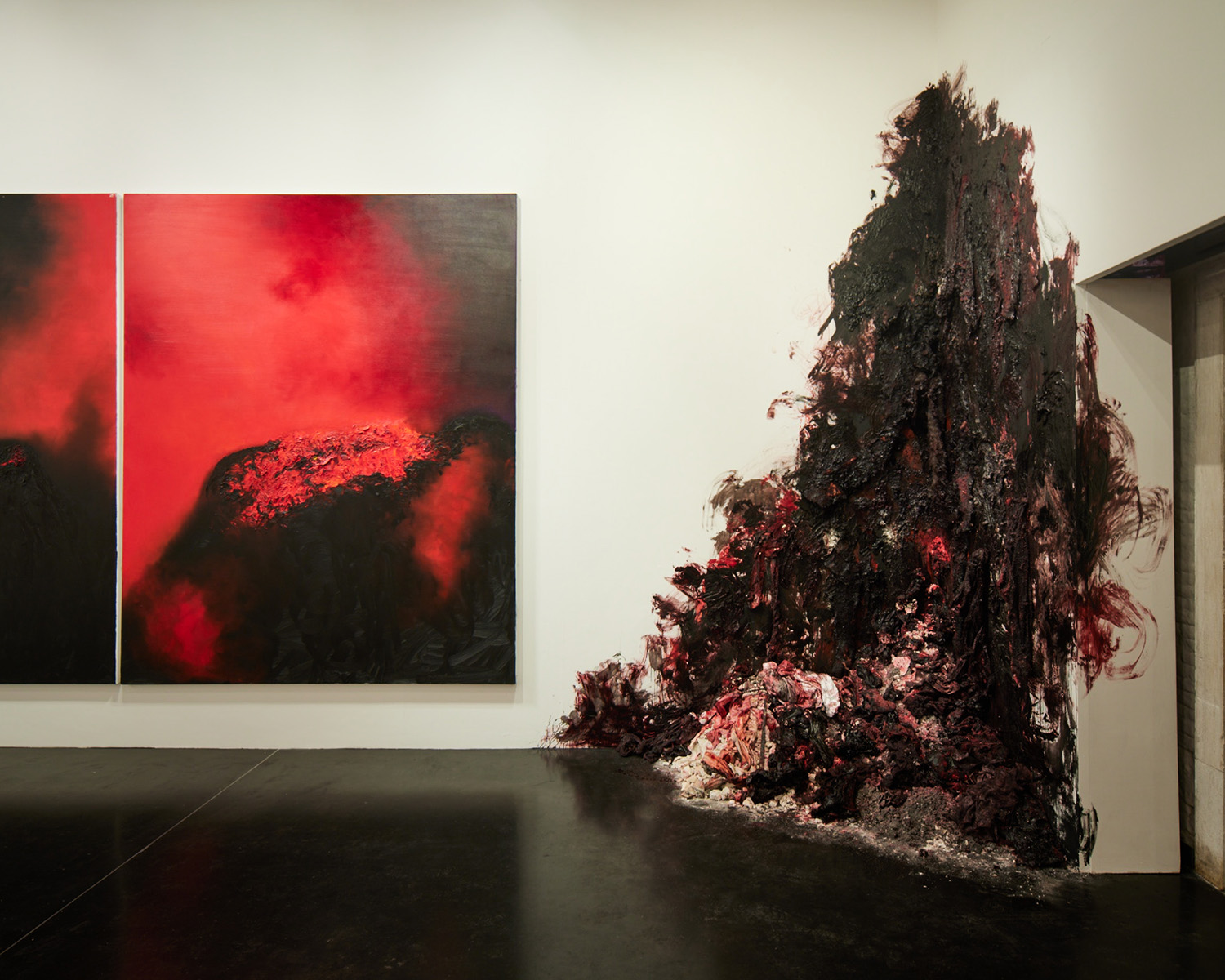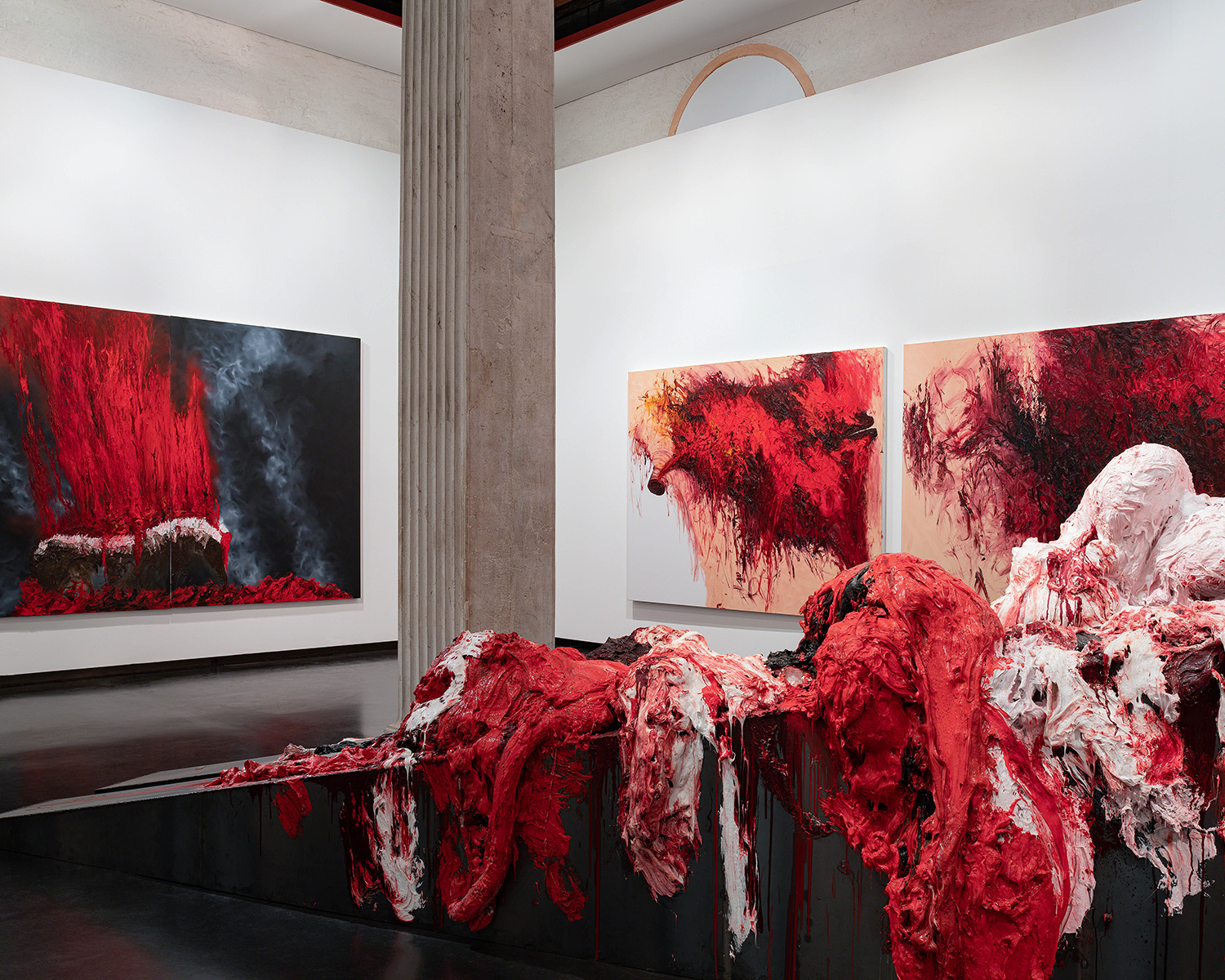 Elsewhere in Venice, at the Louis Vuitton space, above its store near St Marks Square, a new installation by Katharina Grosse brings the city's luminous, watery ambience into the gallery in a huge textile work that keeps its content close. Shimmering and mesmerising, colours and faint images appear and dissolve under changing lights. The artist – dressed head to toe in a discreet choice of Vuitton clothing – was given a glamourous lunch on a rarely used balcony of the Palazzo Ducale to celebrate. Later that day, Chanel also celebrated its extravagant art prize (100,000 euros each distributed to ten artists late last year) with a glitzy dinner that included Tilda Swinton, choreographer Wayne McGregor and architect Sir David Adjaye.
Anish Kapoor is staging his work across two sites. At the Galleria dell'Accademia entire rooms are filled with seething blobs of deep red silicone, while at the Palazzo Manfrin, which he recently acquired and plans to turn into a cultural centre of sorts with the help of artchitect David Chipperfield, the sublime delight of a huge steel tank of glistening red liquid is quickly forgotten amid the bombast of subsequent displays including huge genital paintings, and more piles of red resin chunks. It's all a bit Hermann Nitsch, and it turns out the gory Austrian action painter has his own show over on the Giudecca where walls are hung with bloodied red canvasses and Nitsch's own red-spattered shirts. The artist died just days before the opening, but in true macabre Nitsch style, the celebratory dinner went ahead as planned.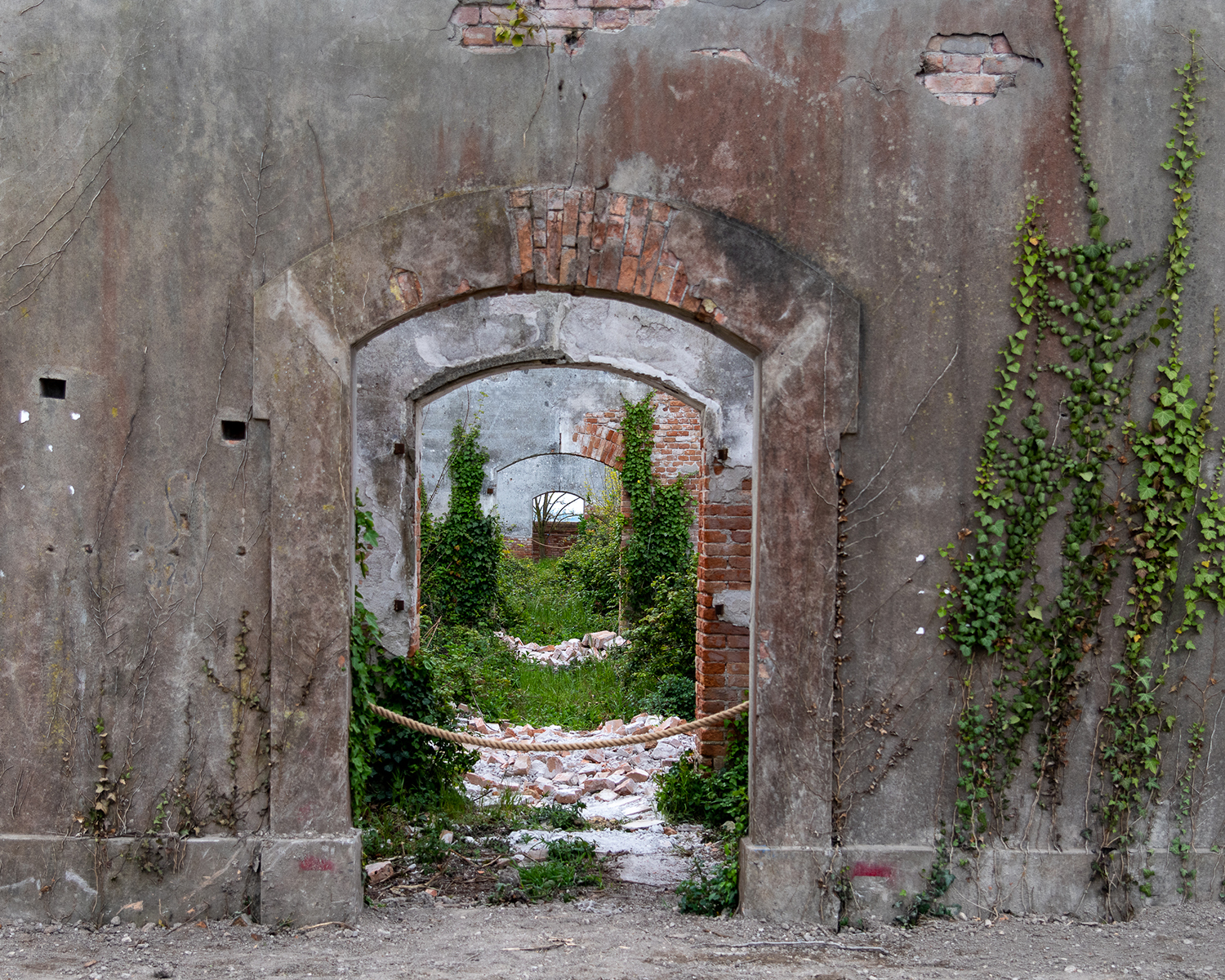 As Venice becomes increasingly a center for contemporary art, even outside the Biennale, the Torinese collector and founder of her own highly credible cultural foundation, Patrizia Re Rebaudengo, is adding to the mix with the acquisition of a small island, San Giacomo, about 30 minute by boat from the Giardini. Once a monastery, then a garrison, and later a vegetable garden, the island has been unoccupied for 60 years, and Re Rebaundego decided to invite a group of guests (including Maja Hoffman, artist Precious Okonomon, Tate Modern's Francis Morris and architect Lord Norman Foster) to take a look at the island in its "before" state.
Within the next three years, she is planning on turning it into a site for both artistic and ecological activities. A radical work for human voice by Jota Mombaca–a melange of incantation and a medley of languages–filled the air from four performers dotted throughout the audience. It felt the closest thing to a happening since the 1970s, and it felt hopeful. Venice is fast becoming a city of uber-luxe retreats. (Indeed, a fancy new Langham hotel is opening soon in Murano.) It needs art like this.
La Biennale di Venezia runs through November 27, 2022.
Next Post