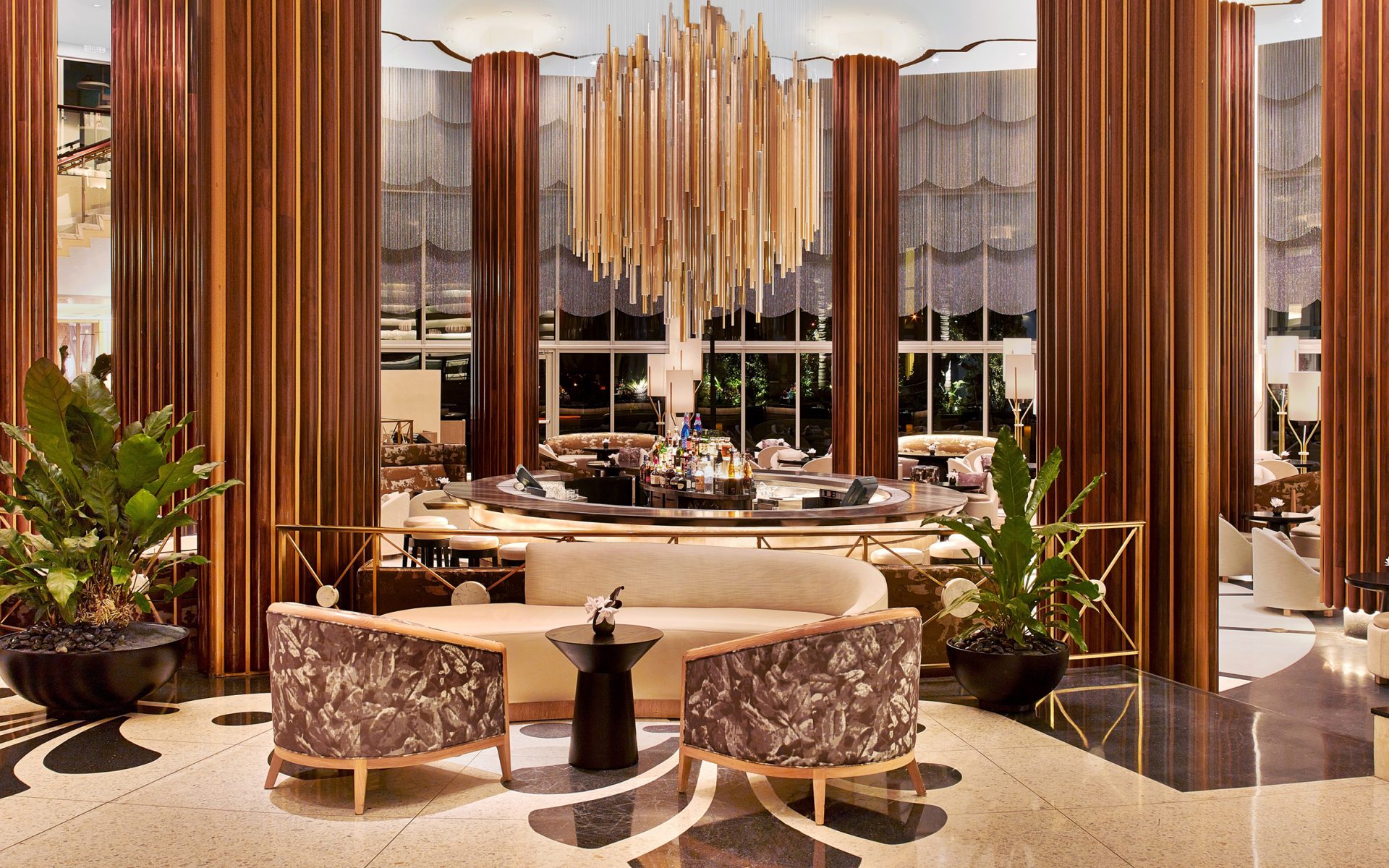 13 of the World's Most Beautiful Midcentury-Modern Hotels
From Paris to Palm Springs, these dazzling getaways prove the retro aesthetic is still in style
The 20th century was an extraordinary time for design, with groundbreaking styles constantly sprouting up. One of the most popular was the midcentury-modern movement, the American interpretation of its European counterparts, the Bauhaus and the International Style. As the "midcentury" period spanned quite a few decades—the '30s to the '60s, or even the early '70s—there are a range of looks associated with the style. Today, the aesthetic has seen a resurgence, with designers riffing on retro looks for their contemporary works. Here, we spotlight 13 hotels that employ the era's different design elements, from the desert modernism of Palm Springs to a surf-chic look in Hawaii to Scandinavian-inspired aesthetics in Paris.
The Watergate Hotel, Washington, D.C.
Perhaps one of the most iconic hotels in U.S. history, the infamous Watergate Hotel is a bastion of midcentury-modern design. Having finished a ten-year, $125 million renovation by Ron Arad in 2016, the property has embraced its '60s-chic roots, even down to its staff uniforms, which were created by Mad Men costume designer Janie Bryant.
The Durham, Durham, North Carolina
Los Angeles–based firm Commune designed the interiors of this 53-room hotel, using geometric patterns and a palette of primary colors to channel the midcentury aesthetic in both the lobby and the rooms. The building was constructed in the 1960s, originally housing a bank—the hotel was opened in 2015.
Hotel Valley Ho, Scottsdale, Arizona
When Scottsdale became one of the go-to getaways for Hollywood's elite, it was the Hotel Valley Ho that welcomed them. The 1956 haunt was designed by Edward L. Varney, a student of architect Frank Lloyd Wright, and many of its original elements remain today. See if you can book a tour of the property with Ace Bailey, hotel concierge and an expert in Scottsdale's art and design legacy.
Hotel Henriette Rive Gauche, Paris
Though not a true midcentury hotel per se—it was built in the 1980s—the 32-room Hotel Henriette Rive Gauche has been remodeled by its owner, former fashion editor Vanessa Scoffier, who used Scandinavian midcentury elements to decorate the space. Scoffier scoured markets for more than a year to find the perfect vintage pieces for her hotel.
Monkey Tree, Palm Springs, California
Architect Albert Frey, the king of desert modernism, designed this historic hotel in 1960. Like Scottsdale, Palm Springs was a celebrity hotbed, and legends like Lucille Ball, Marilyn Monroe, and Gene Wilder chose Monkey Tree for accommodations. The hotel's current owners, who bought the property in 2015, have left many of the original design elements untouched, including wallpaper, tilework, and bathroom fixtures.
11 Howard, New York
In 2016, a former post office was transformed into one of the chicest hotels in Manhattan's SoHo neighborhood. Danish firm Space Copenhagen tackled the interiors as its first U.S. project, designing custom, handmade furniture and lighting fixtures to fill the rooms. Here you'll find a midcentury modernism based on Scandinavian minimalism with clean lines, simple blocks of color, and natural materials.
Jupiter Hotel, Portland, Oregon
Set in a former motor lodge, the Jupiter Hotel on Portland's east side stays true to its origins, with '50s-inspired furniture in its rooms, and a on-site restaurant and lounge, Douglas Fir, that displays a woodsy take on midcentury modern. The hotel is also home to a gallery space in its lobby that showcases emerging artists.
Roomers Munich, Munich
This new hotel focuses on the sultrier side of midcentury-modern design by Amsterdam-based studio Concrete, with a darker palette that includes all-black bathrooms and hallways; plenty of brass, glass, and mirrors; and luscious textures that range from velvet to leather. For a '60s-style club experience, visit the Hidden Room, an all-red secret lounge with geometric lighting.
Eden Roc, Miami
Though Miami might be best known for its Art Deco heritage, its many hotels, including the Eden Roc, also take on a Miami-flavored midcentury glamour. Built by Morris Lapidus—who not only designed the neighboring Fontainebleau, but also South Beach's Lincoln Road—the hotel is known for its lobby bar, which was recently updated by David Rockwell.
L'Horizon Resort & Spa, Palm Springs, California
Yes, there are two Palm Springs hotels on this list, which is perfectly fitting, as the city is the midcentury capital of the U.S. The L'Horizon was built by architect William F. Cody, a champion of the Palm Springs's modern style, in 1952. When the property went up for sale, interior designer Steve Hermann purchased it, giving it a complete refurbishment finished in 2015.
Henrietta Hotel, London
Not to be confused with Paris's Hotel Henriette, this fun London boutique hotel is owned by the four Parisian gentleman of the Experimental Cocktail Club fame. The group tapped frequent collaborator Dorothée Meilichzon to design the interiors, which blend all sorts of design elements, from '70s-style furniture to Art Deco headboards.
The Robey, Chicago
Housed in former office building constructed in 1929, the Robey has an Art Deco exterior and a midcentury interior, the latter of which made its debut when the hotel opened in 2017. Both the rooms and the public spaces are adored with retro furniture—like the reproduced Dunbar sofa in lobby—and a midcentury look inspired by the works of painter Edward Hopper.
The Surfjack Hotel & Swim Club, Waikiki, Hawaii
For a surf-inspired version of the midcentury-modern movement, head to the Surfjack in Waikiki. The building was constructed in 1961 for the Hokele Suites, a project by Hawaii architect and hotelier Roy Kelley, but the Surfjack itself opened in 2016. You'll find reed ceilings, koa-wood furniture, and vintage postcards here that all nod to Hawaii's retro surf scene.
Next Post