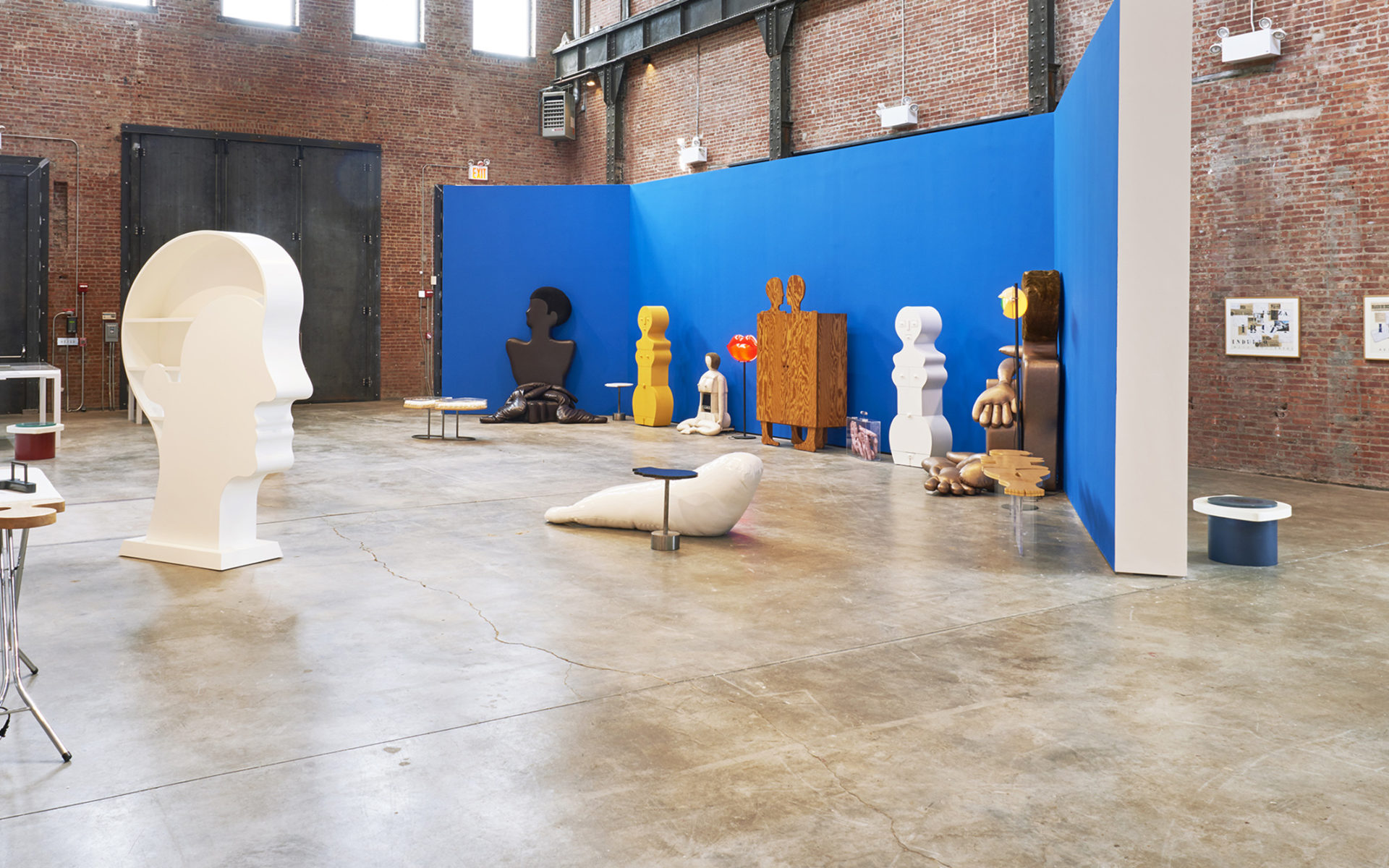 11 Must-See Fall Art Exhibitions in New York City
From the Met's blockbuster Rodin show to a thought-provoking display of Chinese art at the Guggenheim, there's plenty to satisfy art lovers this season
The Met Breuer
"Delirious: Art at the Limits of Reason"
Through January 14, 2018
Embracing irrationality, the premise of this exhibition is that delirious times demand delirious art. Between 1950 and 1980, artists responded to social and political unrest around the world by incorporating absurdity, disorder, nonsense, and repetition into their work. These artists are said to destabilize space and perception, give form to extreme mental, emotional, and physical states, and derange otherwise logical structures and techniques. On display you'll find 100 of such works by 62 different artists, including favorites like Yayoi Kusama, Sol LeWitt, and Robert Smithson. 945 Madison Avenue; metmuseum.org.
MoMA
"Items: Is Fashion Modern?" 
Through January 28, 2018
This sartorial extravaganza explores the present, past, and future of 111 items of clothing and accessories that have had a significant impact on the world over the past 200 years. Relationships between fashion and functionality, culture, aesthetics, politics, labor, identity, economy, and technology are all explored. Expect to see the contemporary (think Levi's 501s, the Breton shirt, and the Little Black Dress) plus pieces as ancient and culturally charged as the sari, the pearl necklace, the kippah, and the keffiyeh. 11 W 53rd Street; moma.org. 
Japan Society
"Hiroshi Sugimoto: Gates of Paradise"
October 20, 2017–January 7, 2018
Commemorating one of the earliest documented moments of cross-cultural exchange between Japan and the West, this exhibition will unveil a new series by revered photographer Hiroshi Sugimoto while also juxtaposing his monumental black-and-white photographs of early modern European art and architecture with traditional Japanese artworks. Together, this display will capture the story of four boys, who, in the late 16th century were among the first Japanese to travel to Europe. 333 E 47th Street; japansociety.org.
The Metropolitan Museum of Art
"Rodin at the Met"
Through January 15, 2018
To mark the centenary of Rodin's death, the Met will celebrate its collection of the artist's work, from his iconic sculptures including The Thinker and The Hand of God, as well many others which have not been on view for decades, such as The Tempest. Paintings by Rodin's contemporaries will also be presented in dialogue with the artist's sculptures. 1000 5th Avenue; metmuseum.org.  
SculptureCenter
"Nicola L.: Works, 1968 to the Present"
Through December 18, 2017
Nicola L.'s first institutional survey, this exhibition will include an array of her interdisciplinary works, from "functional art" to paintings, collages, and films. Her works are nonetheless thematically linked, maintaining certain threads and motifs, returning to images, objects, and ideas and reinvesting them with new meaning. 44-19 Purves Street, Long Island City, Queens; sculpture-center.org. 
The New Museum
"Trigger: Gender as a Tool and a Weapon"
Through January 21, 2018
Representing no single point of view, and in some cases contradictory positions, "Trigger" assembles a diverse group of artists (from rising L.A photographer Paul Mpagi Sepuya to breakout Connecticut star Tschabalala Self) for their shared desire to contest repressive orders and to create new aesthetics—beyond the binary. The exhibition also includes a number of newly commissioned works that explore gender beyond the binary to usher in more fluid and inclusive expressions of identity. 235 Bowery; newmuseum.org. 
The Guggenheim Museum
"Art and China after 1989: Theater of the World"
October 6, 2017–January 7, 2018
Showcasing a transformative period of modern Chinese and world history, "Art and China after 1989" presents a survey of radically experimental (and sometimes controversial) art. The  exhibition seeks to reposition art history in a way that sees China as integral to the emergence of the global contemporary scene. Expect works by major figures like Chen Zhen, Song Dong, Yin Xiuzhen, Hong Ping, and Ai Weiwei. The catalogue also features interpretive analysis by scholars such as Katherine Grube and Lu Mingjun. 1071 5th Avenue; guggenheim.org.
MoMA PS1
"Carolee Schneeman: Kinetic Painting"
October 22, 2017–March 11, 2018
In the first comprehensive retrospective of Schneemann's work in the United States, this exhibition investigates the social construction of the female body and the sexual and cultural biases implicit in traditional art narratives. Schneemann's provocative pieces foreground her body in ways that challenge prevailing attitudes about female sexuality. 22-25 Jackson Avenue, Long Island City, Queens; moma.org. 
Neue Galerie
"Wiener Werkstätte, 1903–1932: The Luxury of Beauty"
October 26, 2017–January 29, 2018
This exhibition will showcase the entirety of the work produced by Wiener Werkstätte, the legendary Vienna Secessionist company founded in 1903, including ceramics, drawings, fashion, furniture, glass, graphic design, jewelry, metalwork, textiles, and wallpaper. It will cover all the significant artists who were members, such as Hoffmann, Moser, and Peche, as well as less well-known designers such as Gudrun Baudisch, Carl Otto Czeschka, Berthold Löffler, Arnold Nechansky, Michael Powolny, Felix Rix-Ueno, Max Snischek, Vally Wieselthier, Eduard Josef Wimmer-Wisgrill, and Ugo Zovetti. Don't forget to stop by the Cafe Sabarsky for an Austrian-themed afternoon tea afterwards. 1048 5th Avenue; neuegalerie.org. 
The Museum of the City of New York
"Art in the Open: 50 Years of Public Art in New York"
November 10–December 31, 2017
Public art prior to the 1960s was limited mainly to war memorials and civic-minded murals. But in the years since then, bolder artistic visions have been embraced in the public realm, leaving space for hundreds of innovative works, both permanent and temporary. The exhibition features renderings, models, photographs, and video footage tracing the creation of some of New York's most loved public artworks from the last 5 decades by such artists as Red Grooms, Christo and Jeanne-Claude, and Kara Walker. 1220 5th Avenue; mcny.org. 
The Jewish Museum
"Modigliani Unmasked"
Through February 4, 2018
Produced in the artistic melting pot of early 20th-century Paris, Modigliani's evocative artworks cannot be understood without recognizing the intense social realities of the day. Such is the goal of "Modigliani Unmasked," a stirring new exhibit at the Jewish Museum that showcases approximately 150 of Modigliani's early-career drawings, paintings, and sculptures. The works are complemented by objects from various cultures that inspired him—from Africa to Greece. 1109 5th Avenue & 92nd Street. thejewishmuseum.org.
Next Post