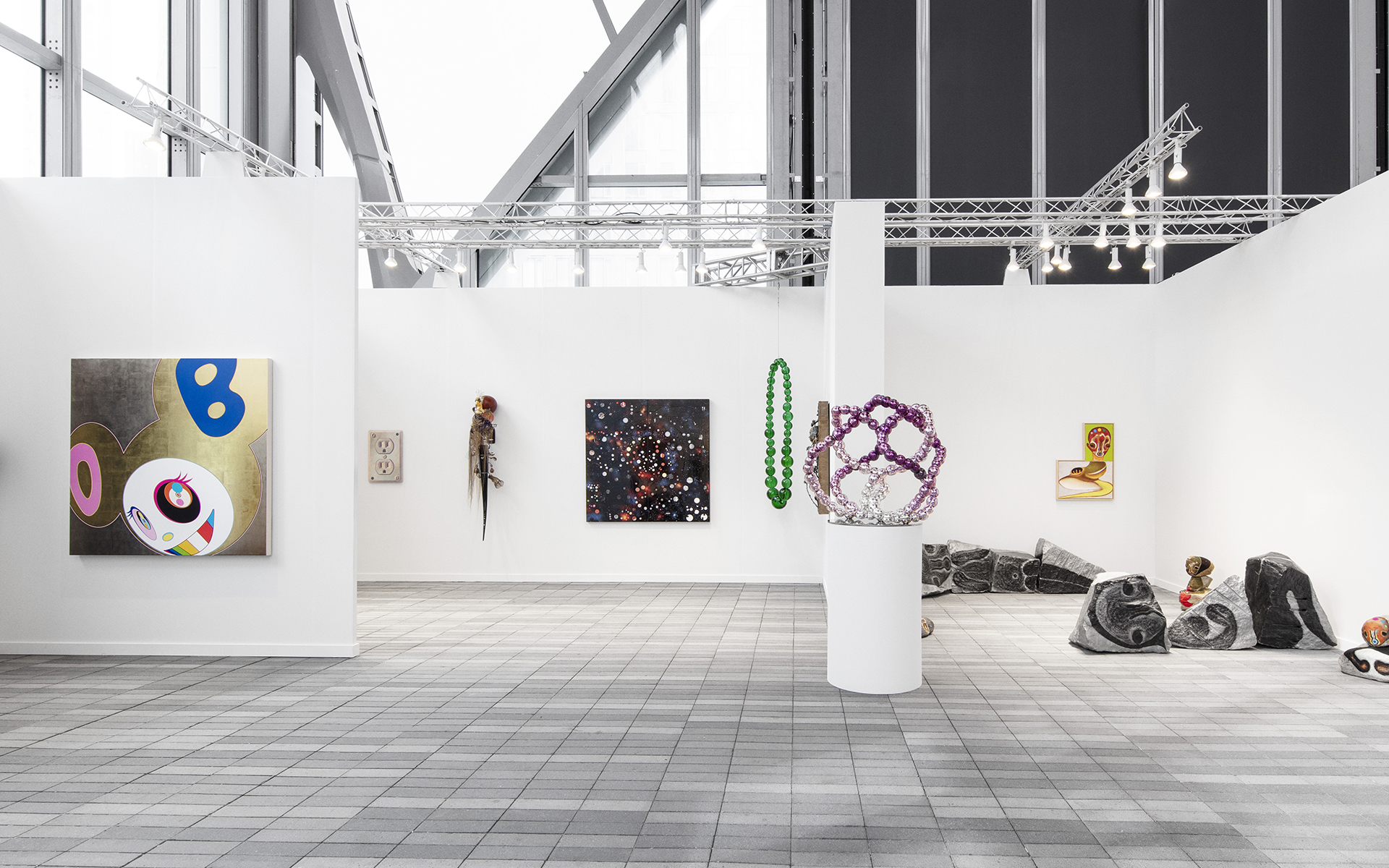 11 Art World Luminaries Share Their Top Picks from Frieze New York 2023
We asked Future Perfect's David Alhadeff, Whitney curator Rujeko Hockley, collector Komal Shah, and Performa founder RoseLee Goldberg what caught their eye on the opening day
The 11th edition of Frieze New York kicked off at The Shed in Hudson Yards this week with 68 galleries from around the world setting up shop inside the striking Diller Scofidio + Renfro-designed building. On Wednesday morning, throngs of collectors and VIPs formed a long queue outside the space, eagerly hoping to get a first look at the offerings. Busier than ever, the fair inside was abuzz with energy as New Yorkers entered their second stretch of art and design fairs (TEFAF, Independent, and Future Fair all took place within the previous seven days, extending what was once New York's May art week into what feels like the entire month).
So how did Frieze New York 2023 set itself apart? Firstly, thanks to its location inside The Shed, which it has occupied since 2021, many exhibitors took the chance to form a dialogue with the city at large, presenting works that had simultaneous exhibitions around Manhattan.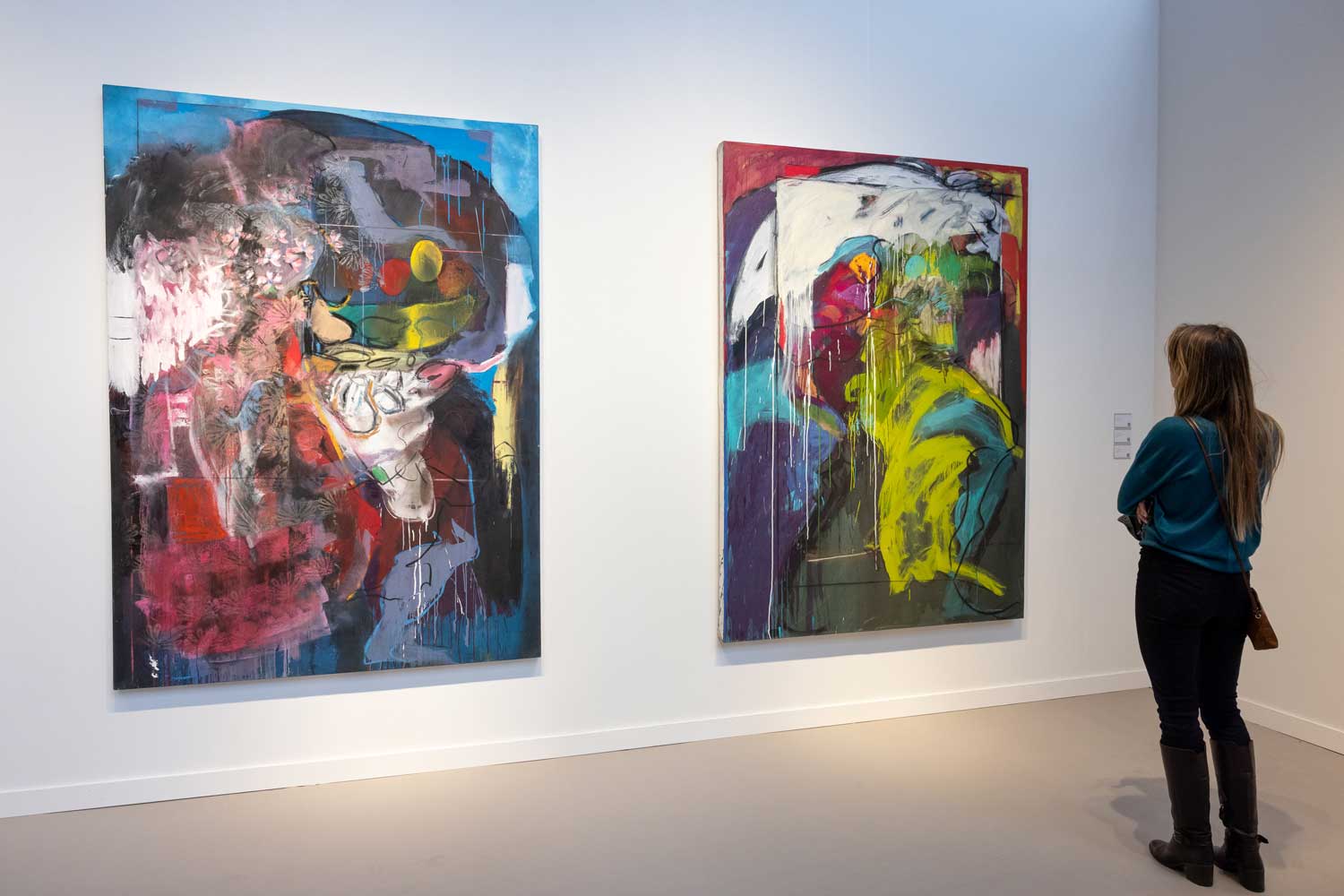 Take, for example, the bicoastal gallerist David Kordansky, who presented a dazzling solo booth by L.A. artist Lauren Halsey, who also transformed the rooftop of the Metropolitan Museum of Art. Or Sprüth Magers and Karma International's joint presentation of Pamela Rosenkranz's work, which coincides with her recent commission on the nearby High Line Plinth. Overall, there were a mix of exciting new discoveries by emerging artists (some standouts include Emma Prempeh at Tiwani Gallery and Rose Salane's installation at Chapter NY and Carlos/Ishikawa) as well as deep dives into more historical artists like Carlos Villa, whose work was on view at Silverlens.
"Frieze New York is an international destination,"  says Christine Messineo, who was appointed director of Frieze Los Angeles and Frieze New York in November 2021. "This year, the solo presentations at the fair really stand out with work by Jack Whitten (Hauser & Wirth), Nan Goldin (Gagosian), and Mary Lovelace O'Neal (Jenkins Johnson) all a real draw for our visitors on the opening day. The Focus section, for younger galleries, has also proved itself to be a major attraction, with artists such as Mónica Giron (Barro), Sam Lipp (Derosia), and Julia Yerger (Chateau Shatto). I also want to give a special mention to the Artist Plate Project to benefit the Coalition for the Homeless, who saw extraordinary lines on our opening day, with each plate sold feeding 100 hungry people. Their mission could not be more urgent."
With the who's who of the art world spotted wandering the aisles on the opening day, we asked some of the nation's leading curators, museum directors, and collectors to share what caught their eye and why it impressed them so. Explore the standout works below.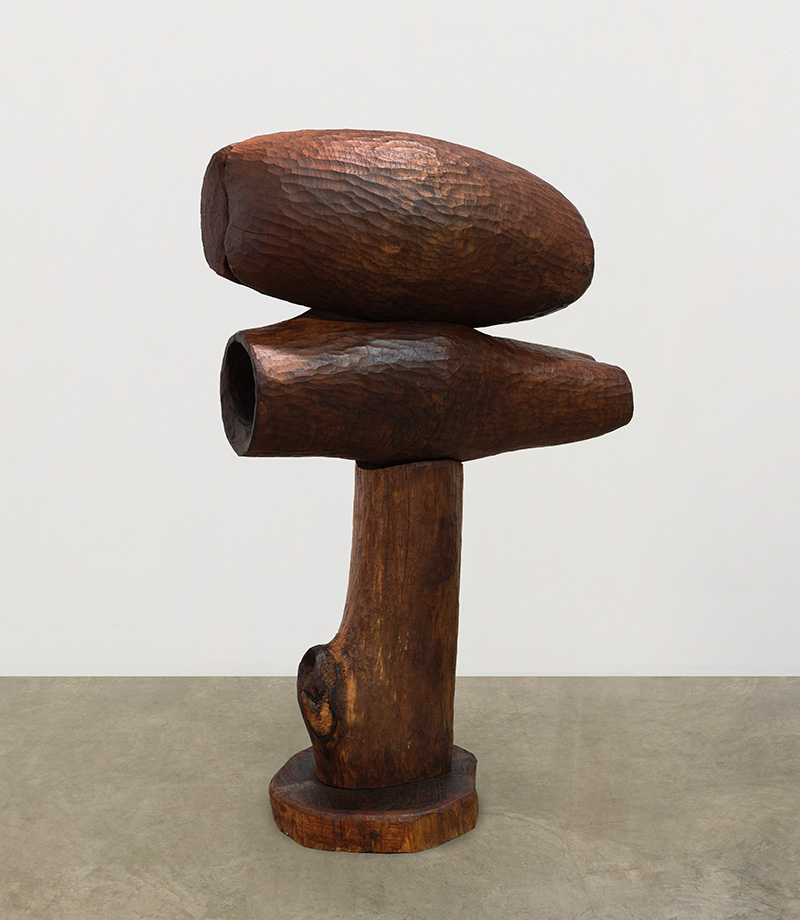 1. Thaddeus Mosley at Karma
"It's a thrill to see Thaddeus Mosley's work at Frieze! I have been thinking about him and his deeply affecting sculptures a lot lately; I will be showing one at the Whitney Museum this summer, in an exhibition called 'Inheritance.' Mosley's work strikes a chord—abstract forms emerging from organic materials, hewn by hand, that feel as fresh, dynamic, and contemporary as anything. In his ninth decade of life, with a career that started in the 1950s, he is still making new work and now receiving the recognition that his visionary practice deserves." —Rujeko Hockley, Arnhold Associate Curator, Whitney Museum of American Art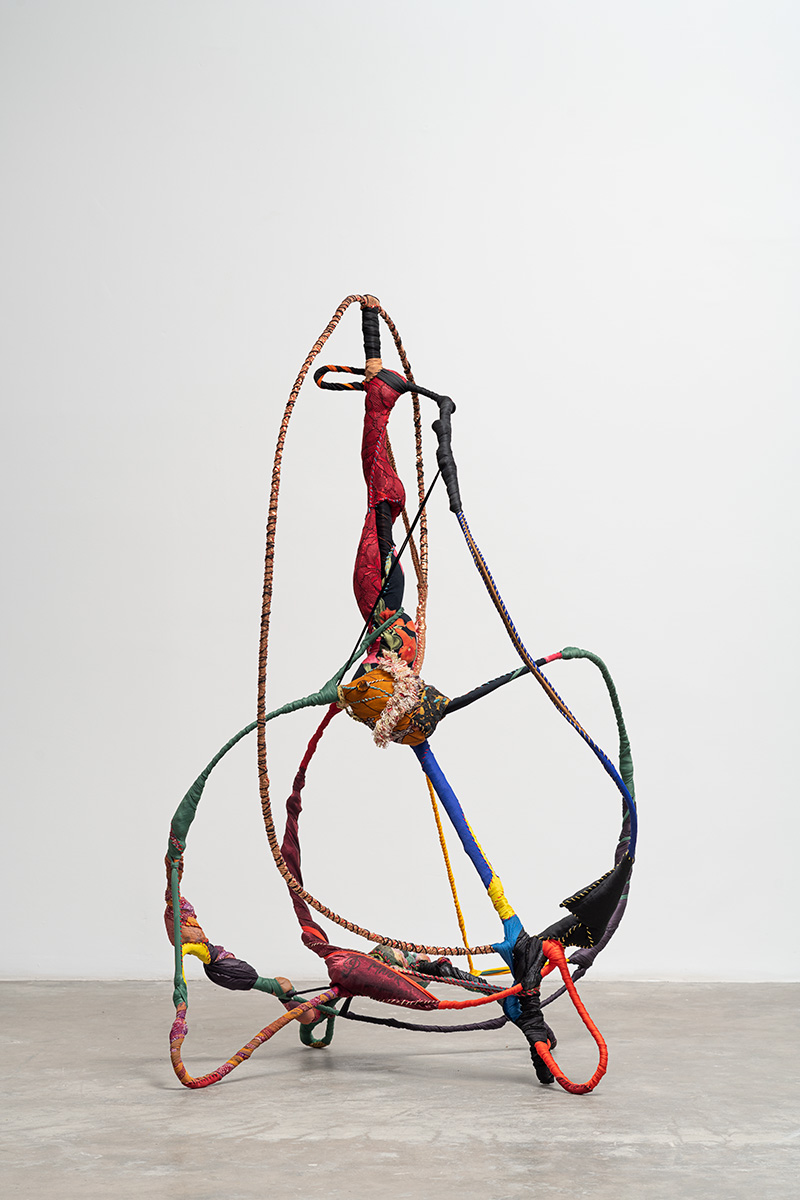 2.  Sonia Gomes at

Mendes

Wood 
"I was completely bowled over by the work Sol maior by Sonia Gomes at Mendes Wood DM's Frieze New York booth. During her career, spanning 40 years, Sonia Gomes has twisted steel structures with the movement of her body and filled them with fabric, whose surfaces she has stretched and stitched from textiles gifted to her. This work, in particular, feels like a feminist/female response to the Vitruvian Man by Leonardo da Vinci. Sol Maior is an masterclass of strength that begins without an end in mind—it follows the sculptor's non-linear thought, gradually revealing possibilities until then unknown, or as she called it 'the image's radical abstraction.'" —Komal Shah, collector and philanthropist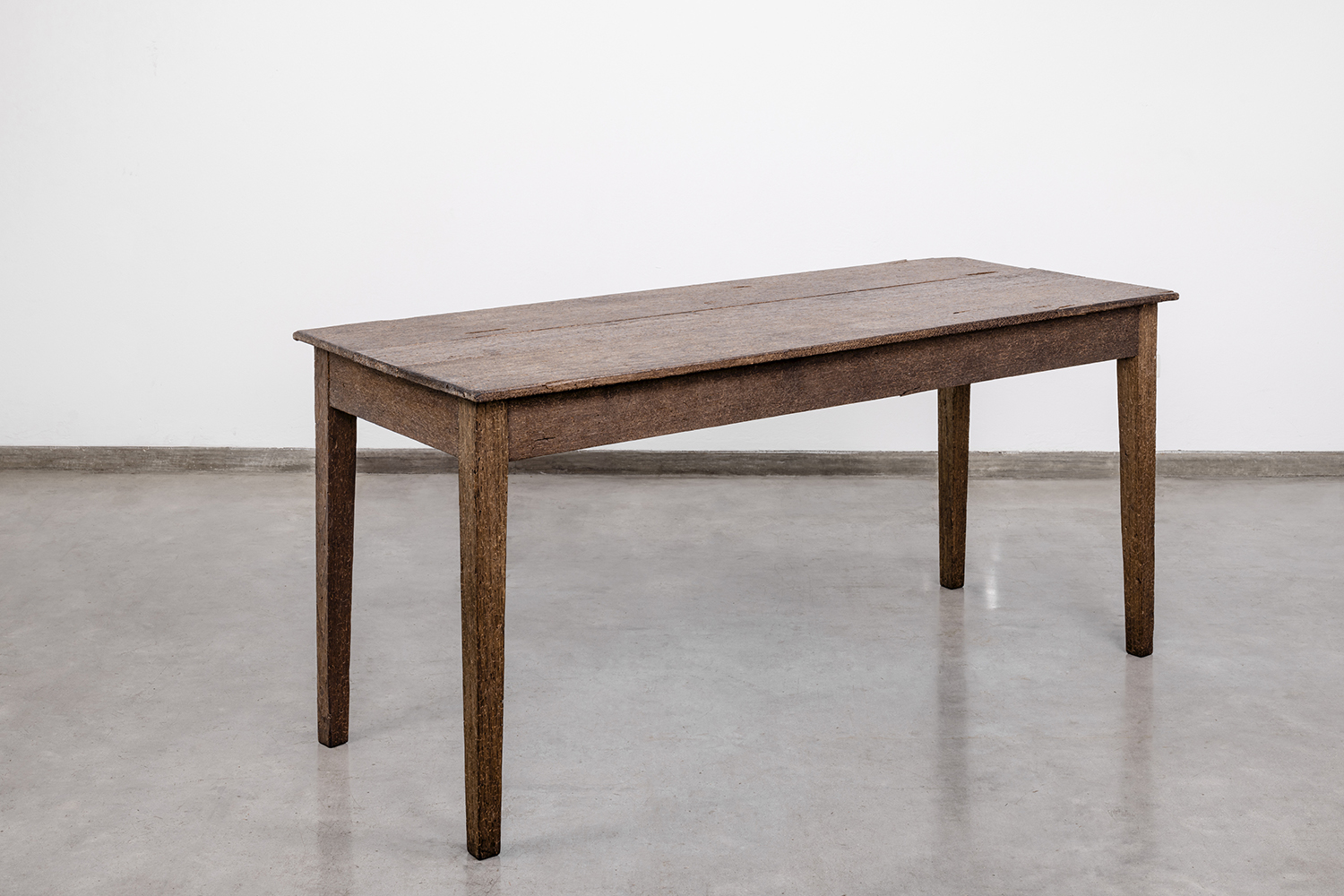 3. Doris Salcedo at White Cube
"When I first passed Tabula Rasa IX by Doris Salcedo at the White Cube booth, I had to do a double-take. What looks like a well-worn antique table is actually composed out of thousands of shards, blown up in a confined space and then meticulously reconstructed into its original form over the course of several years. Before learning more about the piece and the way it contains Salcedo's personal narrative, what it stirred in me were larger ideas about grief and memory—things I have been thinking about in coming to terms with my father's dementia, seeing the mind of someone I love becoming fragmented until it is no longer recognizable. Great art often does this; while you may not directly relate to its original conceptual underpinnings, it functions in an empathetic mode, allowing you to access its emotional wavelengths by tuning into your own experience." —David Alhadeff, founder, the Future Perfect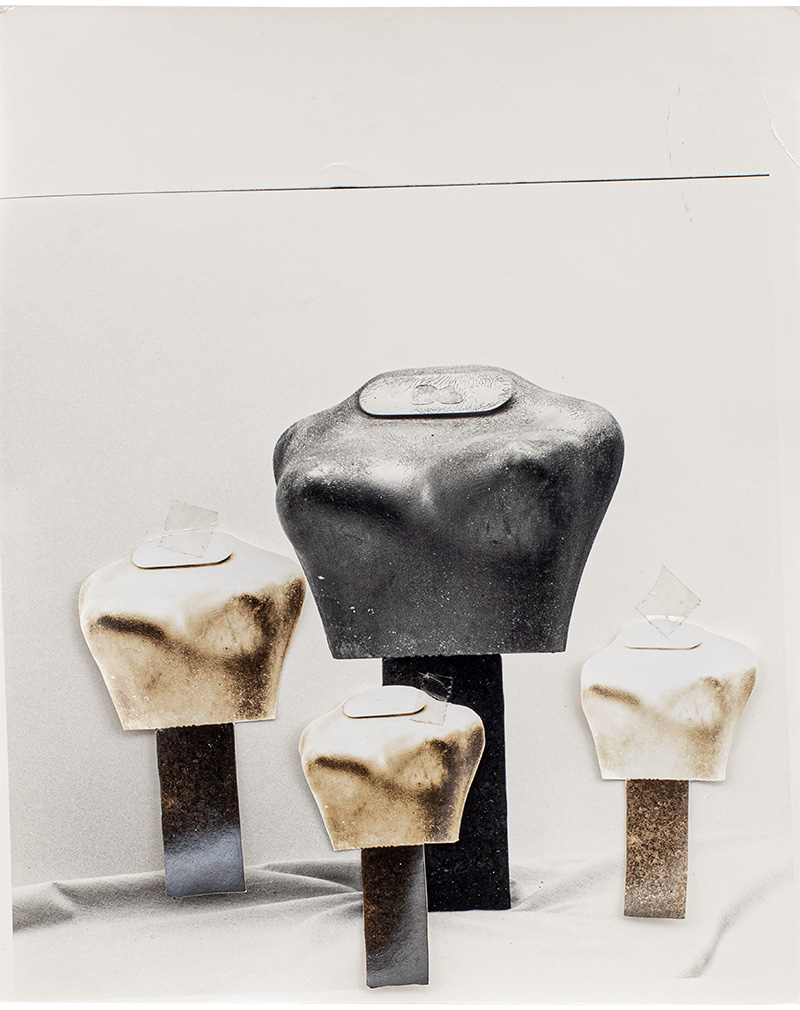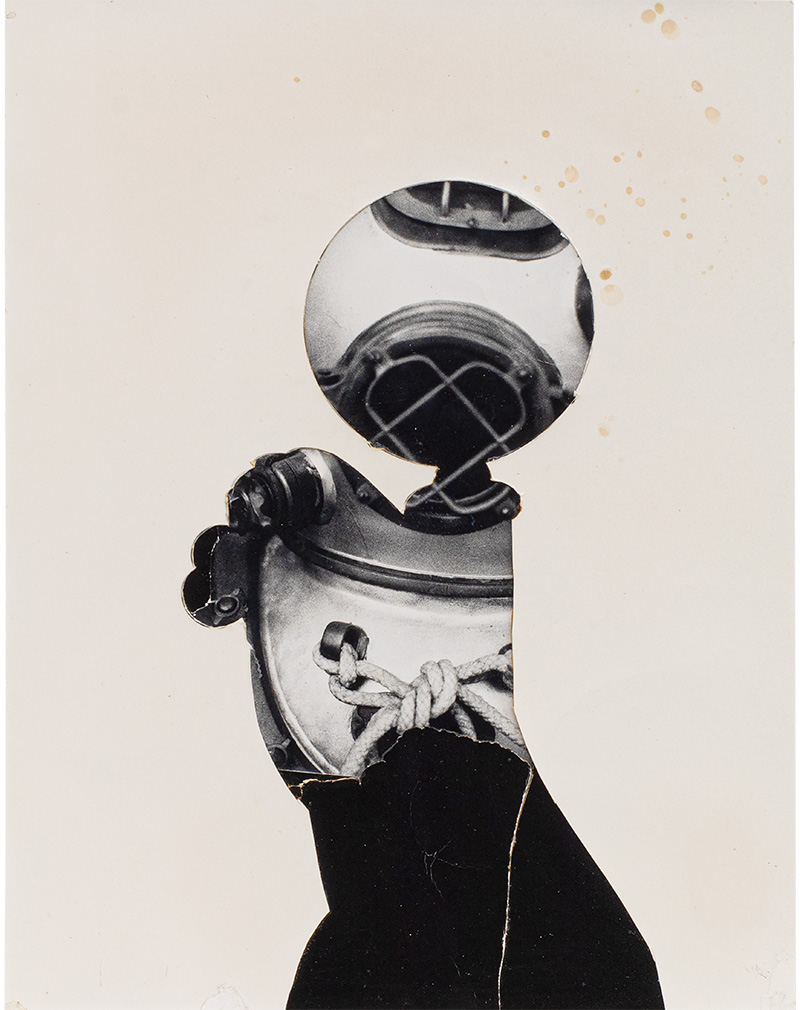 4. Jay DeFeo at Michael Rosenfeld Gallery
"Every time I see a Jay DeFeo work it stops me in my tracks, and this small photo collage had me entranced. In this one work the histories vocabularies of sculpture and photography collapse in a perfect union of scale, matter, materiality, and form. It makes me think of bodies, of displays, of monuments. DeFeo is an artist who performs alchemy with the everyday." —Lisa Le Feuvre, Executive Director, Holt/Smithson Foundation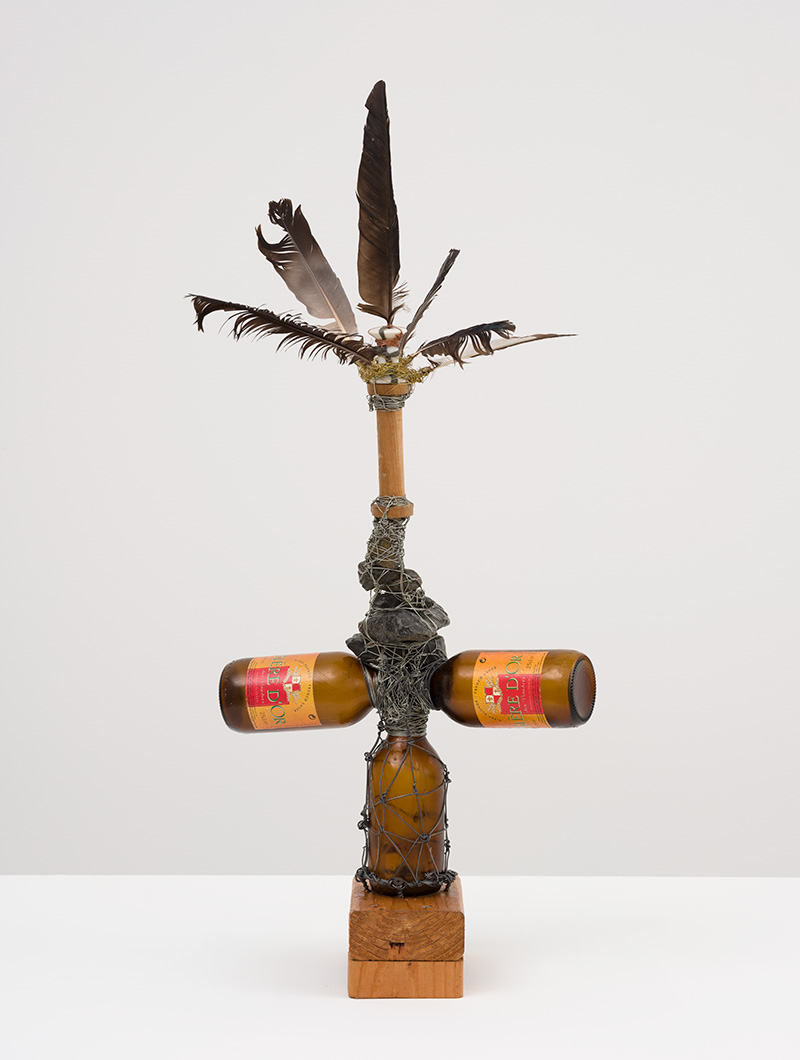 5. Arthur Simms at Karma
"I am always excited to see work by the innovative artist Arthur Simms, and Brown Light in Dublin, a 2008 sculpture on view at Karma, is no exception. The totemic, stacked work is made of multiple materials including feathers, bottles, and cloth. Simms has been working with found materials to great effect for many years, and his diligent, methodical wrapping procedures used within his sculptures (often with metal wire or hemp string) have allowed viewers an occluded view of what can feel like protected or guarded spaces inside. Simms also goes big, and works indoors and out, Brown Light in Dublin offers a glimpse of the wide-ranging practice of an artist who is deeply engaged with the world around him." —Nora Lawrence, Artistic Director, Storm King Art Center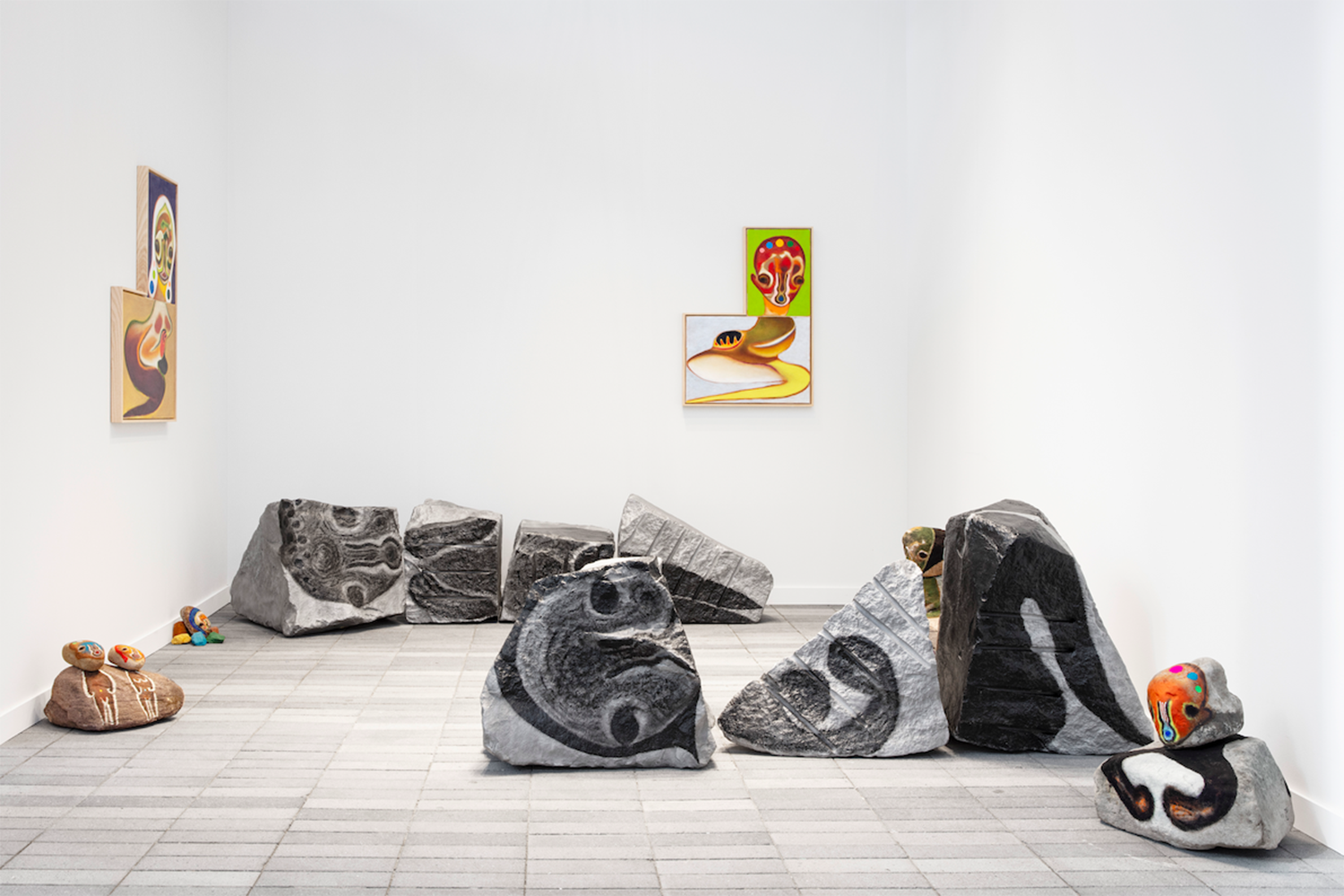 6. Izumi Kato at Perrotin Gallery
"I was happy to see new work by Japanese painter and sculptor Izumi Kato at Perrotin. Mysterious and mesmerizing, I initially reacted to his figurative depictions as not-of-this-world, creatures from another planet, but more and more I understand these works in paint, stone, wood, and metal as grounded in our actual world, and reflecting the synthesis of animal, mineral, corporeal, and atmospheric that surrounds us. The new suite of work feels lively, curious, and reflective of the world: both its materials and its magic." —Anne Reeve, Associate Curator, Hirshhorn Museum and Sculpture Garden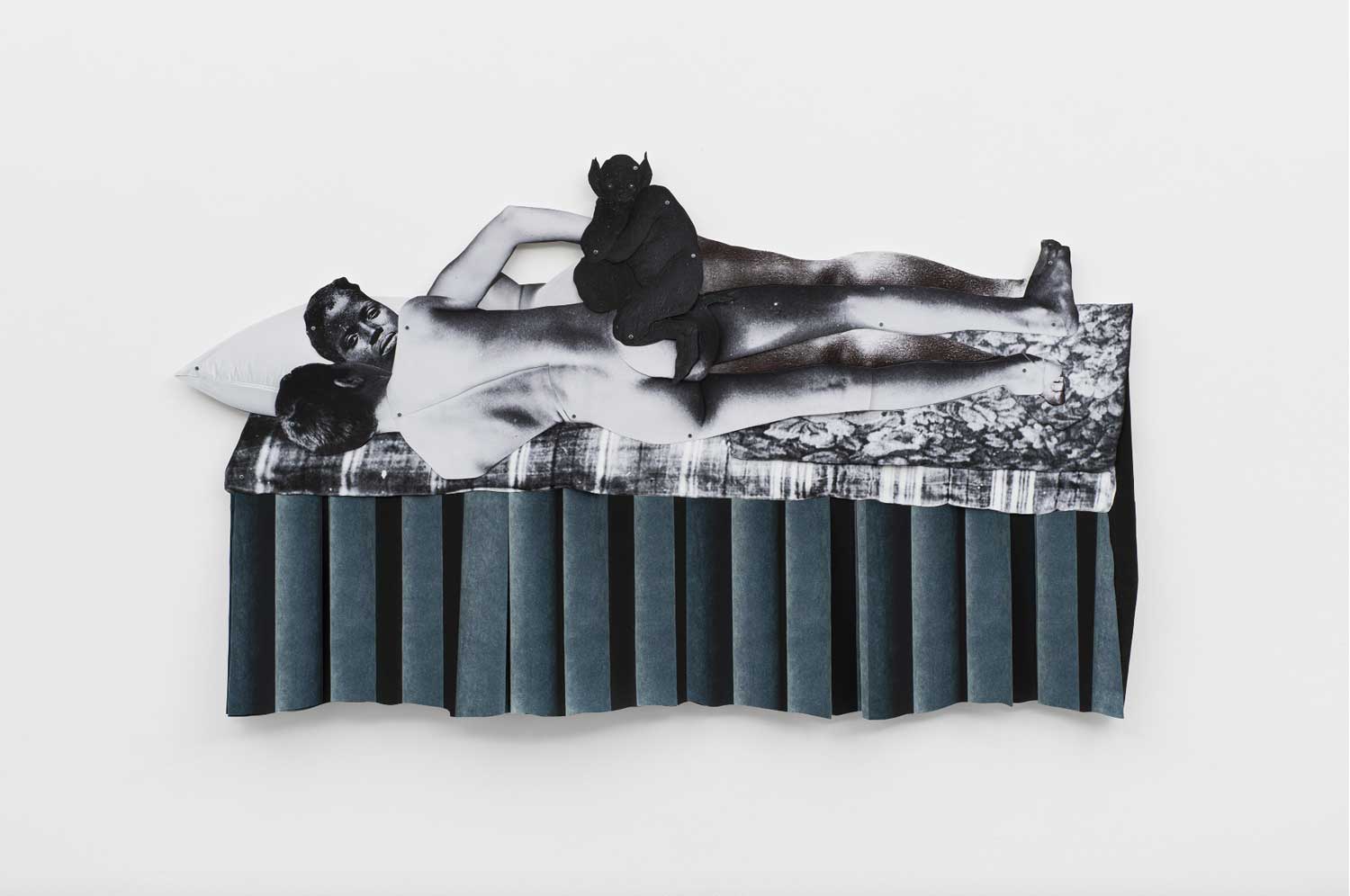 7. Frida Orupabo at Modern Art 
"Frida Orupabo culls images from archives, both analog and digital, and carefully rearranges them in collages that ask us to look anew at the depicted. The composition's foreground raises questions related to gender, race, family, and kin, and are both powerful and at times unsettling. I have been following Frida's impressive career, which was jumpstarted after Arthur Jafa noticed her work on Instagram, and I curated an exhibition of hers as well as edited her monograph in 2021. Frida was recently shortlisted for the 2023 Deutsche Börse Photography Foundation Prize and her collage Parasomnia (2022) at Modern Art is an exciting development of her exploration of trauma, sleep, and rest." —Stefanie Hessler, Director, Swiss Institute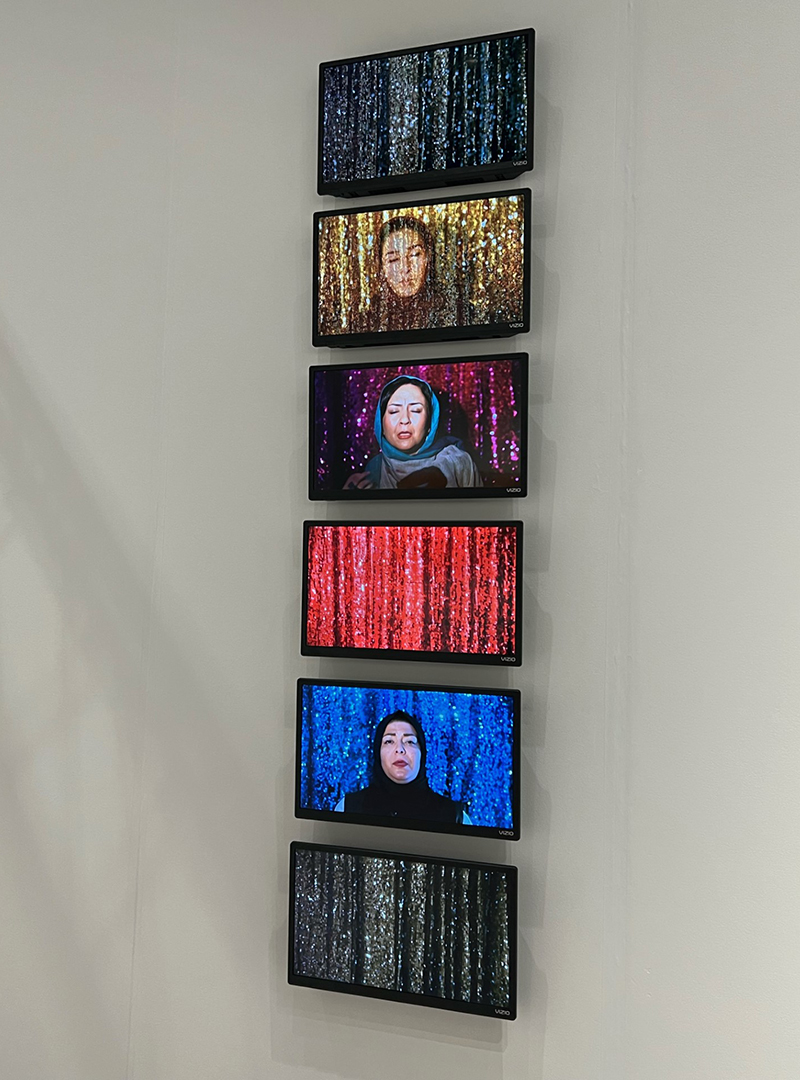 8. Newsha Tavakolian at Dastan Gallery
"I loved the multigenerational presentation of women artists at Dastan Gallery's booth at Frieze. The Tehran-based gallery used this moment of visibility to foreground the work of Iranian women artists, who are notably also educators, amidst the ongoing protests for women's liberation. I was particularly drawn to artist Newsha Tavakolian's six channel video installation Listen (2010). The work beautifully, seductively, powerfully highlights the voices of Iranian singers in order to emphasize the rigid restraints placed on them." —Diya Vij, Curator, Creative Time 
9. Doug Aitken at 303 Gallery 
"Doug Aitken's 'Earthwork: Aperture' series (2019) at 303 Gallery is a portal to a natural environment, a collage of places in the California high desert with the tiny word 'Earthwork' placed in the center like an Ed Ruscha. Maybe I am dreaming of 'going west' toward opportunities on the frontier." —Andrea Grover, Executive Director, Guild Hall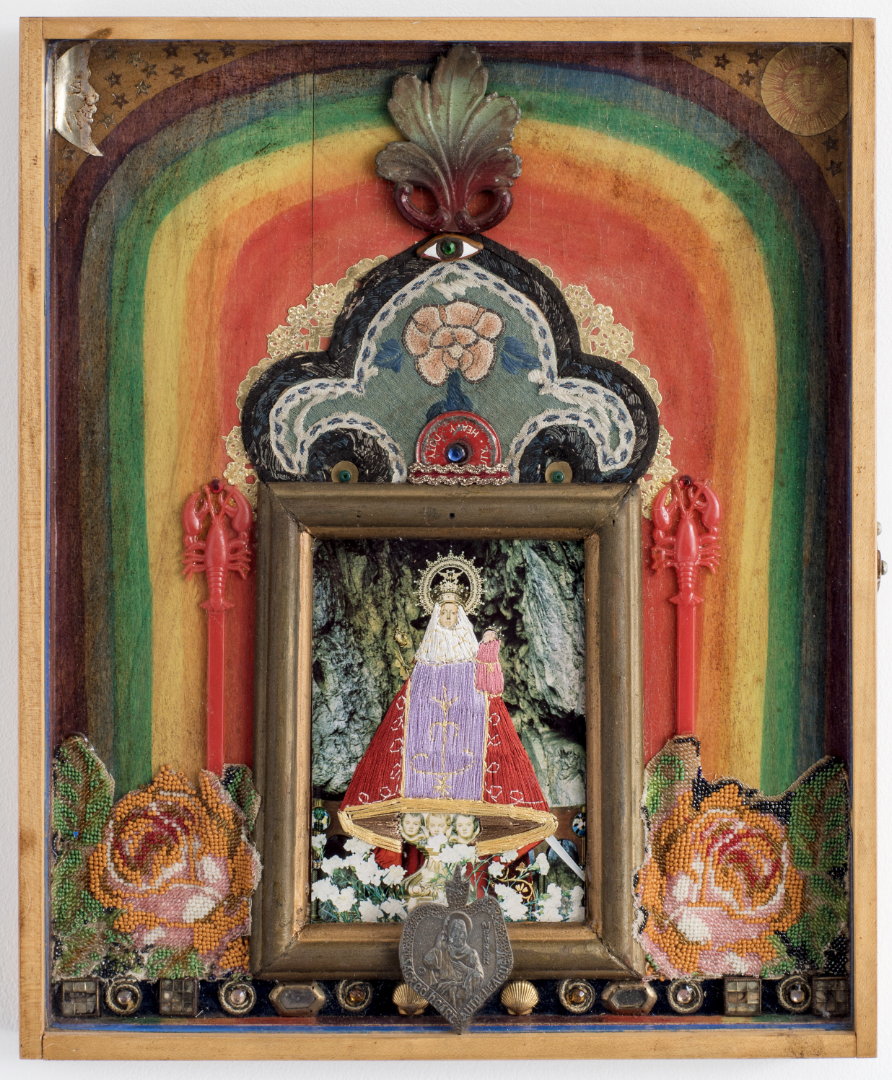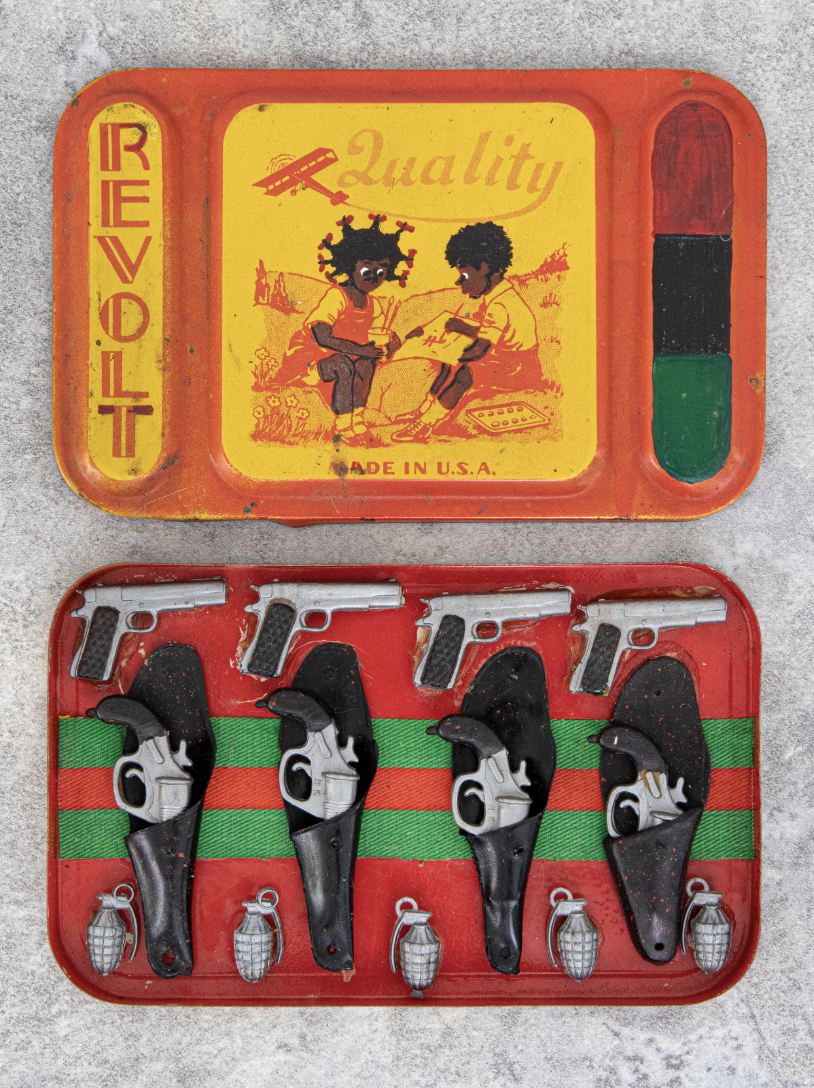 10.  Betye Saar at Michael Rosenfeld Gallery 
"We started on the top floor, my favorite new way to see fairs. Less crowded, more energy to view the new, the unexpected, the experimental. And there, across from the entrance, was a sign on the wall: 1973. An interesting year. Roxy Music released their second album, For Your Pleasure; Motorola introduced the first handheld mobile phone; Nixon and Agnew were sworn in for their second term; Roe v Wade took place, and the Supreme Court lifted the ban on abortions. At chest level on a wall shelf was a small tin box, approximately 4 x 6 inches. Peer inside and see miniature handguns, pistols, and grenades. An explosion of emotions—gun madness in this country—in a tiny package; so clever. Brought to you by Betye Saar, made in 1973. Around the corner, another work in miniature, this time, the smallest Louise Nevelson I've ever seen. A girl's sewing box in signature black paint. Made in 1973. Hanging on a wall, detailed drawings by Barbara Chase-Riboud, Nancy Grossman, Jay DeFeo, and many others, sculpture and more. All made in 1973. Of course, it's coming together! 1973. Fifty years since Roe v Wade, all women artists, all very strong, all represented by beautiful work. I'm a sucker for art history, so I enjoyed this booth the most." —RoseLee Goldberg, Founding Director & Chief Curator, Performa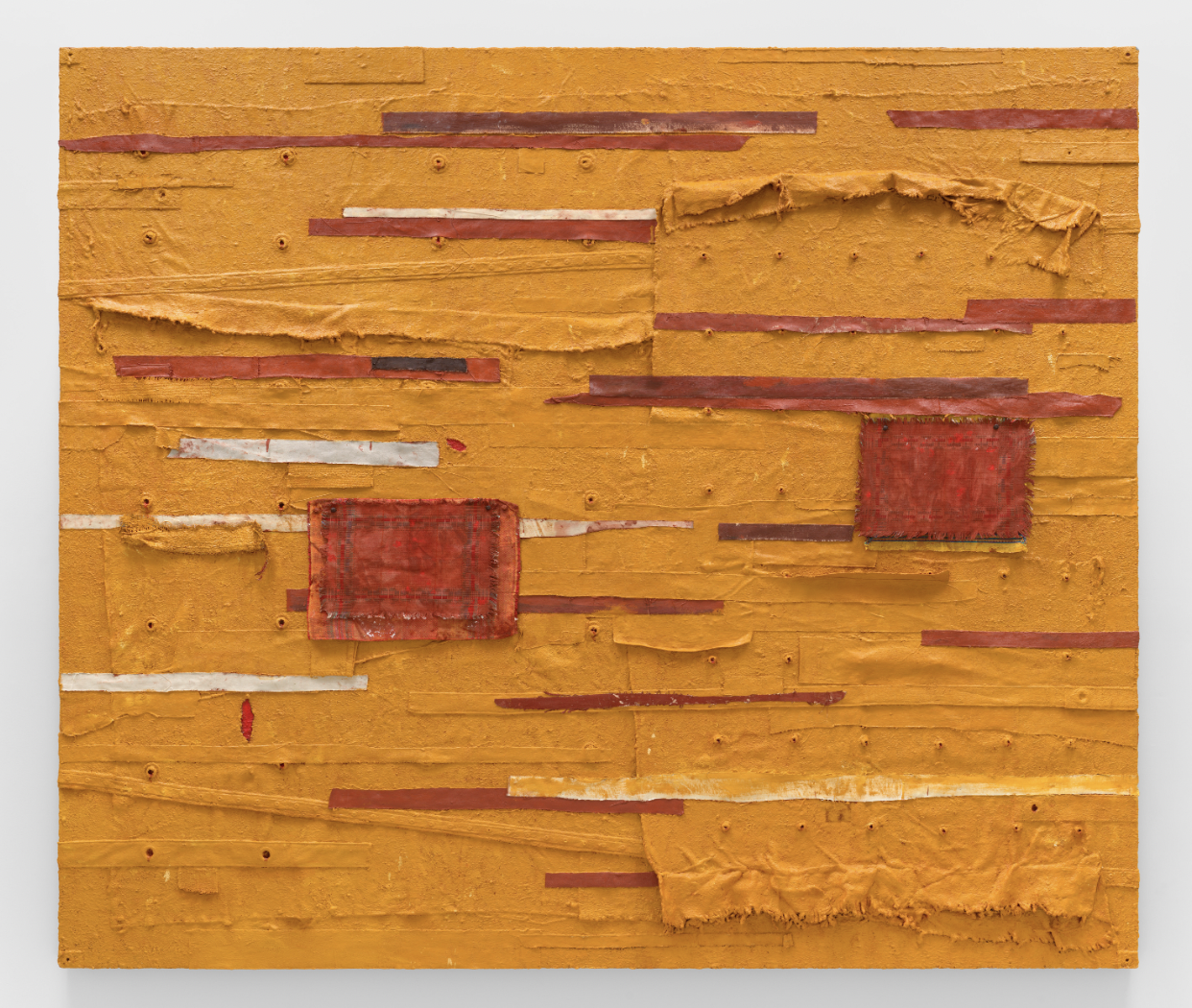 11. Harmony Hammond at Alexander Gray Associates
"I was captivated by the work of Harmony Hammond, one of the early pioneers of feminist art in New York. Her large-scale sculpture-like painting Bandaged Grid #12 (Big Gold), 2022–2023 at Alexander Gray Associates is a can't miss. The work, consisting of layered strips and patches of frayed fabric and grommets painted in ochre and brick red create a dynamic, geometric abstract grid. The physicality of the work evokes a bandaged body, implying wounds but also the process of healing, suggesting vulnerability and strength." —Klaudio Rodriguez, Executive Director, Bronx Museum of the Arts 
Next Post