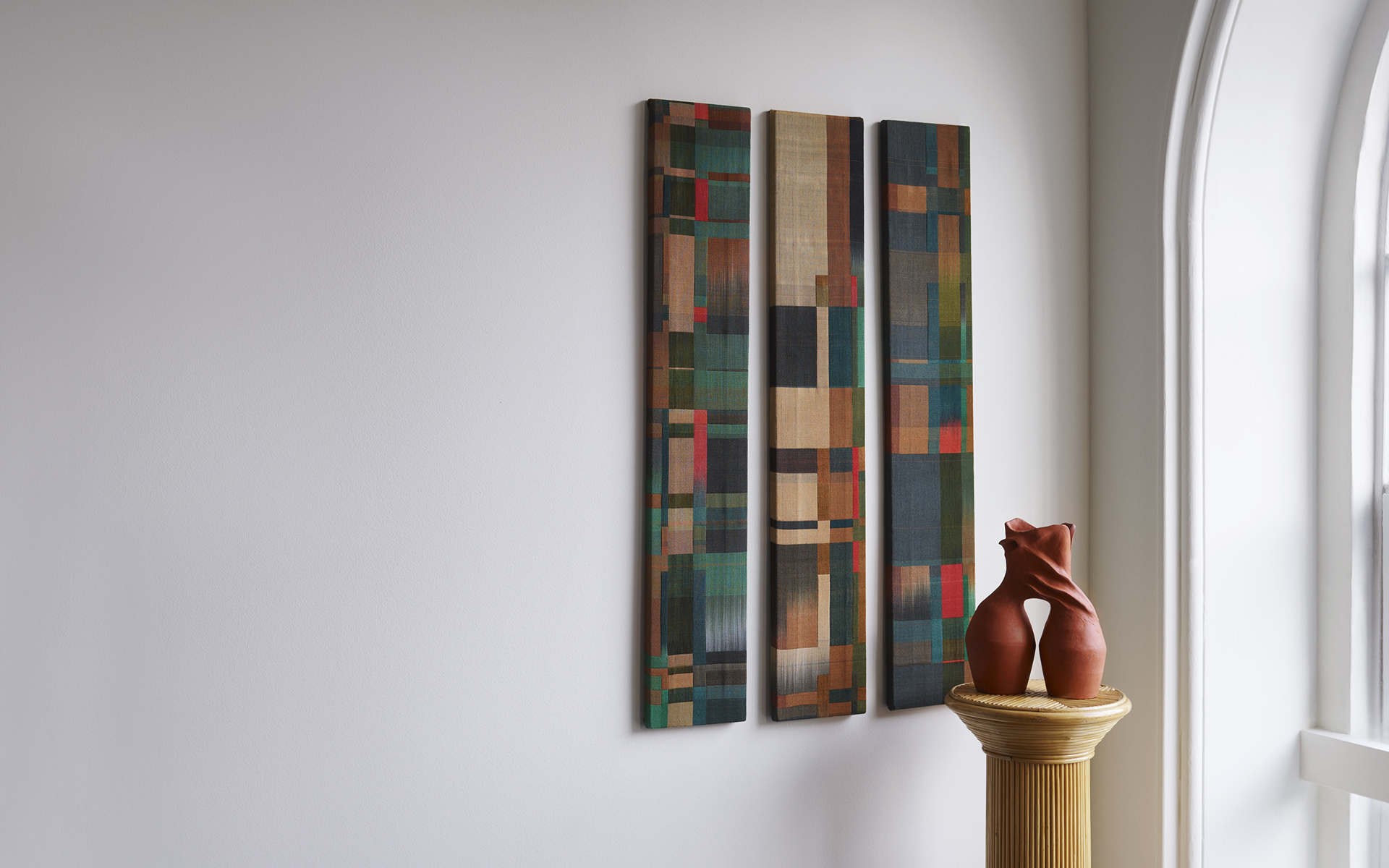 10 Standout Objects Discovered at London's Collect Craft Fair
The annual event, now in its 19th edition, is the leading international fair for contemporary craft
In London's stately Somerset House, Collect craft fair is currently underway (until March 5). The grand neoclassical building overlooking the Thames has been commandeered by the Crafts Council—a British non-profit organization dedicated to the promotion of craft practices. Its annual event, now in its 19th edition, is "the leading international fair for contemporary craft", says its director Isobel Dennis. "The year's range of galleries and artistic voices is so rich in content, [involves] so much storytelling, and really pushes the boundaries of the art disciplines of making."
At the preview event, one visitor declared: "It's a punchy one this year." And it's a good summary. While craft has been making waves in art-world circles for some time now, dedicated "craft' events sometimes feel left behind. The Collect team is working to redress this balance, attracting an international roster of galleries, highlighting emerging talent, and reaching out to a new, global audience via an ongoing partnership with online marketplace Artsy— which cites Collect as one of its most successful virtual fairs. Clickable craft objects (online till March 12) range from design jewelery to sculptural furniture, large textile wall-hangings to intricate pieces of glass. Most have transparent pricing, and many are relatively (and, by fine art standards, remarkably) accessible. Here are ten standouts.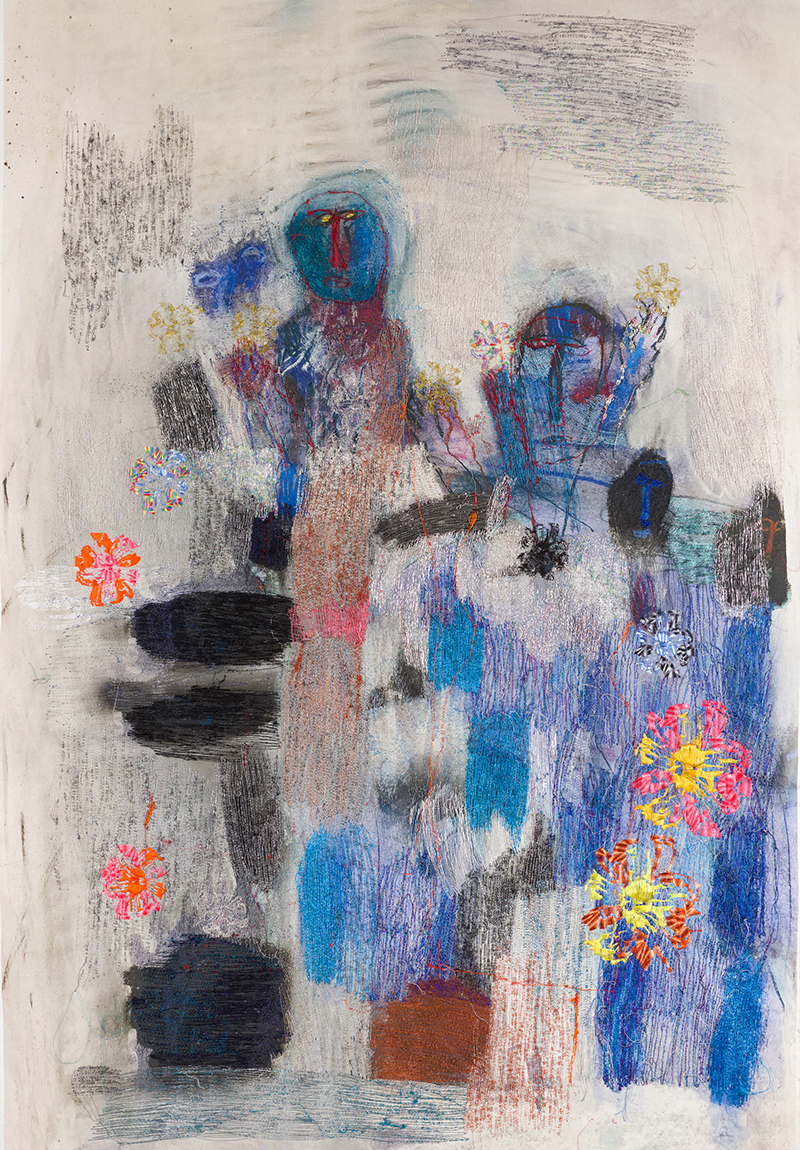 1. Alice Kettle, Star Flowers (2021), at Candida Stevens Gallery 
With textile art and "craft figuration" currently finding fresh appreciation, 61-year-old British artist Alice Kettle is something of a pioneer. She's long used free-stitched machine embroidery to create unique and painterly figurative works, and has just been announced as the winner of this year's Brookfield Properties Craft Award.Star Flowers (2021) represents a transition in her practice, says Candida Stevens. "She worked with refugees for many years on a project called Thread Bearing Witness, creating portraits of the people she encountered. But in lockdown, her work changed completely, and she began looking at the flowers in her garden. So this piece has the first flowers, and the last portraits."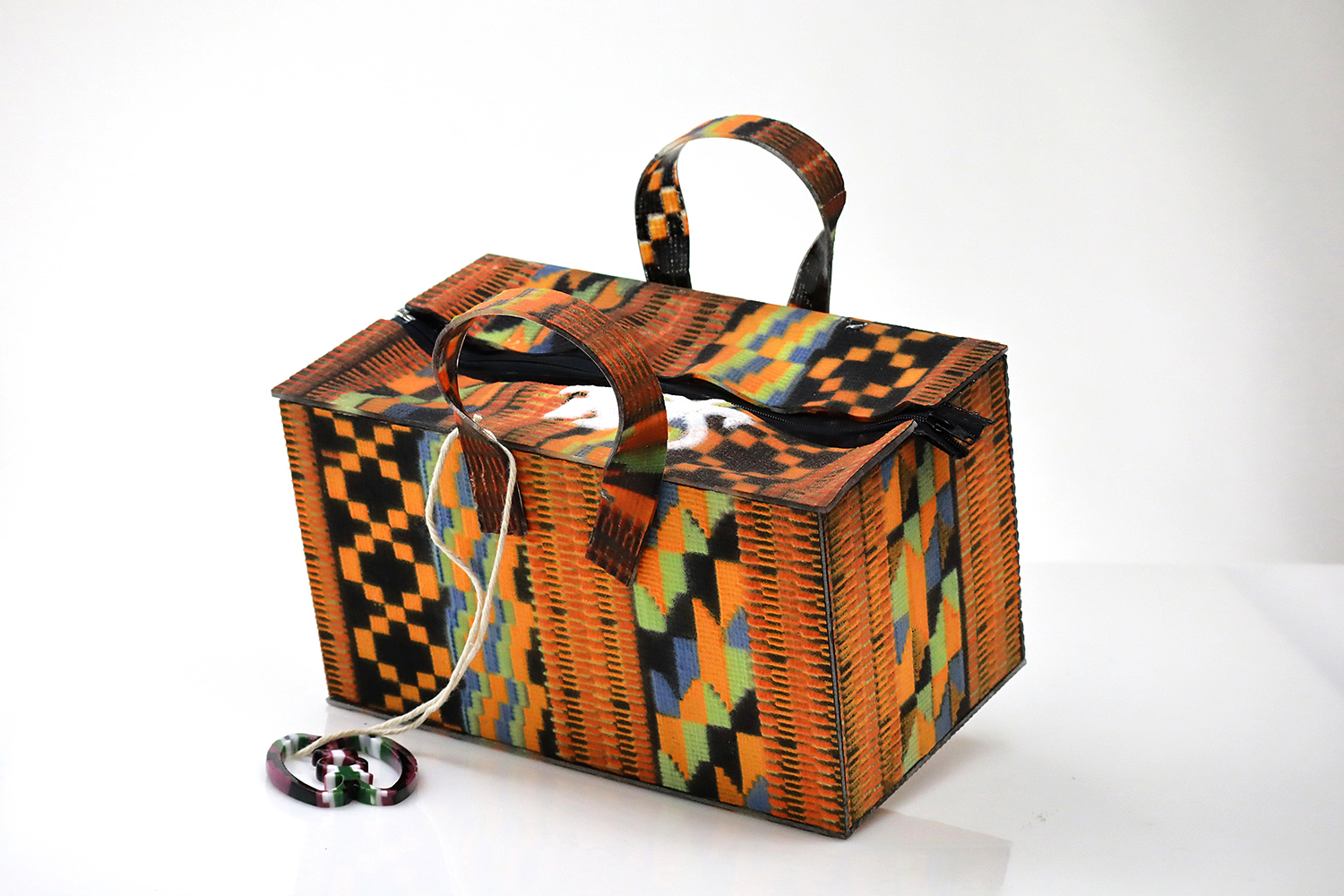 2. Anthony Amoako-Attah, Take Me Home (2022), at Bullseye Projects
It takes a while to understand that this bag-like sculpture by Ghana-born Anthony Amoako-Attah is not made of fabric but of glass. "He screenprints with glass powder onto sheet glass," explains U.S.-based Bullseye Projects' curator Michael Endo. "The patterns are based on Ghanaian kente fabrics as well as English textiles and Scottish tartan, to talk about his journey from Ghana to Sunderland, in the UK, where he now lives."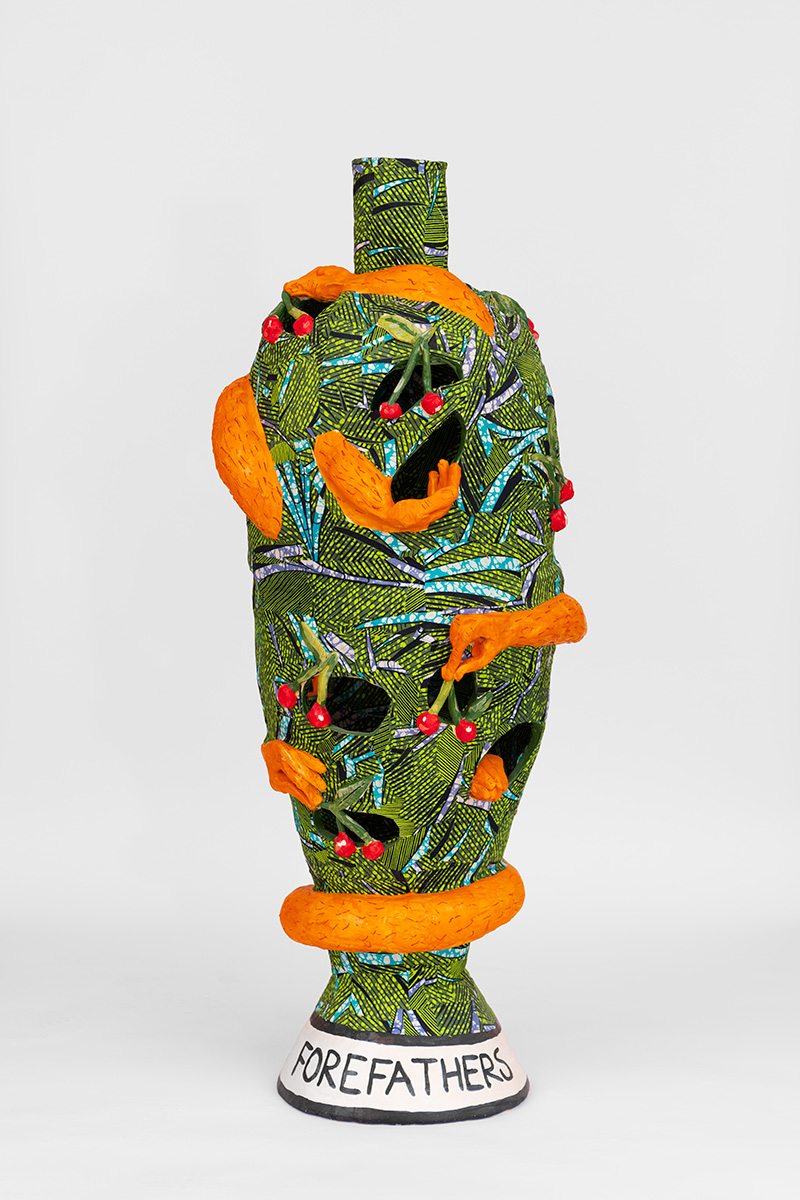 3. Xanthe Somers, Fruits of Our Forefathers (2022), at Galerie Revel
A first time exhibitor at Collect, Bordeaux-based Galerie Revel is an exciting showcase of emerging talent. Unmissable in its Collect display are the large-scale ceramic vessels by Zimbabwean sculptor Xanthe Somers, whose glazed stoneware works bedecked in vibrant colors and motifs are at once pleasingly playful and thought-provokingly poignant. The 120cm-high Fruits of Our Forefathers (2022) combines African wax fabric with sculpted hands and cherries—a fruit Somers only saw in books when growing up in Zimbabwe, and which she uses as "a symbol of British culture in Zimbabwe," she says. "The false dreams sold as progression and Christian emancipation by the British colonists are still prevalent – and are passed down through generations of remaining privilege, hence the title."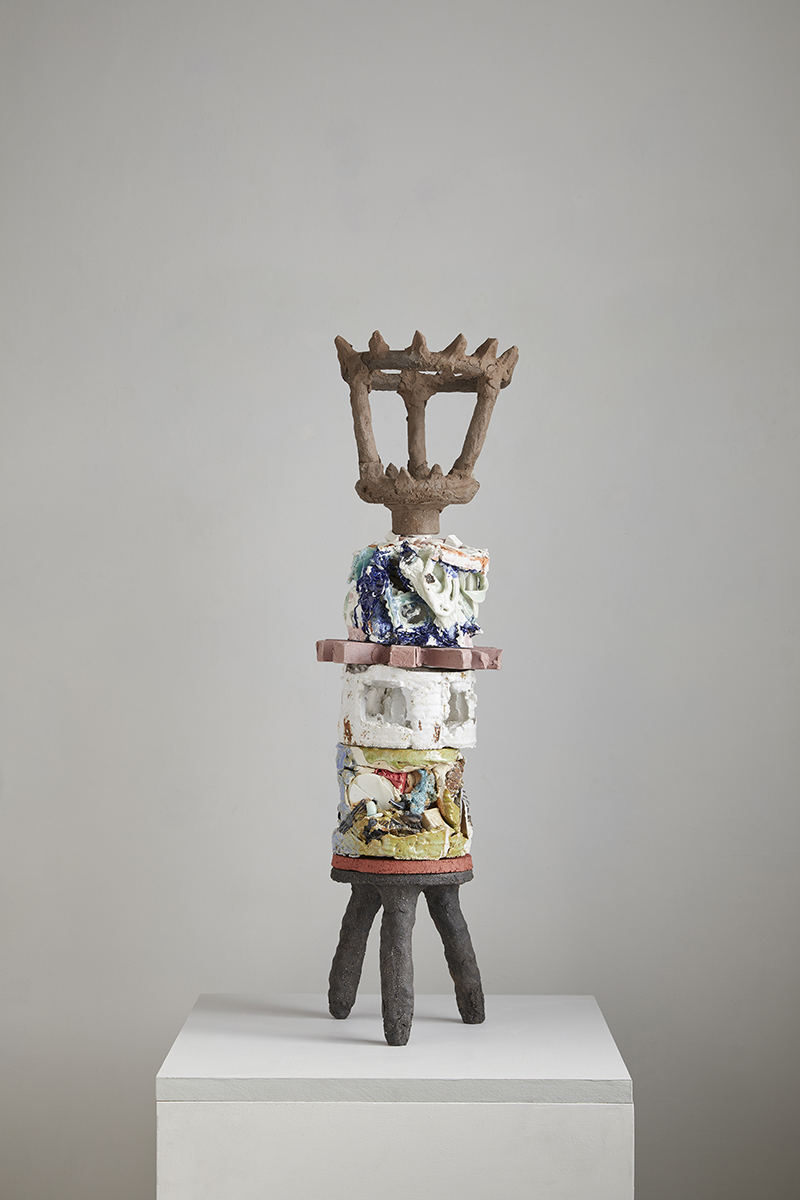 4. Anne Laure-Cano, Ussade-112 (2022), at 155A Gallery
French artist Anne Laure-Cano wields ceramics in an earthy and organic way. Her alluring, stickle-brick sculptures combine rough stoneware and smooth porcelain, stacking together mottled textures and messy shapes. "I love bric-à-brac and surround myself with a selection of objects, pieces I make and break, found objects, tin cans, sand, metal," she says in her artist statement. "I pick them up, mix them with wet clay, cement, plaster, metal and organic components until strange objects emerge looking more like they have been found than made."
5. Reynold Rodriguez, Gravity + Grace (2019), at Charles Burnand Gallery
One of the fair's more design-led exhibitors, Charles Burnand Gallery's display skewed big and bold, but the work of Puerto Rican artist and designer Reynold Rodriguez still managed to make a statement. The pair of chairs poetically titled Gravity + Grace (2019) do indeed manage to appear both weighty and airy, hand-carved from rich, charred mahogany into simple and sinuous forms. They were also "close to being sold" within hours of the fair opening, said gallery owner Simon Stewart, whose other Rodriguez pieces are equally appealing, including a slightly space-age, plaster work, The Table That Dreamed…(of being light) (2021).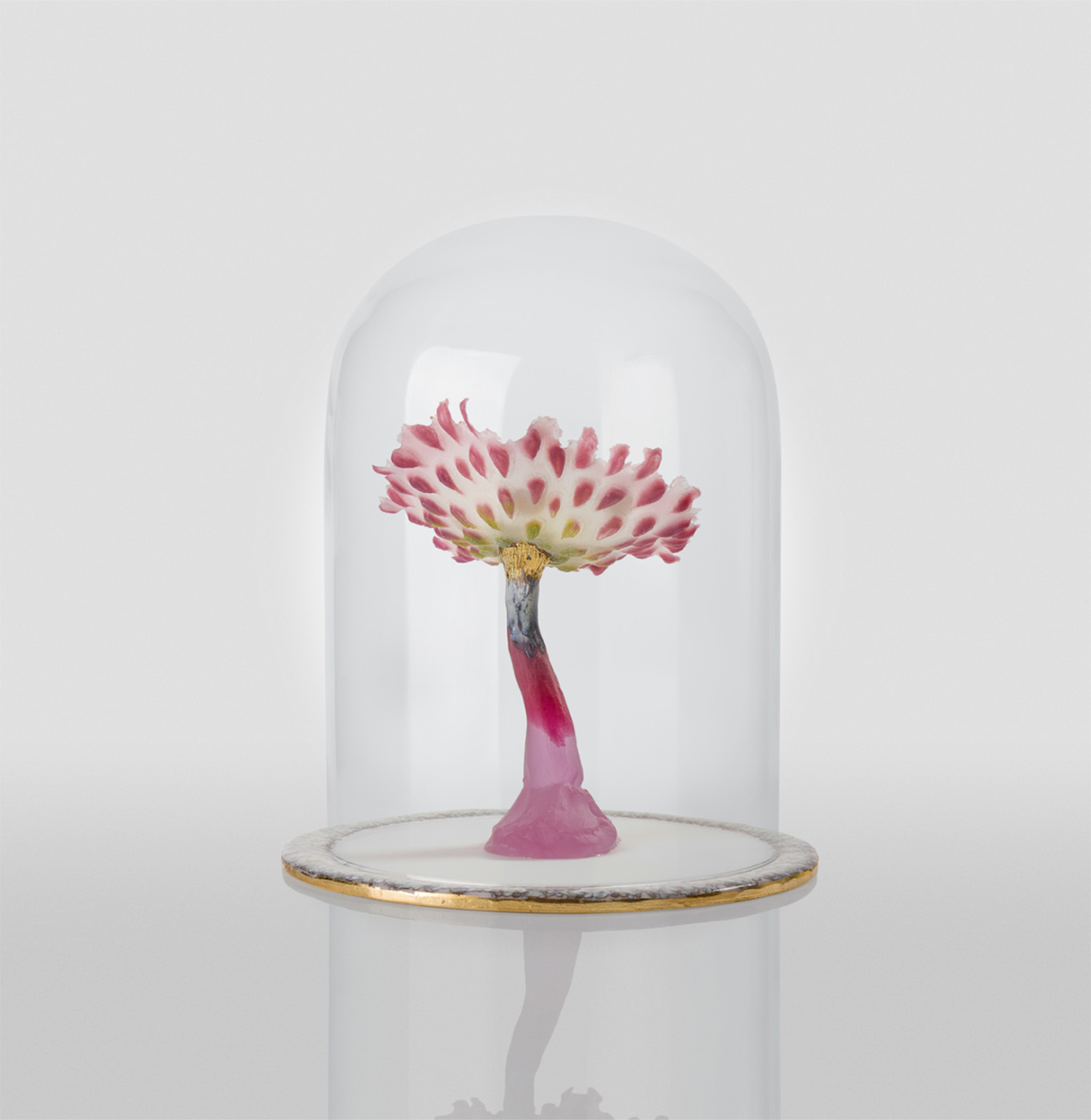 6. Verity Pulford, In a World of One's Own I (2022), at North Lands Creative
"I got really obsessed with lichen and moss first," says British glass artist Verity Pulford. "Then I started getting into fungi… I'm just really interested in nature, but all in a magical-realism sort of way." At Collect, a trio of glass mushroom sculptures – all made using the lost-wax casting technique, and then built-up with pâte de verre (powdered glass paste) – have an Alice in Wonderland feel to them.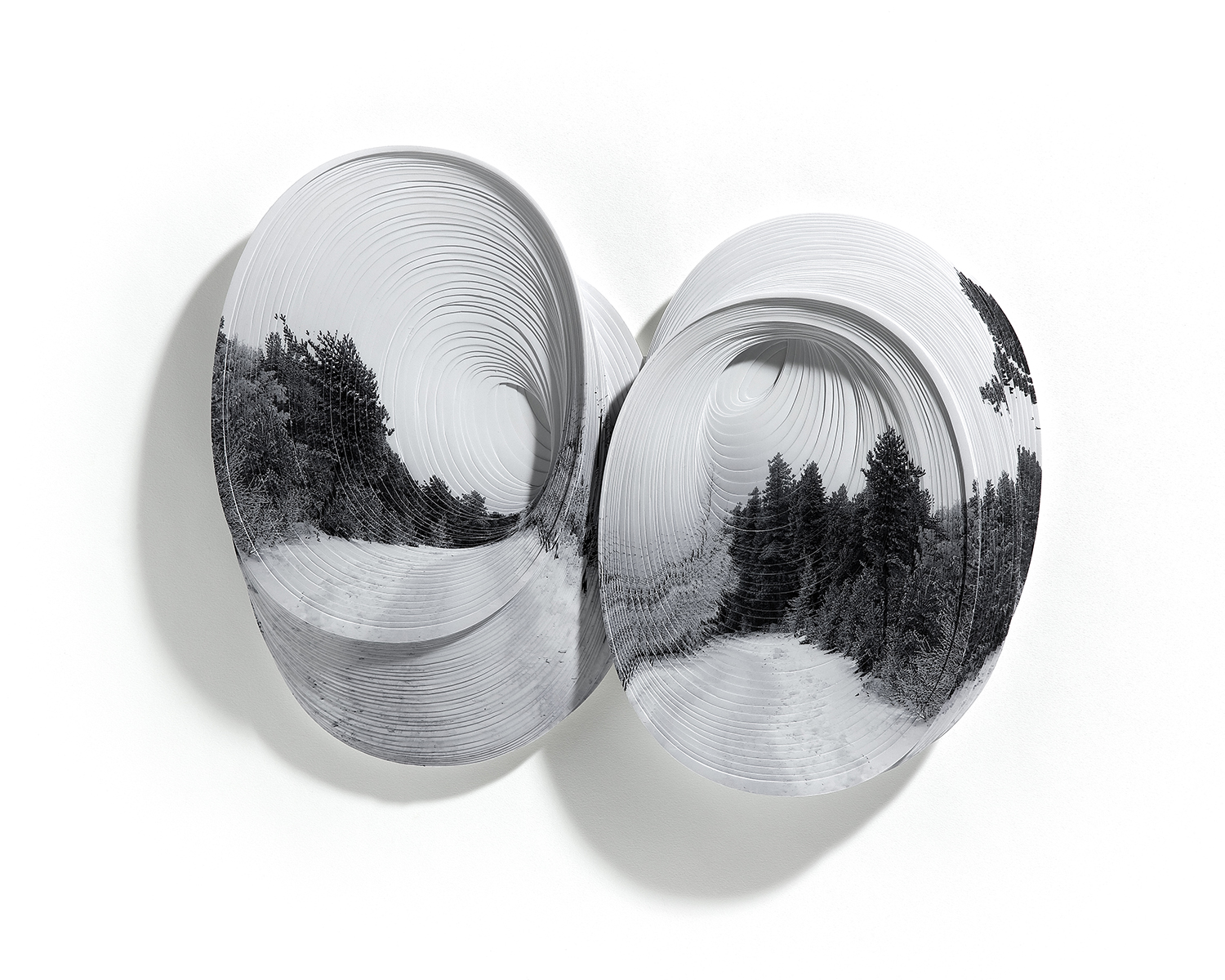 7. Sooyeon Kim, Her Oulu, Finland (2021), Siat Gallery
With locations in Seoul and Paris, Siat Gallery was founded in 2019 by Jeannie H Lee and specializes in Korean contemporary arts and crafts. Its display was topped by Sooyeon Kim's mesmerically swirling mash-up of photography and sculpture.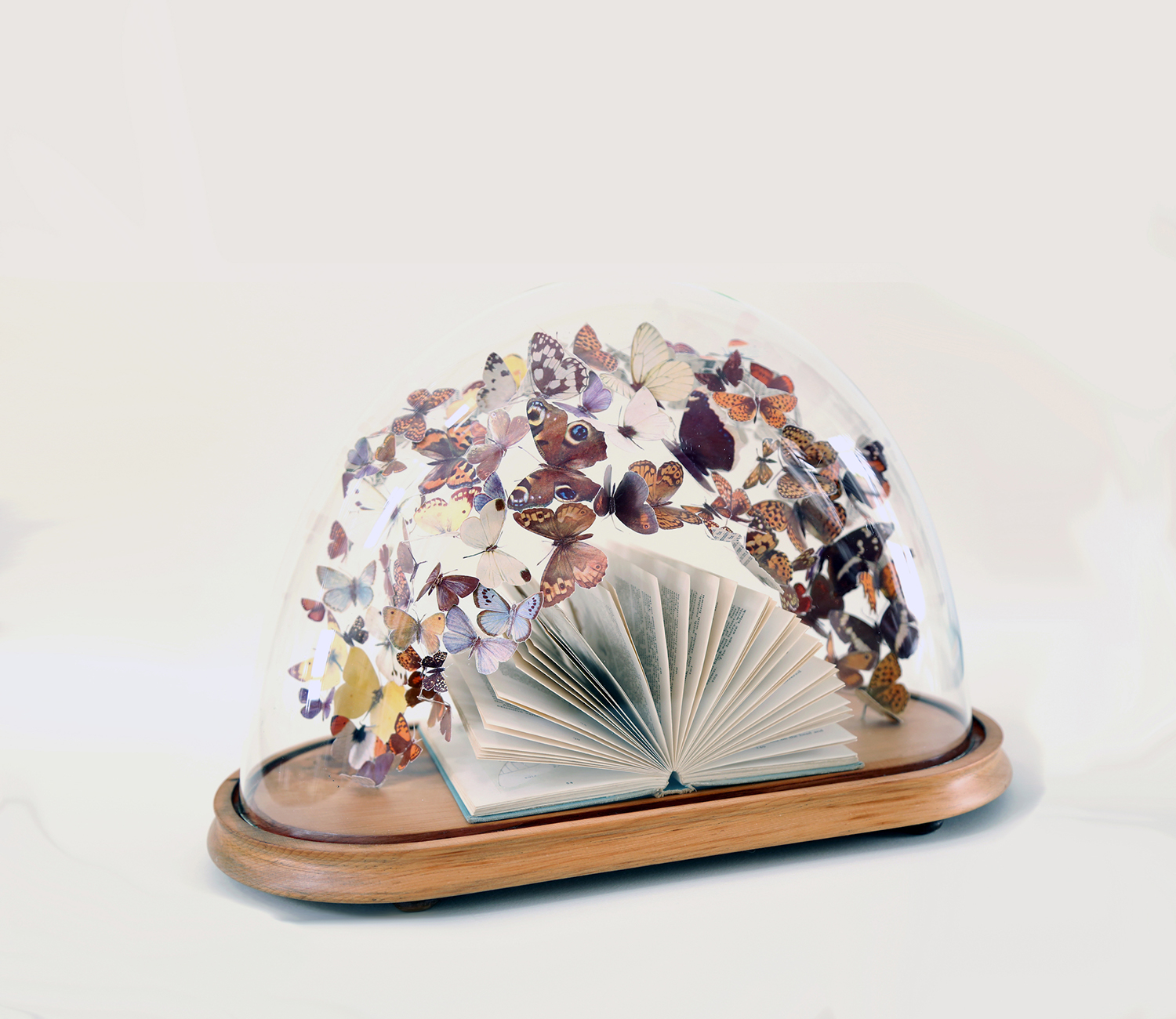 8. Su Blackwell, Book of Butterflies (2022), at Long & Ryle
Another glass dome, this time Victorian and filled with butterflies—all painstakingly cut from the pages of the vintage book below. British artist and Su Blackwell has book making these "book sculptures" since 2003, bringing to life flocks of birds or fairytale forests that are at turns enchanting and eerie.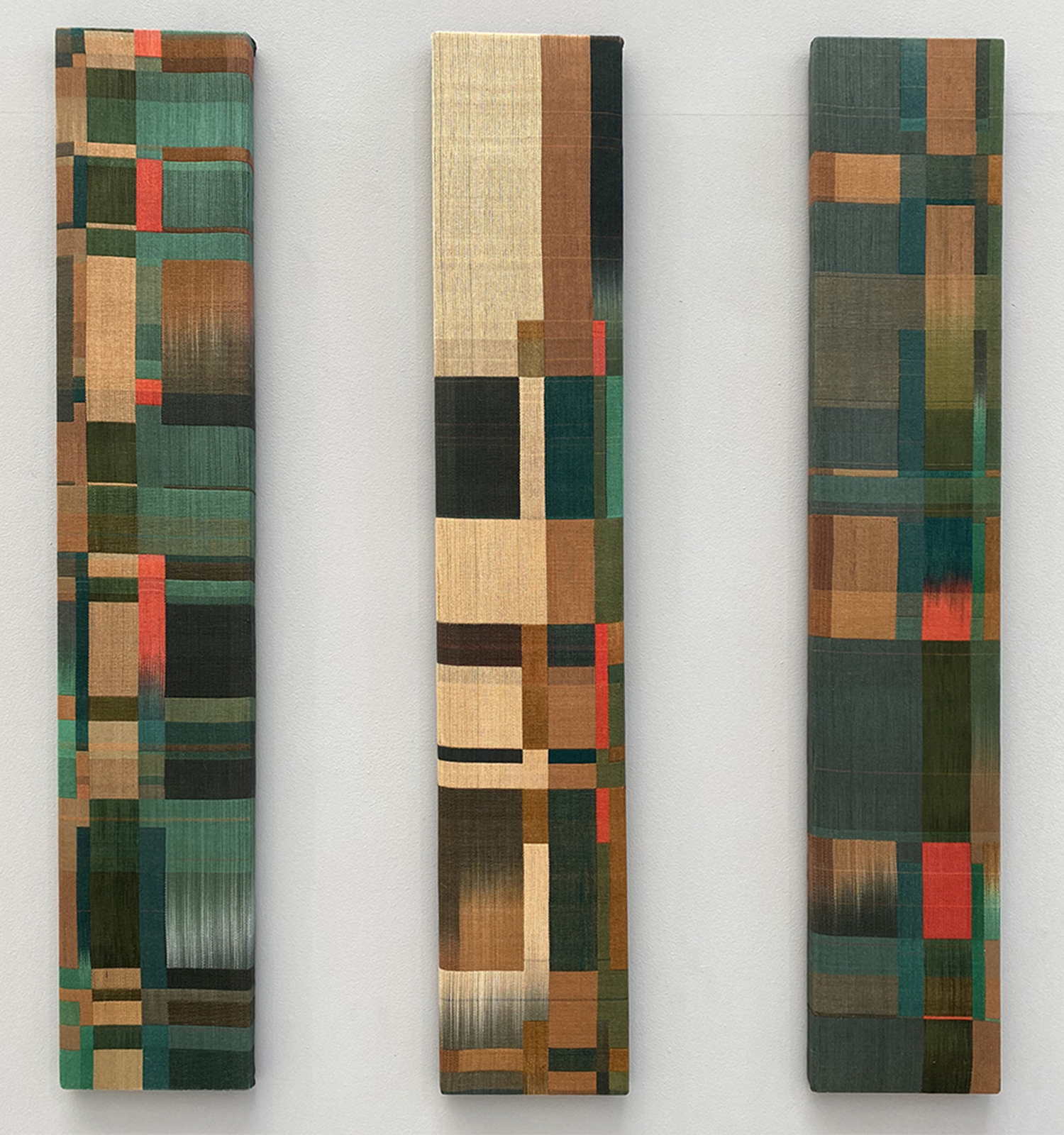 9. Dalia James, Untitled 1, 2 and 3 (2022), at Cavaliero Finn
Working in east London, Dalia James creates softly geometric textiles that nod to women weavers of the Bauhaus. This trio of panels are hand-woven in silk and bamboo, dyed by James using natural materials such as turmeric, saffron and cochineal.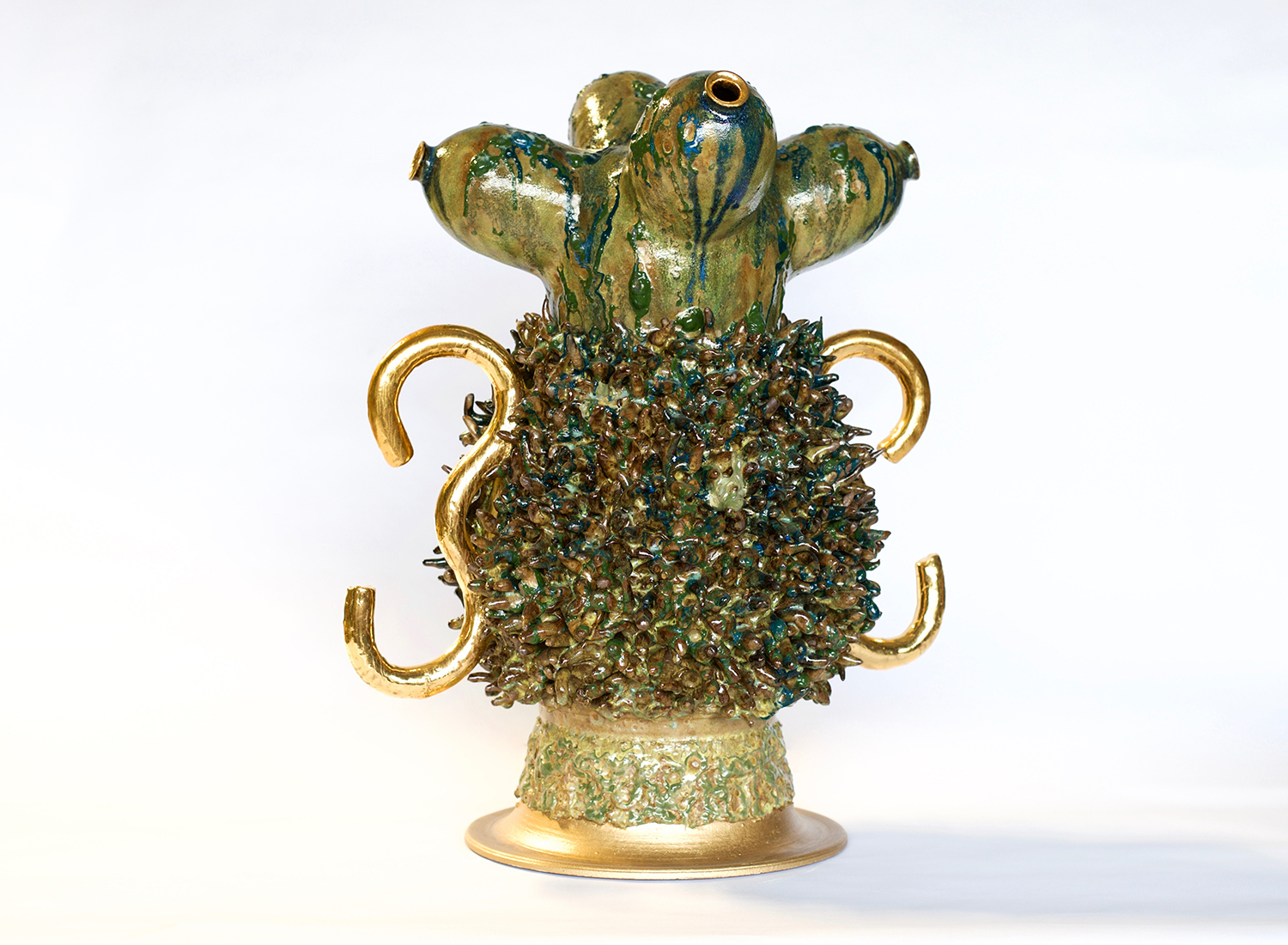 10. King Houndekpinkou, Gravity: Mother Earth, Four Baby Bottles to Feed Four Souls (2021), at 50 Golborne
More ceramics, but the work of King Houndekpinkou demands to be talked about. Inspired as much by video games as traditional ceramics, the Paris-based artist uses vibrant hues, spiky surfaces, dripping glazes and gold accents to majestic effect.
Next Post